More
POSTCARDS FROM THE BEACH
The backpacker book, The Beach, became a breezy bestseller long before Leo was signed to play the lead role in the blockbuster picture being filmed in Thailand by the "Trainspotting" team. A hit on the backpack circuit, the novel has been largely misinterpreted in Asia, and abroad. Now, the author, Alex Garland explains his inspiration and intention in writing The Beach
By Ron Gluckman
---
BY ALL MEASURES, ALEX GARLAND should be in a better mood. After all, not long ago, the young Londoner was backpacking around Asia, working odd jobs to finance an insatiable travel fixation. Nowadays, the 29-year-old author can endlessly indulge his passions for video games and cigarettes. He's in demand.

His debut novel about trekking through Thailand has been on the best-selling lists since its 1997 release, translated into 25 languages. It hasn't cracked the American market yet. But the Generation X manifesto about backpackers who find an island Utopia, fringed with marijuana fields, is certain to smoke the US charts by year's end. That's when the movie version of Garland's "The Beach" is released along with a new edition of the novel, sporting a cover shot of mega-star Leonardo diCaprio, who plays the film's semi-autobiographical lead role.
All in all, a dream debut for an unschooled writer who turned his drug-induced adolescent wanderings into a pop-culture sensation that has been praised as "a cult classic" and "a defining text in the history of imaginative travel writing." Another critic pondered: "Is Alex Garland the next Graham Greene?"
Garland sloughs off such praise. "That's really quite flattering, to hear someone say, that I have created a new genre, travel fiction," he says. "But I look up at my shelf and see Graham Greene's "The Quiet American," and I think, now that's real travel fiction. I think the praise is a bit ridiculous. You have to realize that literature about backpackers is pretty limited."
Earnest and self-depreciating, Garland bristles with emotion when he turns to the negative commentary circulating around Asia, where he set not only "The Beach," but also his second novel, "Tesseract." The fast-paced story, which came out a few months ago, is told in convoluted sections, like "Pulp Fiction." It's an ambitious work in a totally new direction. And it's set in the Philippines.
Which is what irks Garland, whose first novel has been written off my many Asian critics as a one-dimensional look at the region by an uniformed outsider. In reality, Garland has been bitten by the Asian bug, early and deep. "I made my first trip to Asia while I was still a teenager in school," he acknowledges. "And I've been back at least once or twice almost every year since."
Garland spent six months living in the Philippines. Much of that experience was incorporated into "The Beach," which he purposefully set in Thailand. "That's because Thailand is more of a Mecca for a certain kind of travel, the kind of backpackers in the book," he explains. "And I wanted to write a certain kind of book about travel."
He feels a lot of critics miss the satire. "I hear that "The Beach" is about Asia, and that it's a bad book. I think it's fairly obvious that this is really a book about backpackers. It's a document about a certain kind of traveler.
"A lot of the criticism of "The Beach" is that it presents Thais as two dimensional, as part of the scenery. That's because these people I'm writing about - backpackers - really only see them as part of the scenery. They don't see them or the Thai culture. To them, it's all part of a huge theme park, the scenery for their trip. That's the point."
Wearily, he adds: "This book is anti-traveler in a lot of ways. That was absolutely my intention. "The Beach" was meant to be a criticism of this backpacker culture, not a celebration of it."
Nevertheless, the very backpackers that Garland parodies in "The Beach" have hailed him as a spokesman for a lifestyle that he rejected long ago. "These people say they aren't tourists, but travellers and think they are special, more sensitive. It's stupid. They're not." Garland admits the book is very much autiobiographical. Leo's character, Richard, he says, "is basically me, when I was 18 or 19."
Nowadays, he's down on the drug trade and vehemently against the kind of Rambo mentality that forms a substantial sub-text of "The Beach."
"I'm very much against this Vietnam War-infatuation. Asia already has a position in the world's pop consciousness. That's what the book is about. But it comes so much from Hollywood button pushing, which I hate."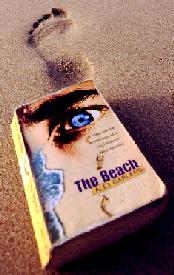 Ironically, the book, and especially the movie, may open the floodgates to millions more backpackers, to join the multitudes already snaking along the well-worn Thailand hippie trail, from the hostels of Bangkok's Khao San Road to the Full Moon Raves in Hat Rin. About a third of all tourists in Thailand last year fell into the 18-34 age range.
Luring more of the muesli-munchers is the aim of tourism officials. Although budget-minded, backpackers stay for months at a time, and the dollars add up. "This is the perfect commercial for the park, and for Thailand," says Royal Thai Forestry Director General Plodprasop Suraswadi, who has taken much of the flak from protestors for issuing the permit to film in the Ko Phi Phi Island marine park. "You couldn't buy better publicity for a tourist destination.
Producer Andrew Macdonald, who established himself as an underground star with a succession of independent films, including "Trainspotting," adds: "I think "The Beach" is a good first reader on Asia. It will encourage people to learn more. Perhaps to come themselves for a visit. Thailand will become famous," he added, "as a country where paradise is possible."
Garland cringes at the thought. "God, I hope not. That would worry me. But it's all speculation until the movie comes out. I really don't see Leo fans jumping on planes and coming to Thailand. I hope not."
---
Ron Gluckman is an American reporter who is based in Hong Kong, but who roams around Asia for a number of publications, such as the Wall Street Journal, which ran this story in its Weekend Journal on February 19-20, 1999.
He also produced a lengthy piece on the filming of "The Beach," with additional comments from author Garland, in Asiaweek, which ran This Inside Story, Postcards from The Beach, in the February 19, 1999 edition.
You can also see his interview with producer Andrew Macdonald of The Beach
Photo credits: Garland, not sure. I nabbed it off the web. Thanks, whoever...
Book photo by David Paul Morris.
---
To return to the opening page and index



push here
---