Beijing's hip Hou Hai Lake
Scores of trendy restaurants, bars and boutiques have sprouted along the shores of this old Imperial Lake, north of Tiananmen Square and the Forbidden City. But the coolest new district in the capital isn't just currently hip, it has been for decades.
By Ron Gluckman - in Beijing
---
HOW HIGH can a trendy district fly? With Beijing's Houhai, there seems no limit.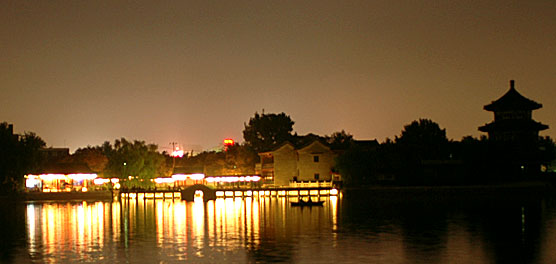 Just three years ago, this leafy lakeside neighborhood north of Tiananmen Square attracted only park-goers, weekend fishermen, or ice skaters, depending on the season. Then, ex-concert cellist Bai Feng opened his No Name bar (that's how it came to be called; it had no sign, but filled up via word-of-mouth), and the scene was set for a new generation of stylish establishments.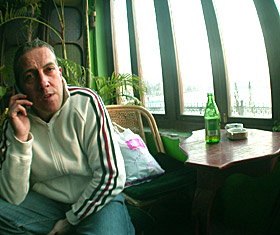 Over the past year, the Bohemian area has gone upscale, Yuppified, and emerged as the capital's coolest neighborhood, with scores of bars, restaurants, and boutiques catering to the city's smart set. Add to that the opening last fall of a cobbled strip of chic venues called Lotus Lane, and Houhai looks ready to soar.
Of course, trendy districts come and go; that's the pattern of gentrification around the globe. But it applies here only on the surface. Houhai, you see, has been hip for centuries.
Houhai and adjoining lakes Xihai and Qianhai— collectively known as the Back Lakes were dug out in the Yuan Dynasty (14th century) to berth barges from the Grand Canal, bringing goods from around China and beyond to the Emperor in his nearby Forbidden City. The proximity to the palace explains much of Houhai's still-evident charm – the arched stone bridges, intricate animal sculptures on canal walls.
However, the distance from the palace was just as important in shaping life around the lakes. These Back Lakes rapidly became a retreat, for courtiers, poets, painters. And a favorite of the masses.
"In Search of Old Beijing," a 1930s guidebook, describes the scene: "During summer months this "Sea" is a favorite resort of the lower classes who come here in the thousands to take the air and to spend the day in the numerous tea-houses along its banks listening to the story-tellers, ballad singers or other musical entertainment."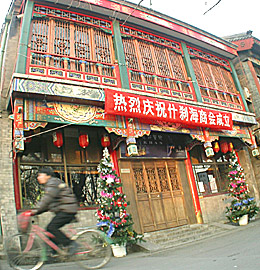 China's last emperor, Puyi, was born in a mansion nearby. Another siheyuan (courtyard house) was the longtime residence of Song Qingling, wife of Sun Yat-sen. Both are now museums, popular stops on neighborhood rickshaw tours. Expansive gardens and ponds provide a taste of what life was like before the Communists, who officially frowned on such extravagance.
Yet even Chairman Mao Zedong couldn't miss the allure of these lovely lakes. Mao held court in his compound, Zhongnanhai (Central and South Seas) named for the largest lakes, to the south of Hou Hai.
Decades on, Hou Hai claims some of the best bites and cappuccinos in the capital. If only Mao could see the place now…
Restaurants and cafés
South Silk Road (51-8 Di'anmen Xidajie; 86-10/6615-5515; dinner for two US$25) is the latest creation of artist Fang Lijun, whose first Yunnan (South China) restaurant was a huge hit at Soho, the previously trendy East Beijing district. The menu features spicy southwestern Chinese cuisine with a modern twist (rice rolls, pickled pork or sausage in a kind of omelet). The decor is stunning: Diners sit on high-backed chairs facing wall-to-ceiling windows. Water flows under glass stairs. Private rooms upstairs feature lake views and a personal chef at your own bar and grill.
Yue Lu (51-10 Di'anmen Xidajie; 6617-2599; dinner for two US$20) Fang Lijun is also partners in this nearby restaurant, featuring the home-style cooking of Hunan, Mao's home province. Try the rice in bamboo with taro sauce and stir-fried mutton in coriander and chili.
Han Cing (Di'anmen Daije, just north of Di'anmen Xidajie; 86-10/6404-2259; dinner for two US$15), directly across the lake from Lotus Lane, is a popular Qianhai restaurant serving Hakka specialties like foil-wrapped fish, rock salt–coated shrimp on sticks, and an amazing variety of mushroom dishes.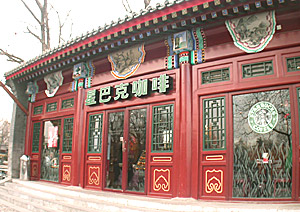 Nuage (22 Qianhai Lake East Bank; 86-10/6401-9581; dinner for two US$35). Besides his trend-setting No Name bar, Bai Feng opened this neighboring Vietnamese restaurant on the northeast part of the lake. It sports spring rolls, good salads and nibbles (the beef in lotus leaves is yummy), plus a smattering of Thai dishes. The decor is simple but smart, with Vietnamese lacquer and linen on wooden tables upstairs (book ahead for lake-view tables), with seating inside Vietnamese-style rickshaws downstairs. Be sure to visit the bathrooms, if only for a glance at the twisted dragon spiral staircase in back.
Kosmo (15 Lotus Lane; 6611-0214). Even with Starbucks practically next door, Kosmo is the place for a caffeine jolt, energy drink, or snack. With three floors of bright, zippy seating, a variety of juice blends (pear, celery, cucumber, pineapple), wraps (coriander and spicy duck), cakes (poppy-seed) and free wireless Internet, this snappy new Hong Kong chain has concocted Houhai's hippest new hangout.

Bars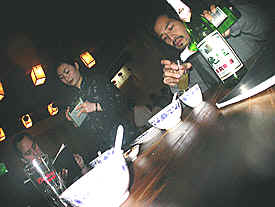 No Name (86-10/6402-1663) has no address either, although it's easy to find Houhai's original Cathedral of Cool: just look for the vine-covered wooden hut south of the charmingly arched Yinding Bridge. Bai Feng conceived the place as a kind of backyard clubhouse, and three years on, its wicker chairs, funky decor, and a wide range of teas and drinks, from juices to margaritas, still draw in Beijing's A-list.
The Left Bank (11 Qianhai Beiyan; 86-10/6612-9300) – There evolved two styles of Houhai bar: the ramshackle student sprawl of No Name and Buddha, or the cool chilling centers, complete with couches. The Left Bank (for its location, on the west, or left side of the lake, and its model, Paris' Left Bank) goes for the latter, with the look and comfort of a large den. A nice place to plot, or merely cuddle.
Sex and da City (15 Tianhefang; 86-10/6612-5046) draws crowds on Lotus Lane with its stylish design, particularly upstairs, where a trio of curtained areas offer suite-like seating with stunning lake views. The downstairs bar is lined with lilies, which inexplicably works, unlike the two-story tall mural of Marilyn Monroe.
Lotus (29 Yandai Xiejie; 86-10/6407-7807) Not to be confused with Lotus Lane, this bar with separate restaurant in the winding alley leading to the Drum Tower (Gu Lou) remains one of the area's original zen centers, with tranquil design by Wang Hui. The two-story tower bar has a good collection of crafts on display downstairs, pillow and couch seating upstairs with a nice atrium. Smells of incense and one of the best drinks menus on the lake (try a shot of crčme de mint in a cup of hot coconut milk).
Shopping
Lotus Blue Shop (51-17 Di'anmen Xidajie/6617-2714) A few doors from Lotus Blue Bar is the trendiest boutique on the lake, with prices to match. It stocks a nice assortment of handicrafts from around Southeast Asia, with loads of unique Chinese porcelain figurines ranging from US$80 to $150.
The old hutong alleyways from Yinding Bridge toward the 13th-century Drum Tower are great for browsing, even if you aren't in a buying mood. Antique shops offer local collectibles including vintage photos of Houhai, looking remarkably unchanged after half a century.
Standing out from numerous clothing and trinket shops is Tibetan boutique Garum Meijing (12 Yandai Xiejie/6402-8988). Much of the jewelry and fabric is Tebatan-style from Nepal, but ask them to open the upstairs display of artifacts including some genuine Tangkas (Tibetan scrolls).
Stuff to do: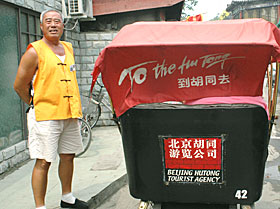 Lotus Lane's ample terraces are the place to people watch in warm weather, but equally intriguing are the ancient alleyways around the lakes. Already popular are hutong tours by bicycle rickshaw. No need to book ahead: touts will find you and try to charge US$25 or more.
A cheaper option is to tour by foot, particularly the alleys west of Houhai Lake, home to some of Beijing's best traditional stone housing. Turn one corner, then another, and you feel lost in the old Imperial City of centuries ago.
Or pedal yourself. Universal Bicycle (13301195288) offers bikes for 10 yuan (about US$1.25) per hour, double for bicycles built for two, from a stall near the Han Cing Restaurant.
The lakes are fun in every season; skates and small sleds rent in the same location (half day for 10 yuan) when the ice is nice. Or splash out in a rowboat from Houhai Chuantai, near Lotus Lane, for 20-40 yuan per hour to explore the ancient waterways on your own, or book a dinner cruise on a wooden junk from
Lodging:
The hotels around Houhai are not fancy, but the few that are open to western guests provide a good dose of local color. Options include the Bamboo Garden Hotel (24 Xiaoshiqiao Hutong; 86-10/6403-2229) and Lu Song Yuan Hotel (22 Banchang Hutong; 86-10/6404-0436).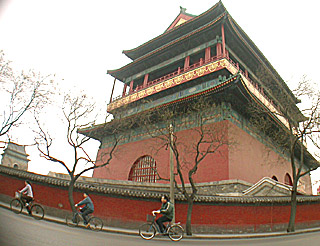 Both are courtyard hotels, abounding in character with rooms from about US$50-75.
Xihai Hotel (62 Gulou Xidajie; 86-10/6401-8822; doubles from US$40) is a gem few locals know. The architecture is authentic old Tibetan; it's run by the Tibetan Autonomous Region (the Dalai Lama visited in the 1950s).
On site is a Tibetan temple with spectacular trapezoidal structure not mentioned in guidebooks, for good reason; it's off-limits to visitors. But guests can have a peak. With the Drum Tower towering overhead, the view from underneath the plane trees on the manicured grounds is fit for an Emperor, in any century.
---
Ron Gluckman is an American reporter based in Beijing, who roams around Asia for a number of publications, such as Destinasian, which ran this story in February 2004. His features on the lake district have also been featured in Silk Road, Travel and Leisure and Four Seasons magazine.
All pictures by Ron Gluckman
---
To return to the opening page and index

push here
---
[right.htm]