Battle for Boeung Kak Lake
Despite an economy that is booming, the biggest threat to the poorest of the poor can be prosperity. With increased investment and development, vast numbers of Cambodians are being priced off the land. The biggest battle rages at Phnom Penh's Boeung Kak Lake, former swampland where refuges from the Khmer Rouge built new lives, until developers hungered for the formerly worthless site, conspiring with the corrupt government to concoct the biggest relocations since the vile Khmer Rouge cleared out the cities in the 1970s.
By Ron Gluckman /Phnom Penh, Cambodia
---
PHORN SOKHIM IS 56, AND EACH YEAR
seems to etch new fears into her tired face, wilting her frail, rail-thin frame. All skin, bones and bad teeth, she weighs 70 pounds, but still works 12-hour days, earning $2 to $3 by farming vegetables on Boeung Kak Lake in Phnom Penh.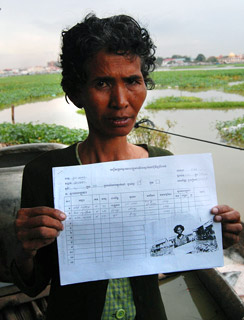 Some 4,000 families make their home – literally - upon the largest lake in Cambodia's capital. Shacks perch helter-skelter on sagging planks, a grassroots settlement of squatters and refuges who, in the traumatic aftermath of the murderous Khmer Rouge, found shelter here in land, or rather lake, that nobody else wanted.
Phorn's entire family perished. Making her way to Phnom Penh, she hid, than rebuilt her life in this swampy basin. Yet, even amongst the downtrodden, there is a pecking order. Phorn's one-room hut sits as far as one can wobble on the wooden planks before plopping into the polluted lake. The tiny hovel, second-hand wood and corrugated metal, looks as rickety as Phorn, but both are survivors.
For how long? That's one question that keeps Phorn shaking, awake at night. "Last night, I heard the boats come," she says, eyes wide with terror. "I heard them and couldn't sleep." In the morning, she found that stakes marking the boundaries of the water gardens sustaining these lake dwellers had been pulled up. But a bigger dread: "Maybe they will come back and knock down my house."
The same fear grips ramshackle communities around the lake, where 30,000 or so people make their home, some for decades. Many feel terrorized, under siege, with no one to turn to. Authorities won't help. Residents say they are helping the boat men steal the lake.
Rumors have circulated for years that the lake would be targeted for development. Still residents were shocked when, without public or community consultation, they heard that they would have to relocate far from Phnom Penh, in the latest of a series of large-scale evictions serving the surging development that has transformed Cambodia, formerly a forlorn Asian backwater, into the region's newest tiger economy. Growth has averaged nearly 10 percent over the past three years; only China has grown faster in that period.
All around this battle-scarred country, still healing from the wounds of decades of war, the world's worst genocide and numerous coups, entire towns and ethnic populations are vanishing, often violently, to make way for rubber plantations, logging or mining operations, says Naly Pilorge, director of the local human rights group, LICADHO. Her group has documented numerous instances in which police and military forcibly removed residents, arresting resisters and activists. Some villages have been burnt or bulldozed, and protesters killed in clashes. By the end of 2006, LICADHO says nearly 15 percent of Cambodia's arable land had been leased to concessionaires, generally big companies with strong links to the government.
If anything, since then, evictions have picked up pace. Increasingly, they pave the way not for roads, plantations or rural developments, but massive real estate projects like one planned for this lake, most of which would be filled in. Cambodia's real estate sector also claims Asia's second-fastest growth rates, again trailing only China.
Much of that growth has been along Cambodia's coast, where local developers and foreign funds are carving up some of Asia's last undeveloped shoreline for expensive villas and resorts. But the biggest projects dot Phnom Penh, where massive, self-contained satellite cities fueled by money from South Korea and China promise gated communities, boating clubs and golf courses for the privileged.
Meanwhile, current residents, like those at Boeung Kak Lake, many claiming title to their plank-connected plots under the country's 2001 Land Law, are shunted aside with little compensation, or forced to remote relocation sites, which often lack any services or hope of livelihood. "Landlessness is an increasingly critical development and human rights issue in Cambodia," notes a report from the United States Agency for International Development (USAID).
Ironically, despite the development, or perhaps because of it, the problem grows worse, according to David Pred, founder and director of Bridges Across Borders Southeast Asia, an aide group in Cambodia that provides child protective services, health care and, increasingly, land-rights counseling and advocacy. "Land grabs are reaching epidemic proportions," he says. "This is the biggest problem facing Cambodia."
Many figures bear him out. British charity Oxfam estimated that landlessness affected perhaps 3 percent of the total population in 1993, in the aftermath of what was then the biggest United Nations peacekeeping mission. Over US$10 billion was spent to disarm the various Cambodian factions that had been fighting since the 1970s, and to oversee the first elections in 1992.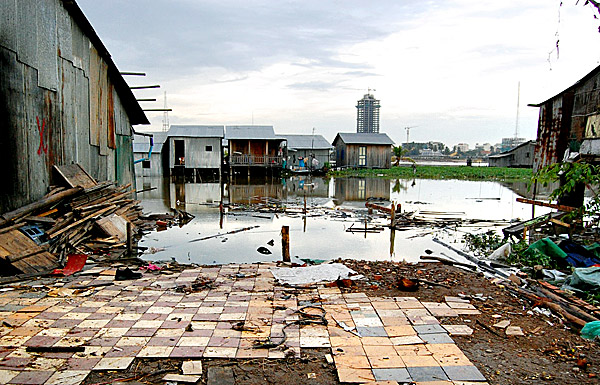 Although civil society has been slow to emerge, Cambodia can claim to be among the most democratic countries in Southeast Asia. While corruption remains a huge stigma – a new report from Transparency International ranks Cambodia as the 14th-most corrupt country in the world - the free-wheeling economy and improved security has lured a growing group of frontier investors. Yet the soaring economic growth hasn't trickled down much. By the end of the 1990s, landlessness likely reached 12 percent, according to USAID.
The figure has almost doubled since then to 23 percent, according to Pred. "In Cambodia, the rich steal from the poor and get away with it," he said dejectedly after a recent land-rights meeting at Boeung Kak Lake, in a small school and health clinic that his group runs for lake residents. "This is all government-sanctioned under the auspices of economic development, but really, it's just a land grab."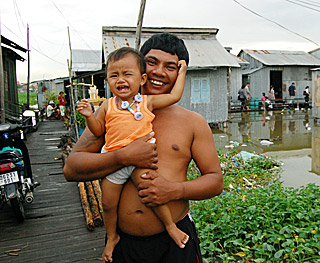 The situation around the country is equally dire. In a report at the end of September, Amnesty International said 150,000 Cambodians were living in risk of evictions "in the wake of land disputes, land grabbing, and agro-industrial and urban redevelopment projects." Adhoc, a local rights watchdog, estimates 50,000 people nationwide were evicted for development projects in 2006 and 2007. LICADHO estimates that over 30,000 people have been displaced by forced evictions in Phnom Penh alone in the last five years.
Amnesty and local land-rights activists say pressure on residents and those who organize have increased around the country. "Our workers have received calls threatening them unless they backed away from this case," says Dan Nicholson, Asia and Pacific Programme Coordinator for the Centre on Housing Rights and Evictions (COHRE), which is fighting to halt the lake project or at least win adequate compensation for residents.
The government initially told residents they would have to choose between relocation to a new dwelling 15 kilometers outside of Phnom Penh, a resettlement payment of $8000, or the option of housing in the new development at some unspecified time in the future. Under intense protest, the government upped the payment to $8500, or a payment of $500 and relocation to a dreary resettlement site lacking adequate water and other services. Few have accepted.
"The main problem is that it is too far away and there are no jobs there," noted Pred. His group estimates that developers are getting land worth US$2 billion at current selling prices for $79 million, all without any bidding or public discussion. "If they want to develop the lake, they should do it in a fair, transparent manner. They need to consult the people and make fair compensation."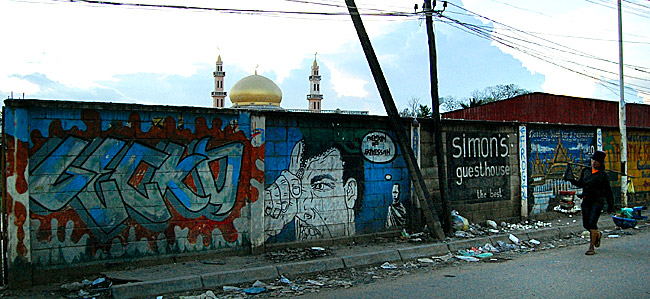 Cambodia has a long record of brutal evictions and shameful legal process, as detailed by various human rights groups. Perhaps the worst examples are documented among remote ethnic tribes, where land has been appropriated wholesale for logging and mining. In March 2005, in Kbal Spean village, in Banteay Meanchey Province near the Thai border, police and soldiers allegedly fired into a crowd protesting the theft of their land; five were killed and 40 injured.
Cambodian law limits economic concessions to 10,000 hectares, but LICADHO has documented regular patterns of abuse that include granting deeds of contiguous land to companies with different names, but the same office address and director. Pheapimex, with close ties to the government, allegedly claims 300,000 hectares.
Pheapimex has also been linked to Shukaku, the mysterious firm granted a 99-year lease on Boeung Kak Lake in February 2007. Little is known about Shukaku beyond reports in Chinese media of funding from a Yunnan state company that signed a development partnership following meetings in southern China with Cambodian Deputy Prime Minister Sok An. Pheapimex is owned by Senator Lau Meng Khin.
Such heavyweight political clout isn't the only obstacle facing land activists. Amnesty notes government-orchestrated intimidation, while village leaders are often bought off. "And the government controls the judiciary," notes LICADHO'S Pilorge. "They use physical abuse, divide communities, and threaten not only land organizers but their relatives with arrests. They have all the tools for disempowering communities and taking the land."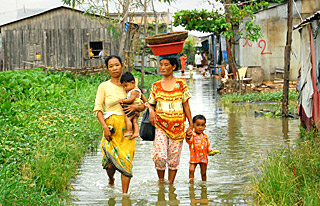 Still, many like Brian Rohan, an American lawyer in Cambodia who trains local lawyers and specializes in land issues, thinks the battle over Boeung Kak Lake is shaping up as a landmark case that could change the tide. For one thing, the lake isn't in an obscure corner of the country, beyond the reach of activists and reporters. Boeung Kak Lake has been a popular tourist area in Phnom Penh for years. Guesthouses, restaurants and other businesses have owners with a huge stake in staying put, who are more accustomed to speaking out than the rural poor who often fall victim to evictions
As well as visibility, the size of the project, and its vast impact, makes it hard to ignore. "It's the largest relocation of people in Cambodia since the Khmer Rouge emptied the cities," Nicholson notes.
Then, there are the terms of the deal, which remain shrouded in secrecy. No public hearings were held on the proposal to give the rights to 133 hectares of land to Shukaku for a reported mix of high-end office, residential and retail development. Nobody really knows the exact nature of the plans, since none have been made public. Criticism of the environmental wisdom of filling in one of this scorching-hot capital's chief aquifers, has been widespread; even 82-year-old Vann Monyvann, revered national architect who built many of Phnom Penh's finest buildings and monuments in the 1950s-1970s, has made rare public statements of opposition.
The government of Prime Minister Hun Sen, ruler for two decades, who personally approves the land concessions, counters that there has been a proper environmental impact report. Assessing it is impossible, since no one has seen it.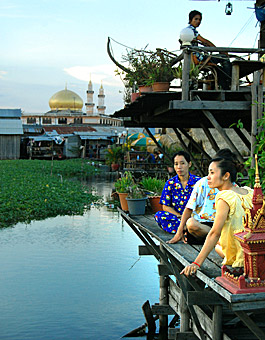 Finally, the grant likely violates the country's land laws, according to various legal experts and advocates. Concessions can be granted for state property, but not public land like a lake. "It's blatantly illegal," says Nicholson. "This is bound to be a huge test case."
Additionally, many of the lake residents actually claim title to land as part of a nationwide program to register land claims. After the Khmer Rouge obliterated land ownership, the government basically started over, assuming title to all land. But residents who could show a mandated period of occupancy could lay claim to the land.
Phorn, the frail vegetable grower has few possessions, but proudly shows off her land title, complete with fingerprints and photograph of her receiving the deed from the government workers who circulated around the lake to register the land claims.
Of course, that was when nobody except desperate refugees like Phorn would dare to live on the lake, where flooding and typhoid are annual nightmares. Now, even the 3,000 people who live and scavenge for a living on the city's putrid Stung Meanchey municipal dump are being confronted with the fear of eviction. For decades, human rights workers have tried to feed and school the brigades of rag children at the dump, and hectored the government to close it.
Next year, the government will shut it down. Not out of concern for the health of the to dump children, but because the land has become to valuable for mere refuse. It will be redeveloped as real estate and the landfill, along with the workers, relocated outside Phnom Penh.
Prospects for Boeung Kak Lake haven't appeared too promising. In September, courts demanded steep filing fees of tens of thousands of dollars to request a halt to filling in the lake, which has already increased flooding, and forced many to flee submerged homes. Residents then mounted a protest at the home of Prime Minister Hun Sen, but were turned away. A government spokesman later said they could take the compensation or get nothing.
"Development is supposed to help people not make them worse," notes Pred, who adds that some lakeside residents reminisce that things were actually better under the Khmer Rouge, blamed for the death perhaps 20-25 percent of the Cambodian population. "At least, back then, they say, they had a place to live."
---
Ron Gluckman is an American reporter who has been living in and covering Asia since 1991, roaming widely around the region to cover events for various magazines, loike the Far Eastern Economic Review (www.FEER.com) which ran this story in October 2008.
Words and all photos copyright RON GLUCKMAN
---
To return to the opening page and index



push here
---