California Dreaming
Out in America's Wild West, there is one place the deer still play and buffalo roam free. It's one of the best kept-kept holiday secrets in the entire United States. Best of all, it's only an hour from LA
By Ron Gluckman/Catalina Island
---
C

ATALINA ISLAND IS ONLY 20 MILES away from America's largest city, but this Treasure Island boasts a wealth of unspoiled wilderness, including 76 square miles of untrammeled forest, clean beaches and rugged coastline where seals and otters find refuge.

In this park, a premium is placed upon clean air and quiet. Cars are banned. Air access is restricted by the island rulers, who also control all commercial and residential development. Camping is confined to a few sites. Even bike riders need permits to pedal into the interior of the island.

The protection is more stringent than at any national park. That's because nearly all of Catalina Island is privately owned, preserved by an unusual conservation organization empowered with the funding and authority to maintain Catalina's serenity for present and future generations.

Yet visiting this island - where the Chicago Cubs baseball team used to come for spring training and big bands led by Woody Herman and Tommy Dorsey played swing - is as easy as buying a boat ticket at any number of Southern California piers.

Once a sanctuary for the privileged few who fled by yacht from the urban sprawl of nearby Los Angeles, Catalina Island is now a small ecotopia for the masses. And it's, a paradise not only of scenery, but also of spirit.

In less time than it takes to travel to Disneyland, visitors leave Los Angeles and travel back in time to savor a slice of Americana that has all but disappeared from the rest of the US.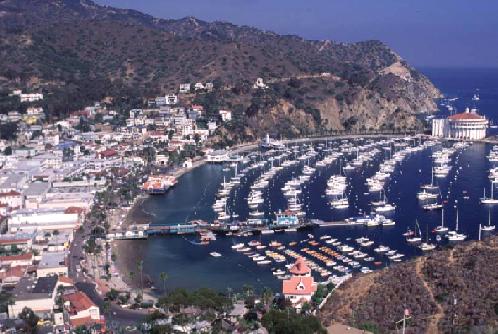 Boats of all sizes and shapes bob in the serene blue-green waters of Catalina Island's main towns, picturesque Avalon and Two Harbors. Coastal cottages dot tree-lined hillsides. Shopkeepers step outside to greet visitors. Small children lick cones at authentic ice cream parlors. The video store is called "The Video Store," and dozens of shops are named with smalltown simplicity, like "Betty's Travel." Everybody knows everybody else on this island, and visitors staying more than a day or two are quickly welcomed into the big happy family.
That's what happened when I wondered into Catalina Island's Casino Ballroom, one of the world's finest art deco palaces. Strolling along the oceanside promenade on a fine summer day, the sound of swing music boomed from the circular building, which opened in 1929. The entire island celebrated that day and, 70 years later, they were celebrating all over again.
Joe and Rose Arno, now in their 80s, no longer spin across the 180-foot diameter dance floor, but they still hold hands like newlyweds under sparkling chandeliers that dangle from the building's 25-foot lantern cupola. Joe, 87, who served as mayor of Avalon in the 1960s, came to manage a fish market in the early 1930s. Rose, 83, arrived for a look a few weeks later.
"I was 25, and she was 22," he recalls. "I loved it right away, but figured we'd stay a couple years. Five years went by, then 60."
Rose says the toughest time was during World War II, when most islanders moved to safer quarters on the mainland. "There were no more tourists then, but we stayed on and Catalina survived. The soldiers came and camped in the mud. We'd have dances for the boys," she says, blushing as she adds: "It was almost our duty to dance with them."
Despite the name, there has never been any gambling inside the Casino Building, which has served as the center of Catalina Island life for decades. Every major big band of the era held court, with up to 6,000 people crowding the dance floor and surrounding terraces. Radio broadcasts at the Casino Building went nationwide from the mid-1930s to the 1950s.
Underneath the ballroom, is historic Avalon Theater, the first ever designed specifically for sound movies. The walls boast gorgeous murals by John Gabriel Beckman, who worked on Grauman's landmark Chinese Theater in Hollywood.
The 1,200-seat theater has been refurbished, but still recalls the opulence of bygone cinema splendor. The 25-foot wide foyer has 4,500 square feet of black walnut on the walls. The circular ceiling is unbroken by balconies or pillars, and is covered with silver leaf and star designs, in which twinkling lights provide a celestial elegance.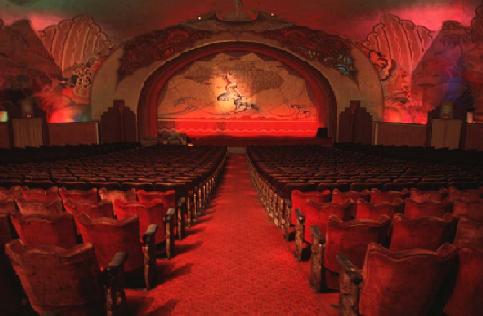 The projection system is a throwback to Hollywood's Golden Age, using a single 3,000-watt xenon bulb to send images dancing across a 36-foot wide screen. Yet the sound system uses Dolby and surround techniques to take full advantage of the theater's phenomenal acoustics.
Matinees and music concerts are held irregularly these days, but the Casino Building is open to tourists, with the island museum in its basement. Yet the real exhibits are scattered around the island, in towns and vistas that time seems to have forgotten.
Oh, things have changed a bit since the 1930s, when the local paper ran front page stories about weddings and meetings of the Tuna Club. Back then, soup sold for five cents per can, dinners at the Acme Cafe cost 50 cents, and movie admission was 25 cents.
Nowadays, a man in a loud Hawaiian shirt named Tom Turner edits the Catalina Islander, which claims to be the oldest newspaper in Southern California after the Los Angeles Times. The Islander celebrates its 80th anniversary this year.
"I came here for a year, to run the local radio station," he says, repeating a familiar island theme . "One year became six, and my six-year-old daughter became a teenager. Catalina has a lot of attraction: clean air, clean water and it's relatively crime free. It's a nice, peaceful place. You never have to fear anything here. That's a nice feeling."
Catalina Island hasn't had a murder in more than a decade, says Joetta Webb, at the local sheriffs office. "Our main business is responding to medical emergencies. People fall down. Hikers break their legs. At night, we get complaints of dogs barking.
"This is a low-crime area," says Webb, who is happy to leave the excitement to colleagues in Los Angeles, where murders occur on a daily basis. "This isn't Mayberry, but it's close."
Despite the proximity, surprisingly few Los Angelinos have visited this peaceful island that was discovered 450 years ago by Portuguese navigator Don Juan Rodriguez Cabrillo, who pioneered countless Pacific passageways for the Spanish crown.
Little development occured until the 1850s, when stories circulated of Catalina being used as a refuge for slave traders. By then, Catalina belonged to American Thomas Robbins, who received the entire island from Governor Pio Pico, in the final days of Mexican rule.
Robbins hoped to raise cattle on the island, but his plans were dashed by the mining boom of the mid-1800s. More than 100,000 feet of tunnels were dug on the island, and the era is remembered by places like Silver Canyon. Mining ended during the Civil War, when Union soldiers occupied the island to prevent southern sympathizers from seizing it to prey on California shipping. Union barracks still stand at the Catalina town of Two Harbors.
From Robbins, the property passed to Don Nicolas Covarrubias, then James Lick, a well known California millionaire philanthropist, who endowed the Lick Observatory and many academic institutions. His estate sold the island to George Shatto in 1887.
Shatto planned to turn Avalon into a resort, leaving the remainder of Catalina Island for ranching. However, a decade later, he sold the island to the Banning Brothers - sons of western stagecoach pioneer General Phineas Banning. The three brothers formed the Santa Catalina Island Company to publicize the fisherman's paradise. To this day, Catalina Island remains renowned for sports fishing of marlin, tuna, barracuda and swordfish. The island's waters are also rich in halibut, moray, snapper, sole and shark.
Catalina Island's golden days began in 1919, when a controlling interest was acquired by Chicago millionaire William Wrigley, who had grand plans for his California paradise. He built a mansion on Mt. Ada, named for his wife. The 22-room estate is now an amazing bed and breakfast lodge that is highly recommended.
Wrigley brought excitement to the island every year, when his Chicago Cubs baseball team came for spring training right through the late 1940s. A ball field was built and visitors came from Los Angeles and other California cities to watch the "Catalina" Cubs.
Wrigley also began the land management policies that reversed decades of abuse of the ecosystem. Overgrazing was the most obvious problem, with thousands of goats, cows and pigs wrecking havoc for decades.
The island's transformation was completed in the mid-1970s, when Santa Catalina Island Company agreed to give Los Angeles County use of 41,000 acres of the island for recreation and park use for 50 years. However, ownership and management remained in the hands of the Santa Catalina Island Conservancy, a non profit group formed in 1972.
"Our bylaws spell out our plan, to keep this land in a natural state for perpetuity," says Doug Propst, who came to Catalina Island over 40 years ago and recently retired as president of the Catalina Conservancy. "We have a budget of $2 million and get over 250,000 visitors every year. We're not interested in more visitors, but in controlling usage."
With over 30 paid staff, including personnel at the Conservancy-owned airport and park rangers, Propst says, "We're pleased with our accomplishments. Restoring land takes time, lots of time. And we've only been around since 1975."
So far, the successes include the opening of California's first permanent desalination plant in 1991. The group is also working to restore bald eagles to the island, and protect the native Ironweed. Among thousands of species of plants and animals, Catalina is home to 15 found nowhere else. These include five endemic mammals, among them, the Catalina Island Fox and Beechey Ground Squirrel, which live among the unique Catalina Mahogany.
Buffalo roam the interior of the island, where visitation is allowed only on special tour buses. A dozen buffalo were brought to the island in the 1920s for the filming of "The Vanishing American." Over 200 buffalo now roam Catalina's protected plains.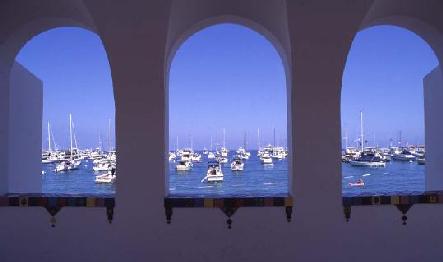 Transport around the rest of the island is generally by boat or foot. Residents ride around Avalon on golf carts, which are strictly regulated.
The result is a quiet and pleasant vacation paradise, that also serves the idyllic aims of a few thousand residents. Prominent among them was Zane Grey, one of America's premier authors of western novels. Grey also wrote baseball books and outdoor stories, nearly 90 books in all. He wrote and fished on the island right up until his death in 1939.
Grey is well remembered at the Pueblo Hotel, the home he built in 1929. The old beams and rugged red adobe of the lodge offer a rustic charm, but there is a swimming pool, stunning views, and that sense of western history seeping through the walls.
"We have no telephones, and no TVs," says manager Michael Shehabi. "We take pride in the peace and privacy. People come here to get away."
Those were the qualities that lured Wayne Griffin to Catalina Island 17 years ago, the last seven of which he has devoted to a balancing act, as director of the Catalina Island Chamber of Commerce and Visitors Bureau. "Tourism is the island's only industry," he admits, "but beauty and tranquility are assets that can easily be consumed."
Unlike many American chambers, which typically battle conservationists, on Catalina Island a partnership has evolved. "The Conservancy is really protecting the resources here, which are our biggest assets," Griffin explains. "Where else can you go in Southern California to see 160,000 unspoiled acres? We have clean water, no traffic, and no smog."
Griffin gives a firm grip, then steps outside his office, across from fish stalls on the Avalon pier, and waves while I skip back to the fabulous Casino Ballroom, just in time for the final encore. While couples dance the jitterbug, Joe Arno throws a slender arm around his wife Rose. They both smile. And suddenly, it's the 1930s, all over again.
Catalina Island can be reached from numerous Southern Californian coastal communities. Most visitors come by hover ferry (55 minutes) from beside the Queen Mary berth in Long Beach. There are also boats from San Pedro, Newport Beach, Oceanside and San Diego. New ferries make the journey in an hour. Companies also offer commercial helicopter service from Long Beach, San Pedro, Burbank and Los Angeles.
Ron Gluckman is a Hong Kong-based reporter who spends most of his time roaming around the nether reaches of Asia. Like most native Californians, he had never been to Catalina Island, until an assignment for a travel magazine allowed him to visit this lovely island. This story ran in Going Places, the Malaysian Airlines magazine. A similar story by Ron Gluckman ran in May 1999 in Sawasdee, the Thai Airways magazine.
---
To return to the opening page and index

push here
---