Cambodia's Hair Entrepreneur
Most Hollywood stars wear them, but the world's hair extensions mainly come from India. Yet a plucky American woman is challenging the hair magnates with an unusual start-up based in one of the world's poorest countries, Cambodia. Selling direct to customers around the globe, she's bringing commerce and new hope to Cambodia.
By Ron Gluckman /in Phnom Penh, Cambodia
---
STARS LIKE PARIS HILTON AND BRITNEY SPEARS wear them. Yet hair extensions have become as commonplace in neighborhood salons as on the Hollywood red carpets. Among the fastest-growing segments of a multi-billion dollar hair industry, they command high margins and annual sales estimated to range from $250 million to over $1 billion..
Extensions are hair pieces of varying size that add dimension to one's hairstyle. Its another industry that has roots in Asia, mainly India, the source of the vast majority of hair. A large portion goes to China, where it's turned into extensions commonly sold by Chinese or Korean wholesalers in the United States.
Yet one American entrepreneur in Cambodia is shaking up the world's hair magnates with a start-up that could hardly be more innovative or surprising. Janice Wilson's Arjuni is based in a bases
five-story building in Phnom Penh that lacks elevators and, sometimes, power. Employees typically have to travel to remote villages by motorbike or foot to pick up the goods that Arjuni sells. And the office floor is cluttered with piles of hair strands instead of computers.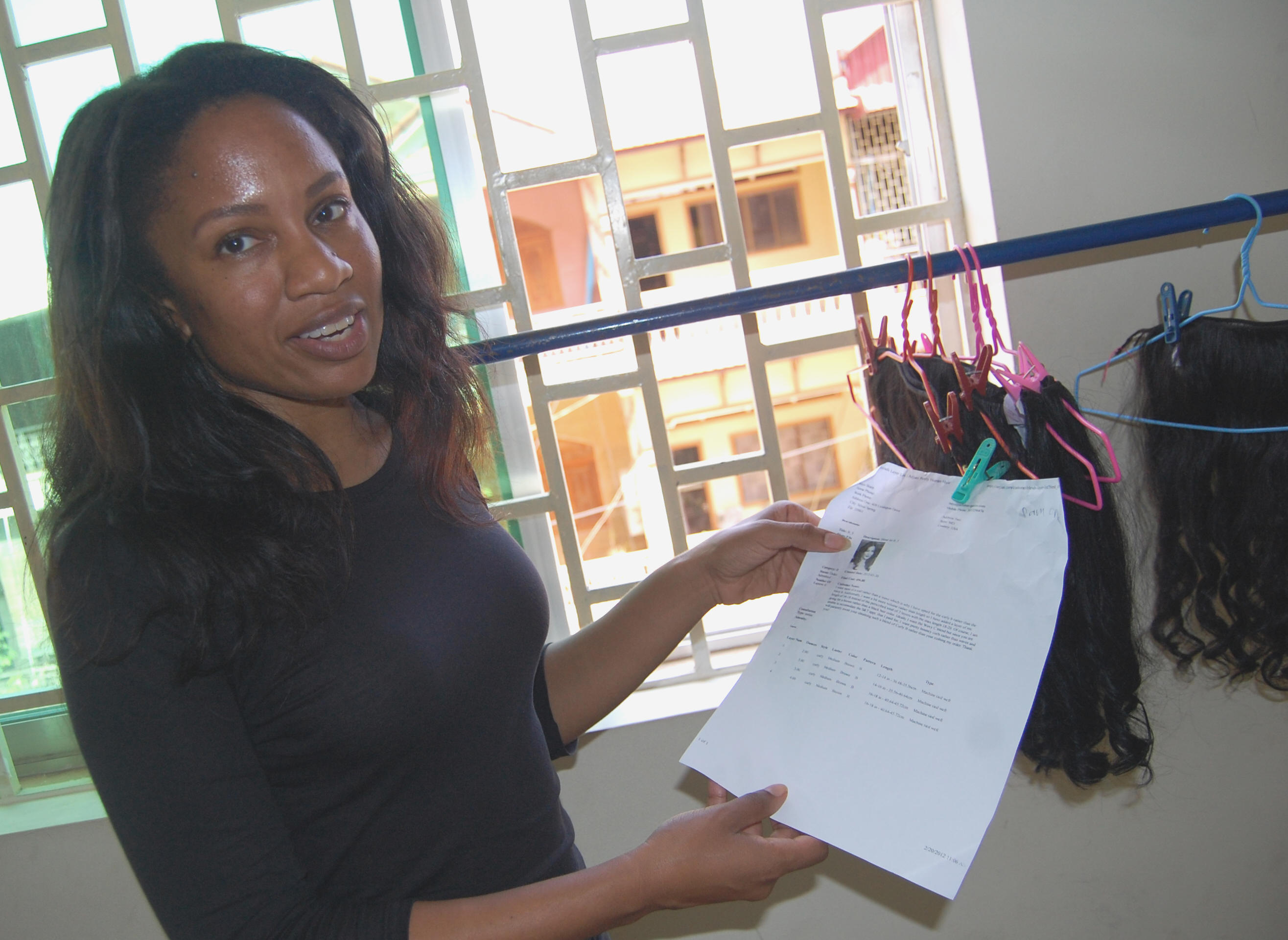 But like many new ventures, Arjuni is harnessing the latest Internet tools like Twitter and social media to build a loyal customer base.
In just two years, the company, founded by Janice Wilson, has grown from a handful of employees to 80, and it now generates more than $1 million in revenue. The start-up is also slowly gaining market share from the industry's dominant players in India and China, as well as retailers in the United States and Europe.
"We not only buy and collect the hair ourselves, but sell it directly to our customers. This makes us stand out," Ms. Wilson said. "We're small, but considered one of the top brands."
While hair extensions have been around for decades, they became a fashion craze in recent years, when stars like Hilton, Beyonce and Spears started using them to change their looks. A large proportion of Arjuni customers, like Ms. Wilson, are African-Americans seeking fuller styles for their tresses.
India has long provided much of the world's natural hair, sold to wholesalers mainly in China, which in turn marketed their products to retailers in Europe and the United States. But Ms. Wilson found that Cambodians have similar hair quality, long with cuticles in alignment.
"Probably 99 percent of the world's hair comes from India. Nobody had thought of Cambodia," said Ms. Wilson, 39, straddling piles of hair on the top floor.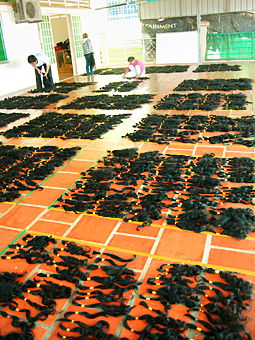 It is a small but potentially profitable niche. The hair extensions business generates annual revenues of $250 million.
Ms. Wilson said it was important to her to have a business serve a social purpose. Many of Arjuni's employees formerly worked in Cambodia's notorious sex trade.
That effort helped attract seed capital from Japanese investment fund Arun, formed in 2009 by Satoko Kono to help social enterprises in emerging nations. "We like how Arjuni is employing women, and helping the needy," said Ms. Kono, who spent a decade with development organizations in Cambodia.
Additional money came from the Cambodian Export Market Access Fund, which is a World Bank-financed project that helps companies trying to develop exports. The rest came from her savings, friends and family.
A lawyer by training, Ms. Wilson has grown her business by making customers feel engaged in the product via the Internet.
Customers eagerly describe their orders on home videos that they upload on YouTube, with segments on topics like hair design, delivery and grooming. Clients are encouraged to send in pictures of starlets they want to emulate, like Catherine Zeta-Jones or Beyoncé. Arjuni also floods Facebook with testimonials and promotions.
"Our clients are fanatical about hair," said Tiyana Peters, who oversees social media for Arjuni. "We get everything from wedding photos afterward to details on how the boyfriends react."
By dealing direct with customers, Arjuni eliminates the added cost of working through another retailer or site. Extensions can cost thousands of dollars, but typically average around $500.
The Internet has helped with damage control, as well. After rumors spread online that Arjuni was stealing hair or forcing women to sell it, the company began regularly posting more information on its operations on networking sites.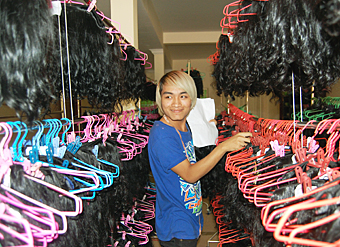 "This was totally untrue. We buy the hair at fair prices, and tried to explain it, but there isn't much you can do," Ms. Wilson said. "Our company grew up in the age of social media," she said. "Social media is huge, and has helped us, but these accusations really stung."
Her idea for the start-up was an evolution of sorts. Ms. Wilson, originally from Green Bay, Wis., was on vacation in Cambodia four years ago, she began thinking about opportunities to start a business here.
Cambodia was in the midst of an economic boom and had the fastest-growing economy in Asia after China for several years running. One of the hottest sectors was real estate. Ms. Wilson, who was working for a real estate firm in Colorado, decided to move to Cambodia, and with local partners, planned a development near the temples of Angkor, the country's top tourist attraction.
When Cambodia's property market tanked along with the global economy, she faced a monumental challenge. "I either had to give up and go back to America, or find something else to do," she recalls.
The collapse of Cambodia's textile industry largely as a result of cheap competition from China led to her idea. Cambodian workers with sewing skills were suddenly unemployed and nobody had looked at Cambodian hair as a marketable material before.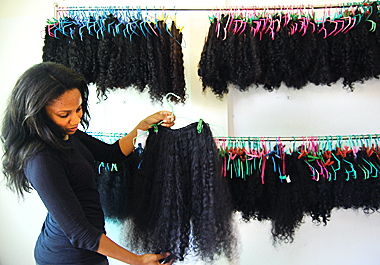 "I was thinking, what is recession-proof?" Ms. Wilson recalled. The answer: "vanity."
The best — and most expensive — hair extensions are made from natural human hair, which is cut, cleaned and sewn into individual pieces. "It was low-tech, they just needed to learn how to make them, and we just needed sewing machines. We could use the skills already here," she says.
The business was also a way to help workers develop marketable skills. Ms. Wilson now provides employees with free English, computer and math classes. A third of workers come from troubled situations like sex trafficking or spousal abuse. "But we run everything as a business," Ms. Wilson said.
Ms. Wilson acknowledged that she and her staff members were extremely ambitious at the outset, "trying to do everything at once — collection, fabrication and distribution." But they have been able to keep up the frenzied pace as the company grew.
"It's definitely been difficult to scale up," Ms. Wilson said. "But it does make us better quality."
This spring, Arjuni added yet another facet to its operation — a series of in-person events in the United States called Halo, where her staff could meet and help groom customers.
"Do I feel I have aged a lot? Definitely," Ms. Wilson said. "But I love being an entrepreneur. I love the challenges."
"When I worked in a law office, I was bored out of my mind," she added. "When you have this entrepreneurial spirit, you just have to do it."
---
Ron Gluckman is an American reporter who has been living in and covering Asia since 1991, and in Cambodia since 1993, living here from 2005-2009. This story ran in the New York Times on May 28, 2012.
Words and all photos copyright RON GLUCKMAN
---
To return to the opening page and index



push here
---