China's style setter
Handel Lee returned to his ancestral homeland to practice law, but was soon indulging his passions, for fine art, grand architecture and old blues and jazz music. With a succession of clubs, restaurants and scene-setting shopping plazas, Lee has brought the best of the West within reach of Chinese. Now, he offers tips for entrepreneurs on the mainland.
By Ron Gluckman /Shanghai
---
HE HAS BEEN CALLED CHINA'S KING

of high-culture, a style-setting guru molding many of the mainland's finest art galleries, restaurants and clubs.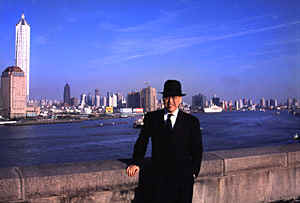 However, Handel Lee prefers blues to techno tunes, retro rather than trendy suits. Not exactly the look of dean of the Now Scene. And you could hardly have a less hip day job than Lee, a lifelong lawyer.
Still, the chairman of King & Wood, China's largest law firm, is a modern Renaissance Man, better known for his work outside the court, in the courtyard.
A famed collector of art and architecture aficionado, Lee has lovingly restored several traditional Chinese homes. In 1996, he opened one as the Courtyard, Beijing's first internationally-acclaimed fine-dining restaurant and contemporary art gallery.
In the decade since, this energetic entrepreneur has been behind some of the country's hottest music clubs, restaurants and art galleries, including Shanghai's renowned Three on the Bund. Now, he's broken ground on a bigger, more ambitious project in Beijing.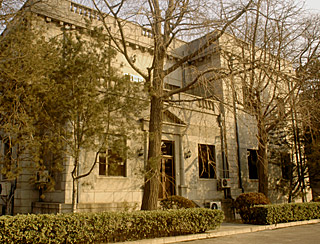 In March 2006, he started restoration of the old American legation, around the corner from Tiananmen Square. By the following spring, the historic site that withstood the Boxer's Siege should reopen as a complex of luxurious retail showrooms, expensive restaurants and trendy art galleries. Buried under the main lawn, where the Stars and Stripes formerly fluttered on a flagpole, Lee will build the capital's finest jazz club and full repertory theater.
"What we want to do here, just like in Shanghai, is to effect contemporary culture, to bring up the standard," says Lee. "The plan is to bring a higher level of everything people want, from architecture to the food, art, shopping and fashion.
"This will be a place of aspiration, of what Beijing people aspire to, what they see in Vogue and other magazines, but haven't seen in person before," he adds. "This will be a place of dreams, but something real, that they can see."
Lofty ambitions, but Lee accomplished exactly that with Three on the Bund, a lavish seven-story showroom celebrating the finer things in life: expensive art, Armani clothes, an Evian spa and upscale restaurants, including the biggest Jean Georges.
Designed by Michael Graves, one of the world's top architects, the stunning restoration of a historic 90-year-old brownstone largely kicked off a renaissance for the Bund, the riverfront promenade in Shanghai that once delineated the wealthiest district in Asia.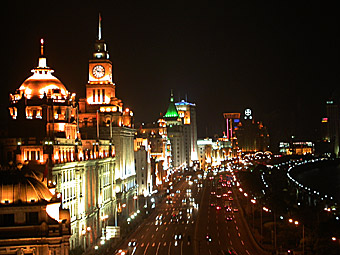 Famed French chef Jean-Georges Vongerichten will be part of Lee's new Beijing plaza, and Giorgio Armani will use the location for its flagship Beijing stores. Other tenants, Lee says, are likely to include the Michelin-starred Enoteca Pinchiorri from Italy, a swish Tokyo eatery and the folks running a top London club.
"What we will do here," he says, on a tour of the site, is to kind of set a tone that will take Beijing to a new level."
Nobody would accuse Lee of understatement. Admirers, critics and competitors alike have learned through experience not to underestimate him, his grand ambitions, or uncanny ability to pull off the improbable.
"When we did Three on the Bund, everyone thought we were crazy," he concedes. "They all said we were spending too much, overbuilding, way ahead of our time.
"But look at Shanghai now," he says. "You look at all the development on the Bund, all the shops, and the people and the spending, and I think it shows we were right."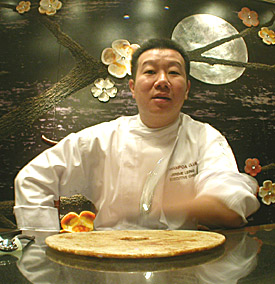 Lee has been helped by negotiating skills honed to razor-sharpness by a lifetime as a lawyer. A relentless wheeler-dealer, he also claims the connections that, time and time again, allow him to nab the best locations and landmark approvals.
Yet, his success is also due to his commitment to quality, and a proven track record of putting cultural goals ahead of quick returns. Lee is in China for the long-haul.
Raised in the American capital of Washington, DC, Lee first visited the land where both of his parents were born in 1981. His mother is a native of Beijing, from a family with long royal lineage. His father grew up in Shanghai, but was born in Nanjing, where Lee's grandfather was the president of the theological seminary.
Growing up, Lee recalls constant references to the greatness of Chinese history and civilization. "I was shocked," he says of his first visit to China, when he was 20. "It was crowded and poor, not at all the China that they had talked about."
Still, something clearly clicked. In between studies at Virginia University and the fabled Georgetown University Law Center, Lee made more visits to China, and spent several months learning Mandarin in Beijing. When he returned in 1991 to open the law office of Skadden, Arps, Slate, Meagher & Flom, it was for good.
The legal field has grown by leaps and bounds in his 15 years in the mainland. "Ten years ago, King & Wood probably had 30 or 40 attorneys," he says. "Now, it's 450 and we've got offices in Tokyo and Silicon Valley." The Chinese firm recently took over one of Hong Kong's most prominent firms, a reversal on the trend of just a few years ago.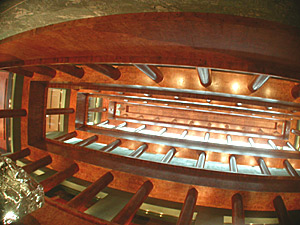 "Things are much, much better in all areas of China. Things that were tough to do 10 years ago, are easier now," says Lee. Meanwhile, the mainland has acquired a buzz that is helping to attract top-notch professionals. "Not only entrepreneurs, but people in all areas, great talent. They all want to be here, part of this incredible, exciting frontier."
This pioneer has paved the way. Although it might not seem so landmark given all the dining options in modern Beijing, the Courtyard was a quantum leap for the capital 15 years ago. The old courtyard house near the entrance to the Forbidden City features nouveau fusion cuisine and an art gallery showcasing contemporary Chinese art.
The latter brought the first mainstream recognition to a new generation of Chinese artists, whose bold, colorful creations now hang in museums and galleries around the globe.
Lee says his strategy as an entrepreneur in China has largely followed the same rules that apply elsewhere in the world. "Whether you are in the United States or China, the same considerations apply. You have to make sure you have the right partner, and you need to know the market." Then, there is the old adage of doing what you love.
Lee is renowned as a top collector of contemporary art and Chinese antiques. He is also a huge fan of architecture who has not only restored historic homes in Shanghai and Beijing for his own use, but built a modern house in the suburbs of Beijing that has attracted the attention and inspired many young mainland architects.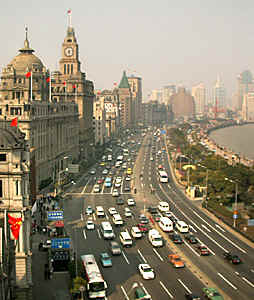 A major fan of jazz and blues music, he's a partner in two of China's top music clubs, long-popular House of Blues & Jazz in Shanghai and the new RBL in Beijing. The name simply means Restaurant, Blues and Lounge, but the establishment is hardly modest.
The interior sports long, stark walkways evoking the mood of the nearby Forbidden City, leading to a dining room with minimalist design and menu anything but. Icehouse, a club that launched in February, is the premium live venue in Beijing.
"This is the first authentic live music club in Beijing," Lee enthuses on opening night. Then, he avoids discussing business all night, grooving to the authentic blues band that he brought from Chicago. He stresses the word "authentic."
While Lee clearly has a huge stake in foreign brands and flash restaurants, he also promotes local art. Three on the Bund devotes retail space to the development of local designers and products. "For years, all the best talent and art in years went abroad, was collected overseas, hung in museums, and was out of reach of the average people."
This entrepreneur mixes business with a passion for change. "It sounds cliched, but I really believe that Chinese who grew up overseas, and had the opportunity to experience so much, have a responsibility to bring it back, and help China rebuild."
---
Ron Gluckman is an American reporter who divides his time between Beijing and Hong Kong, but roams around Asia for a number of publications, including Silk Road, which ran this story in summer 2006.
See a new story on Handel Lee in Forbes (March 2009) at http://www.forbes.com/global/2009/0302/074_man_many_projects.html
---
To return to the opening page and index

push here
---