The Great Indoors
Sun, sand and surf were everyone's prescription for holiday paradise, but, in the south of Japan, they leave nothing to Mother Nature
By Ron Gluckman / Miyazaki, Japan
---
I

'M FLAT ON MY BACK IN PARADISE. Perched upon a towel, stretched out on an immaculate white beach, I have turquoise sea in front of me and a cloudless sky overhead. Not a bee, sand fly or mosquito can be seen. The weather is perfect. It's warm enough for swimming in the inviting sea, but there is no danger of sunburn. A cold drink lays close at hand, along with a thick, juicy novel.

Suddenly, a strange haze drifts into view. Smoke envelops the top of a nearby mountain, which begins spitting out sparks of fire. Eruptions can be most annoying, but not here, not in paradise. As the volcano stirs to life, I don't even bother. Checking my watch, I see it's only the half-hour eruption. Returning to my book, I savor a smile. There is still another 30 minutes before the mountain blows its top.

Paradise proceeds with clockwork precision inside Ocean Dome, Japan's unique, sometimes surrealistic, but utterly updated version of the Garden of Eden. Inside a huge dome that could house six football pitches, the world's largest artificial sea washes over the biggest indoor beach, fringed with fake palm trees and other eye-popping innovations that have given a holiday make-over to old Mother Nature.

This evocative 21st Century resort shows that even paradise has room for improvement. In Ocean Dome, once every hour, on the hour, the surf is always up. Every afternoon is a carnival. Mechanized parrots squawk from branches of the dome's ingenious rain forest, which remain lush and tropical without rainfall or humidity. Best of all, in Ocean Dome, you can lull for hours on crushed marble pebbles without a worry about beach vendors, bugs or sun burns.

Instead, perfectly-timed waves whip equally well-groomed surfers along in 28-degree, chlorinated, salt-free water to the sanitized shore where they drip-dry in Ocean Dome's perfect climate, which remains a delightful 30 degrees, day and night, 365.25 days each year.

When the Beach Boys grow too old to remember the Good Vibrations of the faraway California shore, they could hardly do better than to be dispatched here, to this safe, self-contained beach paradise, where the sun never sets and the fun never stops; provided you have sufficient beach cash - specially-designed Ocean Dome payment tokens in the form of computer-coded plastic tags.

God didn't dream up this beach; the Japanese did.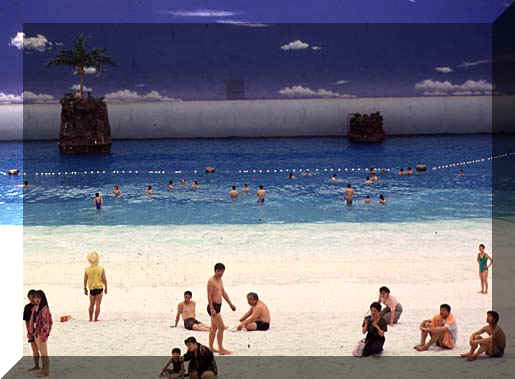 Perhaps the best designed beach on the planet sits inside a massive dome measuring 300 by 100 meters, about 1,500 kilometers south of Tokyo in Miyazaki, on Japan's southernmost Kyushu Island. A heated ocean with a width of 140 meters sends 13,500 tons of salt-free water sweeping across 600 tons of polished marble chips that constitute a 85-metre long shoreline, ringed by a three-story promenade of shops.
Every fifteen minutes, the volcano smokes to life. Every hour, on the hour, it spews fake flames. Like seismic chimes, these pseudo-eruptions sound a "surf's up" that signals a new level of excitement at this indoor Beach Blanket of the Bizarre.
All of a sudden, the artificial ocean turns tubular, thanks to Ocean Dome's enormous computer, which commands 10 large vacuum pumps to start sucking in sea, then spitting out a series of cool crests. Teams of professional surfers provide entertainment as they ride 3.5-metre waves, then lifeguards arrange squads of Japanese tourists toting boogie boards on either end of the "sea." They even point out the perfect points for catching these utterly predictable curls.
After a few minutes of orderly mayhem, the excitement abruptly ends. The staff clear the "ocean" and water jets jutting from the sides of a pair of "islands" squirt powerful spray to tame the rare uproar at this otherwise tranquil indoor sea. Calm quickly returns to the brave new world of Ocean Dome.
This prepackaged holiday vision of the future is part of an enormous US$2 billion recreational complex called Seagaia. The name itself is an odd concoction, melding the English word for the sea with "Gaia," an ancient Greek word for the Earth. "The name of a true paradise expresses the admiration for the perfect combination of sea and earth," explains one brochure from Seagaia, which ends: "This is a place where we can feel that we are part of nature."
Yet natural elements are kept to the minimum in Phoenix Resorts' masterplan for Seagaia, of which Ocean Dome was merely the first entree. The plan includes a wide assortment of other amusements, shopping centers, hotels, tennis courts and golf courses. It's a bold leap into the future for a local corporation that started its business life much more modestly, by renting seaside cottages to honeymoon couples in the 1960s.
But that was then, and this is now. Seagaia has taken a Space Age splash with Ocean Dome, which comes complete with all kinds of high-tech thrills and frills. A series of waterslides circle Mount Bali Hai, the volcano with the quarterly-hourly eruptions. On the other side of the beach is the plastic rainforest of Lost World, where guests can take a ghost-train ride amongst holographic sea pirates, demons and packs of Jurassic-era creatures.
There are also water cannons, beach bars and boutiques, and statues that look like some strange marriage between Cambodia's Angkor Wat and New Mexican pueblo, all under a 200-metre long retractable roof, which makes those at football pitches seem mere car sunroofs. Like everything else at Ocean Dome, the world's largest retractable roof is only pulled back at predetermined points of perfection - when the confluence of wind, sun and temperature meet the dome criteria.
Still, sunshine is no factor when you want to stage a beach carnival in the world's biggest party dome. Every afternoon, scores of dancers and musicians in Caribbean costumes provide a festive beach flavor. Every night, there is a spectacular stage show, performed upon the indoor ocean with aquatic performers. But that is long after darkness has descended outside the dome. Only then, when the last of the indoor surfers have stowed away their boards, are the indoor lights lowered, and the laser lights sweep across the artificial sea.
And, setting new standards for indoor beaches of the future, is Ocean Dome's exhilarating rafting trip down rugged Phoenix River. The Water Crash ride is rated Class Five, but there is no real danger despite scary-sounding chutes like Shark's Tooth, Devil's Staircase and Satan's Plunge. The rapids aren't real, and neither are the spills. Forget genuine chills, for this is all simulated. There's no river.
However, the raft shakes and spins, and water splashes over the crowd, in five wet-and-wild minutes of virtual-reality rafting.
"It's right silly, when you get down to it, mate," confides an Aussie worker in straw hat, as he guides guests to safety from one of the water slides. "It's kind of surreal, but the Japanese love it."
Indeed they do. Along the beach, men cover their eyes with washcloths, even though the sun is safely sealed outside this beach Bubbleland. Nonetheless, the smell of tanning lotion remains brisk by the fake breakers.
"It's clean, modern and safe," says one pleased visitor, Rie Takeda, a mother of two from Kochi prefecture, in Shikoku. She praises the predictability of everything at Ocean Dome, even the hourly waves. "And, I never have to worry about the safety of my children or sunburn."
Yoko Yamada, 22, visiting Ocean Dome with her boyfriend, enthuses about the "wonderful illusion." Several other Japanese visitors described the blissful release from that oppressive feeling of infinity imposed by mean old Mother Nature.
"When you look out on the horizon, you know that feeling you get, how things can go on and on, forever," says one. "You look out and see to infinity. It makes you feel small and insignificant. Here, things are confined, more peaceful."
Whenever one tires of the immaculate weather or the chlorinated indoor ocean, you can always take a stroll down another simulated beachfront delight – the boardwalk. There, scores of shops offer the latest in beach togs and a wide range of cuisine.
Customers pay a single price for admission and all fees are deducted from the computerized bar-coded tag dangling from each guest's wrist. The tags are color coded according to price, which may be another modern improvement on beach culture of the past. Now, the snobs can instantly separate the have-somes from the have-everythings, without squinting to read bikini labels.
All this indoor beach excitement can be expensive. Admission runs about US$50 for adults, with rides running $5-10 more. Add $10 for two hours with a boogie board, or $5 for two hours of inner tube rental.
Perhaps the oddest thing of all about this artificial environment is its location. Adventurous guests can step outside Ocean Dome and gaze out at... the REAL beach. From the third floor of the enormous dome, beside rows of eateries like Marco Polo, Buena Vista and Key West, doors lead outside to a balcony and a view of the age-old, unimproved beach, just the way God intended, a mere 300 meters away. It clearly holds little appeal to most visitors.
One afternoon, while the marimba bands churn out cheerful beach muzak and the fake Hawaiian dancers shake plastic grass skirts, I slip outside for some genuine fresh air, unfiltered and quite possibly polluted. I make my way to the ocean and find it utterly deserted, even on a sunny day. Maybe it's the strange juxtaposition – so close to the simulated seaside nearby. But the sand between my toes feels so sensual, in ways that crushed marble never could.
Still, even skeptical observers are bound to experience a certain sense of awe upon entering Ocean Dome, like the first sight of the opening scene of a new generation of "Star Wars" films: even if the plot doesn't appeal to your tastes, you have to marvel at the special effects. In some ways, it's like seeing a giant draft board of a software firm, which is designing the recreational virtual reality microchip of the future. Someday, perhaps, office workers need not even abandon their desks. They will simply watch a destination tape and swallow a vacation tablet.
In the meantime, we will just have to struggle along with the next best thing; re-creations of the Great Outdoors, set inside sanitized domes. With sand.
---
Ron Gluckman is an American journalist based in Hong Kong, who travels widely around the Asian region for a variety of publications, including the Korean Airlines magazine Morning Calm, which is ran this story in 1999. It was also used in "In Search of Adventure: A Wild Travel Anthology," which was published in early 1999. For another story on Japanese amusements, please click upon Japanese Theme Parks.

Numerous people write asking about an update on this place. Here it is:
Phoeniz Seagaia's indoor beach hardly made a splash. In fact, the 850-acre resort development lost heaps of money and was finally closed, and Seagaia went backrupt. A succession of suitors failed to find sufficient funds to resuscitate the project.
That may soon change, though. In late 2002, American investment fund Ripplewood acquired Seagaia with the intention of sprucing up and reopening the resort as a Japanese destination. Sheraton Resorts has been brought in to run the place along with Troon, a golf-course operator. Look for reopening news soon.
---
To return to the opening page and index



push here
---