The ultimate escape... to Prison Island
Chosen for its isolation, Ko Tarutao served as a penal colony, who revolted and began a reign of blood-thirsty pirates. Still later, the island hosted the TV show, "Survivor." But now it's parkland, and some of the finest in Asia, with pristine water, near-virgin forest and a chance to really get away.
By Ron Gluckman / Ko Tarutao, Ko Lipe and Adang-Rawi Islands, Thailand
---
A

CROSS A WIDE EXPANSE OF FLAT, BLUE SEA,

mountain peaks suddenly break the surface, then climb into a cloudless sky like slow-rising volcanoes. As we motor closer, a hilly island begins to take shape, fuzzy at first, like the rough outline in charcoal of an artist's sketch.

Then, bit by bit, vibrant features fill in the picture: green forests, rust-red gorges, turquoise inlets. Finally, approaching harbor, the island comes into fine focus, trees right to the water-line, with sweeping gold beaches and sea eagles swirling in the sky.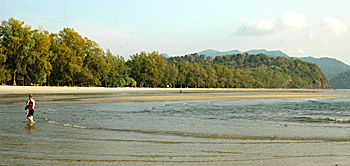 Only when we round one last rocky outcropping and sight the dock do I realize the rows of bungalows in the background are the first sign of human habitation we've seen since leaving the mainland hours ago.
And, it will be among the last we see for days. After departing park camp, we're presented with nothing but an abundance of wildlife and near-pristine nature.
The lack of people is a key attraction to Ko Tarutao, whose untrammeled jungle and sandy beaches became known to millions worldwide when it hosted the TV series "Survivor" in 2002.
Few viewers could place the island on a map, and most would probably be surprised to find that such a place even existed in Thailand.
Thais all know the island, but few have visited their first National Marine Park. That's because most know it as Prison Island, or Tarutao Hell.
Through World War II, Ko Tarutao housed the country's most extreme incarceration center. A lack of supplies during the war left many prisoners to perish from disease or starvation.
Survivors didn't eat bugs and plants like on TV, but turned to piracy, pillaging passing ships, first for food and medicine, later for plunder and profit.
These days, the island with turbulent and violent past is supremely serene. Covering an area of over 150 square kilometers, Ko Tarutao is dotted with waterfalls and pockmarked with caves (legend holds that the prisoners-turned-pirates stuffed treasure inside some, that has never been found).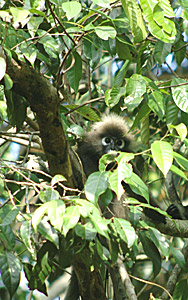 There are 50 other islands in this diverse marine park, but Tarutao is by far the largest, lying so close to the Malaysian border that the lights of Langkawi, less than 10 kilometers away, can be seen at night. But the islands are as different as day and night.
Where Langkawi is famous for its resort development, Tarutao remains one of the best kept secrets among nature lovers, divers and wilderness enthusiasts.
"Tarutao is about the most perfect park in Asia," says John Gray, an American naturalist and explorer who has won documentaries for his television programs probing exotic sea canoe passages.
Based in Phuket, he runs a travel company that takes paddlers to remote locations from Vietnam to the Philippines. He rates Tarutao as among the finest and most pristine paddling territory in the world.
"Perhaps it's because there's untouched nature in all directions," Gray explains. He's been visiting the park since the 1980s, taking 20-30 tourists there on nature trips since 1991.
"The first thing that hit me about Tarutao – then and now – is the trees. It's difficult to find perfect primary forest in the 21st century, but Tarutao has standing dead wood, the sign of an untouched forest or jungle. "Tarutao is close to perfect," he adds.
And, it's a perfect place to get away from it all, or as close as one can come nowadays without risking extreme discomfort or traveling great distance.
From Bangkok, you fly to either Hat Yai or Krabi, drive to the boat dock in Pakbara, then take a ferry one to two hours to Ko Tarutao. Splash ashore and you've made one of the ultimate escapes – a personal exile to Prison Island.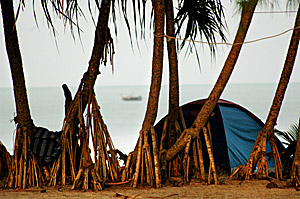 In rustic Robinson Crusoe-style, the park purposeful offers basic lodging with none of the frills that would dash one's dreams of a grand getaway. Bungalows have beds and fans, but the latter only operate in the few hours of electricity.
You can also camp right along the beach. There's a restaurant serving Thai food and a small shop for the necessities you might have forgotten, but that's all. Otherwise, it's rustic and relaxing, with no intrusive telephones, television or internet.
And no Bob Marley music on this beach. When the power shuts down at night, Tarutao guests are left alone with the bats and bugs, the stars in the sky, and the sound of surf crashing ashore. Just you and the great outdoors, in abundance.
Days can be lazed away on spectacular beaches, stretching around the island. Ao Son, southwest of the park headquarters at Ao Pante Malacca, "is one of the most beautiful spots on the planet," says Gray.
Two huge waterfalls pound over the rocks nearby. Footpaths lead into thick jungle, and it's easy to get lost only to emerge on any number of picture-perfect coves. Because of the hilly terrain, Gray insists some parts of the island "have never felt footsteps."
The ruggedness, remote location and rough waters - the park closes from May through October because of treacherous seas – convinced Thai authorities that Tarutao would be ideal for a penal colony housing its most dangerous criminals. Any notion of escape would be checked by the presence of numerous crocodiles.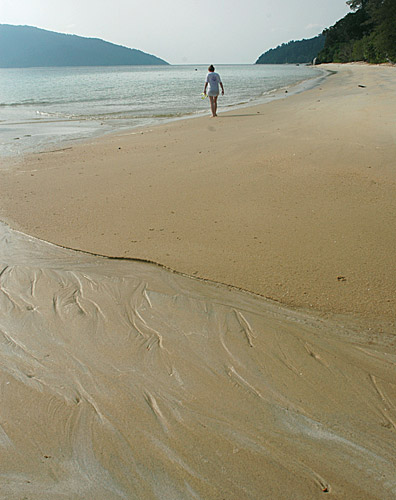 Surveyed then selected for a prison in the 1930s, the first transfer of inmates was made in 1938. Two sites were established, Talo Wao halfway down the east coast for common criminals, and Talo Udang at the island's southern tip, for political prisoners.
Hundreds died annually from malaria and other ailments, as the isle became known as Tarutao Hell. Finally, when supplies ceased during World War II, inmates rebelled and, aided by starving guards, began looting passing ships.
Tarutao's pirates were finally put down with the aid of the British Navy in 1946, and the prison abandoned. Despite the infamy, the island also nurtured many important Thais, including royalty who were later restored to positions in the government. Inmate So Setabutra not only became an education minister, but used his time in exile upon Tarutao to compose the first Thai-English dictionary.
Sadly, the prison camps long ago vanished into jungle. A mock restoration was completed a few years ago at Talo Wao, but looks nothing like the original prison.
Still, it's a popular site, reachable by boat or a ranger truck, and the eerie mangroves in the surrounding swamps cannot help but stir a sense of the gloom and extreme isolation of the prison.
Probably the best trip on the island is also one of the easiest - an expedition to Crocodile Cave. You take a long-tail boat down Khlong Phante Malacca, one of Tarutao's major streams, flowing right past park headquarters.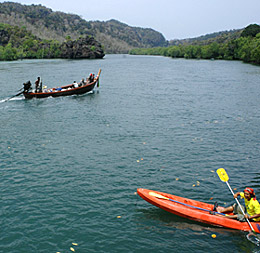 Along the way are some of the world's finest mangrove forests. The cave can be explored along a wooden walkway with lights illuminating the spectacular stalactites.
Tarutao has 20 kilometers of paved road, half constructed by prison inmates, the rest by park personnel, that provide an unusual opportunity to hike into jungle along seemingly abandoned and overgrown roads. Paths spider off in practically all directions, but some are treacherous, especially in the hot season.
Yet, you hardly have to break a sweat to enjoy Tarutao's teeming wildlife. A short trail behind the park office leads up Toe-Boo, a 60-meter limestone hill with sweeping views.
Most days, you see swarms of White-Bellied Sea Eagles and Brahminy Kites swirling over the waves, diving for fish in Khlong Phante Malacca.
Or you can simply walk the beaches for miles, indulging in the isolation. "Ko Tarutao is really the Land of Nowhere," jokes Wanna Thianthong, who visited six years ago, falling in love with the marine park. Back repeatedly, she works for Vision Tour & Service in Satun, bringing tourists to the islands.
Not all Thais share her enthusiasm. "Hardly anyone wants to stay on Ko Tarutao," she concedes, "because there's nothing to do. But that's what I love."
She says most tourists like to roam around the islands; there are 50 more in the park to explore. Stretching nearly 1500 square kilometers, Thailand's largest marine park encompasses two main island groups: those surrounding Ko Tarutao in the Tarutao Archipelago, and a scattering of pristine jewels in the Adang-Rawi Archipelago, another 45 kilometers to the west.
This distant grouping of smaller islands boast spectacular reefs and some of Thailand's best diving and snorkeling, with an astounding 25 percent of the world's tropical fish represented in the stunningly-clear turquoise seas. You commonly see Clown Fish, Groupers, Butterfly, Angel and Lion Fish.
Ko Hin Ngam, one of the smallest islands in the Adang-Rawi Archipelago is nonetheless among the most famous in Thailand. The name means Island of Beautiful Rocks; Hin Ngam seems to be composed of millions of polished stones that sparkle in sunlight, lending the appearance of some fantasy jeweled island. Not surprisingly, it's featured in countless advertisements in Thailand.
Ko Khai, another small island, is famous for its stone bridge, a natural feature that can be seen at the end of a long white beach. This also has been showcased in many commercials and is one of the official symbols of Satun Province.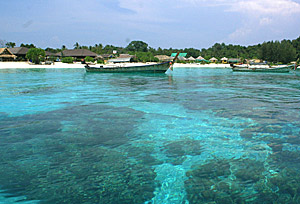 By far the biggest attraction in the island group is Ko Lipe, the only island in the park that is inhabited. Although inside the National Marine Park, and governed by most of its rules, Lipe is home to about 500 Chao Leh, or Sea Gypsies, who roamed the waters of the region for generations, until given a grant to half the island.
They still largely subsist on fishing, but have built a small village that spawned a tourist industry that has since swept around the entire island.
As a result, you can not only stay in Chao Leh village, but find rooms on the other side of the island, fronted by a Pattaya Beach, with its azure water and walk-in reefs.
Restaurants have sprung up along with juice bars and bakeries, much like other Thai islands. Except, no other Thai island sits in the midst of so much pristine wilderness and sparkling water.
"We came here for a few days and wound up spending three weeks," says Dave, from northern California. He and his girlfriend Lee heard about the island in Laos from fellow travelers who boasted about "this secret beach."
We begged them to tell us where," says Lee. "When we got here, we understood. We had planned to travel around Thailand, but after we saw Lipe, we didn't bother."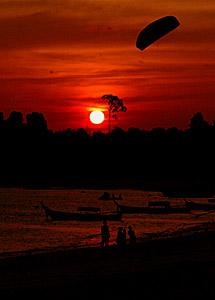 The attraction is obvious, with Lipe's Pattaya as pretty a beach as they come, a perfect cove, sweeping around huge rocks and cradling white sand. A few meters from shore are the kind of reefs divers pay fortunes to visit.
Every night, the west-facing beach delivers a five-star sunset. "No question, Ko Lipe is one of the new, up-and-coming hip areas," says Joe Cummings, author of the Lonely Planet guide to Thailand, and a Chiang Mai resident.
Ko Lipe is also a great place to rent boats for tours of other islands, load up on supplies, or just top off that perfect tan. Of course, the crowds and comforts can leave some hankering for a bit more of Ko Tarutao's peace and quiet.
But that's the beauty of this marine park, which is diverse enough to encompass practically anyone's idea of getting away.
Once hell, Tarutao has been transformed into heaven for everyone.
---
Ron Gluckman is an American reporter, based in Bangkok, who has been roaming around Asia for 14 years for a variety of publications including Sawasdee (Thai Airilines) which ran this story in a special issue on islands in October 2005.
All pictures by Ron Gluckman
---
To return to the opening page and index

push here
---