HANOI OPERA
After enduring decades of Soviet-style Swan Lake and worse (imagine depending on China and North Korea for artistic input?), long-isolated Vietnam is finally getting new options in nightlife. But the best may have come while the banners flew for the 45th anniversary of liberation, and opera returned to the Hanoi Opera
By Ron Gluckman /Hanoi, Vietnam
---
S

TRINGS CASCADED, VOICES SOARED IN HEAVENLY HARMONIES and lithe bodies wrapped in white sheets bounded across the stage as musical drama returned to the opulent Hanoi Opera House in October 1999. Still, many in the audience must have wondered: Has a Greek tragedy ever received such a reading?

Certainly, Christoph Willibald Gluck would have chuckled over the staging of his 237-year-old opera, "Orfeo ed Euridice." This version was renamed "Orphee et Eurydice," reflecting perhaps the fact that conductor, set designer and choral director were French. Or the setting, which, although surely Southeast Asia's finest theater, remains a spitting image of the Paris opera house.

German-born Gluck, who took a new tact with this very opera, influential to younger colleagues like Mozart, was unconventional in his day. But even he would never have imagined it rendered thusly - in Vietnamese.

The story details the ordeals of Orpheus, who, finding his wife Eurydice dead, descends to Hades to fight off Furies and demons to reclaim his lover. There are the classic twists and turns. Orpheus cannot look at his Eurydice, or she will be stricken down once more. Convinced he no longer loves her, Eurydice badgers Orpheus into a reassuring glance and, wham-mo, she's dead again.
Yet the roller-coaster of confusion and suffering has a happy ending. In many ways, it's an apt parable for the Hanoi production. And the opera house, too.
Considered a landmark even in its day, construction began on the Hanoi Opera House in 1901. It opened a decade later, the undeniable architectural treasure of all French Indochine. However, the hall fell into disrepair during the extended isolation that followed the dispatch of both French colonists and the Americans. During the decades afterwards, Russian and Chinese artists came to teach ballet and opera. But the end of the Cold War curtailed even those meager artistic exchanges. By the 1990s, the opera house remained darkened.
A chance glance at an airport advertisement by a Parisian architect passing through Asia brought the opera house back to life. Vietnamese native Ho Thieu Tri was changing planes in Hong Kong. Promotional pictures piqued his interest in seeing the homeland he left in 1975. On a whim, he changed his ticket. Soon after, touring Hanoi with an old friend, he spied the run-down theater.
"The Opera House had a perfect architectural design," he recalled later. Tri instantly decided to stay on and oversee restoration of the landmark to its former "elegance and magnificence."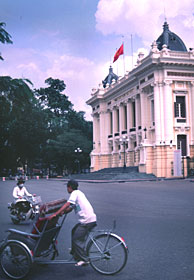 The three-year project cost US$14 million. Reopened in 1997, the opera house remains an almost mythical landmark to Vietnamese, who marvel at the amount of money spent, but bristle with pride over a building that has come to symbolize what is increasingly recognized as Asia's most charming capital city.
The dazzling colonnaded colonial relic is indeed a jewel, painted in the pale yellow tones shared by much of Hanoi's old neighborhoods. Inside are ornate stairways and gilded mirrors. Despite its travails over the years, the building seems blessed by a series of happy coincidences of late.
Soon after its reappearance, the Opera House hosted a conference of French-speaking countries. One attendee was a director from Brittany, who immediately fell in love with the hall. Erik Kruger returned several times since to help plan the current production. Ironically, Gluck, in German, means good fortune.
Staging any opera here is hard work, he says. "It's been a fantastic experience, but it's like climbing mountains," says Kruger, 54, beaming in his Uncle Ho suit. "I feel like an enormous burden has been lifted from my shoulders."
Kruger says he chose the opera purposefully because of its simple setting and stage elements. Only a stairway was used to illustrate the descent to hell, and most of the performers spent the entire three acts dressed in sheets. "I had to keep it simple," Kruger explains. "You work with materials at hand." That is not to say the show shortchanged audiences in any way. After all, "Gandhi" won an Academy Award for costuming, which was basically just linens, too.
Kruger's son, Nicolas Kruger, served as conductor. The chorus director was Jean-Yves Aizic. Both are in their 20s. Getting mature talent at the prices that the Vietnam Opera and Ballet Theatre can afford is difficult.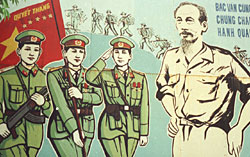 Actually, simply staging shows in the hall represents a triumph for a company that celebrated its 40th anniversary with these performances. The troupe subsists on about $200,000 annually. Players make a pittance; most have other jobs. While many study in Europe or Australia, talent flows less to overseas companies these days than hotels and trading firms in Vietnam's depressed economy.
Still, hard times were put on hold citywide as the opera was staged over the 45th anniversary of the liberation of Hanoi. This was just nine days after the fireworks for the 50th anniversary of the People's Republic in Beijing, and a total contrast. Hanoi buildings sported red and gold flags, and a few parade vehicles rolled under banners strewn on the main boulevards. But CNN was absent and no magazines devoted any covers to Hanoi's anniversary on October 10.
That's been a memorable day in modern history. Both the potato chip and laundry detergent were first introduced on the same day the American stock market crashed, ushering in the Great Depression 70 years ago. In arts, the achievements range from the magnificent (first performances of "Porgy and Bess") to the sublime (the premier of "Boogie Nights.")
But for a few Frenchmen and a half-packed hall of Vietnamese, the day will be remembered as one in which a German-written Italian-style opera raised the rafters in Hanoi's Parisian theater. And they are proud as dragonfruit punch that the entire production was performed by and sung in Vietnamese.
---
Ron Gluckman is an American reporter who is based in Hong Kong, but who roams around Asia for a number of publications, such as the Wall Street Journal, which ran this story in October 1999. Ron Gluckman has also written about Vietnam for Time, Newsweek, Asia Magazine, Winds and Expression.
---
To return to the opening page and index

push here
---