HIPPER THAN HONG KONG?
That's the word from Shanghai, formerly the fabled Pearl of the Orient. With an unprecedented building boom, an unrestrained nightlife and the region's best restaurants, Shanghai is back on track as Asia's fun capital. And, rather than merely rival another well-known Chinese metropolis, it prefers to think of itself as nothing less than Asia's coolest city.
By Ron Gluckman /Shanghai
---
FAB-YOU-LUS! However succinct, even these three syllables sell Shanghai short. Pick a superlative - marvelous, magical, evocative, outrageous – all fit Shanghai, which can count itself amongst a rare group of cities around the globe that claim not only a glorious past but also immense prospects for an even greater future.
We could feel the energy pulsing through the infamous Paris of the Orient the moment we touched down. We, being myself and photographer Chris Stowers, Mondo mates on assignment. We had flown to Shanghai in search of hot times, loud clubs, hearty food and practically anything else we could conceivably add to expenses. In short, we were two lads looking to have a seriously grand time.
The signs at the outset were encouraging. While the customs man stamped my passport, I looked up to see a huge poster for Diner's Card. As a regular visitor, I knew that 16 months ago, credit cards were still a no-no. But change is fast and constant in Shanghai, which has always been a city on the go-go-go. Even half a century of Commie rule couldn't subdue its irrepressible drive.
Shanghai still has that precious quality lost to the Old World, the kind of can-do spirit that built empires. It carried its citizens through a long civil war, Japanese occupation, even the insane Cultural Revolution. Nobody walked Shanghai's neon-draped streets, according to an old adage, they ran. They still do.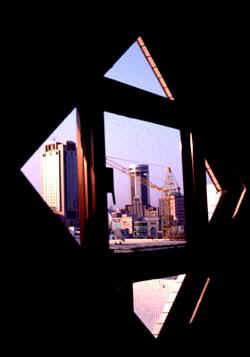 Nowadays, you have to sprint to keep up with all the changes. Here, man's wildest whims, whether a business idea, a building design, a dream, a scheme, a scam or philosophy, can move from idle notion to reality, often overnight. Then, if it doesn't work, Shanghai simply rubs it out and starts over from scratch.
Skyscrapers rise, forests of concrete and glass, in an eye-blink. For years, a new department store has opened monthly in the world's largest construction zone. Nanjing Road, main street of the old French quarter, has reclaimed its luster as one of Asia's premium shopping centers. It's brick-a-brac with all the brands, Nike to Gucci. Teenaged Chinese girls sport leather mini-skirts and lavender lipstick.
Part of the boulevard is now a brick pedestrian walkway, where cute, toy-like trams pull shoppers in cars decorated with Mickey Mouse and Ronald McDonald. And you reach this mall via one of the sleekest, cheapest, most efficient subway systems on Earth.
Which is all a leading up to this: Shanghai is one place you can kiss goodbye to all those preconceptions of dowdy old Red China.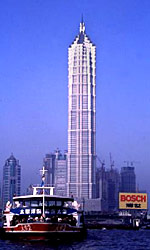 Nowhere is that more obvious than at the Grand Hyatt, housed inside a sparkling silver erector-set Empire State Building soaring 88-stories into the clouds across the river in Shanghai's brand-new sister city, Pudong. Peering out the windows of the world's tallest hotel, one marvels at an unparalleled metropolis spreading out below.
Perched atop the 420-meter tall Jin Mao Tower, the Grand Hyatt delivers what other hotels only promise: putting guests on top of the world. Opened last year, it boasts all the eye-openers you expect in a record-breaking hotel (listed, in fact, in Guinness), from the stunning views savored by health junkies jogging upon the world's highest treadmills or lapping the world's highest pool. Every detail is quiz-show grit - dirty shirts slide down the world's longest laundry shoot while it takes a year to clean the windows (which would fill 15 football pitches).
But forget the trivia; simply dig the hypnotic, Hitchcock-like views in the world's tallest atrium. And don't dig in your pocket for the nearly 5 pound entrance fee to Observation Tower. That buys a beer or coffee in Cloud Nine, an industrial/art deco lounge with the same world-topping views. From here, you can actually see the curvature of the horizon.
Down below, you can also watch the world's biggest ant farm in action. Pudong is like a humongous Lego construction set that could serve the stranger "Star Trek" episodes. Pudong has buses and trams, a subway, tunnels and bridges linking it to Shanghai, shopping malls and skyscrapers - everything except genuine residents. They're in the masterplan, it just hasn't progressed that far. Strolling across a massive multi-story food-and-fun complex outside, Chris and I feel like plastic figures in some massive train set of the Gods.
For the past 10 years, Shanghai officials have spent billions on what rightly is a contender for the first mega-city of the new millenium. To put it in perspective, Pudong is the size of London, but was little more than swampland a decade ago. The size and scale of everything borders on the absurd, but is breathtaking.
From the ferry dock at the river, an eight-lane boulevard runs past the Grand Hyatt to a massive civic center featuring a near-exact replica of New York's Central Park. The road has been dubbed the Champs Elysees of China, which has shamelessly borrowed, copied or stolen some of the world's landmarks.
On a visit to Pudong officials, after showing dutiful interest, I was ushered into a back room holding models contributed by architects to an international competition. "We took all the best ideas for Pudong," gleefully boasted one official.
Most thieves have better taste. Trendy tech journal Wired termed Pudong "the wildest and most ambitious construction boom of the '90s… conjuring an entire Manhattan-style Skyscraper National Park." Yet Pudong merely reflects the pie-in-the-sky pattern of Shanghai, which seems the drafting board of every daft second-year architect with an odd idea, whether eye-stopping or atrocious.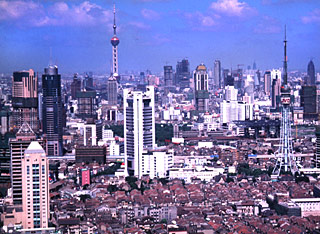 All find a place on the world's most erratic skyline: chunky skyscraper cutaways, leaning towers of trash, and bizarre balancing acts of huge globes and pyramids. Chris's fave is the space ship with the Stinger missile styling.
Yet the eclecticism is fitting, for Shanghai has long been a repository of myriad influences from around the globe. Meaning people, not just architecture. Built by immigrants, like all the great port cities, Shanghai has always been awash with new ideas. China's undeniable capital of capitalism has also been home to Sun Yat-sen, founder of the first republic, as well as the birthplace of the Communist Party that supplanted that republic.
Shanghai's origins were modest. During the Tang dynasty, it was a mere fishing village. Under the Ming, it was a center of silk and cotton weaving. When the British arrived in 1843, Shanghai was essentially still a walled fishing village. The walls are gone, but the old city survives around Yu Yuan Garden, a classic Qing-style park with dozens of pavilions linked by zig-zag bridges over picturesque ponds, now surrounded by tourist shops.
Around Yu Yuan – which means fish garden – are ample reminders that outside the malls and skyscrapers, the real China still dominates. You can still see sidewalk dentists displaying rusty utensils in a Coke can cut in half, offering to pull teeth for a few pence apiece.
Shanghai boomed in the mid-1800s, one of four treaty ports pried open in the Opium Wars (1839-1842). Foreigners had traded with China for centuries, but were always confined to a tiny enclave in Guangzhou, then called Canton, in southern China. Here, foreigners ruled their own settlements, complete with their own police forces, laws, clubs and peculiarities.
Great fortunes were won, lost, and won again in the freewheeling port. All of Hong Kong's great trading companies were here, most dealing in opium. They built opulent mansions and stunning offices; many survive along the Bund, a strip of colonnaded relics lining the riverfront. British influences are instantly identifiable, starting with Big Ben-style clock in the old Customs House.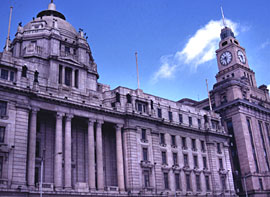 The old Hong Kong and Shanghai Bank sports murals of the RAF, who kept a club here. Nearby is Shanghai Club, which welcomed anyone, as long as he was white, male and British. It's now the Dongfang Hotel, but the famous bar – supposedly the world's longest – was sliced away to install a KFC.
Still, strolling the Bund, one easily absorbs a sense of what was. "And what will never be again," notes Mario Machado, an Emmy-winning broadcaster from Hollywood who was born in Shanghai and helps organize reunions of former residents.
"Shanghai was magical," he says. "We were a proud group of people, a diverse group, bound by a special camaraderie. We had theater, culture, sports, everything. We didn't know we were magical then, but we were."
Many like Michelle Garnaut, Australian founder of M on the Bund, perhaps Shanghai's most fashionable restaurant, discount the memories. "I think the whole notion of Shanghai in the 1930s has been over-glamorized. I think a lot of people in Shanghai these days are chasing a dream that never existed."
Still, Garnaut, who established M on the Fringe in Hong Kong before expanding to Shanghai in January 1999, helps cultivate that very romance, as part of new wave of restaurateurs mounting a Shanghai renaissance.
Two years ago, there were only a few nice Chinese cafes to break the monotony of hotel restaurants and the dismal American, British or German-clone pubs. A flood of classy Italian, French, Japanese, Vietnamese and California-style restaurants have appeared on the scene, mostly in the last year, offering marvelous meals and equally-delicious atmosphere.
"A year or so ago, there were 10 places that opened at once," says Charles Cabell, IV. "Everyone saw the same opportunity and jumped on it."
For Cabell, that meant refurbishing a stunning colonial mansion on the grounds of the Rui Jin Guesthouse. The place was always off-limits to all but Party guests - Suharto stayed for a spell. Cabell's The Face offers double delights: Thai treats at Lan Na Thai on the top floor, or savory Indian specialties downstairs at Hazara, which is a must-see.
Diners sit inside a huge mock-tent, served by long orange-robed waiters, sort of Indiana Jones on Rajasthan Safari. The food isn't gimmicky, though. Figure 25-35 pounds for two with drinks, and afterwards you can smoke on authentic opium beds with the garden views on the veranda.
M on the Bund, meanwhile, serves starters for 4-5 quid (caviar and crepes are 13 pounds). Main courses include char-grilled Australian steaks and roasted pigeon, for 14 pounds and up. That makes it among the city's priciest eateries, but it also offers a priceless view from its rooftop perch right on the Bund.
"Shanghai does have this special energy," Garnaut concedes, as we down gin and tonics while the sky turns orange and riverside billboards and Bund lights come on at night. "I love Hong Kong, but people there are so spoiled. Shanghai has this vitality, like there's no stopping it. Shanghai has fabulous energy."
It always has. Talk to former residents of the frolicking enclave, and there is no mistaking the sparkle in their eyes. Thirty years falls from their faces when they recall the place. "There were parties every night, grand parties," says Robert Augestad, born in Shanghai in 1924.
"It was a special place and a special time. We'll never see anything like it again," adds Harry Olaussen, a former member of the Canadian parliament, who lived in Shanghai from 1929 through 1949.
Historians estimate that 70,000 prostitutes worked the streets of the city chosen by Steven Spielberg to depict the epitome of Asian decadence in the opening of "Indiana Jones and the Temple of Doom." Opium was commonplace, says one woman who lived in Shanghai before World War II. "It was just what you had, after dinner, like desert."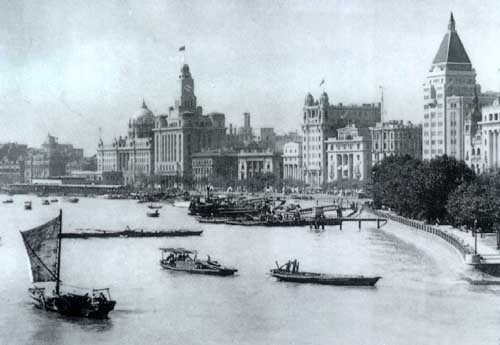 Indeed, opium and heroin were available via room service at some of the old hotels like the Cathay and Astor, which offered drugs, girls, boys, whatever you wanted. Both hotels survive to this day. Victor Sassoon's art deco Cathay, where Oscar Wilde waited out a bout of malaria and Noel Coward wrote perhaps his finest play, "Private Lives," is now the Peace Hotel. When the British brought the first electric lights to China in 1882, the switch was flicked at the Astor, now the Pujiang Hotel, a favorite of budget travelers, who stay in ornate but modest rooms that once hosted Charles Chaplain and Einstein.
Shanghai was a tiny port of perhaps 50,000 people when the British arrived. By the turn of the century, the population topped one million – it's now 15 million.
There were two notable periods of immigration following the first boom in the mid-1800s. After the Russian Revolution, White Russians flooded into Shanghai, quickly forming one of the largest - and most despised - foreign groups.
They were the workers who built much of the foreign settlements, particularly the lovely French quarter. Surviving are two Russian Orthodox churches with onion-shaped domes. One has become the Ashanti Dome, an upscale French restaurant with almost Fantasia-like interior, complete with restored stained glass.
The other major influx of immigrants came before and during the second World War, when Jewish refugees poured into Shanghai from Germany and Austria in the 1930s, and later from East Europe, the Baltic republics and Russia. Most were penniless refugees on the run, surviving by a thread, but surviving nonetheless.
They boosted the foreign population to a peak of 60,000-70,000 in the 1930s, when Shanghai claimed Asia's tallest buildings, as well as the greatest number of theaters and cinemas (productions in English, French, German, Russian, Polish, Yiddish and Japanese), dozens of newspapers in nearly as many languages, and more motor vehicles than all the rest of China put together.
Perhaps as many as 30,000 Jews passed through Shanghai which, for a time, was the only place in the world that required no papers and asked no questions.
Shanghai remains so, a wild and carefree city, one of the few left where one can dream the great dreams, and see them come true. We realized that as we checked into the Portman Ritz-Carlton, modern Shanghai's first luxury hotel. It opened way back in 1990, when this freewheeling city was still suffering the brakes of the Communist central government.
But it's been in overdrive in the ensuing decade. Now, there's a Hard Rock Café on the corner. Cadbury chocolates are stocked at Watson's in the surrounding Shanghai Centre, offering the same sort of shops of High Street. In front is the Long Bar, a favorite British hang-out, where back-home pints are pulled and local models dance twice weekly in a kinky fashion show.
President Clinton stayed at the Portman and, upon presenting our Mondo credentials, we're upgraded to the same suite, minus the helpful interns. Still, it's wall-to-wall luxury, with numerous marble tubs and nightly truffles. Londoner Andrew Nasskau, 40, director of sales and marketing for the plush 50-story hotel, has spent three years in Shanghai and is still buzzing about it. "This place really moves," he says with vigor. "People are coming from everywhere, curious about Shanghai. They want to know what's going on."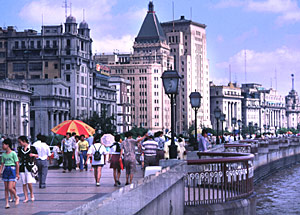 With an economy growing at double-digit rates through the 1990s, Shanghai hosted a record 1.75 million foreign visitors last year. The number should top 1.9 million this year. The main attraction, says Nasskau, is that age-old appeal. "In the 1920s and 1930s, Shanghai was quite decadent. There is a definite resurgence of those times. It's a romantic notion, that people lived it up then.
"But," he adds, with a sly grin, "they're living it up now."
That was our intent, too. Once more, the Gods of Good Times smiled as we were delivered into the hands of Arthur Jones, a Cambridge-lit grad from Yorkshire who edits the local version of Time Out, that's Shanghai. "Arthur? Nobody is named Arthur," muttered Chris beforehand. "Except an Arthur."
When we meet at Kathleen's, a relaxed place for brunch or a burger, he turns out to be anything but. Arthur sports a day-glow pink-and-green shirt with other odd colors that defy description. "You like it?" he enthuses. "I bought the fabric and had it tailored myself." Later he confides that, even copied from a cowboy shirt, most Chinese think he borrowed it from a girlfriend.
With his bad-acid shirt and thick, black eyebrows screaming above loving-life eyes, Arthur looks like some outrageous parody of Austin Powers. So we ditch the Arthur bit, dubbing him Houston Powers. He proves to be the most fabulous Shanghai party host.
First stop is Mao Ming, a strip of lively bars, discos and eateries near Fuxing Park. Both the Face and Ashanti Dome are in this leafy neighborhood, where both Sun Yat-sen and Zhou En Lai lived. It's part of the frolicking French quarter and certainly lives up to its reputation. You can stumble into any joint and have a merry time, but one place is a must-see for punters.
The Velvet Underground is a dingy club with black walls and – like the name says – stairs leading down to a velvet-fringed cellar. It's not as bad as you think at first glance; small, but kind of classy, with a laser spotlight and small dance floor jumping to the latest London tracks. The real draw is the innovative table settings. Pete, the British owner, placed tiny TVs under a Lucite cover, so punters can watch Premier League games live without missing a sip. A word of warning; on our visit, in any case, the place was dead and the Boddingtons was flat.
From there, it's a downward spiral. Shanghai is so much wild fun, cappuccinos in the morning, dumplings all day, clubs open all night, you sometimes forget it's part of China, one of the world's largest and least forgiving countries. We hit Mao Ming in the midst of a crackdown on drugs, prostitution and debauchery. Depending on your perspective, that may speak well of Shanghai, but nothing in China is that clear.
Since the government won't concede that prostitution and drugs exist, the crackdown takes various forms. Many clubs are shuttered for noise or crowd problems.
Babylon was hit hard. "Normally this is a mass of teeming, sweaty bodies," says Arthur, uh, Houston. Instead, a disco ball spins forlornly with the house lights up full. Outside is the kind of notice you only see in China – and still can't believe it. "According to the latest notice of the Public Security Bureau, dancing is not allowed inside." Shades of Footloose, China actually banned dancing.
Chris is in a funk. After all, I can soak in a tub in our Ritz suite, flick through 57 channels on the bathroom telly, and simply make up all the fun stuff we did. But he needed pictures. After all, he reminds me, we are Mondo men on a mission. Houston to the rescue. Swooping into Babylon, where a few couples sway to the music, dangerously flirting with arrest, he hustles us into a cab. We are headed to Cat's Eye. "It's partying hard. I just heard from my mate."
Seconds later, Houston has a party update. "They just closed Cat's Eye," he says, cell phone to an ear. "But now I hear there is dancing at California." He chatters Chinese to the cabbie, and off we go. "Finding action in this town is sometimes like chasing an echo around an empty house," says Houston.
There is action at California Club, despite orders to close at 2 a.m. Instead, the doors close and the opening night party goes on and on. Hidden in another part of the Fuxing Park area, the club is part of a complex that features two restaurants, Tokyo Joe (Japanese) and Baci (Italian). The entire development is affiliated with Lan Kwai Fong, which pioneered trendy pubs in Hong Kong.
The local partner is Tony Zhong, a Shanghai native who studied engineering and sold real estate in California before returning home to where the real action is. "The changes are amazing. Things move so fast here," he says. And the crackdown? "This will pass," he says sagely. "Just wait a while."
We decide to move on. After a few more clubs with Houston, we head with a pack of local night owls to Disc Cart, a tiny racing track that has become the rage of Shanghai. That's right, go karts. The city has half a dozen, but Disc Kart is the lads' favorite.
"It's fast, it's dangerous and it's bloody good fun," notes a middle-aged businessman from Hong Kong. He points to another asset, it's open until 4 a.m., and keeps a full bar. "This has to be the only place on Earth where you can drink and drive," he bubbles. In fact, it's encouraged. Spend 9 pounds on grog and your can ride for free.
Fast times in Shanghai, to be sure, but not what we imagined. We still want to find the elegance and romance of the past. So we continue to Tropicana, a salsa club with sprawling dance floor along the Bund.
As Chinese musicians turn out laudable Latin rendition, couples in gowns do sensual duets. At midnight, sexy Russian dancers, men and women, put on a show. On the roof, local consuls smoke Cuban cigars and discuss the daily intrigue.
This could be Shanghai in the 1930s. But what about that dance ban? "We have no problems with the authorities," Polish owner Marek Frydrych says. "They are only interested in drugs and prostitution. At the Tropicana, we have no drugs or prostitution."
Then, he pauses before breaking into a devious grin: "Well, not officially."
---
Ron Gluckman is an American reporter based in Hong Kong, who roams around Asia for a number of publications, such as Mondo Magazine in the UK, which ran this story in November 2000. Ron Gluckman has been visiting Shanghai regularly since 1990, and has written about the city for Time, Asiaweek, the Wall Street Journal, Travel & Leisure, Silk Road, Discovery and many more.
Modern photos by Ron Gluckman. Historical print from archives, photographer unknown.
---
To return to the opening page and index

push here
---