No Boom Boom Here
Paradise might seem a strange setting for nuclear tests, but the unapologetic French have been blowing off atomic bombs in the tranquil waters around Tahiti for years. Finally, peaceful native groups erupted in anti-nuke riots, and an international support group of sailboats and eco-groups joined the chorus of protests. Ron Gluckman takes a long look at the trouble in paradise.
By Ron Gluckman /Tahiti
---
T

HE MAN WHO MIGHT BE KING sits cross-legged on a grass mat, piled high with the bounty of a rich land he may someday rule. Never mind that underneath the mat is dirty asphalt. Or that, sweating in the hot tropical sun after a long boat ride in an open canoe, there is nothing in the world he wants more than a shower.

Instead, he poses for pictures, this practiced politician. He welcomes his guests with such flair to a ceremonial feast of bananas and breadfruit, they may easily feel that they have been seated at a presidential banquet instead of a boatyard parking lot.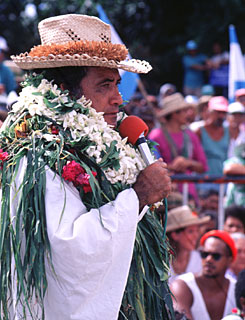 Layered with flower leis, he waves to thousands of cheering followers. His every move draws applause. The crowd goes mad when he takes the first sip of coconut milk, then passes the shell around. Women and children cheer: "Oscar, Oscar!" Softly it starts, then builds into an impassioned wail: "Ooss-kerr! Oozz-ker!"
Seated around Oscar Temaru, charismatic mayor of Tahiti's most populous district, are the smiling, sun-burned crew of the Greenpeace's Rainbow Warrior II. They are fresh from a gutsy confrontation with French warships near the nuclear testing site at Moruroa Atoll, about 1,000 kilometers from Tahiti. The boat was damaged and boarded in the encounter, but the crew can be considered victorious, having galvanized world opinion behind the struggle against further atomic explosions in this island paradise.
And so, the population of Papeete, capital of French Polynesia, greets Greenpeace with a hero's welcome. They arrive like a magical omen, at the height of Heiva, a month-long carnival of dance and song. Transported to shore in native canoes, by tattooed Tahitian paddlers, the crew is showered with food and flowers by the delirious dockyard crowd.
For several hours, these citizens of Tahiti have waited in the blazing sun. However, Temaru's followers have been on hand longer still. His troops began arriving just after midnight, in pick-up trucks, with blankets and protest signs.
"We're sneaking into town to get ready for the arrival," Nelson Moana Ortas explained the night before. A US-educated economist, Ortas is a supporter of Tavini Huiraatira, the independence party whose colors decorate the shirts of almost all demonstrators. "We want to show the French that this is our land, our decision, our destiny," he says.
And there, suddenly, at the very center of it all, is Oscar Temaru, leader of Tavini Huiraatira, the island's largest independence party, and the undisputed helmsman of the anti-nuclear campaign. Minutes before, Temaru was on the Rainbow Warrior. Now, he guides the Greenpeace crew into port, into the embrace of thousands of cheering supporters, all under the gaze of the largest reporting team ever assembled in Tahiti.
Oscar Temaru, covered in tropical orchids, may look like a tribal chief, but he is unquestionably the man, La Man de Tahiti.
Looking over a sea of picket signs, Temaru sees rage written in the big, bold letters of a vibrant people's movement. "Patoi Atomi," blares one banner, between a skeleton and a mushroom cloud. "L'Independence en marche non aux essais nucleaires," "Terrorisme det'at" and "Crime Contre l'humanite," read others.
A beefy Tahitian man in sunglasses, is slumped down by a gate. "Chirac-Flosse assassins; non a la bombe," says his sign, referring to French president Jacques Chirac, who ordered the new tests, and his local counterpart, Gaston Flosse, pro-nuclear president of the nominally autonomous territorial government of French Polynesia.
There are 42 seats in the assembly and Flosse's party claims half of them. "But the elections here are rigged," gripes Ortas. Because of a system that assigns seats on a basis of geography rather than population, one vote in an outlying area can be worth three or four votes in Tahiti, which is Temaru's area of strength.
"Oscar got 35 percent of the vote in the last election, but he has only four seats in the government," Ortas says. "If the election were held today, he'd get 50 percent or more."
Some critics are even kinder. "Fifty percent? I'd say more like 60 or 70 percent," says Danny Maker, watching the demonstration from across the street, where he runs one of Papeete's three casinos. Gambling is illegal, but rules can always be bent in this tropical territory. The casinos operate as private clubs. Maker counts himself a conservative, and dreads a sudden move to independence. "But Oscar is fair, one of the few politicians around here that isn't corrupt. The people love him."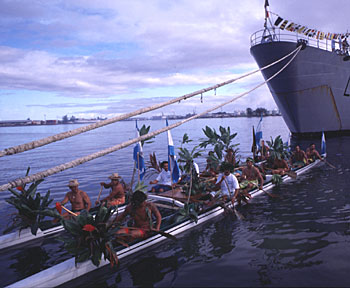 Indeed, they go wild when he begins speaking. "We will keep fighting," says Temaru, to spirited shouts of support. "We will keep fighting, and we will win."
The crowd is equally enthusiastic when the microphone is passed to David Enever, feisty captain of the Rainbow Warrior. Born in Wales and raised in England, he has kicked around this region a long while, first as seaman and skipper on a series of ships, and later as director of ports in Vanuatu. His ruddy complexion and potato nose may mark him as a foreigner, but his heart is in these peaceful Pacific waters.
"We all have a common goal, people. The goal of the South Pacific, and the entire world, is to be nuclear free," he says. "I call upon not only France, but Great Britain, the United States, Russia and China. I say to them, 'Stop this stupidity'!"
A few hours later, after the protesters have dropped their picket signs and cleared the waterfront, the media moves across the harbor to where the French military has forced the Greenpeace boat to dock, away from the million-dollar view of the tourists on the Club Med cruise ship, and away from the demonstrators.
Temaru has shed the floral shirt and necklace of freshly-picked orchids that lent a native look to the fastest-rising politician in French Polynesia. Now, he wears a simple black T-shirt, blue jeans and sandals; the Caesar Chavez of Tahiti.
Walking amongst the young press brigade, Temaru fits right in, looking more like a college professor who has moved his creative writing class out onto the campus lawn than a man who has moved an island, a man who has moved the whole world.
Temaru speaks skillfully, forcefully to the press. While the captain and crew describe the confrontation, and the larger environmental issues, Temaru keeps steering talk back to his central theme: the right of Tahitians to choose their own course of life.
"We don't want to be French guinea pigs anymore! Where is the democracy? Where is the humanity? The people of Polynesia want a referendum," he says. "Ask the people if they want this testing and they will certainly tell you. The answer is no."
Indeed, one could travel all 120 islands and atolls of French Polynesia, perhaps all the way to Paris, and still not find a single person who favors the detonation of nuclear devices beneath the calm blue waters around Moruroa. Temaru constantly correlates these two things, opposition to nuclear testing and support for independence in Polynesia, or, as the natives call it, Te Aomaohi, meaning, land of the Maori.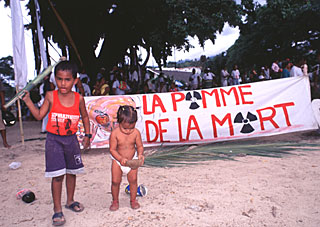 They write it down or record it, writers from as far away as Chile and Italy, television crews from France and Australia, radio reporters from New Zealand. Temaru frames each answer with meticulous care, not so much because he has to think about what he wants to say, but because it has taken the world so very long to listen.
For more than two decades, the popular mayor of Fa'aa has been preaching much the same sermon. But now, the independence activist has an audience, and not just among the islands of French Polynesia. Suddenly, the entire world is lending an ear.
"I knew Moruroa, 30 years ago," says Temaru. Then, he was a custom agent assigned to the island where France was moving its nuclear testing program, after being evicted from the Sahara by the Algerians. "It was a nice place, blue water, and lots of fish," he says, sadly recounting the destruction that has followed. "Now, it's a nightmare."
Nobody is really sure of the extent of the damage since France lit up four dozen bombs over the horseshoe-shaped atoll, and more than a hundred in its coral reef. The French refuse any independent testing of radiation levels, and have released no health statistics for workers at the site. French officials say the water remains untainted, but Moruroa workers tell of people who became quite ill, even died, after eating fish from the lagoon.
"At the beginning of the tests, the French say there will be no danger of radiation," says Rev. Temarama, a Protestant minister in Papeete. "They say they will protect the islands. Thirty years later, the atoll is a jungle of concrete. There's nothing natural left." Adds one former Moruroa worker at the protest: "It is working for the devil."
Moruroa may be a rallying cry for worldwide anti-nuke protests. But, while politicians argue about the big picture, here in Tahiti, the fight isn't over grand concepts, it's about real things: coral reefs, fish you can eat and a cancer-free backyard.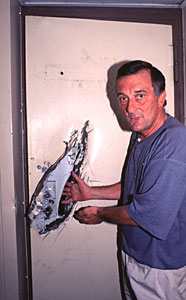 "See this, can you believe it?" asks Cpt. Enever, running a hand over a wrinkle in the metal door of the Rainbow Warrior's radio room. An arm-length gash has been hacked through. No skipper worth his salt would dream of seeing a ship in such shape.
"They took axes to the door, they just chopped away," he says. "It was all quite intimidating. I mean, I expected us to be boarded. I just never expected it to be quite so violent."
Enever runs over the damage. Up on deck, a long metal pole lays where it was torn from the main mast. Below, books are missing from shelves, and a couple windows are broken. "And you can see where the rails are bent. That's from when they rammed us."
The boat was moving at top speed towards Moruroa when French ships ordered it to halt. "We heard them, all right," says the stubborn, spirited captain, "but we kept going. They sent out commandos in rubber dingies. They boarded and yelled at us to leave the control room. When we refused, they began chopping away and tossed tear gas inside. We were choking, so we opened portholes to climb through to the deck. That's when they rammed us."
Meanwhile, chaos reigned around the Rainbow Warrior. "The commandos came on with ladders, completely covered except their eyes," recalls Pamela Ward, an US Navy veteran from California. "They were all armed. Everything happened so fast. You can't help but think of every bad 'Rambo' movie you've ever seen."
During the confrontation, the Rainbow Warrior launched several rubber dingies. The crew of one managed to lock themselves to a rig used to drill holes in the coral reef for the testing. They were forcibly removed by the French navy, but Greenpeace boasted that it was all a diversion for the release of another rubber dingy from the supporting vessel, the Vega. Two weeks later, three members on that dingy were reportedly still evading French military sweeps across Moruroa Atoll.
"We will maintain a presence in the atoll, and we will increase the pressure on France not just here in Tahiti, but across the Pacific and around the world," says Greenpeace anti-nuke campaign co-chair Stephanie Mills, still charged with adrenaline days after the confrontation. "The Rainbow Warrior will return to Moruroa. We won't say how or when, but we'll be back."
Enever adds: "We're here to stay in these waters until the French quit."
Greenpeace has, throughout its 24-year history, been a troublesome thorn to the French, particularly over the testing of atomic weapons. In many ways, the battle for the blue seas of Moruroa has been a birthright for the environmental group with the guerrilla tactics. The fighting has often turned fierce, sometimes murderous.
Canadian skipper David McTaggart says he nearly lost an eye after a beating by French commandos who boarded his boat near Moruroa in 1973. A year earlier, a French warship rammed his yacht Vega during McTaggart's first expedition to Moruroa. Another time, the Vega was seized, and held for a full year by the French.
Not that such reprisals have had much impact on McTaggart, a rich, retired property development who had been sailing around the South Pacific in 1971 when an eerie sight on the horizon changed his life. He happened to see a French mushroom cloud as it erupted into the sky. Outraged, McTaggart founded Greenpeace a few months later.
Over the years, he's been a constant pest to the French, returning to the Moruroa test site repeatedly, paying no mind to the French-imposed 20-kilometer exclusion area. In fact, although banned from French Polynesia, the white-haired 63-year-old McTaggart was smuggled back on board the Rainbow Warrior II, according to gleeful Greenpeace sources. Mills says he is among the assault team currently hiding in the Moruroa Atoll.
The stakes have always been high, and others have been willing to put their lives on the line for the cause. One Greenpeace member died on the original Rainbow Warrior, which was bombed by French agents in Auckland. By a bizarre twist of fate, that was July 10, 1985 - exactly 10 years ago to the very day that the new Rainbow Warrior was boarded after breaching the Moruroa security zone last month.
That stunningly shameless - many say arrogantly stupid - act of French aggression won massive new converts to the Greenpeace cause. In the ensuing decade, the group has expanded its environmental activities to new battlefields, with varying success.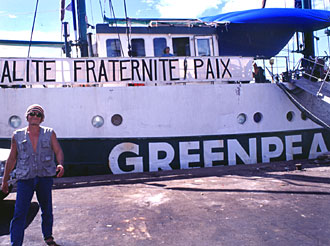 Greenpeace sailed into Moruroa on a high, though, after a resounding victory, its most decisive to date. When Shell Oil announced plans to scuttle the oil storage buoy Brent Spar in the North Sea, Greenpeace went on the offensive. Public protests and a boycott of Shell products and petrol stations did the trick. In June, Shell bowed to the pressure.
Chirac's announcement to resume the underwater atomic testing curtailed by his predecessor Francis Mitterand was like a schoolyard taunt among old adversaries. The July fighting can only be the start of the fireworks.
Mills - herself banned from Tahiti and threatened with immediate deportation should she step foot on French Polynesian soil - sounded the battle cry at the press conference. "We are issuing a call today to boat owners around the world, to form a massive flotilla, and to come and join us at Moruroa over the next few weeks and months."
"We want to take this small message," she says, referring to the recent confrontation, "and turn it into a massive message from people all over the world."
Even as she spoke, anti-nuke sentiment was covering the globe. From Phnom Penh to the Philippines in Asia, to Sydney and Auckland in the South Pacific, Chile in South America and across Europe, people were taking to the streets. They burned croissants and stomped French bread in the US. They picketed French restaurants in Hong Kong.
The most violent protests were in Australia and New Zealand, which have taken lead roles against nuclear testing in the Pacific basin. A French consulate was firebombed in Perth, while another received an unexpected gift - a truckload of manure, ordered by a comedian on live television. Signs went up at Auckland restaurants advising that French products were no longer served. French wine began piling up at docks in Australia and New Zealand.
Around the world, the reaction was the same. Switzerland, Sweden and Belgium attacked the decision, and even France's usual European allies urged reconsideration. In unusual public comments, first the foreign minister, then the prime minister of Japan accused Paris of "betrayal."
The backlash may have shocked Chirac, but he only became more intransigent under fire, reiterating his decision. His pro-nuclear stance is no surprise; Chirac has always touted a strong nuclear capability for France. Resumption of the testing was part of the pledge to the military that swept him to power in the last election.
However, Chirac's disastrous sense of timing is mystifying.
He could hardly have failed to anticipate all the publicity that would naturally flow Greenpeace's way on the anniversary of the bombing of the Rainbow Warrior, easily among the major scandals of modern European history. Even worse, how could any politician overlook the world's anti-nuclear outlook in the run-up to the 50th anniversary of the bombing of Hiroshima and Nagasaki next month?
Then there questions of timing involving France's true motives in announcing tests at Moruroa. French officials say that they need to blow off another eight bombs between September and next May for research purposes designed to perfect existing weaponry. After that, they have said, France will sign treaties limiting any future testing.
Some analysts say the data could easily come from computer models, or by way of an exchange of technology with a nuclear ally like the US. Many are suspicious that France is actually researching a new generation of nuclear weapons, which would violate the world's nuclear treaties.
Yet France has always been the odd man out among the nuclear gang. Paris never was a party to the landmark 1963 Partial Test Ban Treat, which ended atmospheric testing. In fact, France continued exploding atomic bombs, over Algeria until sent packing in the 1960s, then in French Polynesia through the mid-70s, until Australia and New Zealand lodged a complaint with the International Court of Justice. And it took more than 20 years for France to finally sign the 1970 Non-Proliferation Treaty (NPT).
This lack of commitment to nuclear disarmament provoked a near rebellion at recent talks on extending the NPT. Smaller nations, including those in Asian, balked at open-ended agreements, saying they had been shortchanged by the nuclear powers. "The deal was that nations promised not to develop their own nuclear weapons and, in exchange, the nuclear powers agreed to disarmament," explains Terence O'Brien, former chair of the United Nations Security Council. "That just hasn't happened."
O'Brien, director of the Centre for Strategic Studies at Auckland's Victory University, says, "Chirac seems to have made a tremendous blunder. He seems to have made promises to the military about testing, and it seems he intends to keep those promises. But he must not have anticipated the severity of the world's reaction. He's in a mess."
Near O'Brien's office, at a small news agency, two men in woolly jumpers argue about an upcoming holiday. "I'm thinking of going," says Vince, a construction worker, only it's not a vacation he has in mind. "I swear, if I had a boat, I'd go in a second."
He's holding a newspaper. The cover story is about a family that plans to join a flotilla of ships sailing for Moruroa. Every day the papers carry the same story, with different faces. An entire nation of ordinary New Zealanders, willing to drop everything to sail across the Pacific, like a ragtag, watery wagon train. The Greenpeace convoy.
"As soon as we announced this, we had commitments from 50 ships in Australia," says Michael Szabo, communications manager at the Greenpeace office in Auckland. He has just returned from protests in Papeete and is pleased to see the same spirit prevails in New Zealand.
"It's nothing new, though," he notes. "New Zealand has a long history of opposition to French testing. In the 1970s, a number of ships sailed for Moruroa for the same reason, and people have taken to boats to blockade our harbor against British or American ships carrying nuclear weapons. People are really behind this. In 1984, the government was elected on an issue of banning nuclear ships from New Zealand."
The present government plans to support the citizen protest with some sort of vessel, most likely a frigate, according to Richard Griffin, the prime minister's chief secretary. "It would be there solely to protect and watch over New Zealand citizens," he says.
This is a touchy subject to the French. As one young conscript explained earlier in Tahiti, "You have to understand that Australia and New Zealand have secret motives here. They support the natives. They encourage the independence movement. They think the Pacific belongs to them, and have been spreading discontent."
Griffin flatly rejects the assessment. "This is not an issue of interference or sovereignty. The fact is, this is New Zealand's backyard and our intent is simply stop the testing. If we can't, than we'd like to see the French hurry up and finish up, then sign a final test ban treaty. We want to see an end to all nuclear testing and weapons. "
O'Brien adds, "Of course, there's really no secret agenda here, or if there is, it really doesn't matter. Stopping the proliferation of nuclear weapons is the real issue. That's the concern of people and nations everywhere. It's the wish of the entire world."
The French have good reason to feel besieged in the paradise that they stole over 150 years ago from the British. Captain Samuel Wallis was first to arrive in 1767, followed soon after by Captain James Cook, who visited four times within eight years. The crew of the Bounty were so captivated that they mutinied and sent Bligh packing.
But the Spanish, Portuguese, British and Americans have all retreated from the region. Only France retains its archaic colony, steadfastly holding onto the five archipelagos of Polynesia, even as the spirit of independence sweeps across nearby island groups, like the Cook, Solomon and Marshall islands.
The French record in Polynesia hasn't been too complimentary. Unemployment is currently estimated at 25 percent. While the British colony of Hong Kong registers multi-billion dollar surpluses every year despite having some of the lowest tax rates anywhere, expensive imported goods from France flood the Tahitian market, leaving the territory with one of the world's highest import imbalances.
The economy is small and one dimensional. Tourism is by far the major industry. Nuclear test monitoring is the second biggest.
"These protests have put Tahiti on the map, but not for the right reasons," says Monty Brown, manager of the Hotel Bora Bora, part of the Hong Kong-based Amanresorts group. "In the early 1970s, Bora Bora had no paved roads, no electricity. There was no hospital, not even a single doctor on the island," says a Bora Bora tour operator.
Nor has the record been much better in Tahiti, where three-fourths of population of nearly 200,000 live. "Nobody even noticed Tahiti until 1961, when the airport opened," says Henri Rittmeister, who moved here in 1938. "Then the Legionnaires came, along with the power people. They brought a European perspective that changed everything. The 20th century came to Tahiti between 1961-1970."
Yet development has been too slow for some, too fast for others. Even the French have seen the writing on the wall. Riots in New Caledonia served a waking call, and partial self-rule was granted to French Polynesia in 1977.
"Up until about 10 or 15 years ago, France never even had a real policy for French Polynesia," comments O'Brien. "The policy was basically: 'Mind your own business. This is French territory and we'll do whatever we want.'
"But that has been changing, too slowly for some, perhaps, but it has been changing. Greater autonomy has been given to French Polynesia, and more cooperation has been encouraged with the other island states. France has tried to encourage a cooperative policy in the Pacific, and this has surely paid dividends among the people.
"Now, Chirac has come along and turned everything around. As prime minister, he always took a tougher line on the Pacific, asserting French rights. As a result, he's only strengthened the independence movement, but it's difficult to understand. It's like he's pissing in his own boot," O'Brien says. "Chirac has set things back 10 years."
Or set things ahead 10-20 years for an independence movement that has always had trouble motivating these people of paradise. Outrage turned to action in June. Temaru's people shut down Papeete.
People stopped working. They stopped everything. Carrying ukuleles, they sat down in the streets. Traffic came to a halt. The entire city was paralyzed.
Two weeks later, the leaders of that action are still agitated. It's three days after the Rainbow Warrior II has been boarded out at sea, and nine hours before Temaru and the Greenpeace crew arrive the next morning. A big protest is planned for the next day, July 14, which, twisted irony once again, happens to be Bastille Day.
"See that ship there," says one fellow, his arms and legs covered in the blue-black tattoos that are traditional markings of the Tahitian men, and many women. He points to a big French warship, docked in the main harbor. "We should go up and piss on it. We should spit on it, the damned French."
Instead, they hold their rage until daylight, when they unfurl a banner that says, "Voleuse de Patrie" in front of a flock of French sailors. Some of the squabbies pull out video cameras to film the demonstration. Still others watch with obvious outrage as the protesters spit on French flags.
It's part of the ongoing cultural rift, which seems to be widening in French Polynesia. During the final festivities of Heiva, those watching the dance displays at Papeete's main stadium couldn't help but notice the masts of two French warships hovering over the lights. "That's like a slap in the face of the Tahitian people," says a college teacher. "The French are insanely insensitive. This is typical."
A growing mood of agitation prevails, and not only around Tahiti. "We're scared to go out at night, and when we do, it's always in groups," says a French hotel worker in Bora Bora. "Whatever you do, speak English around here. The local people hate the French. They'll give you a beating if they think you're French."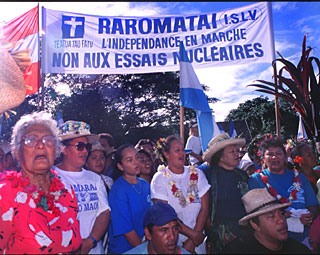 One Papeete businessman explains the conflict. "The young people, who have no jobs, they sit on the streets, drink beer and grow more bitter every day. They see the French go by in nice cars, in nice clothes. The hate in them grows stronger every day."
Yet, such sentiments seem to be in the minority, for now at least. Tahitians still relish a bond with the French. Temaru, for instance, is actually a French civil servant, as is his deputy mayor and most of the party leadership.
And a strong French flavor can be felt throughout the islands. Even at the demonstration, virtually all the signs that protest, and all the speakers who rail against Paris rule, do so in French.
By late July, the media circus has moved on, back to Bosnia, or Burma. Tahiti was merely a moment in the equatorial sun, a pleasant break from the wars and misery.
So, hardly anyone is watching when France finally starts taking steps to control the damage. A stream of press releases extols the safety of testing. Countering claims of damage to the reef, pictures are produced showing clear blue waters. A photo is circulated of Flosse dipping in the sea, eating lobster from the lagoon afterwards.
"There really is no radiation there, I've swum there myself," says Jean Lichere, the chief representative of the Commissariat a l'Energie Atomique in French Polynesia. Graying of hair, the handsome man leans his tall frame back in a reclining chair at CEA headquarters in Mahina. His office, like the entire compound, resembles barracks from the 1960s, which is exactly when everything was built.
Back then, the place was a bustling compound with hundreds of workers. But over the years, more and more work has been shifted to Moruroa. Now, only about 30 people, mainly bean counters, still commute to the rustic barbed-wire enclosed compound, with the thatched-roof guard station.
Like the rest of the French in these islands, Lichere has a laisse-faire attitude about the testing. "The decisions will be made in Paris by the politicians. They will tell us what to do," he says, skirting the big question." But then again, he's boss of an agency whose business is setting off atomic bombs, facing a reporter, rather suspiciously I might add. "How do I know you're not from Greenpeace?" he asks repeatedly.
Around the island, the French take the same defensive stance. "I'm not for the testing and I'm not against the testing." It's as if they all went to the same school for diplomats, even Michele, who makes pizza in a roll-away van by the waterfront.
For Temaru, though, there need be no straddling of fences. After two decades on the
fringes, his independence parade is finally marching down main street. If he plays it properly, the nuclear ticket could take him all the way to the presidency.
"President? H'mmm, no, really, I don't give it that much thought," he says, peeling a banana, on board the Rainbow Warrior. All day long, fruit has piled up on the boat, as residents of Papeete have made the pilgrimage to the ship, bringing bananas in thanks to the heroes of the battle against the bomb.
"Look over there," Temaru says, pointing to a police van skidding to a stop in the lot beside the boat. Two policemen step forward with yet another pile of bananas. "You see, even the police are behind us."
---
Ron Gluckman is an American reporter, based in Hong Kong, who toured Tahiti and surrounding islands of French Polynesia, during the riots and protests against nuclear tests that began in the summer of 1995. This long story appeared in Asiaweek in August 1995. Other stories on the nuclear testing by Ron Gluckman appeared in Asia Inc., USA Today and the Los Angeles Weekly. For a shorter, more satirical take on the situation, turn to Tahiti Nuke2.
All photos by Ron Gluckman
To take a non-nuclear tour of paradise, join Gluckman in the South Pacific Paradise
---
To return to the opening page and index



push here
---