Tibet Net
Politics and religion may be no-nos, but Tibetans can sample different ideas and all manner of freedom by logging on as the internet brings an invisible highway - and hope - to the rooftop of the world.
By Ron Gluckman /Lhasa, Tibet
---
TYPE HUMAN RIGHTS in a search engine, add "Tibet" and the results run to thousands of pages.
Not surprising considering the controversy in China's most troublesome province. The real wonder is that most links work. Elsewhere in China, news sites from BBC to Time are blocked.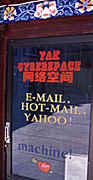 Yet a refreshing sense of freedom pervades as the worldwide web reaches the "Rooftop of the World." You can surf the Dalai Lama's site and browse critical dispatches from Tibet Information Network.
Like so many events that swept the rest of the world, the net arrived in Tibet rather late. The first internet cafe only opened four years ago, nearly half a century after the People's Liberation Army kick-stepped into this ancient land, forever changing life for Tibetans. The net may do likewise, only faster.
"Because of the Internet, we in Tibet aren't isolated from the rest of the world. That's been our fate for centuries, and was one reason China could take over," says the manager of one Internet cafe in the capital of Lhasa. Outside, Tibetans stroll past spinning prayer wheels, as they have since medieval times.
Much of Lhasa, with its trapezoidal temples and ancient alleyways, looks equally dated. Inside, though, a new generation is wired to instant messaging, online games and unprecedented information.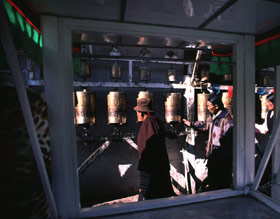 Revolutionary? This businessman thinks so. "This has totally turned things around for Tibet. Before, nobody knew about us or cared. Now, we're connected, free."
Well, not completely. He didn't want his name used for fear of official reprisal. And, when a user loads a picture of the Dalai Lama, he leaps over to switch off the monitor. "The Internet is free, but in Tibet," he explains, drawing a finger across his throat, "they are still watching."
Many cafes post signs banning controversial sites. Use is still marginal. Tibet has the lowest Internet population among China's provinces, despite a 12-fold increase over the last two years, among the fastest growth rate in the Middle Kingdom. But the potential is enormous. And impact is immediate.
Consider that construction just started on a railroad to Tibet; it's the only part of China without train service. Actually, the line launched some 30 years ago, but workers only got to Golmud. From there, it's over 1,000 kilometers, practically straight up, to Tibet.
The project may be mankind's greatest since the Great Wall. Eighty percent of track must be laid at altitudes of 4,000 meters or more; much through permafrost. Despite the enthusiasm of engineers and pledges of billions of bucks from Beijing, it may be an impossible task, as many believe.
In contrast, before blasting one tunnel or building a single bridge, Tibetans are eagerly trading in yaks for rides on the information highway.
"All students are aware of the Internet, and love it," says a 20-year-old university student. "Some friends spend the whole night on line." A half-dozen Internet cafes surround Tibet University, where some students had never seen computers before matriculation. Hourly fees range from 50-60 cents.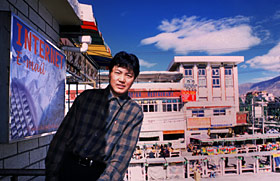 Still, logging on is a luxury in a land when an hour's time equals a day's wage. Even so, it's more affordable than in 1997, when the Barkhor Cafe opened the first net lounge at the top of the sacred pilgrim path leading to the Jokhang, Lhasa's oldest temple.
Old timers still marvel at the juxtaposition: the 7th century temple steeped in aromas of incense and yak butter oil overlooked by space-age screens showing magic images of a largely unknown outside world. But at $7.50 per hour, connecting was an equally foreign concept; only tourists could afford such fees.
Since then, six-dozen Internet cafes -- half unregistered -- have opened in Lhasa. Barkhor Cafe sits deserted, a victim of other new concepts: competition and price cuts. "We were the first to open," says Peanpa Tsering, who helps staff the cafe, plus an adjacent art gallery, "but now there are so many other places. It's a hard business."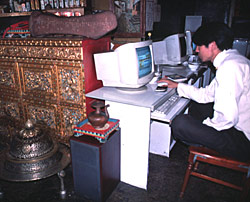 And a tough one for Tibetans to learn. At Makye Ame Restaurant, also overlooking the Jokhang, four computers seem a natural addition to a hangout boasting picturesque views, dried yak meat and Bob Marley reggae music. On a recent day, there is one user, Kaeson, a waiter who plays digital card games and ponders the Internet's impact.
"Before we sold lots of postcards. Now, hardly any. Who would pay $1 and wait two weeks for the mail," he asks, "when you can email cards that cost less and are instant?"
Not all cafes consider computers mere add-ons. Tashi Tsering, 37, is Tibet's biggest Net booster. A former English teacher from Shigatse, he learned about computers five years ago at a school program in Chengdu, the nearest big city.
That's still several days away by road, but Tsering saw how the Internet erases distances. He took a computer course in Tianjin, then opened Lhasa's second Internet cafe in April of 1998. He opened another last year, becoming Tibet's No. 1 Netrepreneur. He also slashed prices to 60 cents an hour, boosting usage on his 20 machines.
"Last year, it was 25 yuan (US$3) per hour. Only foreigners could afford that. My idea is to reach to the local market."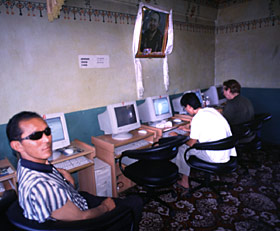 To that end, Tsering hopes to open a bigger computer center within a year, with high-speed hook-ups and 24-hour service, all firsts for Tibet. "I think this is the future and I want to be part of that."
Losong Dawa feels likewise. Only 24, he runs Boiling Point Internet Bar, where 10 machines are busy all day. In a Tibetan economy rapidly being revamped from agrarian to market orientation, most of the jobs are gobbled up by hungry Chinese immigrants. Unskilled Tibetans face enormous unemployment.
The Internet may offer a wildcard. "This is the future," Dawa says. "I want to teach [the new generation] computers, to bring Tibet into the modern age."
Then, fiddling with another broken keyboard, he says, "That's my dream."
---
Ron Gluckman is an American reporter who is based in Hong Kong, but who roams around Asia for a number of different publications including the Wall Street Journal, which ran this report from Tibet in December 2001.
---
To return to the opening page and index

push here
---