American Dream Comes True
In communist China, families are finding that fun needn't be an entirely American commodity thanks to a string of theme parks that are bringing western amusements to the Middle Kingdom
By Ron Gluckman/Shanghai
---
R

OBERT LAMB STEPS FROM THE AIR CONDITIONED comfort of his trailer and marvels at the mayhem outside. Hundreds of workers scurry about in the simmering heat of summer, pounding nails, raising rafters, painting signs.

Mr Lamb came to this dustbowl of barren land, over an hour from Shanghai, and proclaimed that the void would be filled by theaters and sidewalks and fast food. Five separate towns are under construction simultaneously, and each is unlike anything China has ever seen. Boats ply the waters of a lake beside an artificial Miami Beach, knights joust in the castle grounds, and all that's missing from Treasure Island in the midst of it all is the giggles of delighted children.

But that, too, will come soon. Lamb looks over the site and smiles. He has dreamed the Great American Dream. And, that dream is coming true.

The doors are due to open today at American Dream Park, a mini Disneyland that spills fun and fantasy across a 70-acre site in Huang Du County, seemingly a dozen time zones removed from the suburban sprawl of China's fastest growing city. But that growth, along with the emergence of an enormous middle class, is what convinced Lamb and his colleagues to pledge US$600 million for a string of theme parks in Beijing, Guangzhou, Wuhan and Chengdu.

Shanghai is the first of the parks out of the starting blocks, but a second will follow within months in Guangzhou, the booming southern China city near Hong Kong. Industry sources say it's the first time a pair of theme parks have been built on such scale simultaneously and, indeed, the total investment has raised eyebrows, even in an industry renowned for its daring daydreams.

"The reaction has been great, everybody is watching this," says Lamb, showing no anxiety about the ground-breaking enterprise or the opening day deadline. His associates include Dennis Speigel, president of Cincinnati-based International Theme Park Services, who has been involved in 200 theme parks worldwide. Lamb himself has been based in China since 1990, mainly as general manager of Beijing Amusement Park, where he boosted revenue from 9 million to 50 million yuan (about US$6 million) in two years.

"Everyone thought I was a genius, but all I did was run the amusement park like you would in America," says Lamb. "I paid the staff more money, made them like their jobs, and added more shows, more entertainment."

The same formula will hold true on a grander scale at American Dream Park. It will offer 31 rides, including traditional fare like roller coasters, but also a surround-vision theater and lots of futuristic fun. Costumed performers will mount 17 shows, plus ongoing street theatrics throughout the five themed areas.

Guests will enter via Main Street USA, a small-town celebration of Americana complete with an old fashioned train. The tracks roll by the American Heritage Area, with its odd offerings of jousting and a medieval theater - which predated the real America by centuries. More authentic is Miami Beach with its art deco facades and 25-acre lake in the USA Today area.

"This is what most people in China think of the USA," explains Keith Saunders, president of the Shanghai operation. "You know, Miami Vice and all that."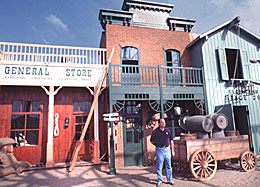 Shoot-em-up action is the attraction through the swinging saloon doors at Wild Wild West. It's American flavoring, with a twist. The cowboys battle the Shanghai Kid, who has sent back in time in the original scripted show. "
And the Shanghai Kid always wins," Saunders says.
This concession to the China Cultural Bureau shouldn't raise worries about censorship, according to Dream Park's directors.
After all, the revisions aren't much removed from the same sort of political correctness that would tomahawk American Indians out of a similar park show in present-day USA. But there are ample other Sino influences in the Shanghai park. Stunt men, costume creators and show directors are Chinese. Even the cowboys have Chinese eyes.
Talent has been tapped from the entertainment industry in China and Hong Kong, the latter ranking third among the world's film producing centers. Of more than 2,000 employees in the park, fewer than a handful will be foreign.
Still, there are concerns about pitching American culture in perhaps the last great bastion of revolutionary resistance from the Cold War. "It's true, that we are using American buildings, and offering American-style entertainment," says Lamb, "but that's because the American image is what people want. They see American films, have American haircuts, wear blue jeans. America sells."
But will it? Admission will be 100 yuan (US$12), about two weeks of wages for the average Chinese worker. There will also be scores of souvenir shops and snack stands to suck additional cash from Chinese wallets. And merchandise will be a major factor in the parks, which have their own Disney-style characters that will soon be sprouting up on souvenir mugs, T-shirts, pencils and dim sum steamers. In all, three million guests are expected to visit each park annually.
Yet competition is growing keen. Near the Shanghai site is Global Paradise, a US$60 million scenic park on over 150 acres. The sedate, though surrealistic site sports replicas of the great monuments, Egypt's pyramids to the Acropolis. It's an entire world of weirdness, from velcro-adorned teepees to the "Ancient American Castle" to the painted-on waterfalls at the imitation Niagara Falls. Admission to the park is 56 yuan - and still visitation is very slow.
One Global Paradise worker said her park outdistances the Disney-style newcomer down the block. "This is the whole world, that's only America," she said rather smugly.
But dreams don't die so easily. "We realize we are charging a top price," Lamb says. "But this is a high-quality product." Adds Saunders: "The Chinese have shown they are willing to pay for a premium brand name, like MacDonalds and Kentucky Fried Chicken."
---
Ron Gluckman is an American reporter based in Hong Kong, who wanders the Asian region for a number of publications, including the Wall Street Journal, which ran this piece the last weekend of August 1996. Prior to coming to Asia in 1990, Mr Gluckman was a pop culture specialist who often wrote of the amusing consequences of the clash between cultures; for other examples, please click upon the Americanization of China . For other reports from China, please see Shanghai Jews, China Wine, Stuck inside the Shanghai Harmonica Factory and Hemp.
After the publication of this story, the partners in American Dream Park had a falling out, and the project became a nightmare. No other parks were built and the Shanghai park was run down and deserted within a few years. For more on this subject, click on the downside of the business of Fun in China.
---
To return to the opening page and index
push

---