Shanghai's stylish Xin Tian Di
A neighborhood of old Shikumen (a type of tenement found only in Shanghai) has been saved by a restoration that turned the old stone buildings into boutiques, clubs and restaurants. Xin Tian Di is not only China's finest historical redevelopment project, but also a model for Asia. Ironically, this historic district's rebirth as a hotspot of bourgeoisie splendors is all because of Chairman Mao.
By Ron Gluckman /Shanghai
---
COFFEE ISN'T THE ONLY THING BREWING in the chic cafes of Xin Tian Di, the hottest new entertainment district in Shanghai. A revolutionary spirit reverberates through the two-square block development that saved scores of historic brick buildings from the wrecking ball, by transforming them into some of the city's finest clubs, restaurants and boutiques.
Revolution is practically a tradition in this charming neighborhood of old Shikumen, a type of early 1900s tenement unique to Shanghai.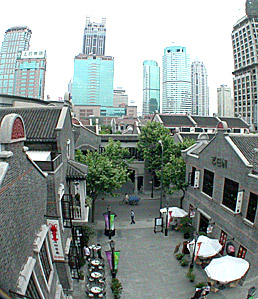 Eighty-two years ago, meetings held inside one of the old Shikumen at Xin Tian Di (pronounced Shin tea-en dee) were chaired by the original Chairman, Mao Zedong. Attending were the first comrades. Together, they formed the Communist Party, which transformed all of China.
Despite its lofty name, Xin Tian Di - literally, New, Heaven, Earth - has more modest hopes, merely intending to revolutionize entertainment, shopping and dining in Shanghai.
Already, it's set a new benchmark for style that is fast being replicated around China. And the success of the project could have even greater impact as a role model for historical redevelopment not just in China, but across Asia.
Credit goes to Benjamin Wood, an American architect who oversaw the $170 million restoration of the neighborhood of old apartment blocks with traditional courtyard-style of construction.
His relationship with Xin Tian Di was a case of love at first sight. "I flew into Shanghai," he recalls, "and was given 24 hours to decide whether I wanted to do it. I was blown away.
"I saw the magic of the place. It was amazing. There was laundry hanging everywhere, all these people, parents with kids, flying kites, the whole litany of human experience."
Yet Wood - a protégé of famed architect Benjamin Thompson, who turned Boston's 150-year-old Faneuil Hall market into a world-renowned tourist attraction - is more realist than romantic when it comes to restoration.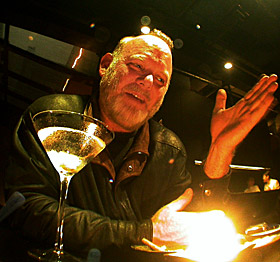 "I disdain preservation," he explains. "I don't believe you should proclaim things dead and turn them into museums. I believe you should breath life into places. That's my goal. I want to make living areas, where people can eat, drink and enjoy themselves."
A stroll through Xin Tian Di shows he has achieved his aim. The place has been packed day and night since a second phase added more outlets along with cinemas, ice cream parlors and craft booths last year.
"Xin Tian Di has transformed nightlife and entertainment in Shanghai," says Bob Boyce, owner of several restaurants and pubs in town, including KABB, one of Xin Tian Di's first openings.
"Sometimes I just sit here and watch all the people go by. That's the real beauty of Xin Tian Di. You see people, all kinds of people, from all over the world, all enjoying themselves."
The project has proven a critical as well as commercial hit. Local historian Tess Johnston, author of "A Last Look: Western Architecture in Old Shanghai" concedes concerns at the outset that the gentrification of the old district would ruin its charm.
"But I've come around. I've seen the alternative and realize the future of Shanghai is more Xin Tian Di's."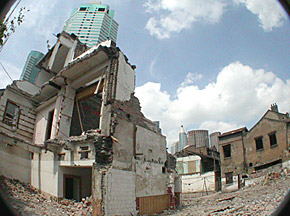 Johnston bemoans the wholesale destruction of so much of Shanghai's architectural heritage. Around the city's evocative old French Quarter, the old brick blocks are being razed, replaced by modern high-rises and shopping malls.
That, too, seemed the fate awaiting Xin Tian Di's stone-gate Shikumen. But, in an ironic turn of events, Mao helped save the district, which has now become a celebration of fine food, nightlife and flashy consumer goods - practically everything he and his party opposed.
When Hong Kong developers Shui On Group were given the rights to a massive 128 acres of prime downtown land, one stipulation was that the old party hall had to be preserved.
First Communist Party Hall is now a museum, but cloistered around it on a delightful maze of cobbled streets are scores of trendy outlets reminiscent of San Francisco's Ghirardelli Square or Faneuil Hall.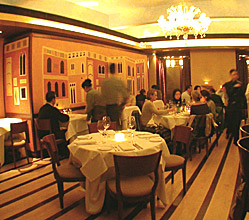 The outlets range from a Vidal Sassoon salon to the requisite Starbucks. There are flashy French and Italian restaurants, La Maison and Va Bene, plus nightclubs like Star East, a sort of Planet Hong Kong theme club launched by Jacky Chan and other Cantonese stars.
Design is what makes Xin Tian Di so attractive, inside and out. Each of the two to three-story Shikumen looks unique, reflecting the exquisitely-preserved twists and turns of an evolving neighborhood, over the decades.
Interiors are equally eye-catching; some of Shanghai's best artists and designers worked overtime on each shop and restaurant, determined to dazzle each other. Take TMSK, which has been turning heads with a bar handspun of exotic glass, from the walls to bar-top and stools.
Xin Tian Di is bolstered by the competitive spirit of one-upmanship: zesty tapas are served along with spicy salsa music at Cuban club and restaurant Che; big wall murals set a funky mood at La Bene (peak inside the playful bathrooms with stone basins and walls filled with butterfly displays); Ye Shanghai uses red lanterns and classy antique settings to evoke the spirit of Shanghai's swinging 1930s heyday.
The result is a magical cornucopia recalling this city's former reputation for fusion, of East and West, old and new. And it satisfies at every level with surprises at every turn: an old door hinge or stunning balcony view of surrounding skyscrapers soaring over rounded doorways and century-old roof tiles.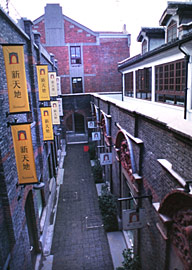 As a result, Shui On has been besieged by offers to replicate Xin Tian Di around China. Already, work has started on a similar project in Hangzhou, a lakeside city southwest of Shanghai.
Nor are locals any less enthusiastic. "It's beautiful," says one old man in his late 70s on a visit to Xin Tian Di. "It's not like Shanghai was; nothing can be like that again. This is new, but it keeps the flavor of old Shanghai."
Ironically, everybody's favorite restoration almost never happened, at least not quite this way. The original development plan, according to Wood, involved knocking down most Shikumen, then rebuilding a new version of Old Shanghai in a tiny area around the Party Hall.
Wood, a latecomer to the project, appealed to Shui On Chairman Vincent Lo to take a different tact. "I cannot say this strongly enough," he wrote Lo. "Look past the obvious, the dirt, the decay, the crowded, unsanitary conditions and see (the area) as what it is...a cultural artifact that could for generations to come symbolize the meeting of East and West.
"Every one who visits Shanghai is looking to find a trace, a piece of the history of one of the most famous cities of the early Twentieth Century."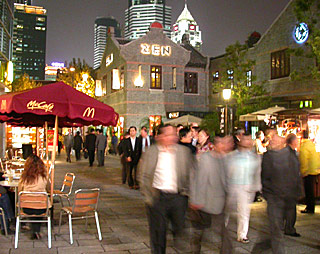 The crowds at Xin Tian Di provide vindication; likewise the flood of offers from other Chinese cities to do similar projects. Not that Wood intends to replicate Xin Tian Di.
"The danger, I guess is that it becomes a cliché, like some sort of Disney," he says. "Over time, though, I believe Xin Tian Di will be recognized as a classic. It will age very well."
Wood isn't merely paying lip service to his creation that has quickly become Shanghai's favorite leisure zone. He's also enthusiastically involved, and has opened his own bar in Xin Tian Di, the ultra-minimalist DR.
The name means Design Resource, and it's become a favored hang-out for local architects and designers. Almost entirely black, DR sports huge slabs of polished inkstone and a bar topped with woven strands of silver so tight liquids reportedly cannot penetrate. Hence, despite a peaking career in America, the architect has all but relocated to Shanghai.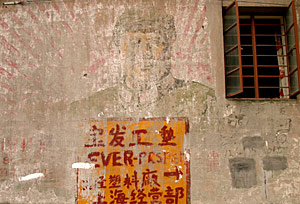 "It's the only place in the world I know where you can watch pop culture created in front of you. There is so much energy. It's like Paris in the 1930s," he says. "There is so much artistic freedom. That might sound funny, but it's amazing. Things happen fast here."
Of course, it took decades for the rebirth of Xin Tian Di, an old classic that has clearly come of age. In the process, China has finally had a chance to taste the kind of style and diversity of entertainment unknown until now.
And it's all thanks to Mao.
---
Ron Gluckman is an American reporter who has spent the past 13 years in Greater China (based in Hong Kong and Beijing) who roams around Asia for a wide variety of publications. He's written often about Chinese architecture and Shanghai's Xin Tian Di; this piece appeared in the July 2003 issue of Dynasty, the China Airlines magazine.
---
To return to the opening page and index

push here
---