Page Three - images from Africa - Pagina Drie - beelden van Afrika
I travel a lot. It's cool to see new things. In 1998, my mother took me to South Africa. Wow! Talk about different. We went more than 1,000 kilometers and saw lots of animals and wild country. Have a look:
Ik reis veel. Het is kikken om nieuwe dingen te zien. In 1998 nam mijn moeder mij mee op een reis door Zuid Afrika. Waaah! Dat was nog eens wat anders. We legden meer dan 1000 kilometers af en zagen veel dieren en ongerepte natuur. Kijk maar: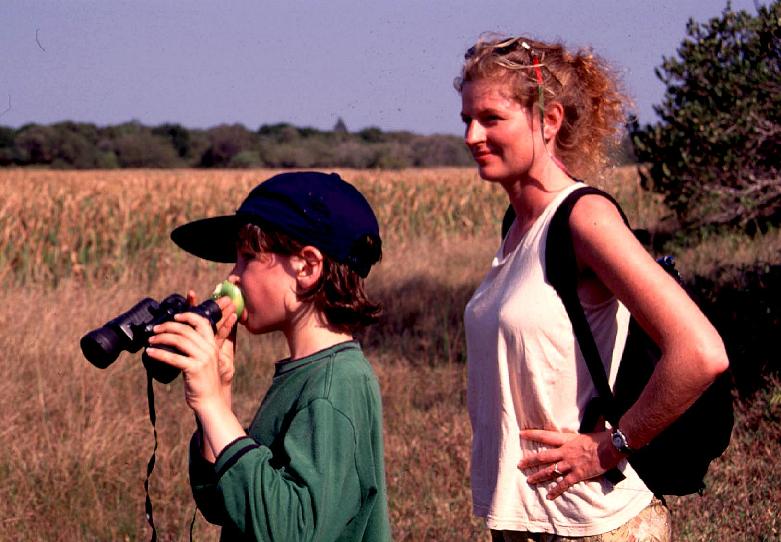 This is my mom and me in South Africa's Cape Vidal Park, where there were lots of crocodiles, plus rhino and kudu and much more. Tracking animals is tough work, but you don't want to miss anything by stopping for meals, so you eat on the run. That's me with the binoculars.
Dit is mijn mam en ik in het Cape Vidal Reservaat in Zuid Afrika, waar er een hele hoop krokodillen waren, maar ook neushoorns, kudu's en nog veel meer. Om dieren te spotten is hard werk, maar je wil natuurlijk niets missen dus heb je wat te eten terwijl je op pad bent. Degene met de verrekijker, dat ben ik.
HIPPO-dippos; Een nijlpaard dip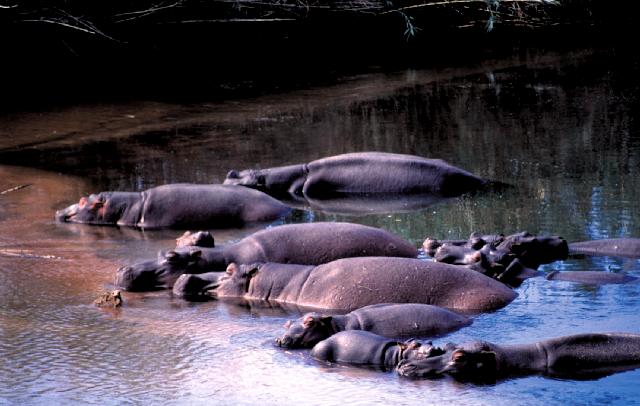 They look pretty cute when
they are sunbathing or floating
in a river, but hippos are REALLY
big and can be dangerous. We
crossed paths with one on a hike
and all of us were scared.
Ze zien er wel schattig uit als ze aan het zonnebaden zijn of in een rivier ronddrijven, maar nijlpaarden zijn echt ONTZETTEND groot en kunnen gevaarlijk zijn. Tijdens een wandeling een keer kwamen we er eentje tegen op ons pad en we waren allemaal wel een beetje bang.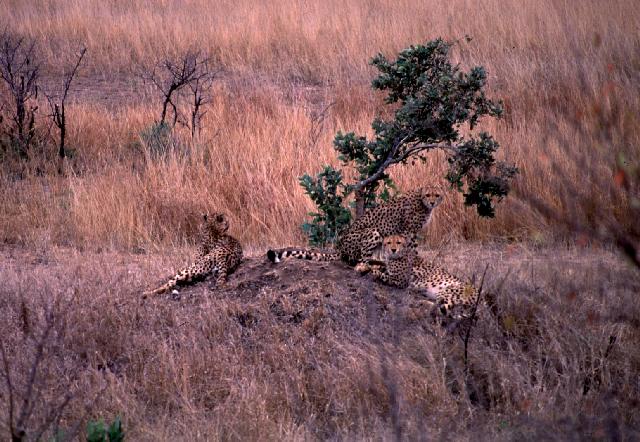 We saw these three cheetahs in Kruger Park.
Were we ever lucky.
They were on a hill, and we watched them playing
for 20 minutes, just like a trio of giant kittens,
whacking each other and rolling around, maybe
only 10-15 meters from where we parked!
We zagen deze drie jachtluipaarden in het Kruger Park. Hadden wij een mazzel! Zij zaten op een heuvel en we hebben wel 20 minuten naar ze gekeken terwijl ze, net als katten, met elkaar aan het spelen en elkaar aan het plagen waren, misschien slechts 10 - 15 meter van ons vandaan!

Turn to next page for more pictures of Africa


Ga naar de volgende pagina voor meer foto's van Afrika


Or go back to beginning page by clicking here


Of ga terug naar het begin door hier te klikken