Page Two - views of Hong Kong - Pagina Twee - beelden van Hong Kong
Hong Kong is crowded with people, and noisy, and really hot and humid in summer. But it's also one of the world's most exciting cities. Here's why:
Hong Kong is stampvol met mensen, en het is er lawaaierig en warm en vochtig in de zomer. Maar het is ook een van de meest indrukwekkende steden van de wereld. En hier zie je waarom: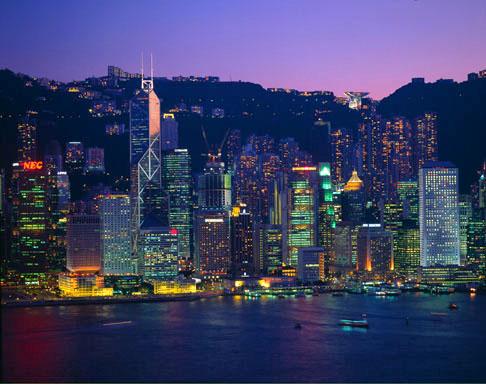 Hong Kong is a modern city, with lots of bright lights. The buildings shoot high into the sky, and are set against a mountain backdrop, right along the water. Looks cool, huh?
Hong Kong is een moderne stad, met heel veel neon verlichting. De gebouwen reiken tot erg hoog in de hemel en staan voor de bergen, pal langs het water. Ziet er mooi uit, nietwaar?
What makes Hong Kong really neat is that, in spite of being so modern, and having great shopping and nightlife and restaurants, it's also a very funky place. When you walk the streets and back alleys you have all kinds of surprises, like finding food markets and wok cooking.
Wat Hong Kong zo leuk maakt is dat, alhoewel het erg modern is, en het fantastische winkels en nachtleven en restaurants heeft, het ook een gekke stad is. Als je over de straten en stegen loopt, kom je allerlei verrassende dingen tegen, zoals eetstalletjes en koken met de wok.

Turn to next page for some pictures from my trip to Africa


Ga naar de volgende pagina voor een aantal foto's van mijn reis naar Afrika


Or go back to beginning page by clicking here


Of ga terug naar het begin door hier te klikken