Angkor: Over!
Cambodia's Angkor complex of temples remains an undisputed world wonder. After decades of war, tourists are flocking to the jungle, filling formerly serene sites with tour buses and traffic jams. Amidst massive corruption and concerns over water supplies, sewage and simple numbers, many worry whether tourists will love Angkor to death.
By Ron Gluckman /Siem Reap and Phnom Penh, Cambodia
---
DUCKING UNDER A FLYING ELBOW, I slither to the front of the crowd. Still an hour before show time, the parking lot is packed. Fumes and heat from idling engines only revs up the anticipation. Horns blare, people battle for position. Luckily, we find a gap, slip to the entrance, then squirm our way along a dirt path up to the stone platform.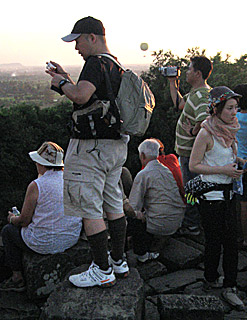 "Like a Rolling Stones concert," mutters a man squashed alongside, as we huff up the hill in a mad scrum. The pushing and shoving seems especially sacrilegious since this is no concert setting but hallowed ground in the remote jungles of Cambodia.
The show we've come to see is the sunset over Angkor, a spectacular stretch of thousand-year old temples, encircled by moats, shaded by massive trees. The setting is serene, but this world wonder is suffocating in the embrace of mass tourism.
As recently as a decade ago, tourists could roam in blissful solitude amongst the vine-encrusted temples about 200 kilometers north of the Cambodian capital of Phnom Penh. That was pre-Angelina Jolie and "Tomb Raider," when rebels still roamed the site and skull-and-bone signs warned of deadly mine fields a foot-fall from the main temples.
Since then, peace has largely taken hold, Jolie and a bevy of Hollywood stars embraced this Indiana Jones setting, and tourism has skyrocketed. Over 1.6 million people visited Cambodia last year, five times as many as in 1998, making this the fastest-growing destination in Asia, most likely the world.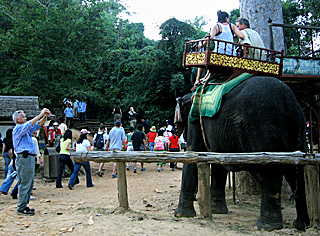 Hence, gridlock ensues at dusk every day around Bakheng hill, where thousands of tourists pour from smoke-belching buses and scurry to the summit for heralded sunset views over the ancient stone temples. Along the way, they dart past legions of beggars and illegal souvenir stalls, nearly trampled by touts selling elephant rides to the top.
Only slightly less a circus is the scene that unfolds daily at the main temple of Angkor Wat, the iconic five-tower castle on the national flag. All Cambodians revere this 12th century architectural treasure. Tourists also embrace the place, at sunset, swarming one tower like bargain hunters clamoring up an escalator at a year-end sale.
Five years back, another section collapsed. Miraculously, no one was injured. "But if something like that happened with tourists there, it would be a disaster," says Teruo Jinnai, head of the United Nations Educational, Scientific and Cultural Organization (UNESCO) in Cambodia.
Many of the stone monuments are crumbling, and that's but one worry at a world wonder bursting at its ancient seams. Demand for water in the logged-over former jungle has drained millennium-old moats and wells, even before the opening of yet another golf course this year. Waste treatment hasn't changed much in centuries; raw sewage is dumped into the river, along with construction waste.
Years ago, when an airstrip was opened in nearby Siem Reap, many fretted over the impact of landings upon the historic stone structures. The pounding has only picked up pace, as tourism grows at torrid 20-35 percent annual rates, bringing bigger planes and more flights from Japan, Thailand, Singapore and Korea.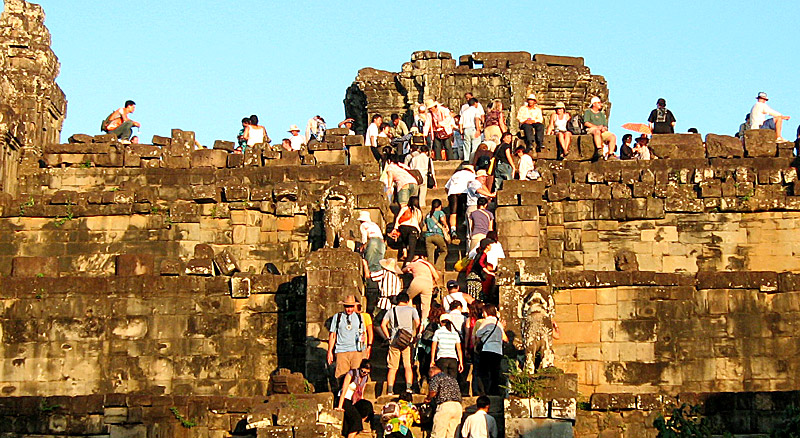 Some archeologists wonder if all the foot traffic might wear down the old stone; there have been calls to equip visitors with slippers. Others worry that the massively-heavy temples may sink, as groundwater is pumped away. "Nobody has really studied that," Jinnai concedes. "The question is whether it can accommodate mass tourism."
That's a question UNESCO didn't have to consider in the early 1990s, when the United Nations mounted what was by far its largest peacekeeping mission at the time, spending $10 billion to quell fighting that had ripped apart this Asia nation for decades. In December 1992, UNESCO declared Angkor a World Heritage Site.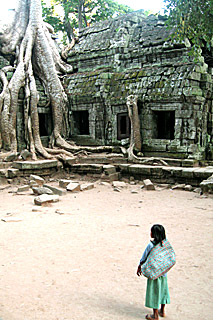 A few months later, I made my first visit, touring temples by jeep, always with armed guard. Clouds of parrots and roaring cicadas were my only company.
Months before and after, tourists had been kidnapped or killed at Angkor, then still a hotbed of rebels loyal to the Khmer Rouge, the murderous regime blamed for the demise of a fourth of the country's population during its disastrous rule in the 1970s.
Fourteen years ago, there was but a single hotel (the faded Grand) in Siem Reap, then a sleepy village near the temples. Now, there are over 100, some charging $1,000 a night, plus a pub street bubbling with activity, exquisite art galleries and a growing collection of spas, along with legions of massage parlors and brothels.
"Siem Reap is buzzing," enthuses Tourism Minister Lay Prohas, who compares its art and restaurant scene to Bali, only at much better prices. "New restaurants, hotels and pubs are opening every day. It has become stylish, classy."
Critics say little benefit has reached locals. Squatter camps line the river; Siem Reap remains one of Cambodia's poorest provinces. Local businessmen say corruption is rampant, with bribery taking the place of permitting and planning.
Prohas, who grew up in Melbourne, maintains there is a master plan for this boom town. Quite a few, in fact, I discover as I dig through documents in his office, financed by various foreign governments and agencies, generally all ignored.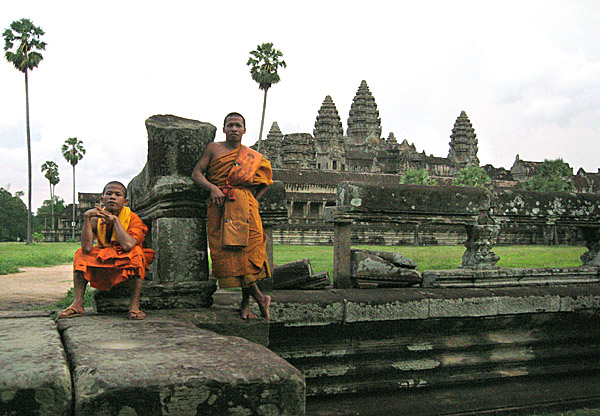 Still, Prahas knows where to look for Siem Reap's salvation. "The water problem is not an issue, since the Japanese are building a water system." Asian Development Bank, he adds, will finance a treatment plant.
The Japanese recently paid for a new road to the French-built airport. A huge exhibition center opened last December, the gift from a province in Korea, now by far the largest source of visitors to Cambodia.
Oversight is a clear snag. Angkor is run by APSARA, an independent body created in 1995, largely to satisfy foreign donors financing temple projects. Cambodia was run by warring factions and Angkor was particularly vulnerable. Looting and corruption were rampant. APSARA was created to stay clear of the muddy channels.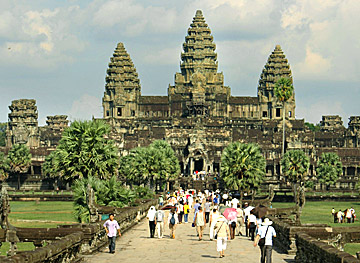 In 1999, with no public consultation, APSARA and its sway over 40 square kilometers, Angkor and other archeological sites, was passed to the same Cambodian companythat had already snatched the major oil and hotel concessions.
Controversy dogs the disbursement of the sizeable entrance fees generated at Angkor. A two-day pass costs $40, more than teachers earn in a month. How much goes to park services? Prohas tells me he has no idea. Local reporters say no more than 25-35 percent.
Given such lax control, and the history of combat, the truly remarkable thing about Angkor is that it has survived so well. Buried in jungle for centuries, rediscovery is generally credited to French explorers in the 1800s.
Yet nearly three centuries before, Portuguese monk Antonio de Magdalena whacked a path to a mystical capital, that he wrote, was "of such extraordinary construction that it is not possible to describe it with a pen, particularly since it is like no other building in the world."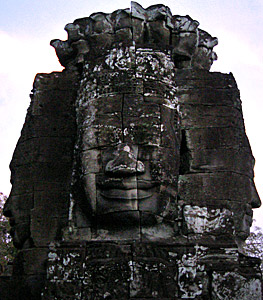 And so it largely remains, an incomparable world treasure cast in stone, intricately carved, nestled in breathtaking park setting. Much of the surrounding area was logged to finance various rebel factions, but the massive trees surrounding Angkor – and in some cases growing within and through the temple walls – were spared.
The magnificent statuary of a succession of kings who ruled one of the world's great empires didn't fare as well. Heads and entire wall panels were hacked to sell to antique dealers, while the gilded coating of temples was scraped off by impoverished villagers.
Looting has largely stopped, thanks to a variety of measures, including the ability of the original APSARA to pay police more to guard then steal the treasures.
Yet Dougald O'Reilly, a longtime archeological heritage advocate, credits involvement of local communities in the effort. "Protection is a really an issue of poverty," says the Toronto native, a lecturer at the University of Sidney's archeology department. "The key is to get the local people to see the value of their own heritage."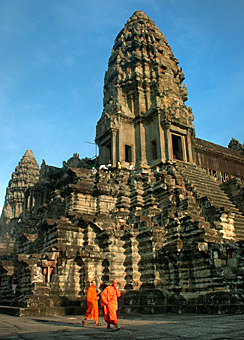 O'Reilly has helped, recently launching Heritage Watch, which takes a comprehensive approach. Educational publications – often comic books - stir local pride. Village guards are paid to patrol new archeological sites.
O'Reilly's newest brainstorm is the Heritage Friendly Business Certification, which promotes environmental conservation, sourcing locally, and heritage protection. Ethical businesses claim kudos on banners, while sales of branded T-shirts and stickers finance the entire scheme.
Tourism, he maintains, is the natural partner of such campaigns. "We see tourism as the best way to protect and maintain Cambodia's rich archeological heritage."
Roland Eng, former Cambodian ambassador to the United States, is another who is pleased to measure progress in terms of how far things have come. "Putting Cambodia on the world's tourism map was a daunting task," says Eng, who was the tourism minister in 1993.
"Tourism is a most volatile industry," he adds. "One thing goes wrong, and it's doomed."
As the crowds continue to ascend the towers of Angkor Wat, that's the worry, that they will love the place to death.
---
Ron Gluckman is an American reporter who has been living and working in Asia since 1991. He currently divides his time between Bangkok, Thailand and Phnom Penh, Cambodia, when not on the road for a variety of publications around the globe. This piece ran in Good Weekend, the magazine of the Sydney Morning Herald, in February 2007.
All pictures by Ron Gluckman.
All words and images are copyright RON GLUCKMAN, protected by international law barring any reproduction or reprint without the permission of Ron Gluckman
---
To return to the opening page and index



push here
---