Bangkok's trendy Thong Lo
In the north of Thailand's capital city is a collection of cool bars, boutiques and restaurants, plus a unique style of minimalist design malls that attracts all the hipsters to Thong Lo, increasingly becoming famed as one of Asia's hippest districts.
By Ron Gluckman / Bangkok, Thailand
---
T

HONG LO,

along a busy boulevard of the same name in northern Bangkok, used to be famed for car dealerships and cheesy wedding showrooms.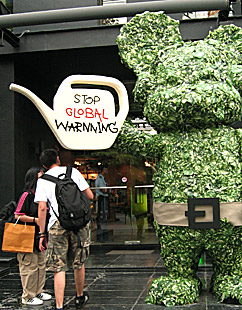 Then boutiques, bistros and small shopping plazas redressed the area in new Thai vogue. The embodiment is found in minimalist malls like Playground! and H1, both sporting expansive plazas that have become popular for cappuccinos, conversation and people watching.
The entire district, also called Thonglor, is filled with fascinating shops that dot the tree-lined alleys, or smaller Sois, in practically every direction, and new clubs continue to open practically weekly here or in nearby Ekamai District.
Some of Bangkok's flashiest restaurants are congregated along leafy Thong Lo Soi 9, which dubbed "Gourmet Mile," by Bangkok 101's Mason Florence.
Here's a short guide to some of the Best of Thong Lo:
Restaurants:
Red – 124 Sukhumvit Soi 53 (Thonglo Soi 9) Tel: (66-2) 259-7590. Dinner for two: $70
Super Chef Gagan Anand's eclectic Indian fusion dishes like flambéed lobster masala and his aptly-named "Heaven on Earth" - daab chingri, salmon and prawns in a rich coconut curry – have wowed the likes of Bill Clinton.
Try scruptious and unique Italian-Indian innovations like fettuccine with lamb kebob or a Risotto with slivers of morels simmering in aromatic Indian spices.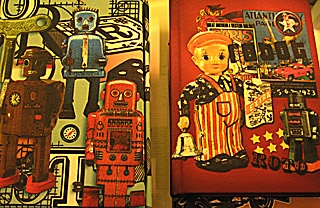 Harveys – 129 Sukhumvit 55 (Thong Lo Soi 9); Tel: 712-9933. Dinner for two: $120
Dark and elegant as a Men's Club, this two-story modernistic diner is among the Thai capital's priciest, and most popular. Wine runs to $12,000 a bottle; the expansive cellar is cleverly displayed in a glass vault visible to diners. Specialties include ample foie gras (since it's Thailand, try the mango-sauce version) and Canadian lobster spaghetti.

The Face – 29 Soi 38, Sukhimvit Road; Tel: (66-2) 713-6048. Dinner for two: $60
Thong Lo lacked fine Thai dining, until The Face debuted with two restaurants, bar and spa, all in tucked into a set of traditional wooden pavilions. Specializing in spicy northern Thai cuisine, Lan Na Thai offers starters like tender Pandan chicken wrapped juice-sealing leaves; the sampler adds satay, spring rolls and sensational prawn cakes.
A tourist-friendly menu denotes mild dishes like lemongrass and galangal-infused seafood curry, in coconut shell. The Face complex includes Hazara, serving Indian, a bar with opium-bed seating, and Visage spa, offering full treatments or foot rubs between courses.

Uomasa – 87 Thonglor Soi 13; Tel (66-2) 392-6575. Dinner for two: $100
Clustered in a courtyard of Japanese restaurants along Thong Lo's Soi 13, Uomasa has authentic décor, basic mat or table seating, and Bangkok's deepest Japanese menu. Everything from abalone to whale, with platters of shashimi and lots of sake in between. Start with salted firefly squid, or the Nanbanzuke soft-shell crab.

Drinks:

To Die For – H1 Place, 998 Thong Lo; Tel (66-2) 381-4714
Stars swarmed To Die For when fashion mogul Bhanu Inkawat and film director Nida Sudasna opened their upscale diner, turning the outdoor courtyard behind into one of Bangkok's best places to chill, yet still savor the scene. Sundowners are exquisite from hand-crafted beds on the wooden platform, sipping a Strawberry and Basil Martini.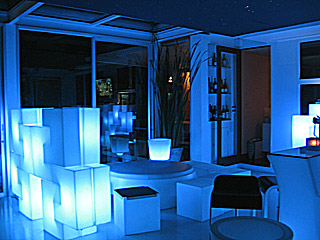 Club Nove - 131 Sukhimvit Soi 53 (Thong Lo, Soi 9); Tel: (66-2) 712-9991
Looking like something Andy Warhol might have designed, this ice-blue bar behind Italian restaurant La Villa sports translucent furniture and a display of constellations overhead, complete with shooting stars. Great for a gelato or mojito, and boisterous proprietor Roberto Ferrin eagerly offers suggestions on wine or nibbles.
Ice Bar – 58/21 Thong Lo; Tel: (66-2) 381-6844
For the party crowd, the late-night thrill is to chill in this icy bar. Massive coolers send the mercury diving, but live bands keep the energy high. Regular vodka promotions are held in an even colder party room, sparkling with chandeliers and crystal shot glasses.
Shopping:
Sunny Rose – 916/2 Thong Lo; Tel (662) 714-7990
Oprah Winfrey has an ostrich feather-trimmed leather purse from Nigerian-born model and designer Maureen Okogwu. Her Bangkok showroom displays dazzling collections of jewelry, shoes and handbags, adorned with leather stitching, shells and precious stones. Custom designs can be completed on site, usually within a week.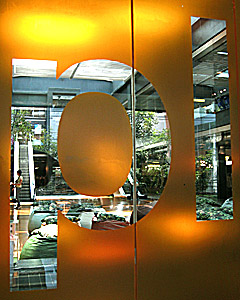 Geo – 998 Room 6, H1, Thong Lo; Tel (662) 381-4324
An uber-hip version of the classic haberdashery, Geo stocks everything from old garden tools and ceramic jars to tin angels, wooden dogs and antique puppets. Be sure and see the collection of framed bugs upstairs.
Playground! - 818 Thong Lo; (66-2) 714-7888.
This quirky three-story mall offers trendy house ware, gadgets and local designer gear from Sunshine Headquarter and Rabbit Habit. Plus one-of-a-kind Adidas and Nikes, Link Watches (think Asian Swatch) and the best magazine racks in Southeast Asia.
Shades of Retro – 522/3 Soi Thonglor, Sukhumvit 53, tel: (66-2) 714- 9657
This antique store with beatnik coffee house and bar (live music jams on occasion), is also an audiophile's dream. Owner Anan Tatutlo reconditions classic Bang and Olufsen gear, like rare 1960s portable reel-to-reel tape machine, or stereo amplifier with tubes ($1,000 each). He scours Denmark for stereo equipment and vintage Copenhagen furniture, perfect for retro hipsters.
Arts and Culture:
Pridi Banomyong Institute – Thong Lo, by Soi 1; Tel: (66-2) 381-3860; www.pridiinstitute.com
Named for Thailand's famed democracy advocate of the 1930s, this cultural charity hosts art exhibits twice monthly, plus screenings of classic films like the original "Mutiny on the Bounty" and "Wizard of Oz" on the first weekend of every month; free. There are also performances from touring chamber groups and dancing troupes at a 280-seat auditorium. Schedules are only in Thai on the web site, but check local newspapers or the board outside for listings.
---
Ron Gluckman is an American reporter, who has lived in and covered Asia since 1991, and based in Bangkok since 2005. This piece ran in the Four Seasons Magazine in the Fall of 2007.
Playground, despite its design innovation, failed to find a sufficient market and closed in 2008.
All pictures by Ron Gluckman
---
To return to the opening page and index

push here
---