By Boat to Old Bangkok
Floating the Chao Phraya River to Bangkok has been an important gateway to Asia for scores of old scribes over the years. Now, tourists can take a trip back in time, to a long-ago age of grandeur aboard a luxuriously-refitted rich barge
By Ron Gluckman / Bangkok

A

S THE SETTING SUN SPITS FLAMES across the sky, a pair of cocktails appear with perfect timing on the table, alongside a platter of freshly-cut fruit. From our lofty perch on deck, we watch cascades of color swirl on the horizon, as golden shafts of light sweep the cabin, embossing the ship's teak in radiant, bronze hues.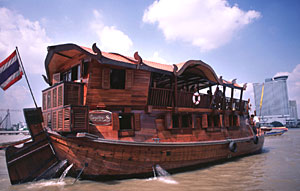 We are entering Bangkok by river, the route taken by millions of visitors before us, bobbing aboard a wooden rice barge, but unlike any prowling the grand Chao Phraya for centuries - if ever. Rice traders and rogues, poets, princes, authors and European adventurers have all followed these same flows into the ancient, alluring kingdom of Siam. Few have traveled in such style.
Once a mere rice barge like scores more that carried the bounty of the Central plains to the capital, our magnificently restored vessel is fit to serve royalty on the River of Kings. Fortunately for us, the Manohra Song also accommodates commoners, including several wide-eyed romantics who are enthusiastically reliving one of the East's great excursions.
Adventure was our intention at the outset. We had been inspired by the great sages. "A puff of wind, a puff faint and tepid and laden with strange odors of blossoms, of aromatic wood, comes out the still night—the first sigh of the East on my face. That I can never forget. It was impalpable and enslaving, like a charm, like a whispered promise of mysterious delight." So wrote Joseph Conrad, arriving in Asia by boat for the first time. Countless other scribes, from Somerset Maugham to Graham Greene, repeated the same journey. The Chao Phraya introduced them all to Asia's exotic sights and smells, and the delirious dispatches these writers sent home influenced untold others to repeat the expedition.
So, we are in fine company on our float trip to Bangkok, but we are hardly roughing it. Besides cocktails on the custom-furnished wooden deck, adorned in silk fabrics, statues and local crafts, we are served fine wines, then dine on exquisite Thai cuisine, prepared fresh by our own master chef. By day, we watch the mesmerizing bustle of Bangkok's waterway: boats of every size and measure of seaworthiness, from packed commuter ferries and tiny vegetable vender boats heaped high with colorful produce, darting in and out of almost invisible canals, to long convoys of the same enormous metal hulks that have all but eradicated from the river the charming old wooden rice barges like our own that were once a mainstay of this exotic aquatic highway.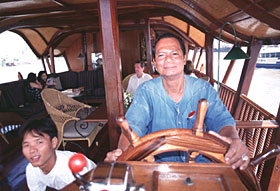 The river is a delightful destination on its own – and a welcome change from the capital. While Bangkok has grown to gargantuan size, sprawling into the surrounding farm land in every direction, along its very roots, by the river, the beauty of the City of Angels remains little changed. Seated upon throne-like sedan chairs, time unfolds before us. We pass the Grand Palace and the old waterfront mansions of the early Chinese traders. On shore, we spot the same procession of pagodas and temples that prompted Maugham's much quoted remark: "They are unlike anything in the world, so that you are taken aback and you cannot fit them into the scheme of things you know. It makes you laugh with delight to think that anything so fantastic could exist on this somber earth."
At night, the Minohra Song gracefully inches into a berth alongside Wat Sri Rattana. Ours is a deserted dock, a private sanctuary by the remote temple. After sunset cocktails, we retire below deck to our sumptuous air-conditioned suite.
In the morning, bird calls and temple bells lure us from our comfortable berth. The river's magic is at work again. Saffron-robed novices step through the mist to make offerings at the temple, which has sat on this site for two centuries.
We are still rubbing sleep from our eyes as we savor the dreamy scene, but chief steward Ekkarat Kredploy has been busy for hours. He hands us small parcels, pre-packaged gifts that we can give to the monks, if we choose. Otherwise, he guides us to the breakfast table, where we can sip coffee and fresh juice while watching the rest of the river's magic unfold.
With only four cabins for hire, the Minohra Song makes pampering a fine art. Meals are multi-course feasts. Dinner begins with Yam Som-O, a delicious salad of fruit, nuts, shrimp and meats, and is followed by Tom Yam Goong, Thailand's infamous sweet and soup. The main courses include hearty helpings of Phriew Wan Pla (sweet and sour fish), Phad Phak Ruam Mit (fried vegetables) and an exquisite Gaeng Kiew Wan Gai (chicken in green curry). We are stuffed long before the fruit and Thai sweets are offered for desert.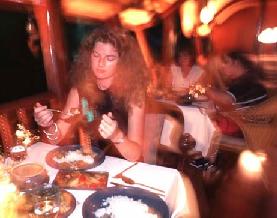 One could hardly plan a better birthday banquet, served on a private table for two, by candlelight. After dinner, there are on-board games, table books of Thai history and big fluffy couches on which to enjoy the river's fragrant breezes.
Such genuine luxury is rare to find anywhere, but it does seem especially suitable for this journey. Our destination is Ayutthaya, capital of Siam from the mid-14th to 18th centuries. By road, the trip is 2-3 hours from Bangkok. It's slower by river; on the Manohra Song the journey takes centuries.
The boat, which operates from the Marriot Royal Garden Riverside Hotel, can be booked for roundtrips, but most excursions involve a one-way river trip and night on the boat, with one leg of the journey to Ayutthaya by road. We opt for the return by river from Ayutthaya, which is recommended, as there is a special thrill – and suitable climax – sailing by boat back to Bangkok.
The morning pick-up comes early, in a futile attempt to elude the traffic, which is already thick. Still, our route avoids the worst crunch and the trip by private car moves quickly thanks to our pleasant and informative guide. Within hours, Bangkok is forgotten as we tour the ruins of the ancient capital. After lunch, we return to the river for a seafood lunch, then are whisked away in a shower of spray by a long-tail boat to the Royal Summer Palace at Bang Pa-In.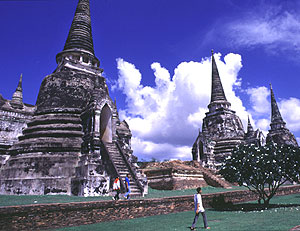 Ayutthaya is unquestionably grander, with sprawling ruins attesting to its stature as a World Heritage Site on the UNESCO register. Still, there is a special charm about the Summer Palace, which is only partly due to its comparable lack of tourists. The lush grounds also claim an odd assortment of buildings that date back to the 17th Century. The structures sport a mixture of Asian and European styles that can befuddle. One minute you are looking at a Thai pavilion that seems to float on water, then you spin around and see the colonial arches of Saphakhan Ratchaprayun or the neo-classic grandeur of the one-story mansion built 120 years ago by King Chulalongkorn.
By late afternoon, we are back on the river, boarding the Manohra Song for the best part of the package trip. Kredploy ushers us down to our private cabin. Each stateroom has a spacious bathroom and queen-sized bed, set on an platform in front of shuttered windows. The rooms are littered with ceramics and knick-knacks, in the same blend of Thai and European elegance seen throughout the craft. Add in rich native woods of mahogany, teak and padua, and the result is a bright, cheerful cabin that challenges any notions of dingy below-deck quarters.
Still, in spite of the stateroom's grandeur, few guests spend more than sleeping time down below. The whole point of the cruise is the river, and the best views are top deck. Whoever coined the old maxim, "getting there is half the fun," clearly hadn't been aboard the Manohra Song. On this boat, it's all the fun.
That's the assessment of our fellow passengers, who include a pair of young Japanese women and a Canadian couple who flew straight from Vancouver to Bangkok, then boarded the Manohra Song within hours. "We got in at midnight," says Connie Sedgewick, "but we were up at 6:30 a.m. to get the boat. We wouldn't think of missing it."
Husband Ron, a retired oil executive, recalls reading about the Minohra Song in a travel magazine, and immediately added the boat trip to their luxury tour of Asia. "We're going first class all the way," says Ron, smiling as he lifts a glass of wine to his wife. "This boat trip is the perfect beginning."
That hardly seemed the case just a few years ago, when the boat was a rotting hulk along the river. "There was no floor, no roof, only a piece of tin," recalls Kathleen Heinecke. "It was like a boat you might see in a junkyard."
Still, it was love-at-first sight for interior designer Heinecke, who spent two years nursing the 1950s barge through its restoration. "We had to do everything from scratch," she says. "We practically rebuilt the entire boat, piece by piece."
The project was a family affair for the Heinecke clan, Americans who have become household names in Thailand. Kathleen is married to Skip Heinecke, an executive with Royal Garden Resorts Group, which runs the rice boat along with hotels in Bangkok, Pattaya and Chiang Mai. Skip is brother of magnate Bill Heinecke, whose Minor Corporation is a multi-billion baht concern that operates over 100 fast food outlets, and deals in everything from golf gloves to planes.
The restoration wound up costing more than double the original US$200,000 estimate, with overruns personally paid for by Bill, who grew up in Thailand and is a Thai citizen. "We spent far more on this boat than we ever imagined," admits Skip, though with obvious pride. "This isn't really a money-maker and that's not how we're looking at it. This has been a labor of love. In some ways, it's like Bill's gift back to Bangkok. We call it the Eastern and Oriental of the of the river," he adds. "Just to be able to operate a boat like this is a real privilege."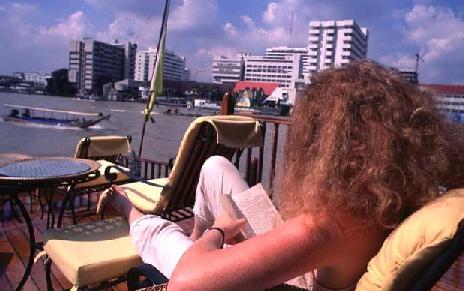 Kathleen describes the decoration job as a dream come true. "Ever since I came to Thailand, about six years ago, I wanted to do up a rice barge," she says. "It's always been a dream of mine. The river is the perfect way to escape Bangkok, and its traffic, and to see Thailand from a different point of view.
"It's also a bit like taking a step back from time. The boat is part of that time, when the kingdom began. But we purposefully made the boat a blend of Europe and Thailand. It's Thai décor, but European luxury and comfort."
The blend is compelling. In the dark of night, alone on the river, the adventure truly seemed grand, just like Maugham described while crossing Thailand by boat long ago: "When I awake in the night, I felt a faint motion, as the houseboat rocked a little and heard a little gurgle of water, like the ghost of an Eastern musician traveling not through space but through time. It was worthwhile for that sensation of exquisite peace, for the richness of that stillness, to have endured all that sightseeing."

Ron Gluckman is an American journalist based in Hong Kong, who travels widely around the Asian region for a variety of publications, including Thai Air's Sawasdee, which ran this story in 1997. A similar story by Ron Gluckman appeared in various American Express magazines.

To return to the opening page and index

push here

[right.htm]