Bangkok Tattoo
Lawyer turned thriller author John Burdett raised the bar for Asian novels with his sensual, compelling page-turner, Bangkok 8. Now, Asia's own John Grisham is back, with the same cast, and another taut and thrilling tour of Thailand.
By Ron Gluckman /Bangkok, Thailand
---
THE BAR GIRL IS DRESSED IN SILK, so skimpy it barely manages "to cover nipples and butt." Not that anyone notices, since she's soaked in blood, raving about farangs (foreigners) and off her skull on opium in a cheap hotel in Soi Cowboy, Bangkok's notorious red-light area.
On the floor lies the body of an American spy, her former lover. On the table, his severed penis.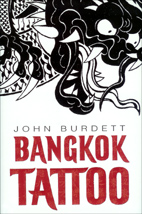 All the elements seem in place for another predictably bad Bangkok novel, but, since this happens to be John Burdett's new detective story, "Bangkok Tattoo" (Bantam Press; 335 pages; $18), readers know to strap in for a rapacious ride. And, we're only on the first page.
Burdett, a former Hong Kong lawyer turned detective novelist, has been called Asia's John Grisham. He stormed onto the literary scene in 2003 with "Bangkok 8," a taut, hyper-charged tuk-tuk drive through the underbelly of Asia's grittiest city.
In stark, searing passages that recalled James Ellroy, Burdett didn't merely produce a mesmerizing murder mystery, he expertly conjured up all the sticky heat and spicy flavor of Bangkok, with intoxicating descriptions that sent readers reeling from the dynamite mix of Buddhism, fatalism, lust, laughter and chili.
"Bangkok Tattoo" starts where "Bangkok 8" ended. Once again, the delightful narrator, detective Sonchai Jitpleecheep, balances his background (child of a Thai prostitute and farang father) with his Buddhist heritage, humorously debating past and future lives, all the while struggling with rampant corruption and his conscience as a good cop, as he tries to solve another murder.
This time, it's the killing of an ugly American, apparently by a girl working at the Old Man's Club, a brothel for geriatrics hot-wired on viagra, run by none other than Jitpleecheep's mother in partnership with his wry boss, Colonel Vikorn.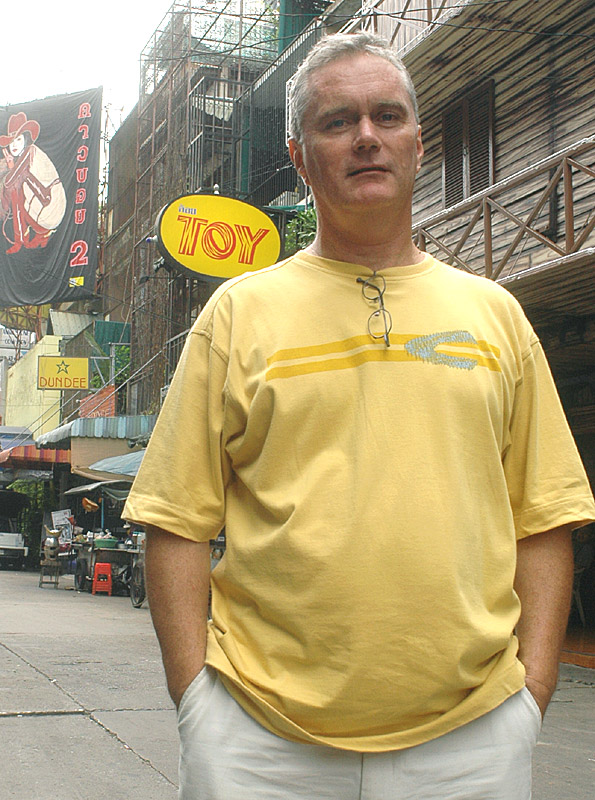 As before, we meet the prostitutes, katoeys (Lady Boys), sex tourists and other murky characters populating the late-night streets of Bangkok's notorious District 8. But this time, the action moves to the deep south of Thailand, where Jitpleecheep reveals a cover-up involving an Al-Qaeda terrorist cell.
Then come more CIA agents, drugs, a turf battle between Vikorn and an army general, and a Japanese tattoo artist fleeing the Yakuza, or Japanese mafia.
"Bangkok Tattoo" is, in many ways, the more sophisticated novel, written by a confident author employing varied storytelling devices and assimilating much more detail from actual current events. Take the severed penis (please).
Jitpleecheep observes: "The severed penis, frankly, appeared to me as Thai as tom yam soup." Indeed, it all too often figures in local crime reports.
"I get a lot of my material straight out of the Bangkok Post," confided Mr. Burdett, at a breakfast interview this summer in Bangkok. Based in Southeast Asia, he was in the midst of a trip to research his next book, which will take Bangkok's favorite fictional detective to Cambodia and Vietnam, possible even Tibet.
Mr Burdett, from London, worked as a barrister in Hong Kong, from 1982 to 1994, before cashing out. Retired at 43, he spent the next five years in Europe, indulging a lifelong ambition to write.
Not such an unusual career move, he said, explaining that his university studies were in American and English literature. "But I didn't see myself spending my life teaching and starving."
Instead, he turned to the practice of law, which was his ticket to the British Empire's last outpost in Asia. He was instantly bowled over. "Hong Kong just isn't the same now. It's just a big, wonderful city. But when I first went out, it was really wild, the crazy Far East."
It was also enormously stressful, noted Mr Burdett, who escaped often, first to the Philippines, then later, regularly, to Thailand.
Two novels resulted from his years in Europe, from 1994-1999: "A Personal History of Thirst" and "The Last Six Million Seconds." Neither made much of a splash, certainly nothing to compare to "Bangkok 8."
Reviews for his breakthrough Bangkok novel were uniformly positive. Praise flowed from masters of the genre like Carl Hiaasen ("The characters are marvelously unique, the setting intoxicating, and the plot unwinds in dark illusionary strands) and Ellroy himself ("The wildest ride in modern crime exotica. A novel so steeped in milieu that it feels as if you've been blasted to Mars in the grip of a demon who won't let you go.")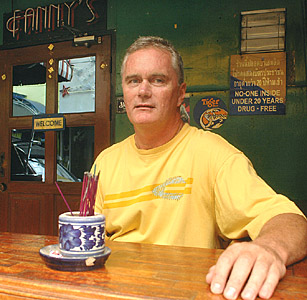 What made it so mesmerizing was the Thai-ness of the observations and depictions, all delivered in the riveting voice of the local detective. Nobody had ever taken noir to the backstreets of Bangkok with such flair. Never had a farang writer come even close to such gripping authenticity.
Sadly, "Bangkok Tattoo" lacks the same magic. Perhaps it's the familiarity that often plagues sequels. Surely, the writing is solid as ever, the plot a page-turner, but much seems amiss.
For one thing, Jitpleecheep, the Buddhist detective who is half-Thai, half-American, seems to have flip-flopped. Before, he was wonderfully conceived as a super-cool Thai observer, capable of zen-like, razor-sharp insights to the West, as well as brilliantly astute observations about his own culture.
No longer rising above the muck of the City of Angls, here he indulges. Some might argue that this is more realistic, putting Jitpleecheep on par with the bar girls and their customers.
Yet what set "Bangkok 8" apart from all other bad Thai novels wasn't only the quality of Mr. Burdett's writing and his ability to recreate the essence of Bangkok, but Jitpleecheep's uncanny role as nuanced observer.
By moving into the mire, he seems that much more like all the other creeps around him. And the book a bit more like all the other Bangkok thrillers before.

---
Ron Gluckman is an American reporter who has been living in and covering Asia since 1990. He is currently based in Bangkok, where he filed this piece in August 2005 for the Asian Wall Street Journal.
All pictures by Ron Gluckman.
---
To return to the opening page and index



push here
---