Raising a Red Lantern
Zhao Ruheng has spent her life with the National Ballet, beginning as its youngest star dancer, at a salary of $6 per month. She was crippled by the Cultural Revolution, and confounded by the new reforms. Yet this courageous ballerina is taking a Commercial Great Leap Forward with an ambitious rendering of "Raise the Red Lantern."
By Ron Gluckman/Beijing, China
---
ZHAO RUHENG CRIED throughout her first days at dance school. It wasn't so much stage fright as terror of the unknown. Talk about a Great Leap Forward. Like most fledgling ballerinas at China's national dance academy, Zhao had never taken a twirl or even tried on leotards. Instead, she was chosen by scouts who scour the country, sizing up prospects by shape and grace.
Even taking those first steps in what has been an unparalleled career in Chinese ballet, the tears kept flowing. Zao, then 11, had never been to Beijing, or far from her town. "I was so homesick," she recalls. "It was overwhelming. I never thought I'd survive that."
But survival is become a calling card of this courageous ballerina. Six years later, the once-timid tyke became youngest principal dancer with the National Ballet of China. Stardom added it's own anxieties. "I could never sleep before performances," she admits. "Even afterwards, I couldn't sleep."
Nowadays, Zhao doesn't dwell too much on sleeping patterns. She simply doesn't get much. Fifty-eight this month, the former dancer is director of the National Ballet, where she's spent nearly her entire life. Even after all the leaps in the limelight, she says, "This is certainly my most challenging role."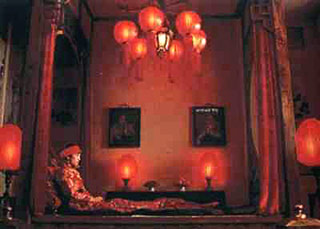 Zhao is talking about her latest production, a ballet version of Zhang Yimou's famous film, "Raise the Red Lantern," directed by the acclaimed moviemaker. "This is the most controversial, difficult production in our history," Zhao concedes. And that's saying a lot, since the challenges have come non-stop since this native of Tianjin took over the top job at China's oldest and most prestigious ballet in 1993.
Then, the ballet was under-funded and over-aged. Gifted dancers often went overseas, leaving behind a troupe of inexperienced youngsters and over-the-hill veterans. At one point, the National Ballet had the look of vaudeville troupe, with dancers aged 15-50 on stage simultaneously. "When we performed in Hong Kong, one writer commented that we were the world's oldest dance company," Zhao laments.
My, how times change. Back then, the average age of dancers was 39. Now, it's a lithe and lively 22. Other numbers are equally important. When Zhao joined the company in 1961, she was earning $6 a month. With starring roles came a raise to $10. "I felt so rich," she says, marveling at the memory. Yet this artist has never lived in the past. Under her leadership, wages have doubled for the entire 250-member company. Top dancers earn over $800 per month. "Still, it's not enough," she notes. In new China, she knows, there are many opportunities for talented dancers. And the old subsidies of the state are being cut back even as competition for audience share grows more keen.
"The result is we all have to work harder to be more creative," she says. Hence, her decision to mount the latest, most lavish production of "Raise the Red Lantern." In March, a decade after that rankling review, this revamped company returns to Hong Kong to stage the "Red Lantern."
It's a risky presentation, by far the most extravagant in the company's 43-year history. The price-tag runs nearly $750,000, which may seem tiny in western terms. Still, that's a whooping 40 percent of the annual budget (exclusive of shows) for a company that pays most dancers just $120 a month. When Russian great Rudolf Nureyev performed with the company in the mid-1980s, the budget totaled $20,000.
To raise this "Red Lantern," Zhao tapped the support of sponsors like Hong Kong tycoon Richard Li. Zhang's fame for films like "Red Sorghum" and "Ju Du" surely helped, but it was hardly a bankable proposition. Zhang had never done a ballet. Reviews were most unenthusiastic following initial performances last year in Beijing and Shanghai. Many found the story too complicated and unsuitable for ballet.
Long before then, Zhao had a taste of the troubles ahead. "At the press conference, that's the first time I realized what a big thing this was," she says, seated in her simple office in southern Beijing in what could pass for a small town high school. A soft, but steady tapping comes from a pair of nearby halls each half the size of a basketball court; the padding of scores of feet upon the floor. A pianist plays simple accompaniment as lines of young dancers run through routines. "Nobody was ever so interested in us."
That, of course, was the point. "'Raise the Red Lantern' has been good for marketing," she concedes. "It's brought a lot of attention to us, but it's also been good for the audience. It's broadened the audience for ballet."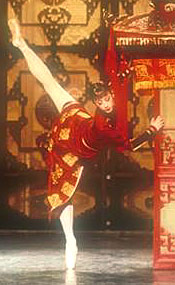 For dancers like Sun Jie, 33, it's also provided a fresh spark after seven years as a star dancer. He's already tackled all the traditional roles. "This is very challenging, and so different. The production uses elements of the Peking Opera, which is such a different style. Like I can hardly stand in the high heels of my opera costume. Ballet costumes are so light and simple. It's not just a difficult role. It's more than that. It's a new challenge."
New directions were Zhao's intention when she took over as director in 1993. Even after retiring as a dancer in 1971, she stayed with the National Ballet in supporting roles. Hence, she was with the troupe when it started its foreign exchanges in the mid-1980s, ending decades of artistic isolation dating to the 1950s. Although invigorating, the new openness created a Pandora's box of problems.
"There were many sides to the internationalization," Zhao says thoughtfully. "It's good to open up. But the competition also hurt the company." Some dancers went abroad, she says, while western art and music became available for the first time in China. "All of a sudden, there was so much competition, so many influences. It weakened the company."
Longstanding monetary woes worsened as so many new options - Michael Jackson tapes, Madonna posters - competed with ticket sales. Meanwhile, new companies began springing up, particularly in southern China, offering bigger salaries. Also, more avant-garde productions. "We knew, no money, no quality and no creativity. We had to change that."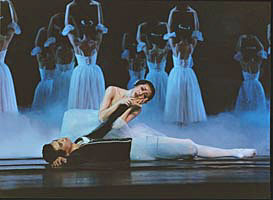 A year after taking over, Zhao demonstrated the new direction with a lavish production of "Sleeping Beauty," helped by the Royal Ballet of London. She spent $325,000, the most in the company's history. But every penny was privately raised.
All along, her goal has been modernization, tempered with moderation. When "Red Lantern" was staged again in Beijing last winter, the season also featured a selection of traditional favorites, plus "Nutcracker" and "The Red Detachment of Women." The latter is seen by some as a camp send-up of the Cultural Revolution. "Chicks in tights! With Guns! Now that's our idea of a good time!" ran a piece in That's Beijing magazine. Attention-grabbing to be sure, but aimed at an audience that runs from contemporary hipsters to their parents, too. And the giggles and nostalgia shouldn't cloud the success of an original show blending the best of old and new. "Nutcracker" reworks a traditional Christmas ballet with Chinese characters that connect to the audience.
"I do think our task is to incorporate western styles and classic works into Chinese culture, to create Chinese classics, ballets with Chinese stories," she says. "That's a big challenge, how to make ballet and keep the Chinese characteristics."
Nothing before compares with "Raise the Red Lantern." The film took a critical look at the relationships of wives and concubines in feudal China, making a star of Gong Li and earning Zhang an Academy Award nomination. The ballet's premier last year was less heralded. Many found the plot too difficult for dance, and objected to sideshow performances of snippets from the Peking opera. Zhang playfully litters the show with Chinese flavoring - everything from shadow-puppets to mahjong.
For all the familiarity, though, the production has forced a once-insular troupe to taste strange new flavors: criticism and controversy. "That's part of the internationalization, too," says an unfazed Zao, chuckling. "The reactions have been strong, but you have to realize, new things are not often appreciated at first. It may take time."
Hence, when "Raise the Red Lantern" is staged next month in Hong Kong (and Macao), the show will it will reflect revisions made by Zhang, composer Chen Qigang and choreographer Wang Xinpeng. "That's natural," she says. "You can only evaluate a ballet after the performance. In rehearsal, you cannot see everything."
Yet Zhao is confident "Red Lantern" will burn brighter with every performance, while lighting a path for further development of her company. The production will roll into Singapore this fall and tour the United States next year with Europe likely in 2004.
She expects applause, but, as always, isn't concerned about the consequences. "Even bad criticism shows interest in this ballet. I'm not scared at all. That's part of the process of stepping out and growing. It's another important step for this company."
---
Ron Gluckman is an American reporter and former entertainment writer who has been roaming around Asia since 1991, when he was based in Hong Kong. Since 2000, he has been based in Beijing, covering China for a wide variety of publications including Silk Road, which ran this story in February 2002.
Pictures courtesy National Ballet and the web.
---
To return to the opening page and index

push here
---