China's golfing guru
China has become the world's new center of golfing, and nobody has had a greater impact on the mainland game than Brian Curley, an American who has designed over a dozen of the biggest, most impressive courses. Not content with his accomplishments, he's upping the ante with his most innovative courses, revolutionizing the game.
By Ron Gluckman/Hainan, Shenzhen and Beijing, China
---
AMONG OVER A DOZEN DAZZLING GOLF COURSES, American course designer Brian Curley has cultivated in China, none is quite as outlandish as what he calls the ultimate Fantasy Course.
On southern China's Hainan Island, Mr. Curley is shaping a regulation 18-hole course that will feature a replica of the Great Wall, a hole inside a giant bowl of noodles, a small-scale version of the Bird's Nest Stadium from the 2008 Beijing Olympics, and a tee tucked behind a waterfall. The owners sought suggestions online for their fantasy course, and then they asked Mr. Curley to turn that into reality.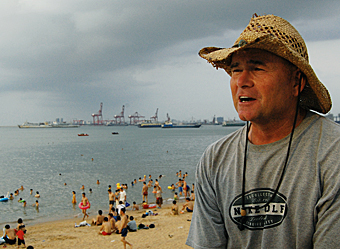 "Think of miniature golf like you played as a child, but on a grandiose scale," says Mr. Curley, an American pioneer of China's golf industry and one of the most prolific course designers in the sport's fastest-growing market. "Purists might not like [the Hainan course], but I think it's exactly what golf needs," he says. "Golf has been stagnant for way too long."
There is evidence of the existence of a golflike sport in China as early as the 14th century. A Ming Dynasty scroll known as "The Autumn Banquet" shows a player swinging a club at a ball. But modern golf is still finding its feet in the Middle Kingdom. Until recently, golf was considered too bourgeois for Chinese society. As the country opened up to business—and middle-class pastimes emerged—golf gained in popularity. But in 2004, construction of new courses was halted across most of China because of concerns about the effect of rampant development on land and water resources.
Still, new golf courses continue to spring up in China—construction is allowed in some areas designated for tourism, while developers in other locations get around the ban by dubbing new sites as 'sporting facilities' or 'private clubs.' Today there are an estimated 300 to 500 golf courses in China. That still leaves plenty of room for growth—by comparison, there are more than 15,000 courses in the U.S. Just about every important course designer is looking at China's potential.
"I saw the potential in China long ago and decided to give it 110% effort when everyone else questioned why we would work there," Mr. Curley says. "China is the epicenter of the golf universe."
China's burgeoning golf industry has attracted some criticism from purists who say the game's traditions are being eroded by garish Chinese courses, over-the-top elite resorts, and poor etiquette, such as widespread gambling and cellphone use on fairways and greens. "Golf has developed in China in a very different way to in its traditional homes," says Damien McDowell, an expert on golf marketing in the Asian-Pacific region. "By starting as a game for the wealthy and with memberships something of a status symbol, the grass-roots participation, the etiquette and the broad interest in the game just has not been there. You still see mobile phone conversations on the course, people moving while others are playing and plenty of other things that would probably not be tolerated in golf's older markets."
There are also concerns that most of the new courses tied to hotel or housing developments are essentially a speculative play on the country's real-estate market.
Still, the outgoing Mr. Curley, over six feet tall and often dressed in dirty work boots and a cowboy hat, is too busy designing courses to worry about the critics of the path the sport is taking in China. The 51-year-old, who grew up in California near the famed links at Pebble Beach, got his start in course design in the mid-1980s. He worked with leading U.S. course designer Pete Dye and helped build standout courses in the U.S. and Asia, including Thailand's Siam Country Club, renowned as one of the leading golf clubs in the region. In 1997, Mr. Curley and Dye colleague Lee Schmidt set up their own firm, Schmidt-Curley Designs, of Scottsdale, Arizona. The pair was quick to focus on China.
The firm's big break came when it was hired to oversee work on the mammoth 20 square-kilometer golf complex at Mission Hills Shenzhen. The site, just over the border from Hong Kong, is home to 12 courses designed by leading golf personalities, including Jack Nicklaus, Ernie Els and Nick Faldo. In recent years, the resort has hosted important events on the international golfing calendar, including, between 2007 and 2009, the World Cup of Golf. The site also placed Schmidt-Curley at the head of the pack when it came to course design in China.
"Mission Hills broke all of the molds," says Dana Fry, Hong Kong-based partner with Hurdzan/Fry Environmental Golf Course Design. "When they began developing the market we thought that they were a little nuts, to be honest, but they saw the potential, and now they are the standard setters."
To date, Mr. Curley has worked on the construction of 35 golf courses in China and says about 85% of his current workload is there. He typically spends three weeks out of every month in China, often at the Schmidt-Curley offices in Kunming in Yunnan province, or on Hainan, a resort island designated for tourism development. (The rest of the time, Mr. Curley lives in Scottsdale with his wife and two sons. He rarely has time to play golf these days, and his handicap has slipped from a low of two to about nine or 10, he says).
His work in China has earned Mr. Curley the envy of many of his peers. "He has raised the bar for the golf industry in China as a whole," says Mark Hollinger of California-based JMP Golf Design Group. "Brian Curley's work in China has been quite good over a number of years, and extremely consistent, which in China is the most difficult thing of all."
Designing and constructing courses in China can be tougher than in the West, and requires ample face time with suppliers, contractors, and course owners. "Getting a job is very difficult but getting them built properly is another thing," says Mr. Fry. "The multitude of problems faced by architects to get courses built according to specs and somewhat close to their plans is enormous. Brian and Lee have made sure that top quality golf gets both designed and built."
When the owners of Mission Hills were planning their second site, in Hainan, they hired Schmidt-Curley again. On the island's eerie volcanic landscape, manicured greens and white sand traps are set against dazzling black rock. He says the tournament course at the new resort, with spacious lawns for viewers and television crews, is among the standouts in his career.
"His work at the new Mission Hills complex on Hainan island—where he has sculpted 10 excellent courses from a harsh, volcanic landscape—is incredibly diverse," says Alex Jenkins, editor of HK Golfer magazine. The resort opened in 2010. Last fall, stars including Hugh Grant teed off at a celebrity event at the resort that offered the biggest purse ever for China: $1.28 million. Work on more courses at the site—including the one with the replica Great Wall—is continuing.
Meanwhile, Mr. Curley is far too busy to worry about whether golf is to the taste of traditionalists, or even thinking about China's real-estate market. He's far too busy designing fairways, greens and sand traps. "There are really only three kinds of designers in the business," he says. "You have the ex-pros like Arnold Palmer. You have the families of golf designers and players, with the big names. And then you have the weirdos like us. We don't have names, we just build courses."
---
Ron Gluckman is an American reporter who has been living in and covering Asia since 1991. He has written often about the boom in golf, and this piece was published by the Wall Street Journal in August 2011.
Words and pictures, copyright Ron Gluckman
---
To return to the opening page and index

push here
---