Spirit in the Sky
Jesus, Jeanne d'Arc and Thomas Jefferson are all venerated, alongside Victor Hugo, Julius Caesar, Shakespeare, and William Churchill. Lest the big God's Eye and psychedelic colors flash you back to the Summer of Love, this indigenous alter belongs to the Caodai, and Vietnam's Congregation of Kitsch.
By Ron Gluckman/Tay Ninh, Danang and Ho Chi Minh, Vietnam
---
EXOTIC OFFERINGS ARE COMMONPLACE across Asia, but in Vietnam, stands that rare attraction that simply refuses to be ignored. Colorful seems an insufficiently drab description for the utterly original, outrageous, bizarre, beautiful Holy See.
Actually, terming this monumental Congregation of Kitsch a mere attraction is also underselling the impact of what is, in fact, a genuine icon of the believe-it-or-not genre. Nothing this unique, this done up, so over-the-top and out there, could ever have been created solely for tourists.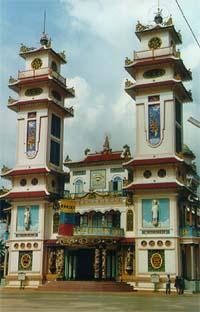 No, the Cao Dai's holiest temple, in Tay Ninh, just 90 kilometers from Ho Chi Minh City, is the real thing. But what is it? Words cannot suffice. Visitors have called it a Spiritual Disneyland, an Alice-in-Wonderland leap through a magic mirror into a Fantasia in which life has been transformed into a Technicolor daydream. At Tay Ninh, everything is bright, vivid, larger than life. It's mad, moving, must-see to believe.
Enormous, finely-detailed enamel dragons with lifelike scales slitter around giant day-glow pink banisters at the entrance to the grandest of a series of Cao Dai shrines sprinkled around southern Vietnam. All mix grand architectural themes and religious decorum as liberally as philosophy is stirred together in services held four times daily inside.
The main temple, or Great Divine Temple, in Tay Ninh is the Cao Dai's Notre Dam. This magnificent edifice sports enough stained glass to rival Europe's finest Cathedrals. A kaleidoscope of hues shine through arched windows that would not seem out of place at India's Taj Mahal. Around the building are more breathtaking features: Muslim-style turrets mingle with Chinese pagodas in front, and there is an intricate mosque-like marble tile floor inside.
Dominating the spacious hall is the central feature of every Cao Dai temple from the Mekong Delta right up to the central Vietnamese city of Danang: a huge sky-blue globe inscribed with an enormous eye floating in a field of thousands of stars. White-robed disciples of Cao Dai kneel in prayer before this "Divine Eye," which looks remarkably like that icon of Hippie-dom – the God's Eye. American visitors liken it to the eye above the pyramid on the back of every US dollar bill.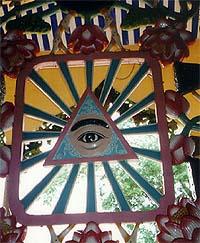 The mish-mass of styles is only fitting considering the composition of Vietnam's odd, but indigenous religion, surely among the most intriguing of modern faiths. Melding elements of much of the world's major religions, the mystical, séance-rich rituals of the Cao Dai revel in an abundance of outlandish saints. Jesus and Buddha are revered alongside Mohammed and Shakespeare, Jeanne d'Arc and Napoleon. The Cao Dai's eclectic collection of holy spirits also includes American founding father Thomas Jefferson, British leader Winston Churchill, Russian revolutionary Lenin and French writer Victor Hugo.
The international array of holy beings does seem slightly incongruous for what is essentially a local religion with humble origins. Formed upon Phu Quoc Island along Vietnam's western coast in the 1920s, the quirky Cao Dai faith quickly found widespread acceptance among the rice farmers of the Mekong Delta and grew to become a powerful force in modern Vietnam. This might surprise those who associate Vietnam with Communism, but historians note that this only a recent phase for a country that has long been steeped in religious expression. Long before Ho Chi Minh's revolution, Vietnam boasted a Catholic population that was second only to the Philippines in all of Asia.
During its heyday, in the 1940s and early 1950s, the Cao Dai claimed millions of adherents, mustering a huge army that controlled a wide stretch of southwestern Vietnam along the Cambodian border, which it ruled as a Cao Dai fiefdom. More than half the residents of Tay Ninh province were Cao Dai followers. Even after a quarter-century of suppression under the ruling Communist Party, the faith remains Vietnam's third largest religion, and has even spread overseas, with congregations in the United States, Australia, France and Germany.
In 1992, while still outlawed in Vietnam, Cao Dai groups from around the globe gathered in California to found Cao Dai Giao Hai Ngoai, an overseas movement. Besides starting a renaissance of publishing and several web sites, some of these overseas communities are also planning what will be the world's largest Cao Dai temple, already under construction in the Southern California city of Riverside.
California has thousands of Cao Dai followers, which is really no surprise; it has always been fertile ground for fringe movements. One California convert described a lifetime of spiritual searching before being led to the Cao Dai by a series of personal visions. She found a spiritual welcome mat with the Cao Dai, which has celebrated mysticism since its inception.
Ngo Minh Chieu was a civil servant in the French colonial administration when he began reporting strange visions starting in 1919. Within a few years, reports of his colorful spiritual visitations attracted a flock of over 100 disciples and the Cao Dai religion was officially inaugurated in 1926.
The faith builds on the framework of earlier religions. According to the Cao Dai, there have been three great periods of revelation. The first occurred around 2500 BC, and resulted in the formation of Judaism, Hinduism and China's Yi King philosophy. Within a few thousand years came the second period, and the founding of Buddhism, Christianity, Confucianism and Taoism. Cao Dais believe that the message God was sending man became confused by all the religions, and so, in an effort to clarify this message, God sent his third revelation to Vietnam. This is the message of the Cao Dai.
It is carried forth in services held like clockwork, four times daily, every six hours, at midnight, six in the morning, noon and six at night. Temples are largely found in southern Vietnam, but new ones have started sprouting around the country since the faith was restored to nominal official acceptance in mid-1997. Visitors are welcome to attend the services, or simply look around the temples at nearly any time. No admission fee is charged, but donations are accepted.
Cao Dai services stimulate all the senses. They feature the smell of incense, the hypnotic sound of chanting and, as befits such a colorful setting, an absolute rainbow of hues in every gathering. Followers dress in flowing white robes, but receive a new fitting as they move up the ranks within this picturesque religious order. Ascending levels of status are depicted by a change of costume, to full outfits of red, blue or yellow.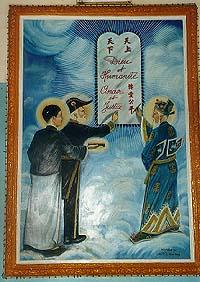 The result is a dazzling display of color, everywhere one looks. On the wall of the Holy See, built between 1933 and 1955, are paintings of the various saints, often in cartoon-like renditions and in a wide assortment of fantasy settings. For instance, Victor Hugo, author of "Les Miserables," and among the holiest of all Cao Dai saints, is seen sporting a tri-corner hat topped with angelic halo, in heated discussion over some scripture with Sun Yat-Sen, founding father of modern China.
Part of the fun for visitors is trying to pick out the representations of famous people from history. The eclectic collection of holy spirits – some 70 in all – also includes Descartes, Louis Pasteur, Leon Tolstoy and Chinese poet Li Bo.
Western visitors may also be familiar with the Cao Dai form of communication with the spirits. Besides seances, they send and receive written messages from the Great Beyond using a tool that resembles another old icon, the Ouiji Board.
This is a most democratic faith. Spirits needn't be famous in their former life to find a voice here. Village elders, peasants, heroes and poets – all are welcome to visit from the Great Beyond. Often, a priest slides a blank piece of paper into a special place by the alter. Later, it's retrieved and there's a magical message on it. More commonly, a medium transcribes spirit voices while in a trance.
Communing with the spirits is commonplace in Asian cultures. Cemeteries in the Philippines are veritable living rooms where entire families spend weekends visiting their dearly departed. Spirit communication goes back at least 5,000 years with the Chinese, who, across Asia, continue to mark the most important holidays of every year with graveside visits. There, they make regular offerings of fruit and ceremonial cash to ancestors who are expected to guide the living and provide good fortune for those who properly serve their spirit.
Yet, there is no need to query your ancestors about where to find the world's most colorful temple. That's surely in Tay Ninh, in Vietnam, where the evocative Cai Dao have no shortage of spirits watching over them.
---
Ron Gluckman is an American reporter who has spent over a decade wandering around Asia for a wide variety of publications, including Winds, the magazine of Japan Airlines, which ran a much tamer version of this tale in 2000. This web-only posting is the original (admittedly, a tad over-the-top, certainly for an airline magazine) version of the story.
Pictures from the web!
---
To return to the opening page and index



push here
---