HONEYMOON ISLAND
Koreans always follow style, which dictates that when you get married, you must honeymoon upon Cheju Island. The flood of newlyweds has turned the semi-tropical paradise into the nation's Island of Love
By Ron Gluckman /Cheju Island, Korea
---
A

S THE PLANE LEAVES THE KOREAN mainland, I watch the peninsula fade from view, but my window watching is repeatedly interrupted by doting stewardesses. However pleasing, all the in-flight attention only underscores an awareness of being the sole westerner on a plane with only one empty seat.

By the time we reach flight altitude, I make a more revealing realization; I'm the only bachelor on board, as well. The sole empty seat is next to me.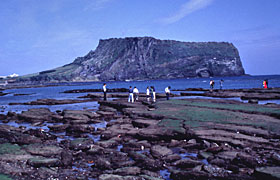 Flying to Korea's sub-tropical island of Cheju-do in honeymoon season is to experience an unprecedented procession, an unique ritual akin to the return of the swallows to San Juan Capistrano, or the whales to Baja California. The Korean migration of matrimony is unlike any other in the world.
Long deprived of the opportunity to travel abroad, Korean newlyweds have turned Cheju into Cupid's court, a love island teeming with romantic vistas and cooing couples.
During the prime months of marriage in spring and autumn, planes bound for Cheju Island are fully packed. And flights leave most major Korean cities every half hour for the legendary paradise resort that has become a honeymoon haven.
Cheju hotels are likewise booked to capacity. Many report 100 percent occupancy during the period when wedding bells ring regularly. "We rarely have rooms on the weekends then," concedes Marc de Punt, manager of the Cheju Hyatt Regency, the only international hotel on the island. "My job is mainly explaining that we have no rooms, often to top government ministers whose friends forgot to book early enough for the honeymoon."
Honeymoon arrivals are so extensive on the island that many hotels have adopted quota policies that limit newlyweds to a certain percent of the rooms, otherwise all of Cheju would be overrun with champagne and bouquets, leaving little space for the non-nuptial guests. Not that honeymooners are in any way eclipsed. Indeed, they are celebrated in Cheju's style of samnyo, the three things of beauty the island bestows: the generosity of the people, the scenic beauty and the juicy fruits famed throughout Korea.
Most hotels host special wedding night parties, that serve a social function unique in the world. Arranged marriages, on the wane during Korea's post-war modernization, have become increasingly common. Many couples meet face to face for the first time only as they exchange vows, making wedding night much more a nightmare of nerves than newlyweds experience anywhere else.
"Hotels host parties with special activities to help break the ice," explains one hotel manager. "We have leaders who make jokes and try and get them in the mood. And there are games, simple things, like popping balloons to win prizes. We try and make wedding night fun."
Festivities in Korea, even on wedding night, rarely range to the erotic, but these parties reportedly can become a bit risque and rowdy. "One game is to raise the skirt of the bride," says K. W. Park, planning assistant at the KAL Hotel in Sogwip'o. "The prize goes to the groom who raises it highest."
The popularity of the wedding night parties isn't limited to honeymoon couples on Cheju, either. They have become a national passion. The weekly celebration at the Hotel Shilla is filmed for showing on national television and commands a top-rated audience. Imagine "Love Boat" mated to "Fantasy Island." The one-hour Sunday night show, "Shinhonun Arumdawo," translates as "Honeymoon is Beautiful Forever."
"Young people throughout Korea watch, of course, because this is something they will someday experience themselves," says one Cheju tourist official. "But it's also popular with older people, because many of them spent their honeymoons here. For them, it's a pleasant memory, like a video of their first vacation together."
It might seem ironic that this island steeped in mythology and known to the ancients as "the Dueling Place of the Gods," should become the launching pad for matrimonial trysts. But newlyweds believe Cheju's more popularly-used nickname of Paradise Island better reflects an idyllic island that is the perfect starting place for what is hopefully a lifetime of love.
Indeed, a more romantic wonderland could not be devised by even the most ingenious Romeo. The largest of Korea's 3,300 islands, Cheju is rightfully known as the Emerald Island of Asia. White sand beaches abound and fields of oilseed rape flowers brush Cheju's hills in breathtaking shades of vibrant yellow in the spring. Tangerines and pineapples mingle with forests of palms surrounding authentic thatched huts bordered by stone fences that cut through fertile green fields.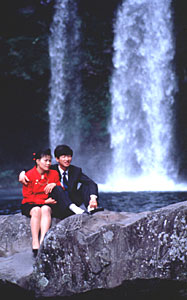 Among scores of scenic waterfalls on Cheju Island is Chonjeyon, called the Niagara of Korea. Chonjeyon cascades 22 meters into the Chonje basin, which means pond of the Heaven's Emperor. Local legend tells that nymphs of the heavenly emperor descended at night to bath here. The nymphs are now dressed in wedding gowns, and they gaze with their grooms at the waterfall from a bridge that stands 128 meters above the green gorge. A short stroll away, arm in arm, or course, couples gape at Chongbang waterfall, among few in the world spilling directly into the sea.
Even more stunning are views of Hallasan volcano, the snowcapped mountain in the center of the island. Surrounded by park land, Hallasan is Korea's tallest mountain and a popular site for picnics, afternoon hikes, or rides upon the island's unique breed of horses, miniature mounts descended from the sturdy steeds brought to Cheju by the Mongolians in the 14th century.
An even more stunning sight is Songsan, another volcano that commands its own island a few meters off the western shore. Songsan, nicknamed Sunrise Peak for its spectacular fiery orange dawn views, is among the most photographed sites in Korea.
Although extinct now, these volcanoes long ago sent lava spilling over the island, leaving Cheju with columns of evocatively carved rocks and twisting catacombs. Honeymoon couples explore the eerie lava sculptures and pose for pictures at Moksok-wan, a garden of strange rock and driftwood sculptures. The more adventurous might venture into Manjanggul Cave, extending 8.4 miles, the longest lava tube on Earth.
In addition to all the natural beauty, Cheju offers the full spectrum of resort activities: golf, windsurfing, boating, snorkeling and sun bathing. The Chungmun Tourist Resort Complex, a nearly four-kilometer government development of hotels and tourist amusements, includes an oceanarium and Asia's largest botanical garden.
Sampling all these attractions can make Cheju honeymoons hectic. About 90 percent of all newlyweds come only for short stays of two or three nights. They usually arrive direct from the weekend wedding ceremony and depart in time for work the following week. Yet, they make the most of every minute.
Departing from the plane, newlyweds grab luggage and hurry to buses that await in the airport parking lot. Men are invariably dressed in suits, women either in evening dress or the typical Korean silk, magenta signifying newlywed. They board buses with banners that proclaim: Paradise Beach or Honeymoon House.
Days are devoted to photo sessions, that must be seen to be believed. If Koreans work hard, they honeymoon even more diligently, rushing in full ceremonial wedding dress from every ocean overlook to scenic stone formation, intent on compiling a coup de grace of wedding photo albums.
Most often, they travel by taxi. Cheju cab drivers are like none other in the world. Carrying several cameras and wearing white gloves, often with a police whistle strung around their necks, they hustle newlyweds from tourist trap to scenic stop, pushing them into the most popular poses. Women wearing the flowing Korean silk wedding dress, totter precariously on heels as they are enticed to the climb to the very top of Yongduam (Dragonhead Rock), a twisted basalt dragon that roars over the crashing of waves on the south shore.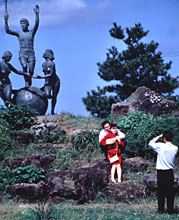 After the cabby squeezes a few clicks from the camera, he shouts orders as he hurries the newlyweds back into the taxi, leaving a cloud of dust and squelch of tires as they careen down winding roads to the next important snapshot stop. The dizzying pace and tropical heat often claims its victims, as seen by the honeymooners stopping for a soda and fanning each other at the island's numerous roadside cafes.
However, the marriage annals must be meticulously with more than romantic zeal, since all the relatives back home expect a perfect record. Photo shops in Cheju are filled with wedding workers who depart with stacks of albums, already assembled by the shops. The picturesque poses are so similar as to look like rushes from a factory line of fashion models.
"Honeymooners have been coming here for as long as I remember," says Lim Pyung-tack, who works the scenic sites, selling instant Polaroid shots for 2,000 won per picture, a business he has been at for 17 years. Asked about unusual poses, he scratches his head, then answers: "In Korea, we don't kiss in public. But one time, a couple did. They wanted to be naughty."
More common postures place the lovers on opposite sides of Cheju's huge lava rock idols, called Tolharubang, or grandfather figures. Newlyweds each place a finger over the idol's large nose. "This is the tradition so that our first child will be a son," explains a giggling bride.
Cheju's spectacular waterfalls have become the most popular backdrops for wedding photos, as evidenced by the long lines of lovers waiting in the spray. "The island is a paradise for honeymooners," says Choi Sung-gu, a policeman who married Kim Won-nang after a year's courtship. "It's much more beautiful even than we imagined," she adds.
Yoon Young-suk and Choi Young-sook stand out among all the young newlyweds. Both about 40 years of age, the pair have happily married 14 years and have three children. This is the couple's second vacation on Cheju. The first visit was, of course, their honeymoon.
"The number of honeymoon couples coming to Cheju was small then," he remembers. "Nowadays, it's amazing. The couples are everywhere and so westernized."
However, traditions are sacred to Koreans, and a honeymoon on Cheju, although a modern addition, must be counted among them. The allure is obvious.
"My children will come to Cheju for their honeymoon," adds Yoon. "It's so special. Korea is so different. This is an island, tropical, with clean air and water. But more than that, it's special. It's perfect for a honeymoon."
---
Ron Gluckman is an American reporter who is based in Hong Kong, roaming around Asia in search of good yarns. Different versions of this story appeared in Morning Calm, the Peak, and Far East Traveler.
---
To return to the opening page and index

push here
---