Shifting into High Gear
From a nation of bikes and donkey carts, China has shifted to a mobile population in just a generation. Automobile sales on the mainland are doubling almost every year, with all the car makers racing to China to cash in on the world's most revved-up auto market.
By Ron Gluckman /Beijing, Shanghai and around China
---
ONCE UPON A TIME, the Big Three of four wheels meant Ford, General Motors and Chrysler. Now, in this era of globalization, it has become the United States, Germany and Japan.
Just not for much longer.
Last year, China overtook France to become the fourth largest automobile market. Already the world's fastest-growing market for cars, China will soon overtake Germany to crack the Big Three and, experts say, it's only a matter of time before China is Number One.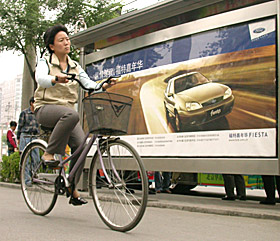 With 1.3 billion people, logic would dictate that China, with the world's largest population would also claim the most cars. Of course, the traditional emphasis has been on two, rather than four wheels.
Less than two in a thousand Chinese own cars, compared to a worldwide average of 90 per thousand. Yet rising incomes combined with plunging sticker prices and widespread availability of car loans are revving up the mainland's motoring population.
Growth in production and sales has soared in recent years. Output topped two million for the first time in 2001, then nearly doubled last year, when 4.3 million cars were produced. An additional million cars rolls off the rapidly-expanding production lines every year.
"China's auto demand is expected to rise to 10 million in 2010, second only to North American," says Zhang Xiaoqiang, Vice Minister of the State Development and Reform Commission.
The surge has been larger, immensely faster than any predicted, even optimistic car makers. "Seven years ago, the auto industry in China was smaller than that of Australia, with only 21 million people," notes Ron Tyack, head of Ford in China, and a native of Melbourne.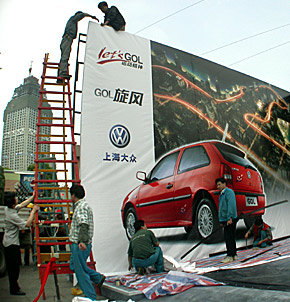 "The growth has been beyond all estimates. Nobody could have imagined such growth, even in their wildest dreams."
China really has been a dream market for the world's auto makers, who have seen profits steadily decline due to gloomy economic conditions around the globe. Except in China.
In 2002, for instance, China sales soared 37 percent, even as overall sales across Europe tumbled seven percent. And, contrary to most other mainland products, profit margins in China are sky-high, amongst the world's biggest margins.
No wonder all the world's auto makers are established on the mainland. Most arrived less than a decade ago. All are racing to keep apace of demand.
Ford, barely settled into its spanking new $100-million plant in Chongqing, has already announced its intention to increase its investment to $1 billion over the next few years. Most rival car makers have announced equally optimistic expansion plans.
Such success is all the more remarkable when one considers the industry really did develop almost overnight. A decade ago, virtually every car in Shanghai was a Santana, the model made locally by Volkswagen, the first to the mainland in 1985 and still the market leader.
Then, come the Santana 2000 – in 1995. As recently as four years ago, there were only eight China-made cars on the market. The color choices were extensive, as long as you liked red, white or black.
Maturity has come in a hurry. Now, there are scores of models, including many uniquely geared to the local market.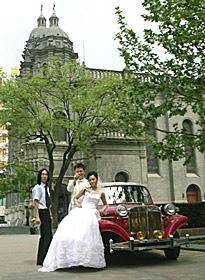 One of the top domestic automobiles is the tiny QQ, made by Anhui's Chery. The mini-hatchback, only 1.4 meters high and 3.5 meters long, has been a sensation, sort of like China's own Love Bug.
In January, a Beijing dealer held a contest for creative exterior displays and hundreds entered, with wild color schemes and decoration that ranged from forest scenes to outlandish pop art.
Since its introduction last May, sales have topped 7,000 per month. With a low price of about US$6,000 and the cute look, the cars have largely been bought by urban female workers under the age of 35.
"My great dream is to have a car," says Yu Jin Yan, a 25-year-old office worker in Beijing. Already, she is taking driving lessons, just to be ready for the day when she can afford a car, perhaps years away.
For her and her generation, car ownership is as much a symbolic measure of lifestyle achievement as status. In the town she grew up in, near Changchun, there wasn't a single privately-owned automobile five years ago.
Some call this the third cycle of the Chinese consumer's Great Leap Forward. Two decades ago, ownership of a bicycle could only be bettered by household appliances.
In the early 1990s, affluence was attained by electronic goods, first televisions, then movie players and computers. Lately, the emphasis has been on mobility – mobile phones and laptops.
Now, the ultimate is the automobile, which provides the kind of freedom of mobility Chinese have never known.
Not that the road ahead is all smooth for the automobile industry. Already, Beijing is facing a monumental parking problem. Shanghai, with the highest density of automobiles, recently announced an almost counter-revolutionary plan to ban bicycles (subsequently dropped in the face of tremendous criticism.)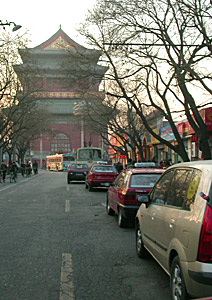 Beijing is drafting stringent fuel-efficiency standards, stricter even than those imposed in America.
Pollution is one worry, but China also is increasingly concerned about an escalating dependency on oil imports. About a third of China demand is met by imports, projected to rise to the American level of 55 percent by 2030. Just a decade ago, China was a net oil exporter.
Then, there are concerns that all this spectacular growth might prove a bubble. Already, increased competition has resulted in drastic price-cutting, with some models now selling for $4,000-$5,000.
Not too long ago, Brazil followed a similar pattern as the saving grace of the auto makers, who rushed in to build plants that are now idle.
Yet, China isn't exactly Brazil. Once again, the numbers are important. China has a much greater population. And income growth has been rising faster and for longer than anywhere on Earth.
"Will the model be sustainable?" ponders Ford's Tyack. "Nobody can say for sure, but there is just so much room for growth. I think this is only the beginning."
---
Ron Gluckman is an American reporter based in Beijing, who roams around China and Asia for a number of publications, such as Silk Road, which ran this story in April 2004.
---
To return to the opening page and index

push here
---