Thrills and Spills
Rising incomes and radical cuts in work hours have revolutionized the leisure industry in China. A new generation of promoters promise to bring fun and profit to the amusement business, but thus far the industry has seen more steep climbs and jarring drops than a roller coaster.
By Ron Gluckman /Beijing, Shanghai and Hong Kong
---
FENG HUA IS ABOUT to have a life-changing experience. One second, the sensible 24-year-old businessman from Shandong has his feet firmly planted on the ground. The next, heís hurtling to the ground in a death-scare drop from a high platform.
"Thatís one thing Iíll never, ever do again," he says, nervously chain-smoking after his first ó and last ó bungee jump. "Itís so scary. I felt like my heart was going to pop out."
Still, however frightening, this is the kind of adrenalin rush designed to fuel an emerging industry. Beijing boasts nearly a dozen bungee-jumping sites just three years after the first one opened north of the city. Almost completely undeveloped a few years ago, the countryside around Beijing is now chock-a-block with such offerings.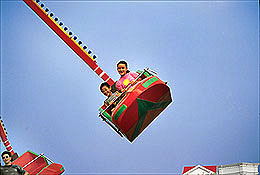 The same is true all over China, but it is in the major cities where an increasingly affluent middle class is reaching the right mixture of disposable income and leisure time to support a sizeable leisure industry, everything from bowling to dancing to rock-climbing. Everything, in other words, the people with a little free time and spare yuan might care to enjoy.
"China has a huge untapped market for travel and leisure," maintains Mei Zhang, a native of remote Sichuan Province who thinks sheís spotted a tremendous opportunity. Mei returned to China after earning an MBA at Harvard University and working for a variety of international investment groups and consultancies to tap into an exciting new market.
Among Chinese, Mei identifies a group of between 1 or 2 million urban dwellers who might be termed mainland yuppies. "These are people who are doing outdoor things like mountain climbing, biking, hiking and camping."
She notes that they earn upwards of only $480 per month, but cautions against putting too much store in such numbers. "It doesnít sound like much by western standards," she admits, "but donít forget, these people have no school loans, they pay no rent or low rent, and the famed Chinese penchant for saving doesnít exist for this generation."
In a recent study on mainland spending, market researcher Euromonitor concurs that traditional formulas donít apply in China. Instead of western terms like "middle class" they designate a "comfortable class," defined as those with sufficient spending power to become the target of most brand manufacturer advertising. Euromonitor estimates that more than half of all mainlanders, more than a half-a-billion people, has reached this class level.
Euromonitor reckons that consumer spending on leisure and recreation reached $16.9 billion in 1998, up from $15.5 billion in 1997 and more than double the 1994 total. The numbers may amount to little more than guesses, however, because the government isnít yet collecting such data officially. But whatever the real spending might be, almost everyone agrees that the infant leisure industry may soon be toddling into real money, and big money.
The People in the People's Republic not only have more money, but vast more time on their free hands. From a state-mandated six-day work week at the start of the 1990s, things have shortened, first to five and a half days in 1994, then five days more recently. "Everybody is living for the weekend now," says a Xinhua reporter. "We shop, we spend. Itís a new concept and a big thing. We call it the Big Weekend."
On assignment for Asiaweek Magazine, Ron Gluckman set out to discover how Chinaís newest industry was progressing. He found mainlanders discovering and embracing many of the same pursuits that consumers in more developed economies have loved for years. Not that the leisure industry is a guaranteed road to riches. Just ask any of the people who developed dozens of failed or lackluster theme and amusement parks.
But for the entrepreneur who hits on the right formula for excitement at the right time, they are in on the ground floor of a sky-high chance to make money.

q No longer a loner in the Great Outdoors
Dai Yun, one of Chinaís premier mountain climbers, recalls the thrill of tackling his first hill. Dai, then 22, was fresh from mandatory military service, which actually gives many mainlanders their first taste of the outdoors.
"I liked Chinese drawings of all these things: mountains, trees, rivers and open-air," he says. "I wanted to see them myself."
That was 16 years ago, and Dai has climbed countless mountains since. He still savors the views, silence and smells, along with the feeling of freedom, but the muscular climber has traded in his old army boots for state-of-the art climbing equipment: European crampons and ropes, American tents, and top-notch and trendy outdoor gear from Australia. This stuff is not cheap.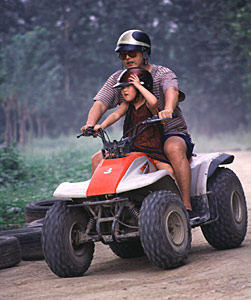 But the expense is not preventing a big expansion in nature activities across China. Says Saeri Ziebart, Beijing marketing director for an online entertainment guide and bookings service called ChinaNow: "People want to get out and do something different." In other words, whether youíre talking about rock climbing, rafting or horse riding, Chinaís outdoors is suddenly the place to be ó and be seen.
None of this should suggest that the notion of the rugged individualist has taken root in China. Group participation is another peculiarly Chinese characteristic of the back-to-nature movement. Thatís only increased the opportunity for outdoor entrepreneurs.
Dai launched Beijing Youth Rock Climbing Group mainly as a way to share his interest with others. Itís grown into a full-service business that rents and sells equipment, provides training, and organizes mountain and ice climbing expeditions.
China has a tradition of scenic appreciation that goes back at least as far as old ink paintings and poems praising nature. For most urban dwellers, though, aside from the Cultural Revolution when so many people were forced to have a rural experience, the great outdoors has mostly been out of reach.
Lack of transportation, subsistence incomes and severe state restrictions on movement have all cramped the nature-loverís style. But these days, the fringes of many big cities are packed with businesses eager to serve the nature boom with everything from raft rides to cabin rentals.
"All the thrill sports are making their way to China," says Kaiser Kuo, an editor who coordinates coverage of these activities for ChinaNow. "Hang gliding, parasailing, bungee jumping, they are all here."
The range and diversity of outdoor activities seems to grow almost daily. In Chengdu, one new craze is four-wheel drive safaris, which take tourists on bumping rides into the wilderness. Although popular with foreign visitors, most bookings are by mainlanders. Expensive mountain bikes have become commonplace in Kunming, where dozens of enthusiasts meet weekly in rugged rides organized by Xiong Junwu, owner of the Fat Tyres mountain bike shop.
Such pursuits, however ordinary elsewhere, represent revolutionary changes in the mainland leisure scene. And even the same activities tend to be done differently in China. "In the outdoors, they need handrails and stairs," says Kuo. "Itís not like the usual concept of back-to-nature. Realize, itís all new to them. You start with basic things, like camping. Most people [overseas] grew up with it. But here, itís brand new."
n Bowl me over baby
Wang Hui-Ming canít remember the precise moment he was hooked. Perhaps it was the first time he watched the ball explode supercharged into the pins. Or felt the adrenaline rush of his first tournament.
One thing is sure though, heís got the bug. Wang is a bowl-a-holic.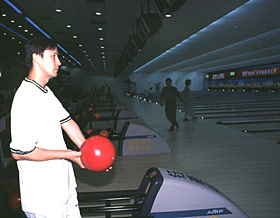 He feeds his habit each day, lacing up his bowling shoes with the concentration of a heroin junkie looking for veins. Wang bowls 10 games a day, every day. He reckons he spends an astonishing $1,200 per month to get his fix. Thatís 47% more than the average urban household in China spent on everything last year.
It started innocently enough. Wang was introduced to bowling in the mid-1990s along with much of Beijing. With few lanes available at ridiculously high prices, the sport got nowhere when it was first introduced in the 1980s.
Then, in the mid-1990s, bowling boomed in big cities like Beijing. Wang remembers starting with a few friends looking for a good time. Then came sessions with potential clients, perhaps two or three times a month. And before long, the lark was a necessity.
Nowadays, Wang mostly bowls alone. His wife and child occasionally join on weekends. Wang isnít alone. Across China, bowling became one of the biggest sports of the 1990s.
The craze has cooled in some cities where it first caught on, like Shanghai, but bowling is still spreading in the hinterland, where new alleys open daily. "The peak year was probably 1997," says Lui Zheng of the Beijing Bowling Association, which represents 60 members with nearly 2,000 lanes.
So many lanes were added in China during the boom that Shanghai leaders actually considered a ban after the number of lanes exploded from half a dozen in 1980, to 1,500 by the end of 1996.
All this interest makes bowling a big, big business. By 1997, China was the worldís largest market for bowling equipment and had over 10,000 lanes in use, according to the Sporting Goods Manufacturers Association (SGMA), a trade association of North American manufacturers.
But bowling has evolved from its blue collar origins elsewhere into a totally different experience in China. Take Beijing Gongti Hundred Bowling and Tennis Center, which claims its 100 lanes make it the worldís largest single-floor bowling center. It is surely also one of the ritziest, with Roman statuary and marble floors. Gongti serves complimentary fruit and tea at the lanes.
That way, addicts like Wang don't have to waste valuable bowling time in the snack bar.
No fear of flying j
Circling a pagoda by the Ming tombs, outside Beijing, Robert Meng catches a favorable breeze, feels the tug of his overhead sail, and soars even higher. "Who wouldn't like this?" he says after hitting the ground, face beaming, still feeling the buzz. "Unless you try it, you will never know this kind of feeling of freedom, to float in the air like a bird."
Meng is an unabashed paragliding advocate, with over 150 hours in the air. He's also an instructor at Flying Man Paragliding Club, among a handful of Beijing outlets that have sprung up to service the high-altitude sport since it soared onto the mainland a few years back.
Still a niche sport, paragliding is nonetheless spreading quickly among China's ranks of young, adventurous executives who have an appetite for adrenaline activities, and the cash to satisfy such whims.
Meng says there were probably only 10 paragliders in Beijing in 1997. Within a year, 200 had completed the pilot's training. Now, China has thousands of flyers, with clubs in Kunming, Chongqing, Hunan province and southern Guangdong - wherever the scenery and wind patterns make it worthwhile.
Paragliding is unquestionably an elitist activity. Equipment costs $2,300-$3,500. Before even taking to the air, beginners must shell out nearly $200 - a couple months wage for most mainlanders - for a training course, then periodically pay for the aerial outings to hone their skills.
Still, for many like Meng, this sport has proven to be a life-changing experience. A teacher in remote Jilin Province, Meng moved to Beijing in 1997 to help an old friend launch the flying club, then operating from a tiny room by Worker's Stadium.
Now, the business has moved into a brightly-painted building on the Fourth Ring Road, with colorful posters on the wall and a well-equipped clubhouse in the back. Paragliders congregate here to sip cold beers, shoot pool, and watch video footage of past gliding sessions on a big-screen TV.
Flying Man is not only fun, it's profitable, among a small number of mainland firms capitalizing on the tremendous disposable income of China's neaveau rich. The business is the agent for a dozen international brands of paragliding equipment - names like Ultralite, free X. Swing and Pro Design.
Paragliders wear wind-resistant suits, helmets and special shoes. But the main expense is the harness and the large parachute-like sail that they steer with a series of ropes connected to a pair of grips. Much of this gear has been manufactured for years on the mainland, but remained out of reach to workers who make it.
As a vote of confidence in China's booming economy, Hong Kong entrepreneur Lin Guo-Zhang decided to deflect some of the paragliding equipment he makes for the big international brands to Beijing. "It's still a young sport for China, but it's really booming now," says Meng, who thinks he's got a great job.
"People admire and envy me. This is new to China, but the feeling isn't. Everyone in the world wants to fly like a bird," he says. And teaching? He'll never go, not since he's found his high-altitude evocation. "I get to fly every day - and get paid for it."
Go karts are groovy p
Three kids are crawling up their fatherís back, cackling with glee. Chevin, 10, Chenghan, 9, and Shuling, 7, pester papa Roy Wang to start the engine ó quick. Youíve never seen children so anxious to get rolling.
Helen Lee feels much the same, even a month after her crash. "I nearly knocked myself out," she recalls. Then, rubbing an arm that still aches, she slips behind the wheel. Smiling as she speeds off, the Shanghai woman shouts over the engine roar with a lame explanation: "Itís too tempting."
Lee, 28, isnít alone in yielding to this injury-defying pasttime, which is the rage in Shanghai and likely to roll on across the mainland. "Go karts are hot now," says Arthur Jones, editor of thatís Shanghai, a city magazine. Half a dozen tracks have opened since 1997, when Disc Kart became the first in Shanghai and first indoor track in all of Asia, according to manager Ren Guanyi.
If go karts didnít figure in your childhood, imagine miniature racing cars zipping around a track filled with tortuous turns. Go karts might look puny, and appear to be powered by lawn mower engines, but sitting so low to the ground, drivers feel they are tackling the G-force-generating curves of Le Mans.
"The business is very popular," says Ren, but warily adds: "In 1997, when we opened, we were all alone. Itís like all entertainment in Shanghai. All are going up as people make more money."
At $6 per ticket, this is a pricey past-time. And that only gets you 10 or so spins around the track, depending on how fast you put the pedal to the metal in eight minutes. The center is open till 4 a.m., so it has become extremely popular with night owls.
A fully-stocked bar helps the late-night popularity. Thatís one difference from American and Europe, where kids have been swooning for go karts for decades. In Shanghai, this is no kiddie sport. "The only place in the world where you can legally drink and drive," enthuses a Hong Kong trader on a recent Saturday night. Indeed, alcohol is not merely allowed, it is encouraged. Anyone spending 100 yuan at the bar is rewarded with 10 free wobbly spins around the 500 meter track.
While popular with Shanghai-based foreigners, especially after the local bars close on weekends, Ren says business is 70 percent Chinese. "Many companies rent the whole track for a special event. The Chinese love it." After all, he notes, it is probably the first chance for many to drive at all.

s No amusement in many mainland theme parks
On a scorching summer day earlier this year, Beijing engineer Shan Tao doesnít need a slide rule to sort out his overheating equation. Grabbing a round inner tube, he dives into a snaking cylinder. Seconds later, heís speeding down a water slide, screaming like a child. "The kids like it," he says after spilling from the slide into a cool pool at Lakeview Water Park.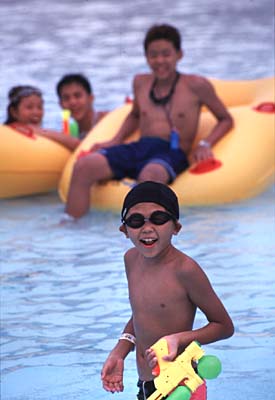 There hardly seems a better place to survive a blistering July day than this aquatic playground in Hauirou County, 90 minutes north of Beijing. Itís a daily beach party with Bob Marley reggae music and burgers sizzling on scores of grills. Visitors ride wave-machine generated breakers at Granada Surf Beach, lull on shaded deck chairs, or float on an artificial river that circles the entire park.
The park made a big splash when it opened in late 1998. But this year, on a hot summer day, only a few hundred people are chilling at Lakeview. "Itís nice, but not too popular," Shan admits. "People say itís too far to come. We like it, but itís also expensive."
Thatís become a lament heard at numerous other mainland amusement parks that, despite a booming economy and warm welcomes from local governments, have found the leisure business can be anything but fun and games in China.
Still, the parks seem to surround every mainland city, daring residents to try to escape without a hair-raising ride. An estimated 2,000 parks were launched in China between 1994 and 1999. Perhaps 80 percent are losing money. Many have already closed.
Chinaís leisure industry may be growing, but it is no automatic path to riches. Even one of the worldís truly big attractions, the Great Wall, is swamped by artificial amusements; cable rides, bungee jumps and huge mountain slides. Turrets tower over the expressway to the Wall, but Wonder Lanes Amusement Park is already shaping up as a grim fairytale, another would-be Chinese Camelot stalled midstream.
The poor performance of such parks illustrates the range of problems with Chinaís nascent leisure industry. Take American Dream Park, launched in 1996 in Shanghai, the first of what was to be five huge theme parks designed to deliver a Disney-style experience to every part of the country.
After the Shanghai park was built for $50 million however, none of the rest were completed. American Dream Park today is deserted and decaying.
It had begun well enough. Soon after opening, the parkís partners showed off lavish rides in sections like Miami Beach, Main Street USA and Wild Wild West. They created unique characters for the park that tied into a passel of selling opportunities. On paper, it looked good, but the plan made many false assumptions.
Perhaps most fatal was the location. Around the world, parks are built outside big cities, where huge tracts of affordable land are perfect for massive parking lots and expansive attractions. In most countries, of course, customers have cars. But not in China - at least, not yet.
The U.S. partners in Dream Park did not return calls from Asiaweek. Other parks likewise failed to consider how a lack of public transportation could fatally impact attendance. No bus service often means no customers, even if you offer the coolest park in the hottest stretch of summer.

qClubbing gets Hot Hot Hot
Girls swirl in short skirts as spicy Latin rhythms pound a packed dance floor. At Havana Club the beat is Hot, Hot, Hot, and the dancing is SEXY. One local writer called the joint, "Godís gift to the single woman" ó a dance haven in a city where men are mostly wall-flowers.
And this lively Latin cabaret sits next the decidedly unglamorous Workersí Stadium. But the location has worked in the favor of Muslim food magnate Fan Jun. Beijingers are used to gathering at the stadium for a little ballroom dancing, and now they come to the Havana day and night, moving to tunes from radios and homemade sound systems.
"People in Beijing are always looking for something new," says club publicist Ernie Zhao. "They love to dance. This is the perfect combination, a cool dance they can learn and new music, a new style. They love it."
Entrepreneur Fan has a habit of anticipating trends. In 1993, he opened one of Beijingís first Xinjiang restaurants. Within a year there were a dozen copycats pulling in people from across the city.
"Back then, Uighur culture was virtually unknown to most people in China," says Fan, who counted himself among the uninitiated until university, where he met future wife Sadat Hamait. Fan, a Han Chinese, found her Muslim culture exotic ó and was willing to wager others would, too.
His Uighur restaurant was a big hit ó there are now two A Fun Ti eateries. And the Havana Club may have a little of the same magic. From a core group of salsa-starved fans from South American embassies, the Havana Club quickly became the hottest ticket in town.
And salsa nights, even at $60 for ten lessons, were standing room ó make that dancing room ó only. "It went by word of mouth," says Zhao. "The first time, we had 40 or 50 people. Each night, it grew and grew, until we had hundreds."
Other bars around the country are also working overtime to attract increasingly trend-conscious customers. Forget karaoke TV. Raves are being held from Nanjing to Kunming. The Shanghai craze is interactive bars where clubbers participate in pottery or glass making, archery, even boxing, right in the bars.
Shanghai has its own salsa center, the enormous Tropicana, which recalls the cityís swinging 1930s. Itís in a beautiful building overlooking the stately European-style Bund. Consuls smoke Cuban cigars on the roof while elegantly dressed couples do sexy spins as a Chinese band plays laudable renditions of Gypsie Kings, and Cuban and South American Tango tunes.
All the activities are increasingly the norm for the cutting-edge enterprises bringing a buzz to Beijing and much of China. "For others, theyíve traveled in the world and seen so much, but for us, in China, itís exciting to try new things," Fan says. "To us, salsa isnít just music, itís a whole new world."
---
Ron Gluckman is an American reporter based in Hong Kong, who roams around Asia for a number of publications, such as Asiaweek Magazine, which ran this story in November 2000.
Pictures by Ron Gluckman
---
To return to the opening page and index

push here
---