More China stories:
(see also China stories)

THE BUSINESS OF FUN - As incomes rise and the workweek shortens, leisure options have boomed in China. But thus far, the nascent amusement industry has suffered more spills than thrills.

HIPPER THAN HONG KONG? Shanghai, fabled Pearl of the Orient, is sparkling in all its lustrous glory. Despite scores of new restaurants, trendy shops and all-night entertainment, Shanghai doesn't think it such crash terms. Forget rivalries with other Chinese metropolises; Shanghai could be the coolest city in Asia.

DESERT STORM - In China, the desert is on the move, consuming vital farm land with sand storms sweeping even into the capital, only 75 kilometers from the approaching dunes. Can China hold back the desert?
CAN RED CHINA GO GREEN? - With the world's ten most polluted cities, a litany of poisoned lakes and rivers, not to mention its intense mind control, China might seem an unlikely breeding grounds for environmentalism. Yet gutsy old history professor Liang Congjie has become a surprisingly effective ecological advocate.

BEIJING - China's Bruce Springsteen cannot get a break. Cui Jian rose to stardom as the soul of Tiananmen Square, but his role in the uprising continues to cloud his career, not that this Beijing star is singing the blues

TAKING CHINA TO THE HOOP - A rag-tag team of NBA All Stars and also-rans played the China National team, but the goal wasn't in the game but the marketing of the world's best-hyped sport, in Showtime in China

ARNIE IN CHINA! The terminator traveled to the Middle Kingdom to deliver a muscular message at the odd Arnold Schwarzenegger Film Fest, the first time a western star has been so honored in communist China. But he wasn't here for himself, he had come to help millions of mentally-retarded children.


BEIJING - China's capital is often haunted by its own history, but nowhere are the memories more grave than among the Communist Party's secret crypt.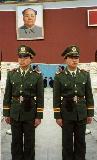 CHINA - Why is Beijing so afraid? Live from Tiananmen Square, crackdown on the Falun Gong

BEIJING - Ten years ago this Tiananmen-era exile was hawking T-shirts in Toronto. Now, Edward Zeng is back, expanding his network of internet cafes into an ambitious plan to wire the mainland, cadre by cadre.




LOS ALAMOS - Is the old Chinese guy in the fishing hat the spy of the century or simply the victim of a racist witch hunt? An exclusive look at Wen Ho Lee, when he was held in solitary confinement and stripped of his rights, portrayed as the Nuke Spook?
San Francisco - Every year about election time, talk in the Taiwan Straits turns to tanks and invasion schemes. Even on the other side of the Pacific, an exhibit of paintings got caught up in posturing of the Art of War.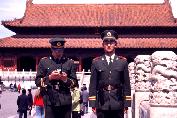 Beijing - Ten years is a long time, but memories of Tiananmen continue to cloud China's other accomplishments and anniversaries in an epic year for Mao and his square.

Beijing - Half century after the communist revolution, Mao's dowdy red capital prepares to really party. Time magazine's special look at China includes my tour of Tiananmen, transvestites and other Beijing sights.

McCHINA! - A different take on US-China relations. In the next century, China will come into its own. In the meantime, it's often at odds with, or overly emulating America. It's McChina.
SHANGHAI - Too much American influence? Some in China can't get enough of the old wild west.

QINGDAO - Mao was right, the East Is Red. At least in terms of wine. Have a taste of China Wine.
SHANGHAI - China is the world leader of several industries, including the manufacture of harmonicas
DONGPING - And, believe it or not, the world's number one hemp producer; see (Rope, not Dope).

Beijing - Father and son find distances can be deceiving, especially on a train trip of unexpected discovery, aboard the express to the Chinese capital.

Pudong - Across the river from Shanghai, a fascinating financial city of the future is taking shape. For years, little more than muddy sites and pie-in-the-sky dreams, Pudong is fast-becoming the first metropolis of the new millennium.
Shanghai - China's most international port was a wild city before World War II. The old glories of Shanghai are recalled by an aging group of Old China Hands.

Old Shanghai also provided refuge for thousands of Jewish refugees from the Holocaust; they helped turn the Chinese city into one of the most international communities in the world. There were scores of kosher cafes and Austrian bakeries, Jewish boxers, bankers and millionaires. More importantly, there were survivors, lots of them in the Shanghai Jewish community
Shanghai - And a new film tells the story of some Jewish refugees who sheltered in Shanghai. Just out in 1999 is "The Port of Last Resort."

Xiamen - Facing Taiwan, this Chinese city was once stuck in a Cold War freeze, strewn with propaganda, soldiers and war rallies. But the old international port has a zesty flavour that is luring tourists to it's unique blend of Shrapnel and Sand.

Yangshuo - Oliver Stone was held spellbound by the conical hills and lush scenery along southern China's Li River, which wound up as part of the backdrop for his "Between Heaven and Earth." The same scenery has inspired poets and painters for centuries. Take a look at the View from Moon Hill.
(see also China stories ---- Page One)
Wen Ho Lee from wires; Old Shanghai from files; McDonald's by Graham Uden;
All other pictures by Ron Gluckman