One wimpy leap for China
In the days before the launch of China's first manned mission, one may have expected excitement to be sweeping the mainland. But Beijing was playing it safe. Despite the expense and sky-high ambitions, rather than a Great Leap into space, leaders kept a lid on expectations.
By Ron Gluckman/Beijing,China
---
BEIJING IS ONCE AGAIN THRIVING, the hushed streets of the SARS-stricken capital a distant memory. Playing to a packed house at the Capital Theater is The South Courtyard in the North Lane, China's first play about the SARS epidemic.
Beyond the theater doors, cabbies are doing swift business, enthusing to passengers over the new ring roads leading out to the Olympic site. Back at school again, students are buzzing about the huge extension to the subway system.
And for many Beijing residents, change is even closer to home. Tens of thousands are being relocated to distant suburbs as vast neighborhoods of Siheyuan—traditional courtyard dwellings—are being razed and replaced by high-rise apartment blocks.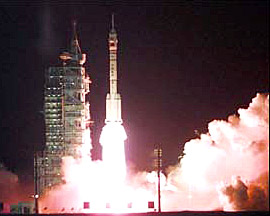 In this congested, rapidly modernizing metropolis—symbol of the nation's rising power—it's not surprising that China is about to make history in outer space.
As we go to press, China is in the final count down to its first manned mission to space; the launch is expected to take place sometime after National Day on October 1.
At a time when NASA's shuttle fleet is grounded, space watchers around the globe are electrified by the prospect that, any day now, China will become the first new nation in space in nearly half a century.
Yet, here in Beijing, few people are aware of the imminent lift-off.
In part, this is due to the perplexing lack of information in the tightly controlled state media. Instead, the government's mouthpiece, the China Daily, carries front page stories about the progress of construction for the 2008 Summer Olympic Games and op-eds about the "international browbeating" China is taking over its foreign-exchange policy. Yet there is nothing on the launch, likely just weeks away.
What little the Chinese know about the program comes from the periodic space stories that have appeared over the past few years in such state-run publications. These teasers quote engineers and other space officials—all non-military—on moon-mining schemes, plans for space shuttles and Mars probes.
Long on dreams but scant on details, the stories seem designed only to muster public support for a program that has cost $2-3 billion; a fraction of what NASA spends, but a huge sum for any developing nation.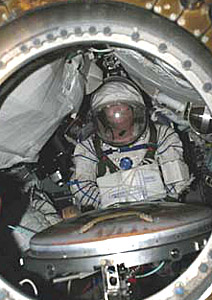 To date, Chinese officials have confirmed that a dozen top pilots are in training as astronauts. Unlike their American counterparts, who became heroes and household names during the Space Race of the '60s, China's taikonauts (heaven flyers) remain nameless. And faceless.
In fact, since SEED pinpointed the location of the top-secret astronaut training facility outside Beijing ("Inside the Red Chamber," Issue 03), not a single reporter has visited the site. Nor have any taikonauts given interviews or even appeared in public.
It is not outside the realm of possibility that Shenzhou (meaning "divine vessel") V could rocket skyward behind the world's back.
After all, since this manned program was lauched in 1992, no outsiders have visited the Jianquan Launch Center on the fringe of the remote Gobi desert. Nor has China apprised the UN's Office of Outer Space Affairs, which keeps an index of objects launched into space, in advance of previous Shenzhou launches.
Secrecy, of course, is no surprise in China. Beijing's handling of the SARS epidemic is just the most recent example of its typical guardedness.
Such secrecy would be understandable, perhaps, if China were in a race. But in this era of international cooperation in space, one would expect China's leadership to be stirring up patriotic support for a program that is not just costly but will revisit much of the territory Russia and America covered in the last half century.
Many attribute the blanket of secrecy to the military, perhaps the most-entrenched of all institutions in the slowly reforming People's Republic.
The program was a pet project of former President Jiang Zemin, who personally named the Shenzhou capsule. Although retired from office, he retains several key posts and heads the military.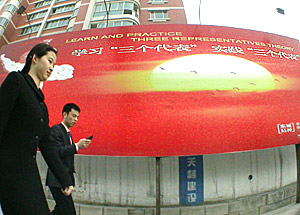 As a leader, Jiang desperately sought to reach the ranks of Mao or Deng Xiaoping, but his baffling "Three Represents" campaign never caught fire. Success in space would be his legacy; failure would be unbearable, and the consequences would reverberate through China's leadership circles.
Fear of failure, then, is the most likely explanation for China's furtiveness, even toward its own people. Here, the only motivation greater than the pursuit of merit is the avoidance of blame.
One needs only to recall the television coverage of Shenzhou II in January 2001, which was abruptly ceased during the capsules descent. Widespread speculation suggests there was a parachute failure and that all the test animals on board died. Chinese officials never commented or released retrieval photos, but there were no living passengers aboard subsequent flights of the Shenzhou III or IV.
The next rocket, expected to launch any day now, will have room for up to three. But, even as National Day fever sweeps the country, you won't find any posters celebrating these potential new generation of heroes. Not that Chinese aren't cheering for their favorite rocket already. That would be poster boy Yao Ming, the basketball player with the NBA's Houston Rockets.
The anonymity of the world's newest astronauts is an odd prelude to what could be, as it has been elsewhere, a grand moment of national glory. Yet it's safe to bet that that will come, just not until after the capsule has completed its orbits, and splashed down.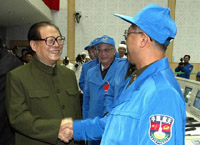 Then, Chinese will surely shed whatever disinterest in space they have shown until now, and flood the streets in an another officially-sanctioned, spontaneous national celebration, like when Beijing won its bid for the 2008 Olympics.
And it's also safe to bet that former president Jiang, will again trek to the remote Gobi launch site. As with Shenzhou IV, he will be seen on TV, happily shaking hands at Mission Control.
Just, not until the mission is over, and China's first astronaut is safely back on Earth.
---
Ron Gluckman is an American reporter who has been roaming around Asia since 1991, for a wide variety of publications. He has covered China's space program for the Wall Street Journal and Seed Magazine, which ran his behind-the-scenes look at the history of China's race for space, and this update in its October 2003 issue.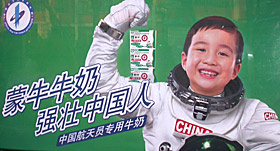 China launched its first man into space, Yang Liwei, as predicted, in mid-October. After 21 hours in orbit, Yang returned safely on October 15 (Beijing time). Also, as predicted, China exploded in a "spontaneous" celebration that carried all the way to Hong Kong, where the first astronaut was feted in enormous public events that recalled some of the excitement of the original space race of the 1960s. The nation's first astronaut even appeared at a huge stadium concert, in a singing duet with Jackie Chan.
Meanwhile, back in China, billboards went up overnight, and scores of companies began promotions using the astronaut theme: everything from chewing gum to toothpaste. People couldn't wait to express their pride, companies to cash in. But only after Beijing's collective sigh of relief, when Yan landed safely.
Photos: all from the web, except the Three Represents and billboard above, which are by Ron Gluckman
---
To return to the opening page and index

push here
---