Mickey Mouse meets Mao
The world's biggest entertainment company has finally opened in the world's largest market. But the recent launch of a Disneyland in Hong Kong is only the start of a huge makeover of one of the world's favorite tourist destinations.
By Ron Gluckman/Hong Kong
---
T

HE LONG WAIT, AT LAST,

is over. This month, the mouse roars. And Hong Kong soars.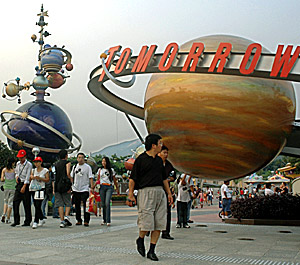 Excitement has been building for years in advance of this month's (September 2005) opening of Hong Kong Disneyland, a $3.5 billion amusement park on Lantau Island that brings the world's biggest entertainment company to the world's biggest market.
The fireworks start September 12, when the Magic Kingdom opens its doors to the Middle Kingdom, thereby answering pundits who wondered what would happen when Mickey Mouse meets Mao.
Yet the larger queries – what Disney will mean to Hong Kong, and how China impacts the enormous entertainment conglomerate - may take years to answer.
Still, this much is certain: Hong Kong Disneyland will feature all the mainstays of the world's favorite fantasy park, from cartoon characters Donald Duck, Goofy, Pluto and the planet's most famous mouse, to theme areas focused around longtime favorites like Tarzan and more recent landmarks like the Lion King.
Nor will Disney be all kid's stuff. Thrills will come on daring, high-tech rides like Space Mountain, with ample spills offered in Adventureland, where visitors of all ages can splash out on wild river rides through simulated jungle.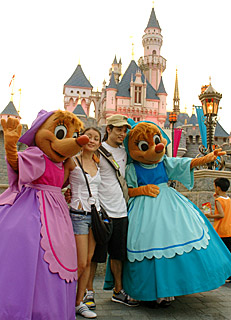 Swelling anticipation surrounding the opening of Disney has brought renewed global attention to Hong Kong, but the best news for this Asian tourist Mecca is that Disney is only one part of a brand-new tourism portfolio.
Numerous other world-class attractions are set to follow, and even before the first visitors stroll Disney's Main Street U.S.A., tourism is already rocketing to record levels: 25 million visitors are expected this year, a number that could double by 2020, according to the World Tourism Organization.
Within the next few years, in addition to Disney and its two theme hotels, Hong Kong will claim a battery of luxurious new five-star properties, its first full spa resort, Asia's longest cable car ride and a revamped Ocean Park.
"This is a whole new phase for Hong Kong," says Allan Zeman, the local entrepreneur who founded Lan Kwai Fong, perhaps Asia's most famous nightlife district, and is now chairman of Ocean Park, the local amusement park. "Before, Hong Kong was all about business, shopping and eating. Now, it's becoming a family destination.
"Indeed, global media may glow about Hong Kong's new buzz, but Disney is merely the plum of a huge new tourism package. "I really don't think Disney is driving that," says a modest Roy Tan Hardy, vice president, sales and marketing for Hong Kong Disneyland.
"Hong Kong has always been resilient," he adds, "but Disneyland does add another dimension, helping to make Hong Kong into more of a family destination."
Family appeal has been the essence of Disneyland since cartoon pioneer Walt Disney opened his first theme park outside of Los Angles, half a century ago this year, right through the global expansion that took Mickey and pals to Paris and Tokyo. The other parks have provided a learning curve that puts Disney in perfect position to open not only its first Chinese theme park, but also China's first big amusement park.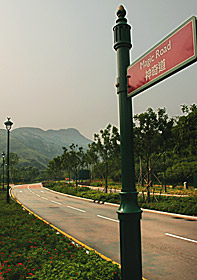 Much has been made of the Chinese features of the new park, including the largely-derided Disney decision to offer shark's fin on a menu geared to local palates, only to drop the dish after widespread criticism from conservationists.
Aside from this snafu, Hardy says Disney has gotten it right, from the language mix (besides English, both Mandarin, China's main tongue, and Cantonese, the language of Hong Kong and south China) to the restaurants (Disney's first Main Street Chinese eatery, plus the widest array of zesty Asian cuisine ever seen at a Disney park) to the attractions themselves, many tweaked for maximum local and regional appeal.
The 126-hectare park sports expansive gardens with gazebos geared to snap-happy Hong Kong visitors, and an unique Fantasy Park bringing guests up-close with all the timeless Disney characters.
Masters of feng shui (like Chinese oracles), were consulted on every detail of the park, "right down to where the cash registers are placed in every shop," Hardy enthuses. Yet he quickly notes that this is not a Chinese theme park. "This is Disney, and we know that people come to the park for Disney."
For aficionados, that means popular Disney rides like the dazzling plunge from Space Mountain at warp speed. Only, Hardy promises that Hong Kong's Space Mountain will tip all the rest, thanks to cutting-edge technology and onboard sound engineering guaranteed to stand your hair on end.
Disney will also feature a pair of hotels the likes of which Hong Kong has never seen. One will be a Victorian-theme hotel, recalling Hong Kong's role as the most vibrant European outpost in Asia. The other will be the Disney Hollywood Hotel, celebrating the golden age of moviemaking, with special Disney features in every room.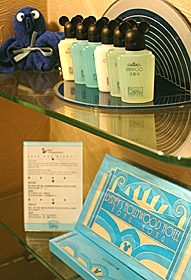 The 1,000 new rooms at Disneyland are only part of a huge influx of new luxury hotels certain to reinvigorate Hong Kong lodging. Opening immediately before and after the park are the Landmark Mandarin Oriental and Four Seasons hotels.
The former is an upscale boutique property from world-famous Mandarin Oriental, in the top floors of the Landmark, a local shopping institution.
The latter is a sumptuous 400-room comfort palace beside the International Finance Centre, Hong Kong's largest tower, designed by Cesar Pelli, also responsible for the world's tallest Petronas Towers. The two luxury properties bring the first new high-end rooms to downtown Hong Kong in a decade.
Meanwhile, several other landmarks are being spruced up, or completely reinvented. This summer, the Peak observation tower closed for a complete restoration. When the viewing station reopens next spring, it will have increased rooftop dining, highlighting the magnificent views.
The observation deck will be elevated to the top of the building, offering unimpeded 360-degree views. Glass walls and the addition of escalators will heighten the drama of reaching Hong Kong's aptly-named Peak.
Enhanced views are also on tap for Tian Tan Big Buddha, the world's largest, seated, outdoor, bronze Buddha statue (for those who are keeping count). Perched upon a hilltop on Lantau Island, the Buddha will be boosted by many new attractions next year, among them, a traditional teahouse, a theater and Walking with the Buddha, a multimedia extravaganza explaining the life of Siddhartha Gautama and the path he took to become the Buddha.
The most exciting new addition will be a 5.7 kilometer cable car ride to the Big Buddha, developed in partnership with the Australian company operating the award-winning Rainforest Cableway in Cairns.
By far the biggest project on tap after Disney is the $700 million refurbishment of Ocean Park. The local favorite will be completely overhauled to take it from last century into the future.
"This park is nearly 30 years old," says Zeman, who, like many grown-ups, hadn't ever visited the park, at least not until his appointment as voluntary chairman. Then, he rode the cable car to the park's summit, "and I was totally blown away by this billion-dollar view. I knew we not only had to save the park, but make it more relevant to everyone."
The key, he says, is to compliment rather than compete with Disney. "Disney is a great brand, and one Hong Kong is lucky to get," he says. "But a lot of people look at it as an American brand.
"Ocean Park is homegrown, and Hong Kong people take a lot of pride in it. They have memories growing up around the park, and we want to build on that."
Ocean Park will be divided into two main areas: the Waterfront and the Summit. The former will feature a fisherman's village, a bird area and ample facilities centered on sea attractions, like Shark Encounter and the ride-filled Aqua City.
The Summit will trade on those fabulous views, with the finest spa resort Hong Kong has ever seen, plus more rides and a large Marine World with dolphin and whale shows.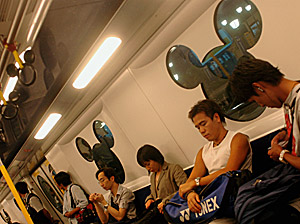 "We know we won't out-Disney Disney," Zeman says. "That's just not possible. What we have done is look around the world at other parks, especially those near Disney."
For example, Knot's Berry Farm near the original Disneyland, has flourished by focusing on younger children, while Sea World in nearby San Diego, has become a world-renowned aquatic park. "The most important thing," Zeman adds, "is to not see Disney as a threat, but a wonderful opportunity to reinvent Ocean Park."
As an added bonus, Ocean Park will never close. The project, due to launch next year, will be completed in phases, running through 2010. The first will open in 2008, as Hong Kong hosts the equestrian events of the Beijing Olympics.
Nobody can predict who will win the Olympic medals, but Hong Kong is already racing out of the starting gate with a slew of tourist attractions designed to keep it claiming the tourism gold.

---
Ron Gluckman is an American reporter who spent nine years in Hong Kong and another five based in Beijing, besides plenty of time at the original Disneyland as a youngster. He filed this story for Silk Road, the magazine of Dragon Airlines, in September 2005.
Ron also wrote this short piece for DestinAsian on the opening, which ran in the August/September issue
Check back for more coverage soon on the impact of Disney, and other news and features from Hong Kong.
All pictures by RON GLUCKMAN
---
To return to the opening page and index

push here
---