Hainan Island - China's Hawaii
The beaches are sensational and seemingly endless, and island roads twist past plantations of palms and pineapples into mountains filled with hot springs, passing some of the last primeval rainforest in Southeast Asia. China likes to compare its sole tropical island of Hainan to Hawaii. There are plenty of garish flower shirts and group tours, but international hotels are also flocking to Hainan, adding spas and five-star service to an intriguing destination that is in the midst of

t

he world's biggest holiday boom.

By Ron Gluckman/Hainan Island, China
---
TELEVISION REPORTER NING ZHANG was dispatched from her Beijing station on a simple but serendipitous assignment: travel to the tropical island of Hainan, and beam back lush images of paradise. "I saw blues skies and beautiful beaches," she recalls. "The lifestyle was nice and relaxed, a real contrast from China. It was a wonderful change."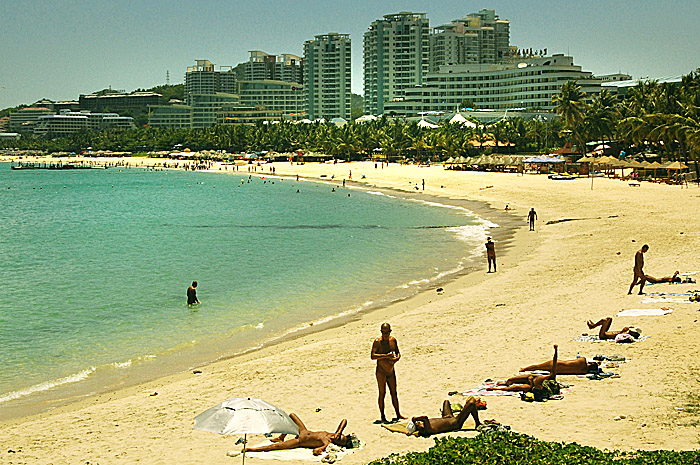 This was four years ago, and tourists were just discovering China's southernmost island, and smallest province. Hainan translates as "south of the sea," but nowadays everyone calls it China's Hawaii. With dazzling beaches, pockets of pristine rainforest and groves of pineapples, coconuts and mangos, Hainan is Fantasy Island for millions of mainlanders. Among the biggest fans: Ning Zhang.
She quit her TV job and moved to this island the size of Belgium. Now, she works as public relations manager for the Ritz-Carlton, a massive 450-room beach resort in the imperial style of the Forbidden City. Her job is to sell the ritzy resort, not only to the Chinese drawn to Hainan in droves, but a growing clientele of international travelers.
Only open to visitors for two decades, Hainan is becoming an easier sell. You see why as you stroll past the Ritz's infinity pools, overlooking the pearl-white sands of Yalong Bay, a picture-perfect cove that is like the Waikiki of Sanya, capital of Hainan. Up and down the beach, packed in almost as tightly as sunbathers on the talcum-powder sand are five-star properties: Marriot, Hilton, Sheraton and Crowne Plaza.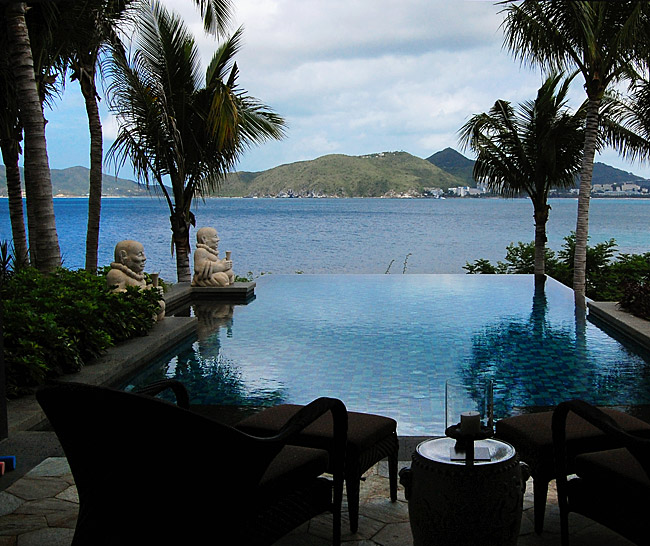 Around the island, it's more of the same. Practically every international chain is on Hainan or rushing to plant its brand upon the booming island. "When I came to Hainan for the first time in 2004, there were really only a few big hotels" notes Gerd Knaust, general manager at Mandarin Oriental, which recently opened in a tranquil cove just outside Sanya. "Now there are a dozen, and more announced every day," he adds. "This island is growing and growing, and there is no stopping it.
"Even a few years ago, nobody knew Hainan, even in Hong Kong," he says, referring to the former British colony where his luxury chain is based, just an hour by air away. Hong Kong visitors, he notes, have doubled in less than three years. Chinese business is even more explosive. "In season, there are 500 flights a day from Chinese cities."
With a home base of 1.3 billion increasingly affluent workers and no other domestic sun-drenched option within easy reach, the Chinese market will itself sustain Sanya for some time. Yet up-market resorts like Mandarin are built for a broader market; rooms are spacious, and spas and suites rival any in the world. The Mandarin spa is really an autonomous sanctuary, with its own pool, villas and health-conscious food menu. The 190-meter suites at the spa sport private Jacuzzi and waterfall.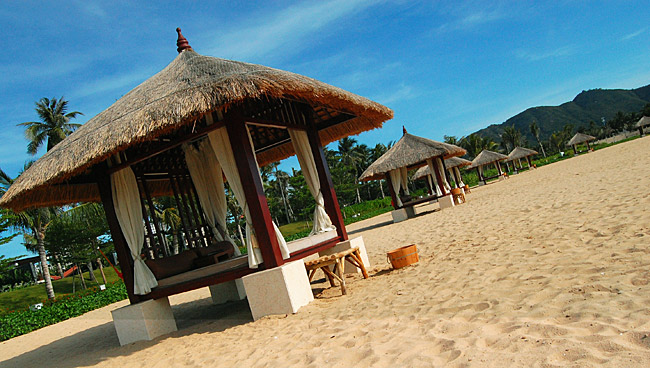 Nowhere is Hainan's movement up market as a destination more apparent than at the nearby Banyan Tree. This small, but influential Singapore resort chain focuses on the upper echelon of the luxury market. "That may not be here on Hainan just yet," concedes general manager Maximillian Lennkh, "but we believe it's coming."
Banyan Tree represents, in many ways, the ultimate aspiration of an island really just in the infancy of its tourism development. That's hard to remember as you drive on all the new highways, skirting not only rice fields and pineapple groves but also billboards for countless villas and new shopping malls. Along the coast, practically every beach, even secluded coves, seem to have some new mega-projects.
Long a place of exile for political prisoners and dissident poets, Hainan's transformation began in the late 1980s, when it was amongst the first areas of China to be granted unusual rights as a Special Economic Zone. A huge development free-for-all followed, and the island is still stained by the scars of early land scams, the inevitable eyesores of mass tourism and rampant real estate speculation.
The first overseas visitors were Russian – they still enjoy direct flights and visa on arrival, and throngs linger for months at a time to escape the brutal winters back home. Hainan's profile was upped early this decade by a series of beauty pageants; Miss World and Miss Universe helped convey the idea of beautiful beaches and bikinis.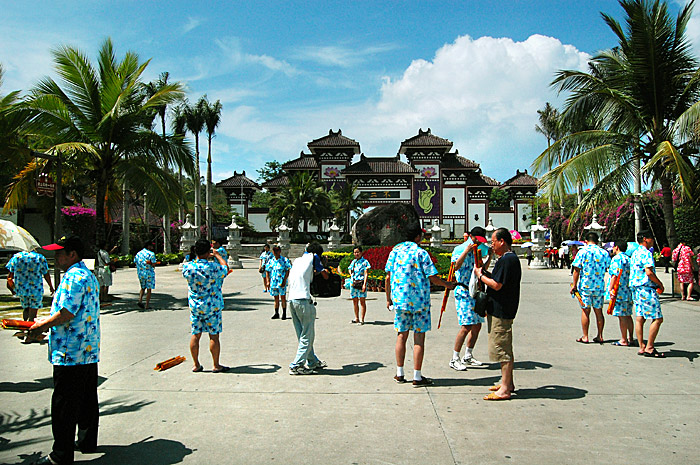 Yet it's really a new generation of luxury lodges like the Banyan Tree that are trying to take Hainan to new heights as a holiday destination. With only 49 villas, all with private pools, it's among the smallest resorts on the island. Yet it claims the largest property, a legacy of its days as the state guesthouse, where Chinese leaders and dignitaries took holidays. With a ratio of over six staff to every guest, you feel like a VIP here.
Rooms are really an assortment of tropical pavilions, facing a private beach, where tented huts offer sunset views, beachside meals and private massage sessions. Not surprisingly, guests often check in, and never leave the resort. "The attraction is tranquility, exclusivity and space," says Lenkkh. Those qualities, like understated style, aren't yet highly valued in China, so he acknowledges that it will take time to reach an expected level of $1,000 per night, in the range of top resorts in Bali or Thailand.
Yet Lenkkh is bullish for reasons that stretch beyond the idyllic retreat. While mainland group tours and numerous theme parks are unavoidable on this island, he notes all the deserted beaches and unblemished nature. The hills are littered with hot springs and tribal groups like the Li people who still farm and live in a traditional manner. "This is the kind of China you hardly see anywhere else. Tourists will love it."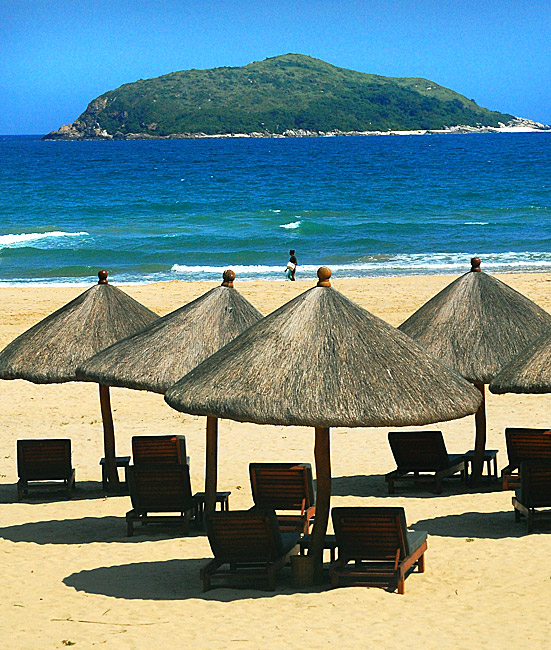 The sights only grow more serene as you travel around the island, spotting scores of pristine beaches – just not for long. Le Meridien recently opened its Shimei Bay Beach Resort & Spa an hour and a half east of Sanya. Set on a hill, the resort steps down to a dazzling infinity pool with views of a tantalizing emerald sea and a picturesque island planted just offshore.
"When you sit here, and look out at the sea, you could be at any top resort in the world," says general manager Terry Ko, who runs this gem of a hideaway in Bali or Hawaii style, with lots of inventive programs and entertainment. A live band plays at check-in and staff is engaging. Being so remote, he notes, the resort has to cater to the guests every whim, not only at the stellar spa, but also from breakfast to nightcap.
That will change as more of the neighborhood opens for business. Le Meridian is part of a massive project for the six-kilometer stretch of coastline. Already another luxury hotel is underway next door, and there will soon be restaurants, a shopping mall, even a golf course. Hainan has over a dozen courses, and dozens more under development.
The boom, says Marion Cavolo, who does executive training on the island, and runs shanghaiexpat.com, is boundless. "This is like Cancun 20 years ago, or Cabo San Lucas a decade ago. I came here in 2003 and could see it would build up. But it's happened way faster than even I imagined. Where else in the world did any beach area develop so fast, with so many international brand hotels opening in such little time?"
---
Ron Gluckman is an American reporter who has been roaming around Asia since 1991. He visited Hainan island in May 2009 and June 2010, and produced this story for American Express' Centurion magazine (appearing in the June 2010 issue)
All pictures by RON GLUCKMAN
Words and pictures, copyright Ron Gluckman
---
To return to the opening page and index

push here
---