Lattes and Lakes
While other Asian destinations mined the tourist gold rush in recent years, Hanoi, stodgy capital of reclusive Vietnam, remained a holiday Wallflower. But now the welcome mat is out and multitudes are marveling at Asia's most charming capital city.
By Ron Gluckman/Hanoi, Vietnam
---
IF THERE IS A HOTEL IN HEAVEN, here's my take: I wake with frothy cappuccinos in a room overlooking a lakeside park. Birds sing, old folks do exercises as I savor the brew. Served with great food and smiling service, of course. At heavenly prices.
Believe it or not, the place actually exists; Hanoi, no-longer stodgy capital of Vietnam.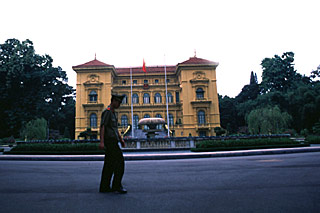 Travelers in the know have been buzzing for years about Vietnam, but even the heartiest have found it tough to wring pleasure from the rather aloof capital. As a result, the tourist traffic that surged into Vietnam since the country opened up in the early 1990s has largely bypassed Hanoi. At least until now.
There's a tortoise-and-hare moral to this tourism tale. Ho Chi Minh City (as Saigon has been renamed) is a traffic-clogged city with little to distinguish it from Southeast Asia's other up-and-coming commercial centers. In contrast, Hanoi's slow development has preserved the city's timeless allure. All the precious qualities of Asia's past are preserved. Suddenly, Hanoi is cool.
Contemporary, though, it's not, and that's the joy about Asia's most charming capital city. First chosen as Vietnam's capital a millennium ago, Hanoi retains the architectural grandeur of its colonial heyday, when the French built colonnaded mansions atop the city's maze of medieval alleyways.
Those colonial showpieces, spruced up in art-deco shades of ocher, pink and white, survive around a series of lakes and in lovely tree-shaded neighborhoods.
Hanoi is a colorful city, and a very green one. Along its sprinkling of lakes are many cafes, serving fine lattes and tasty Vietnamese dishes. Such delights long ago inspired one early tourist, French geographer Joleaud-Barral, to enthuse: "At Singapore, at Saigon, one exists; at Hanoi one lives!"
The good news is that this 19th-century proclamation is again ringing true. Many visitors will be taken at first by Hanoi's time-capsule conveyance of the colonial period.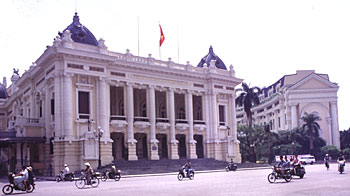 Reminders abound in the main tourist area, especially among the stately government buildings set in the wide open spaces sweeping around Ho Chi Minh's Mausoleum and down to the dazzling turn-of-the century Opera House overlooking historic Sofitel Metropole hotel, recently named one of the world's most romantic hotels by Travel and Leisure Magazine.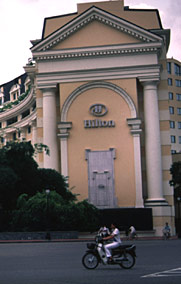 It's easy to see why: Charlie Chaplain honeymooned here and writers from Graham Greene to Somerset Maughan found inspiration in spacious rooms overlooking lovely interior courtyard gardens.
For decades, the Metropole was an oasis of opulence, but an upsurge in top-end hotels testifies to Hanoi's arrival on the tourist circuit. Among the best is Hilton Opera Hotel. Some call it the Hanoi Hilton; a reference to the infamous war prison. But the 269-room hotel is perfect-book reproduction of the Opera House next door, a captivating, rare showcase of revisionist architecture.
Still, the colonial period celebrated by these hotels is but a mere scratch on the surface of this city's heritage. Almost 1,000 years ago, Ly Thai To, the first ruler of the Ly Dynasty (1009-1225) put his capital here. For eight centuries, Hanoi ruled the kingdom of Dong Kihn, which Europeans called Tonkin.
Hanoi's history shines in a clutter of alleyways of the magnificent Old Quarter, just north of Hoan Kiem Lake. This is the perfect place to start a walking tour, wandering the heart and soul of Hanoi, a maze of historic mercantile buildings embellished with centuries of detail, from tropical to art deco, Chinese to French colonial.
Entire streets are devoted to specific trades and wares: shoes, silk, bamboo, even gravestone carving. You can find the usual collection of trinkets, from conical hats and Uncle Ho T shirts, to beautiful lacquerware and baskets.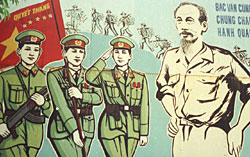 There is fine woodworking at shops like Furniture Gallery (8B Ta Hien Street), which offers authentic pieces as well as reproductions, and will ship anywhere. And there are plenty of places to buy fine art, including modern paintings.
After a long day of sightseeing, retreat to Hoan Kiem, Lake of the Magic Sword. In a Vietnamese parallel to King Arthur, Emporer Ly was given a celestial sword, which was nabbed by a turtle during a boating trip. The sword still hasn't materialized, but Ngoc Son Temple, which sits on an island in the lake, is a great place to soak up a dazzling view of modern Hanoi.
Don't miss daily shows by the Thang Long Water Puppet Theater. In an intriguing art form unique to Vietnam, puppeteers perform behind a curtain, underwater. The movements are mesmerizing, as is musical accompaniment by a chamber group. Hotels book the shows for $5, or $2 if you buy tickets at the door (extra if you bring in a camera).
Some maintain that Hanoi's finest coffee is served at Au Luc Cafe, a peaceful outdoor spot behind the Metropole (57 Ly Thai To), that's also great for brunch and snacks. But there is plenty of competition, including the Mocha Café, where you can watch workers roast and bag select Vietnamese beans in a wonderfully restored two-story colonial brick relic that is a groovy place to sit and sip.
The beans make tasty souvenirs and great gifts. Vietnam has greatly improved its coffee quality in recent years and now ranks as one of the world's top producers.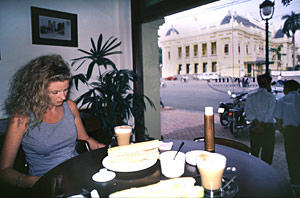 Club Opera, next door to the Au Luc, features great Vietnamese cuisine inside a stylish colonial mansion. For a more traditional experience, try Emperor (18b Le Than Tong), elegant yet affordable Vietnamese and French fusion cuisine in a setting suitable for royalty.
For variety, try Lunad'autunno (11b Dien Bien Phu), a pizzeria serving perhaps the finest pies this side of Rome. Equally renowned was Bobby Chinn's Red Onion, a favorite of food gourmets for its eclectic blend of New York-Asian-Mediterranean-hip cuisine.
Not long ago, Chinn departed to open his even more remarkable Restaurant Bobby Chinn (1 Ba Trieu Street, with a gorgeous Hoan Kiem lakeside setting). Besides treats like salmon with tuna-oyster tartar and caviar, you might also catch comedian-turned-chef Chinn in his latest incarnation, as a rock star; the new restaurant has a stage.
It's all part of the magical revival of an old relic, Hanoi, the heavenly haven.
Waiter, another latte please!
---
Ron Gluckman is an American reporter who has spent over a decade wandering around Asia for a wide variety of publications, including Time Magazine, which ran a package on his Vietnam travels in 2000. This is an expanded version of the main piece on the magic of Hanoi, which ran in the February 2002 issue of Mabuhay, the in-flight magazine of Philippines Airlines.
---
To return to the opening page and index



push here
---