Hong Kong won't forget
Fifteen years after its Handover to China in 1997, Hong Kong erupted with some of the biggest protests - against intrusion by Beijing, corrupt leadership imposed by China in lieu of real democracy, and, every year on June 4, a huge vigil marking the massacre at Tiananmen Square. Rather than kowtow to China, activists this year added a bold Tiananmen Museum - the only place where Chinese can find the truth about the bloody 1989 crackdown.
By Ron Gluckman/Hong Kong
---
W
HILE THE LINES ARE LONG,
the exhibits are noticeably sparse. Yet the temporary June 4 Memorial Museum here

in Hong Kong

is having a revolutionary impact.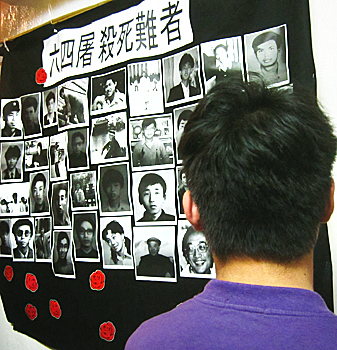 Tucked above a lively street market in the Sham Shui Po district since April 29, 2012, this tiny museum offers a potpourri of exhibits related to June 4, 1989, when tanks rolled into Beijing's Tiananmen Square—crushing not only protesters but, for decades, all discussion of democratic reform on the mainland.
Videos display historical footage and interviews with mothers of missing student activists. A wall offers mementos of those killed—thousands of people by some accounts. There's a replica of the Goddess of Democracy, the iconic statue of the Tiananmen protests. And a library is filled with books and grisly photos, the largest archive on Tiananmen available to the people of China.
This, perhaps, is the greatest achievement of the museum and its organizers, the Hong Kong Alliance in Support of Patriotic Democratic Movements of China. The ad-hoc alliance of more than 200 groups has worked for 23 years to push reform and accountability in China, and also to sound the alarm about any encroachments on civil rights in Hong Kong.
By far its most visible activity is the annual candlelight vigil in Victoria Park on June 4. This year, what organizers and the media called a record crowd of 180,000 people gathered to remember Tiananmen and chant democratic slogans. Fang Zheng, who lost both legs after being run over by a tank as a student protester at Tiananmen, tearfully thanked those assembled for keeping the fires of freedom burning. Police estimated the crowd at closer to 80,000.
Either way, all agree that numbers have surged from previous years. Many said they felt compelled to attend out of a loss of faith in the Hong Kong leadership and frustration over signs of increased kowtowing to China.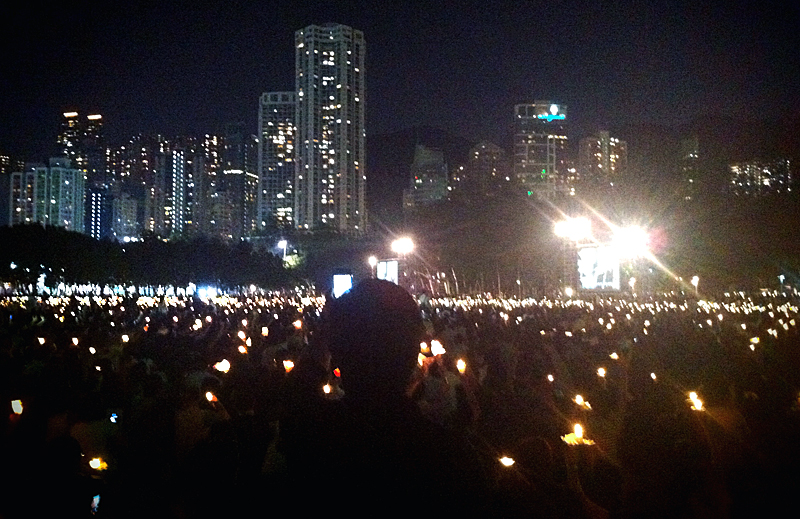 By comparison, only a tiny fraction of those people will seek out this unique museum, which closed the following Sunday. Even though it's been registering more than 1,000 visitors daily around the high-profile June 4 gathering, the museum will probably tally a total of just 15,000 visitors. More important are their demographics: 20%, organizers estimate, are from mainland China.
"We're seeing more and more young people interested in Tiananmen, as well as visitors from China," said Richard Tsoi, vice chairman of the alliance. "Twenty million visitors come to Hong Kong from China each year, and many of them are naturally interested in the true story of Tiananmen."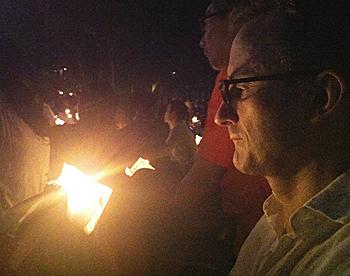 While the museum won't rattle Tiananmen scholars, it can be a revelation for mainlanders. Google "Tiananmen museum" from within China and the top hits center on the new National Museum on Beijing's main square. That museum is the largest in the world, by design. Planners called museums around the globe to make sure it inched ahead of all rivals. Yet even with two million square feet and vast displays of historical relics, visiting exhibits and tributes to the Communist Party, there was no room to tell the truth about Tiananmen.
And so it goes with schools and textbooks in China, where Tiananmen is among the most taboo of topics. Searching online for terms like "Tiananmen" or "June 4" can result in a cutoff of Internet service. Even after nearly a quarter of a century, mention of Tiananmen is so threatening that key words like "Six four"—as the Chinese refer to the crackdown date—are banned from local social-network sites.
Yet in Hong Kong, a part of China for 15 years this July 1, the horrific brutality of the Tiananmen crackdown is freely on view to everyone, if only for a limited time.
The alliance mulled a museum for many years, but there were always concerns—not only about costs, but also political repercussions. Yet authorities offered no resistance to the museum and its controversial displays, Mr. Tsoi said. "We worried about what the reaction might be. But so far, we've had no problems."
Support has been enthusiastic. Donations by visitors have already covered the cost of the museum and the displays, which Mr. Tsoi estimated at about $25,000. The museum will close Sunday because it occupies a site allocated on a temporary basis by another civic organization. "But we hope to create a permanent museum," he said. "That has been our goal for a long time."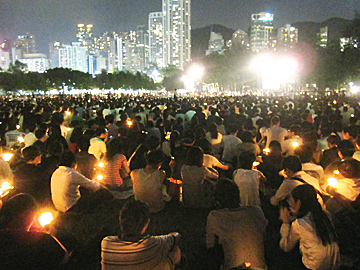 The value of such a museum is clear even in Hong Kong. "We worry a lot about our future," said Alan, one of two local men in their 30s lining up to visit the museum on June 4. Waits of up to an hour sent lines snaking around the block, but neither man minded. "Our parents were too scared to come out. Supporting this museum, and the marches, is important to young Hong Kong people."
His friend added: "China is big and growing. Hong Kong is small, but a special place. We don't want to lose that."
Even in an enclave renowned for its resilience, this is a tense time. In July there will be a new chief executive, Leung Chun-ying, nominally elected but in a restricted process over which Beijing exerts enormous sway. Many fret that Mr. Leung will crimp Hong Kong's widespread freedoms. He replaces Donald Tsang, embroiled in scandals that have sent confidence in the government plummeting.
"People are nervous, no question," said David Zweig, a professor at Hong Kong University and a longtime resident and political expert. Yet he remains optimistic about Hong Kong democracy and its advocates. He points to the numbers at the Victoria Park vigil. "People here care, and they show it."
That was apparent at the park on June 4, where a sea of commemorative candles filled six soccer pitches and crowds chanted "Democracy for China Now!" A leather trader named John proudly noted that he attends every year. "I will keep coming until the Communist Party changes. I know it will. It must."
Born in southern China, he swam to freedom in Hong Kong during the chaos of the Cultural Revolution. "Freedom isn't something we take for granted in Hong Kong," he said. "We know we have to come out and fight to protect it."
---
Ron Gluckman is an American reporter who spent nine years in Hong Kong, from 1991-2000, and continues to return regularly, reporting for publications like the Wall Street Journal, which ran this piece in June 2012.
All pictures by RON GLUCKMAN
---
To return to the opening page and index

push here
---