Train Back in Time
Slow development and reluctant investment kept Indonesia's railways trapped in the past, which is precisely where train buffs love to go. Now you can ride a 100-year-old steam engine on trip back in time in Central Java.
By Ron Gluckman / Ambarawa, Java, Indonesia
---
W

HEN THE WHISTLE BLOWS, the ancient engine rumbles to life and off we go. Slowly.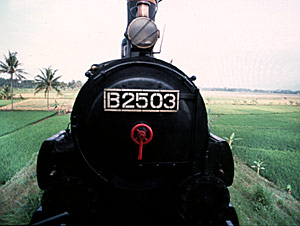 But this is one journey that nobody on board wishes to rush. After all, slow is the perfect speed for a trip back in time, which is the only direction left for Java's unique century-old steam engines.
A few of the toy-like trains roll irregularly out of Ambarawa Train Station, which opened in 1873 and shut down 103 years later. For the last quarter-century, Ambarawa has been a museum with a collection of vintage engines adored by train spotters.
Credit a quirk of development. After independence, Indonesia invested little in new stock, even as neighboring nations upgraded. That left plenty of vintage equipment in service when the museum launched. The collection is considered the finest in Southeast Asia.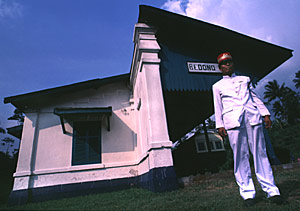 So many train buffs flocked to the museum, that the line was revived for special tours in the late 1990s.
Groups book excursions on century-old locomotives, along with choice of carriage configurations that can seat up to 60 people (about $200) on old wooden benches.
The ride is only an hour to Bedono, but offers spectacular views over rice fields, and entire villages congregate at crossings to cheer the rattling old train on.
The sight certainly stirs old memories, especially since the conductor wears starched whites, and tips his traditional cap. Even Bedono station has been restored to vintage form. In Ambarawa these days, it's all aboard, destination yesteryear.
---
Ron Gluckman is an American reporter who roams around Asia for a number of publications, such as Time Magazine, which ran a package of stories on Central Java in October 2002. This story is a special www.gluckman.com addition that wasn't in the printed package.
see the other stories online at:
A hot taste of Java:
http://www.time.com/time/asia/magazine/article/0,13673,501021021-364414,00.html
Losari Coffee Plantation:
http://www.time.com/time/asia/magazine/article/0,13673,501021021-364417,00.html
Art everywhere:
http://www.time.com/time/asia/magazine/article/0,13673,501021021-364415,00.html
---
To return to the opening page and index

push here
---