A lifelong tribute to Cambodia's Angkor
John McDermott found his calling in the ancient temples and jungles of Cambodia, where his stunning photos of Angkor have become synonymous with the world wonder. Perhaps the second-most significant export from Little Rock, many are calling him the Ansel Adams of Angkor.
By Ron Gluckman /Siem Reap, Cambodia
---
P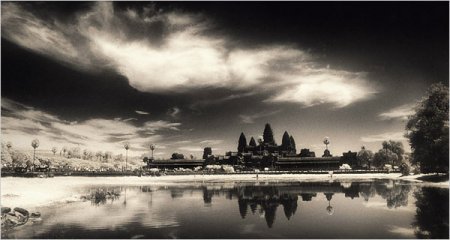 ERHAPS THE SECOND MOST SIGNIFICANT export from Little Rock after Bill Clinton, photographer John McDermott first visited Cambodia's Angkor temples in 1993. The world wonders had a lifelong impact, and McDermott has subsequently become synonymous with striking images of these magnificent ruins.
McDermott moved to Siem Reap, close to the temples, running a trio of art galleries. One showcases his photos of Angkor, the only foreign works in the National Gallery in Phnom Penh. Now, over a hundred of his evocative images have been collected in the coffee-table book: "Elegy; Reflections on Angkor."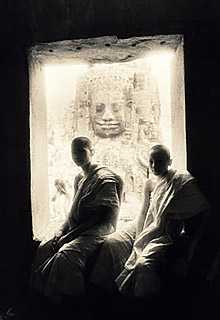 The ashen-haired American, who has been described as the Ansell Adams of Angkor, calls himself a "pictorialist at heart, the photographic equivalent of an impressionist painter." Indeed, his pictures are hauntingly lit more like paintings than photographs, conveying not only the dazzling grandeur of Angkor, one of the world's great capitals a millennium ago, but also its grim darkness.
His arresting style owes much to the unusual infrared film used to capture the original images, which seem centuries rather than a decade old. But McDermott also had a keen visionary sense about the future of Cambodia, still caught in its cycles of war when he first visited. He realized, correctly, that a tourism boom would soon bring millions to this jungle-shrouded world wonder.
Climbing over rubble, and through vines, he managed to capture the temples in an eerie state of emptiness – as they have stood for centuries. Now, in "Elegy," the same spectacular scenes will survive forever.
Details:
"Elegy; Reflections on Angkor" 256 pages; $70
www.asiaphotos.net/elegy
---
Ron Gluckman is an American reporter who has been living in and covering Asia since 1991. He has visited Angkor over a dozen times since 1993. This piece was written for Time Magazine in April 2010.
All pictures by Ron Gluckman.
---
To return to the opening page and index



push here
---