Kep - Cambodian coastal chic
Hailed as Asia's new Riviera, the southern coast of Cambodia is booming, with new resorts, restaurants and spas opening by day. Tourists mainly swarm the southern port of Sihanoukville, but the chic set head to Kep, a sleepy seaside town that has been the in-destination for decades.
By Ron Gluckman /Kep, Cambodia
---
SOMETIMES LIKENED TO ASIA'S NEW RIVIERA, Cambodiaís southern coast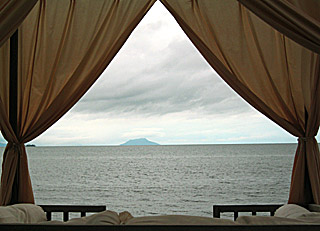 is an unspoiled stretch of seashore on the cusp of a boom.
While most attention currently focuses upon Sihanoukville, and the bustling beaches around the countryís only deep-water port, the smart set is focusing on Ė and flocking to - the sleepy seaside town of Kep.
Long before former Cambodian King Sihanouk directed the building of a road linking his capital to the beach town that took his name, Kep was the getaway of choice for sun and sea lovers in this laid-back part of French Indochine.
Originally called La Perle de la CŰte d'Agathe, this was unquestionably the countryís hippest resort area right through the 1960s.
You still spy ample reminders of that era in beach villas with curved stairways, porthole windows and other art deco features. Kepís serenity was smashed by decades of Cambodian fighting (many abandoned villas still show mortar holes), but some old estates have recently been reborn as smart resorts, and the central promenade and main beach restored to its heyday of half a century ago.
Getting there:
Kep is about three hours drive from the Cambodian capital of Phnom Penh. (Taxi for $30 and up; hotels can arrange). Kep is only 20 minutes drive from the riverside town of Kampot, and a new border crossing allows land travel to the Mekong Delta in Vietnam.
Where to Stay: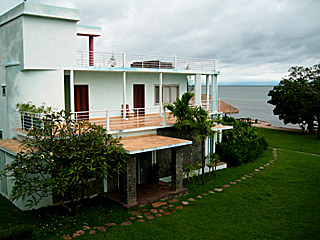 Knai Bang Chatt (Phum Thmey Sangkat Prey, Thom Khan Kep, Kep City; 855-12/349-742; www.knaibangchatt.com; rooms from $200) With stunning minimalist architecture, this tiny resort perched at absolute landís end has become the hippest boutique hotel in Cambodia. Originally launched by Belgium art dealer Boris Vervoordt as an exclusive residence, the 11 rooms are starkly, but smartly outfitted. Facilities will soon expand with a beach and sailing club, and over-water restaurant in traditional Kep wooden house on stilts.
La Villa de Thomas (Central Beach, Kep; Tel: 855-12/1702648; E-mail: reservation@lavillakep.com; bungalows $25-40) Of-and-off restoration has returned this 1920s French estate to a semblance of its former grandeur, with unbeatable location on three wooded acres above Kepís central beach. Partially completed, a bar and restaurant are soon to open inside the original three-story brick mansion.
What to do: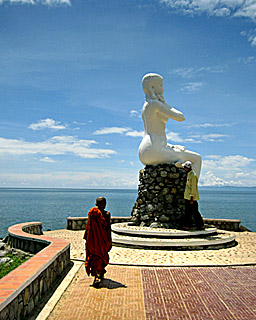 Kep was designed for peaceful contemplation. There is still not much to do except walk the shoreline, soaking up dreamy views of nearby islands. The biggest, dominating all, is Phu Quoc, Vietnamís new holiday isle, soon to be accessible by Cambodian ferry, according to a deal signed in late October.
In the meantime, daytrips can be arranged to nearby Koh Tonsay (Rabbit Island), where lunch is served on the sand while you snorkel in clear-blue water.
Kampot, 20 minutes away, is a tranquil river town, with a smattering of colonial architecture testifying to its role as former provincial capital. From there, jeep tours rattle up the rugged road carved through the jungle to Bokor, where an amazing ghost town contains relics of a 1930s resort unrivalled in the region for its classic brick church and five-story hotel-casino with commanding views over the sea.
Tours can also be arranged to Kampotís black pepper plantations, which put Cambodia on gourmet maps nearly a century ago.
Where to eat:
Resorts serve a mix of western and Asian cuisine; Knai Bang Chatt provides set meals served country-style on an enormous plank of rough-hewn wood (Reserve in advance).
The Veranda (855/12 888619), a hillside resort offering stone cottages and tree-house rooms, has panoramic coastal views and the deepest wine cellar.
For local flavor, head to waterside shacks for heaping platters of Kepís infamous crab, in green peppercorn from nearby plantations. Add squid, shrimp and fish fresh from the nets; $6-8 per dish.
---
Ron Gluckman is an American reporter who has been living in and covering Asia since 1991. He is currently based in Bangkok, but spends much of his time in Cambodia, where he wrote this piece for Travel + Leisure (Southeast Asia) in Februrary 2008.
All pictures by Ron Gluckman.
---
To return to the opening page and index



push here
---