Smooth as Silk
A former foreign adviser finds that best thing aid agencies can do is to leave countries alone; or, abandon the excuses of diplomacy, and do the dirty work. Carol Cassidy chose the latter course, and Laos is all the richer as a result
By Ron Gluckman / Vientiane, Laos

F

ROM THE BASEMENT OF THE OLD FRENCH MANSION IN VIENTIANE comes the clatter of wood on wood. The commotion is an uplifting contrast to the quiet pace of Asia's most laid-back capital. Two dozen Laotians labor at old-fashioned looms, while others twist long silk fibers into thread, then assemble the delicate strands into patterns that have been prized for centuries before this stylish villa was built in the 1920s.

Trend-setters might find the factory hopelessly out of date, while bankers wouldn't blink an eye at it's limited boutique-scale production. Yet, Lao Textiles represents a rare marriage of foreign expertise and local enterprise. Aid agencies always talk about creating economic opportunity in impoverished areas. Laos is one of the world's poorest nations, making this silk factory a most unusual success story.

The reason is Carol Cassidy, a spunky American miracle worker who has done as much for Laos silk as Jim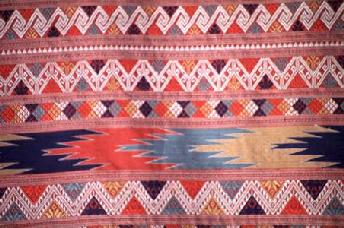 Thompson did for silk production in Thailand. "So many people said it wouldn't work," says Cassidy, smiling as her female staff reproduce designs passed from mother to daughter in Laos for generations, designs that came dangerously close to disappearing altogether from the art world. "They said that the silk was gone, the skills were gone, and there was no market for this."
Instead, custom-woven fabric from Lao Textiles now hangs in embassies around Asia and is collected by some of the world's finest art museums. More importantly, over 200 people are employed in a traditional industry that almost ended in Laos.
Once among the three largest silk exporters, Laos saw its silk production end with an influx of mass-produced fabrics long before Cassidy arrived in 1989. "Markets were filled with garish things," says Cassidy. "It seemed so sad. Laos had such a rich silk industry and vibrant traditions. It seemed a great loss."
Cassidy was determined to help Laos regain its productivity. In fact, that was the original reason that she was sent to Laos with her Ethiopian husband, Dawit Seyoum. The pair met in Africa, where both worked as aid workers. Cassidy was a specialist in rural programs, particularly geared towards economic opportunities for women. "We worked in dirt villages, with miner's wives," she recalls. "Sometimes we would make spinning wheels from bicycles. This was very basic development."
Cassidy was a natural. From a small city in New England, she had studied textiles as a teen in Norway, where she later worked at the national museum. "I learned everything, to shear sheep, to spin and weave, even loom construction."
This early experience prepared her for Africa, where she absorbed all the native forms. Later, she did the same in Laos, where she had been sent by the United Nations as part of project to wean opium farmers off the illicit crop. Silk seemed a perfect substitute, except Laos had lost all its weaving expertise.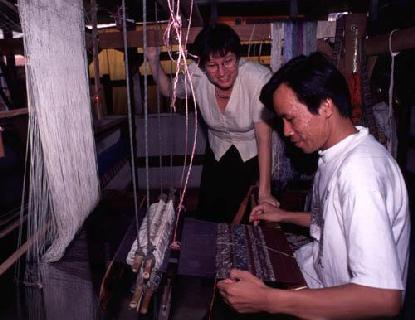 Cassidy undertook extensive research, uncovering centuries of story-telling done in silk. She can recount wedding patterns from Laos' northern regions, or appeals for rain that have been woven into tapestries of southern rice farmers. Photographs and drawings of old designs hang everywhere in her workshop. She is considered the world's leading authority on Lao weaving.
However, Cassidy soon grew tired of the slow wheels of bureaucracy and the high costs so often associated with helping needy countries. "I just didn't think you needed the big salaries and the business-class tickets to help people," she explains.
Leaving behind her job security, she invested her life savings in what is generally acknowledged as the first entirely foreign-owned private company in Laos, which had started down the road to reform even before neighboring Vietnam. Laos was then in the early stages of its own style of perestroika - chintanakan mai, or "new thinking." Still, the going was problematic for pioneers like Cassidy.
"This was 1990, and I applied to the government for a 100 percent, foreign license with no partner, no joint venture, just me and my idea," says Cassidy, who looks more like an American housewife than globetrotting trailblazer. The mother of two favors horn-rimmed frames and conservative colors. Yet she is animated whenever the talk turns to silk or Laos. "A lot of people thought I was crazy. This hadn't been done before, and they had no idea if it would work. Neither did I."
Cassidy spent years building the business from scratch. "It was difficult to find villages that would trust that if they made the silk, I would really buy it," she recalls. Cassidy managed to sway entire villages to the kind of crop substitution that multi-national agencies had been advocating regionally for decades. Her first delivery arrived in 1991, a grand total of 20 kilos; Lao Textiles now takes 1500 kilos per year.
Cassidy started her own weaving workshops, training a handful of Lao woman. While still an active art form in many parts of the country, the craft had grown neglected. Villages in olden times might have been defined by their unique styles, while the best weavers often became important village figures, or made the best marriages. This created a competitive factor that propelled the craft ahead.
Modernization had supplanted such standards. Few bothered with the laborious process of twisting silk fibers into strands for weaving when synthetic thread and yarn was readily available. The equally time-consuming task of mixing natural dyes from leaves and pigmentation had also become a forgotten art.
"I realized I had to intervene at every level," says Cassidy. She helped farmers produce the raw material she wanted, than trained workers on every facet from spinning to dyeing and weaving. She even designed her own looms.
Success didn't come overnight, in fact, Cassidy didn't even start selling her work until 1992. By the end of that year, she participated in her first exhibit, in Paris. Since then, she has mounted celebrated shows in Sydney, Hong Kong and New York.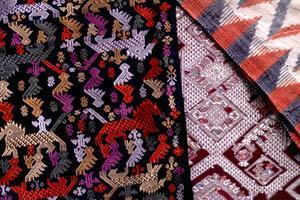 Timing was key to her success. The ever-fickle fashion world had latched onto eco-consciousness and still is celebrating natural fibers, dyes and designs. "All our silk is processed by hand, and we design our products around the raw material, including all the inconsistencies," she says. "We've definitely benefited from the eco-bandwagon, but this isn't a trendy product. Silk has timeless appeal."
Cassidy is often likened to Jim Thompson, the American who helped develop the Thai silk industry before disappearing mysteriously and leaving behind a huge fortune. While she bristles at the comparison, it's an understandable one to make.
Both are foreigners who have successfully taken Asian silk to worldwide markets. Yet Cassidy has achieved only a fraction of the commercial success of Thompson. There are other contrasts that make Cassidy's accomplishments seem all the more remarkable. He applied his marketing skills to an established industry and worked in a country that had a huge labor force and far greater name recognition overseas.
The major difference, though, is that Thompson was a businessman; Cassidy is a true artist.
While she borrows heavily from traditional Laotian designs, the composition and ultimate creations are her own. "My products are designed around Lao silk, both its fine qualities and inconsistencies. I try to take the essence of the old forms, but I include lot of designs that wouldn't have been seen a decade ago."
Cassidy isn't adverse to applying modern technology in her search to perfect the images of the past. Some designs are drafted on computers, which have also been used to match dyes to colors whose mixes have been forgotten over the years.
With the acclaim has come criticism. Cassidy has been accused of everything from copying old weavings to being an exploitative boss - even though her workers are well paid and enjoy excellent conditions, hence the minimal attrition rate. "Nobody is stealing anything," she says. "I'm keeping the art alive, that's what I say.
"I'm not trying to take anything or claim it for my own. I'm trying to restore the heritage of my weavers' grandparents and make it into something that sells," she says. "I'm turning Laos' technique into contemporary products.
"The way I see it, we're part of history. This is just a new phase and one I'm happy to be a part of. The Laos weavers and I are partners and we each bring our own skills to the mix," she adds. "I think I've covered all the areas of guilt.
"I see it as a merging of cultures more than anything. We're taking from all the different cultures, extracting different elements and putting them all together to create something new."
That's also the assessment of Dorothy Globus, director of the museum at the Fashion Institute of Technology in New York. "These fabrics are a fine example of inherited knowledge being preserved for future generations," said Globus at the opening of Cassidy's show in New York. "Not only has (she) kept alive the tradition of silk weaving by training a new group of craftspeople, she has also made these beautiful textiles known to a far broader audience."
And no greater form of flattery can be found in commerce than competition. Around Laos are springing up a number of small textile factories that offer not only local silk, but also woven cotton. "I'm overjoyed," Cassidy says of the competition. "It's all good business for Laos, and that's good news for all of us."

Ron Gluckman is an American journalist based in Hong Kong, who travels widely around the Asian region for a wide variety of publications. This story appeared in the SAS magazine, and also a group of American Express publications.
For more stories on Laos, one of Asia's most enchanting countries, please click upon Mekong World Wonder, Cinema Splendid, or Land in Slow Motion.

To return to the opening page and index

push here