Getting to the Last Great Place
That's the buzz about Mongolia. A great place, but getting there and around isn't easy. Here's a quick guide.
---
GETTING THERE AND AROUND: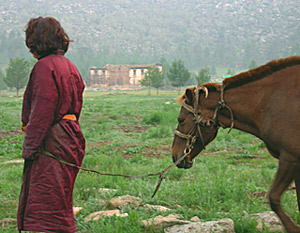 Trains from Beijing take 30 hours in comfortable sleeping carriages (US$60-115), but only run 2-3 times a week, in season. Book at the train office of the International Hotel, on Jianguomenwei, directly north of the central train station in Beijing.
Flights from Moscow, Beijing and Seoul are the only international connections.
Getting around is likewise a chore anywhere outside the capital of Ulaan Baatar, or UB, which has the cheapest taxis on the planet. Flag fare starts at 23 cents, and you rarely spend more than $1-2 around the city.
Outside UB, the infrastructure ends abruptly. There are few buses, or roads. Jeeps are the only mode of movement, rented for 30-40 cents per kilometer. Travelers band together by posting notices at restaurants and guesthouses.
The most reliable way to see Mongolia is by booking with a good operator. Karakorum Expeditions (www.gomongolia.com; Tel/fax: 976-11315655; info@gomongolia.com) has won numerous awards for its keen commitment to environmental and eco-travel, and specializes in mountaineering and mountain bike expeditions. Run by Australian Graham
American outfitters Boojum Expeditions (www.boojum.com) have been in the country since 1994, running rugged horse trips, fantastic fishing excursions and custom-designed programs in all parts of the country.
Probably the largest independent company, Nomadic Expeditions has offices in the US and Mongolia (www.nomadicexpeditions.com) with a huge Mongolian program including nifty add-ons in Bhutan, Tibet and Siberia.
GETTING FED: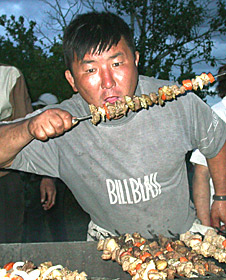 Once an ordeal, eating is now a delight in UB, where inexpensive restaurants serve astoundingly diverse cuisine. Among the best: Silk Road, serving zesty cuisine from the entire ancient highway; Taj Mahal, for tandoori and North Indian; numerous Korean restaurants near the state department store, offering a twist on the hotpot that originated in Mongolia. For lunch, Millieís by the Circus is THE place, with great sandwiches, smoothies, Mexican and grilled specials.
Among several brewpubs, both Chinghis and Khanbrau serve outstanding local beer, along with a hearty selection of sausages, kebobs and other pub grub.
GETTING BED:
Accommodation may be Mongoliaís biggest shortcoming. In UB, the Byongal, with its Soviet deco, and Ulan Baatar Hotel on Sukhbaatar Square are the old mainstays, offering Soviet-style service at inflated prices. A number of new business hotels just south of Peace Avenue, offer better value.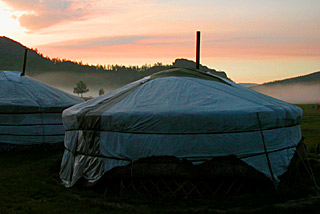 Outside of UB, the pickings are pretty non-existent. Around Lake Khovsgol are a sprinkling of lodges, including the nifty Natureís Door, run by Britainís 4th World Adventure (www.4thworldadventure.com)
Otherwise, itís ger camps, basically a bed with three square meals of mutton. The exception is Three Camels Lodge in the Gobi Desert, the countryís best resort and well worth a detour.
GETTING GIFTS:
Shopping: Mongolian hats, musical instruments and clothing make great gifts; find them at the top floor of the State Department store and at many shops on Peace Avenue.
Other souvenirs are hard to find. I only found Visit Mongolia T-shirts at the airport, where the oddest item Iíve even seen in duty free was decks of Sadaam Hussein playing cards, as produced by the Americans in Iraq, but copied for cheap consumption (33 cents) by the Chinese.
---
Ron Gluckman is an American journalist who has been roaming around the Asia since 1990 for a variety of publications, including Destinasian (www.destinasian.com) a travel magazine that ran his piece on the Last Great Place along with this information box in December 2003.
---
To return to the opening page and index



push here
---