Vietnam's cool coastal getaway
With spectacular sand dunes, the rugged coastline around Mui Ne might have remained Vietnam's secret seashore, if only for the winds. Blowing across the cove, they are perfect for kite-surfers, who are flocking to this hip hideaway.
By Ron Gluckman /Mui Ne, Vietnam
---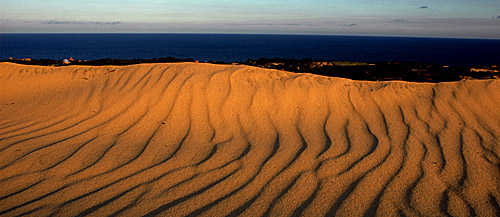 WINDS HAVE BUFFETED MUI NE for eons, shaping the surrounding sand into spectacular dunes, carving out picturesque coves, and propelling surf along the otherwise sleepy shores of this bucolic beach resort a few hours drive from Ho Chi Minh City.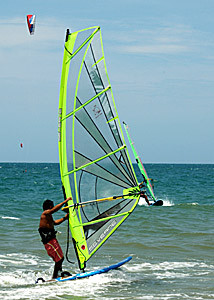 Just a decade ago, Mui Ne was dirt paths winding through towering palms. Few other than dune enthusiasts knew of the vast sand fields and spectacular red canyons in a region some dubbed Sahara of Southeast Asia.
Mui Ne might have remained the region's most secret hideaway. If only for the relentless winds.
Wind-surfers first scouted these postcard-perfect coves, but kite surfers put Mui Ne on the map. A relatively-new sport, kite surfing puts people on boards, propelled across the ocean by huge kites soaring like sails overhead. The jolt is wave-jumping, with kite-surfers going airborne for a few, euphoric seconds.
"The record is 13 seconds," notes Anthony Bunting, on a quick break from riding winds up to 25 knots. The Melbourne native reckons he soars up to five seconds. "It's like flying," he says. "The feeling is exhilaration."
Kite-surfers typically speak in such breathless tones, and this is no lip service. Once bitten by the bug, aficionados are known to set aside jobs, relationships, entire lives to chase perfect wind.
"It has that power, to change lives," says Bunting, who quit work to devote himself to kite-surfing. He reckons he spent six months last year chasing waves. Like many, he found his thrill in Mui Ne.
Pascal Lefebvre has watched Mui Ne blossom. When this French hotel worker moved a decade ago to nearby Phan Thiet, an established beach resort, Mui Ne was largely undeveloped and little visited.
His wife, Pham Thi Hong, started one of the first resorts, Full Moon. A tiny hideway of a few huts, it now is central a vibrant beach scene with Jibes, the largest kite-surfing school.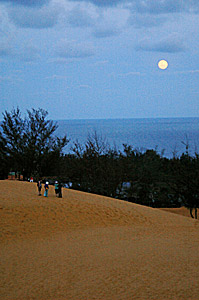 Lafebvre figures the beach boom has just begun, with room for another dozen kite-surfing schools on Mui Ne's shores.
Liz Kaiser, who runs one in Northern Ireland, plans to expand here this season. She has scouted sites as far away as Africa. "Mui Ne is the best," she says.
The reason isn't only the strength of the wind, but the way it blows. Wind often sweeps towards or away from shore, but Mui Ne boast spectacular cross winds, meaning longer rides for kite-surfers.
Yet Mui Ne offers ample appeal beyond from kite-surfing, which peaks from November through April.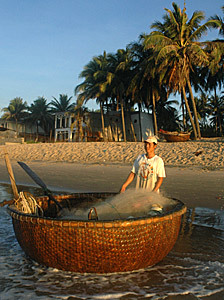 The surrounding area sets desert landscape against lush hills, like nature's own golf course. Besides Ocean Dunes at nearby Phan Thiet, which claims some of the area's top resorts, Mui Ne is getting its own Sea Links in a $50 million project to add luxury villas and a five-star resort.
For now, Mui Ne remains a decidedly low-key resort, one of Asia's best-kept secrets. Stringent requirements keep the beach free of bright lights and bars blaring Bob Marley music.
"This is a great place to chill," says Nick Peters, publicist for the Sailing Club, which runs resorts in Na Thrang and Mui Ne.
Party crowds prefer Nha Trang up the coast. At least for now, leaving Mui Ne a peaceful place to soak up the quaintness of provincial Vietnamese life, stroll the shore, and watch local fishermen in their unique small woven basket boats.
Peters sums it up: "Mui Ne is a place to get away from it all."

---
Ron Gluckman is an American reporter who is based in Bangkok, who roams around Asia for a number of publications, such as Centurion, a publication for American Express cardholders, which ran this story in late 2006.
All pictures by Ron Gluckman
---
To return to the opening page and index

push here
---