The cool, pull of Pakse
Gateway to the lush

Boloven

P

lateau

and close to the stunning pre-Angkor ruins of Vat Phou, on a hillside about the charming colonial town of Champasak, the sleepy southern Lao town of Pakse has long been treated as a staging area. But, with increasing traffic, the riverside city is perking up and turning into an attraction all its own.

By Ron Gluckman /Pakse, Laos
---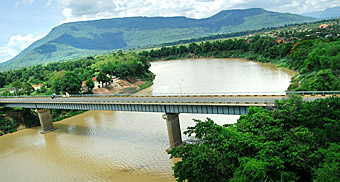 DEEP IN SOUTHERN LAOS,
nestled in spectacular scenery, Pakse has long been a destination of adventurous travelers, rewarded after a long, bumpy journey with views of some of Asia's biggest waterfalls and treks among hill tribes and the coffee plantations of the Bolaven Plateau.
Bridges and better road access have improved links to neighboring nations, while increased flights make Pakse an emerging regional hub. Still, most treat southern Laos' largest town as a staging area, visiting nearby attractions then on to the World Heritage ruins of Vat Phou on a hillside above Champasak, and the Four Thousand Islands dotting the Mekong River, both on the way south overland to Cambodia.
Only a trickle linger. Those that do discover a tranquil riverside town little changed for decades. Chosen late in the French colonial period as capital of Southern Laos, Pakse has a fine collection of 80-year old tropical mansions interspersed with colorful temples, all picturesquely perched on the banks of a pair of rivers, framed by jungle-clad mountains.
When to go: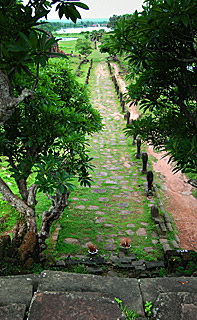 November to February are the coolest months during dry season, but some fancy the wet period, when visitors are few and the verdant landscape is teeming. Roads can be muddy in the height of rainy season, July into October, but higher water makes river travel a better option.
Getting there:
Besides domestic flights from Vientiane and Luang Prabang, Pakse also has air links to Siem Reap in Cambodia and Bangkok. Overland, there are several night buses from Vientiane, and convenient connections across the border from Ubon Ratchathan, Thailand, and south to Cambodia.
Where to Stay:
Not many places often lodging truly fit for a king or queen, but Champasak Palace Hotel (Southern Road 13; 856-31/212 263; doubles from $30) is a genuine palace, originally built for the royal family. Service can be slow, but the views over the river remain regal.
Another royal descendent recently returned to Laos with French husband to restore Pakse Hotel (Street 5, Bane Watlouang; 856-31/212-131; www.hotelpakse.com; doubles from $20), formerly a backpacker favorite, into comfortable mid-range bargain. Centrally located, the hotel is wired, boasts a good travel desk, and fabulous rooftop bar with nice live jazz on occasion.
Pakse's oldest inn, Sala Champa Hotel (Lakmeung Village; 856-31/212-273; doubles from $25) retains a massive wood staircase and expansive terraces common from the 1920s, when it was built. Garden rooms are small and dingy; upstairs rooms are breeziest and biggest.
What to Do: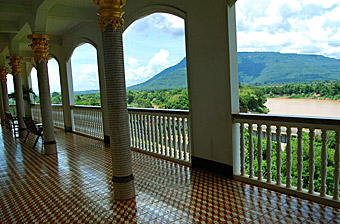 Most sites can be visited by foot in compact, central Pakse, but motorbike rental ($6-8 per day) makes it easy to tour the river areas (perfect for sun rise and sunset) and countryside.
There are two dozen temples in Pakse. Wat Luang is the largest and one of the oldest; on site is an old wooden monk's college with spectacular carving.
About 10 kilometers from Pakse is Phou Bachieng Hill (856-20/394-6161), a hapless 9-hole golf course that opened in 2006. The setting is scenic, though, and there are 30 bungalows providing green-view lodging ($20).
A visit to Vat Phou (one-hour by taxi, $70 roundtrip) is a must. Believed to be the birthplace of Khmer civilization, this is a stunning site, atop a mountain with dazzling views. An easy daytrip, although many prefer to stay in the charming colonial-era town of Champasak.
Where to eat/drink:
For a breezy night, try the riverboat restaurants. Best of the lot is Khem Khong (on the Mekong River, by junction of Road; 856-20/992-0180), serving everything from southern Lao spare ribs to blackened Mekong fish in chili oil, and lots of Lao beer on a big floating barge.
No visit to southern Lao is complete without sipping the local coffee, which fetches top dollar on the global market. Café Sinouk (13 South Road; 856-31/213-601) offers a wide range of varieties, hot or cold on site, or bagged beans for a flavor-filled souvenir. Also breakfast and light snacks.
---
Ron Gluckman is an American reporter who has been living in and covering Asia since 1991, roaming widely around the region for various publications, including Travel + Leisure magazine, which ran this story in the Southeast Asian edition in January 2009.

Words and all photos copyright RON GLUCKMAN
---
To return to the opening page and index



push here
---