Penang on the Rebound
The refurbishing of the Shangri-la Rasa Sayan is only the first thrust in a welcome renaissance for a Malaysian Island that, decades ago, was Asia's first, and foremost resort. With spectacular fusion food, great hikes and a delightful ménage of Chinese, Malay and British architecture, Penang is once again on the rise.
By Ron Gluckman/Penang, Malaysia
---
M

Y "JOURNAL TO CHI" began with a serene stroll on a wooden walkway. Bright Birds of Paradise lined the elevated path, and a loud banter of birds came from a nearby strand of century-old Rain trees.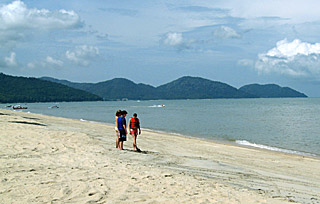 Just beyond, the sea was crashing to shore, filling the air with delicious salty smells. Long before I heard the first strains of watery background spa music or had my welcome foot wash, my chi was thoroughly chilled.
Still, Syed insisted that we visit Chi Spa, 11 sumptuous villas that form the signature statement of Shangri-La Rasa Sayang Resort & Spa in Penang. And I couldn't resist Syed because, well, he was my butler. He did seem to know best.
Chi is a Chinese term (pronounced chee, and often spelled qi) that refers to the natural energy of the universe. Various disciples, from architects to meditation teachers to back rubbers, all urge the proper alignment. I must have seemed way off kilter, because Syed had scheduled a whole series of body work on my Journey, over three hours in all.
Why refuse? Syed Shahar had been spot on from the second he welcomed my wife and I to the ocean-side resort, promising – and delivering - ample pampering.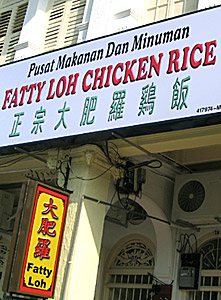 Strolls along Batu Feringgi Beach's golden sand evolved into sunset cruises. Picnic lunches under the massive, fern and vine-covered Rain trees, became decadent feasts. Like a magician, Syed pulled satay sticks, champagne and fresh fruit from the wicker hamper he placed on blankets with a perfect sea view. Already, my chi seemed in perfect alignment.
Getting into a tranquil mood is effortless at Asia's newest luxury resort. Or oldest, since it actually opened in 1973. Shangri-la's first resort was also among Asia's first, luring international travelers to an island retreat that served the British for centuries, and an exotic mix of Arab, Indian and Malay traders before.
You still feel the disparate influences not only in the wide array of historic architecture – grand colonial edifices, colorful temples devoted to various deities and Asia's finest preserved shop-houses – but also the food.
Nyonya Baba, Penang's flavor-filled cuisine, Chinese dishes sparked by exotic Indian, Malay and Portugese spices, might be the world's first fusion.
Ensuing decades took their toll not only on the resort, but the entire island. Tourist traffic slackened as the buzz was about new beaches, notably Langkawi, only a couple hours away by regular boat or 20 minutes by air.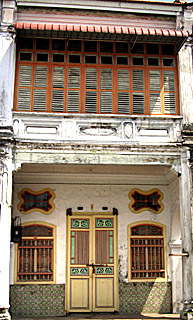 This makes the restoration of the Shangri-la all the more daring. "A decision had to be made about the direction of this property," says general manager Arbind Shrestha. "As Asia matured, other destinations superceded Penang. Our business wasn't bad, but it wasn't growing. We decided to take a radical approach, not to just renovate, but redevelop and reposition the resort."
Closed for nearly two years, reborn is a more accurate description. When the property reopened last fall, long-term guests might have been at a loss. New landscaping added pathways and a second pool. But inside is where the radical changes were wrought.
Walls between rooms were ripped out in the new Rasa Wing. Besides doubling space and adding frills like balcony tubs, the opulent Rasa is a resort in itself, catering to high-end guests with exclusive services like private pool, concierge, High Tea in a luxurious lobby with 24-hour free drink service. Plus pampering from butlers.
A total of 100 Malaysian Ringit was spent, which could have financed a new 200-room hotel, according to Shrestha. Instead, the Shangri-la shrunk from 514 to 304 rooms.
The miles of marble in the double-sized bathrooms (with four-head showers: rain, massage, and a pair of nozzle sprays), the thick carpet and dazzling mix of local and regional art from hallways to gleaming lobby all add up to a sizable gamble, more risky considering not only the faded pull of Penang, but the huge challenge in re-branding, as seen so often in notorious failures from New Coke to the Concorde.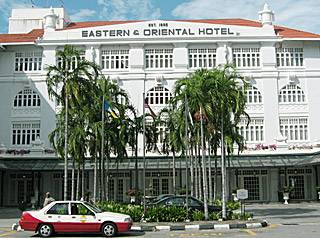 Around the island, hotel managers grumble about stagnant occupancy and low rates. At the resplendent E&O Hotel in the historic capital of Georgetown - built by the same Sarkies brothers who created the Raffles in Singapore and Strand in Yangon – itself grandly restored for 100 million RM in 2001, general manager Michael Saxon admits rooms regularly sell for under $100, often much less. This may be a record for world-class heritage hotels.
Critics point out that Penang's beaches were never much to write home about. A batch of hotels near the Shangri-la share what many call the Golden Sands, yet the beach pales in comparison to those on Bali or Phuket. Yet, Penang's selling point isn't sand.
The island claims a rich history unrivaled in Asia. The British reportedly cleared the land for Fort Cornwallis (named for the general who lost the larger American colony) in 1786 by firing canons filled with gold coins into the jungle; the scrum of excited locals tramped down the bush.
Radiating from the fort in every direction are Chinese shop-houses and Indian, Burmese, Thai and Chinese temples that showcase the multi-ethnic mix of this island. Most residents are Chinese, but English is widely spoken.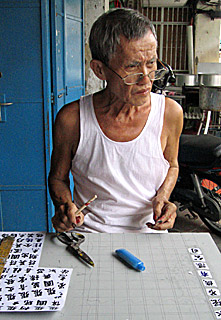 The tourism slowdown has actually heightened preservation, according to Teresa Pereira Capol, of the local heritage association. Buildings that might have been torn down in boom years survived, and are now protected.
Huge sections of Georgetown remain a stroller's paradise, of old framing and printing shops, and pharmacies where walls are lined with huge, dusty beakers, seemingly as if from a century ago.
Yet, a recent IT boom on the island has stirred growth, with a bridge now linking the island to the mainland, and another to be added soon. Meetings and incentives have rediscovered an island with an established mix of restaurants, shopping and other attractions. Increasingly, tourism is also showing signs of new vigor.
Since reopening in late September, the Shangri-la has been booked solid, with the Chi Spa leading the way in returning Penang to its former stature as premium Asian destination. And a new buzz is noticeable on the beach. This year, the Shangri-la will be joined by the Intercontinental, the first global chain to embrace Penang in ages.
Who knows, there may be gold left in this old island yet.
---
Ron Gluckman is an American journalist who is based in Bangkok, roaming around Asia for a wide variety of publications around the globe. This piece ran in Destinasian in February 2007. This is the original version of the story.
---
To return to the opening page and index

push here
---