The Fort Knox of Rice
The Khmer Rouge not only massacred their countrymen in Cambodia, they also destroyed generations of vital rice stock, but the seeds have been saved by scientists who are breeding new rice varieties in a race to stay ahead of world starvation
By Ron Gluckman / Los Banos, the Philippines
---
T

HE KEY TO STABILITY IN INDOCHINA MAY LIE not in the hands of United Nations peacekeepers, but in vaults 110 kilometers south of Manila. Here, stored in safe deposit boxes, lie the tiny, white seeds that are the future of Cambodia.

When the Khmer Rouge committed the genocide of its own people, it also destroyed the country's crops and fertile fields. Land cultivated for rice production fell from 2.5 million hectares in the 1960s to 500,000 hectares by the end of the 1970s. More ominous than the loss of cropland was the drop in seed production. Hundreds of rice varieties vanished altogether. "The Khmer Rouge regime," says rice expert Harry Nesbitt, "put Cambodian agriculture 30 years behind the rest of the world."

Fortunately Nesbitt and his colleagues at the International Rice Research Institute (IRRI) in Los Banos had the foresight to collect the entire national collection of Cambodian rice before the Khmer Rouge's reign of destruction began. Nearly 800 native rice varieties have been returned to Cambodia since 1986, free of charge.

War-ravaged Cambodia is not the only country indebted to IRRI, the world's largest rice treasury. IRRI vaults are overflowing with rice richness, from Indian varieties able to weather monsoons to hearty new strains for drought-prone regions of Africa. Experimental hybrids from China are stored alongside the rices of Sri Lanka, Pakistan, Senegal and Nepal. In all, nearly 83,000 varieties are protected at the earthquake-proof center, reportedly the strongest building between Tokyo and Frankfurt. A duplicate collection is maintained for safekeeping in the U.S. in Fort Collins, Colorado.

Storage is the simplest of the center's activities. IRRI's primary mission is to increase rice production. Scientists in surrounding fields experiment with seeds and cultivation methods designed to improve yields, resistance to disease and rice versatility. Trainees come for seminars on modern rice cultivation techniques. Members of national rice institutes, many trained at IRRI, oversee seed collection and rice policy in their own countries.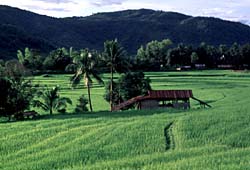 About 72 percent of all modern rice varieties can be traced to the institute, which was established in 1960. Typical of its success was a rice hybrid, called IR8, that doubled yields in the 1960s. IR8 wasn't much of a looker -- a semi-dwarf cross between Peta, a tall, Indonesian variety with high vigor, seed dormancy and resistance to insects and disease, and Dee-geo-woo-gen, a high-yield, short-stature rice from Taiwan. Its appeal was a stiff straw with many heads that didn't topple when covered with fertilizer. Long since phased out, it is still considered the "miracle rice, our first superstar," says IRRI staffer Jed Natividad.
However, has its price. Genetic diversity is on the decline worldwide. Sri Lankan farmers, who once grew 2,000 varieties of rice, now favor five main kinds. India reportedly claimed an astonishing 30,000 rice varieties; today 75 percent of its production comes from fewer than 10 types. One of IRRI's major projects involves genetically mapping rice characteristics and putting the data into a computer so that those that are no longer planted will not disappear. "We're constantly collecting rice samples," says Michael Jackson, head of IRRI's genetics resources center. "The idea is to conserve whatever is out there."
The institute is also working under tight budget constraints. "We're victims of our own tremendous success," says Natividad. The annual budget of $42 million has been frozen for years, mandating severe staff cuts, according to Michael Goon, deputy director general for finance and administration. The number of staff at the tree-lined institute near the University of the Philippines has decreased from 2,300 before 1989 to 1,870 today. "Part of the problem is that the public perceives we are doing the job so well, we have eliminated the need for the institute," says Goon.
While production gains remain IRRI's goal, Natividad says the challenge is to develop new rice varieties and farming methods for marginal lands and difficult conditions. "We've already answered the predictions of famine for the 1960s and 1970s, so much so that some people think we licked the rice problem," he says. "But population is still growing, so we must continue to work to increase yields and bring in new areas of cultivation."
That effort includes IRRI's ongoing project in Cambodia. In addition to returning native rice strains, the six-member IRRI team in Phnom Penh provides training and research facilities to Cambodian agronomists. Project manager Nesbitt says rice production has increased by 20,000 tons a year as a direct result of their work, which is scheduled to continue through mid-1996.
"The future is extremely bright," says Nesbitt. "New technology is now in place to take advantage of a peaceful environment." Should the Khmer Rouge once again wreak havoc in Cambodia, Nesbitt indicates that IRRI will -- once again -- do what it can to minimize the damage. "Where there is a will for utilizing assistance," he says, "IRRI shall find a way to provide it."
---
Ron Gluckman is an American journalist based in Hong Kong, who travels widely around the Asian region for a variety of publications, including Asia, Inc., which ran this story in 1992. For additional stories by Ron Gluckman from the Philippines, please click on Nur Misuari and Waterworld.
---
To return to the opening page and index

push here
---
[right.htm]