BUND on the REBOUND
With its colonnaded trading houses, old banks and opulent hotels, Shanghai's Bund was once the wealthiest, most decadent district in China and the entire Far East. Since reforms spurred growth in the 1990s, Shanghai has boomed, but the Bund has remained shut down, a kind of colonial eyesore. But new projects and an anniversary for a pioneer recently had people partying in the Bund, just like 1939.
By Ron Gluckman /Shanghai
---
"THE BUND HAS THIS UNDENIABLE GLAMOUR," says Michelle Garnaut, who personally helped breathe color and glamour back into the cityís trademark riverfront esplanade.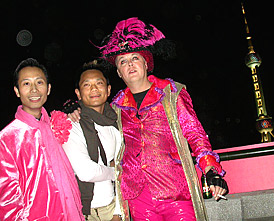 Her restaurant, M on the Bund, marked its fifth anniversary in February with an over-the-top celebration for 1,200 guests, some flying in from London, New York and Sydney. The guests wore feather boas, silk, velvet--even bunny ears. To keep in line with the partyís theme, everyone wore pink.
While Shanghai is famed for celebrations ranging from pink soirees to red-light revelry, the Bund hasnít seen this kind of partying in a long time. In fact, just five years ago, when Ms. Garnaut came to Shanghai from Hong Kong, even opening a restaurant on the Bund was a dicey proposition. "People said I was crazy," Ms. Garnaut says. "The Bund was dark and dingy. This was a real risk."
But she soon reaped the rewards. With its wholesome Western food and glamorous setting, M was an instant hit, with local Chinese making up about half of its clientele.
However, rather than kick-start redevelopment of this uniquely historic district, the restaurant has long seemed like a thumb of success poking at a sore spot. From Mís rooftop balcony, the well-heeled would look over the Bundís stately colonnaded landmarks and see only shuttered storefronts and run-down office buildings.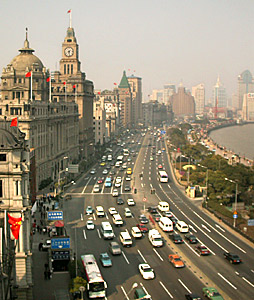 This was a sad fate for what was once the wealthiest, most refined district of China. In the first half of the 20th century, the Bund was dotted with palatial trading houses, banks and office buildings. At night, lively music filled clubs and ornate hotels.
This lasted right up till the end of the 1940s, when the Communists took over and partying and making profit came to an abrupt end. And the lights went out on the Bund.
In the 1990s, Shanghaiís renaissance left the Bund behind. Development swept into Shanghai, but always elsewhere. Shopping malls sprouted up on Nanjing Road. Tall towers and Greek statues rose helter-skelter in Gubei. And the banks came back, but bypassed the brownstones on the Bund that formerly delineated the Wall Street of China for upstart Pudong across the river.
The Bund, meanwhile, remained quiet and deserted. This discrepancy may be traced back to the Bundís symbolism. In the past, much resistance to reviving the area had to do with what the Bund represented: a district built by foreigners who profited from concessions forced upon a weaker China.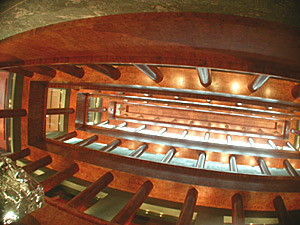 Now, after a half-century hiatus, developers are finally moving in. Last weekend also marked the opening of a lavish art gallery at "Three on the Bund," which is an old stone tower completely revamped by famous architect Michael Graves.
"Three at the Bund" will be a playground for the privileged--bringing back memories of the Bund in its heyday. With over seven floors, it will sport an Evian spa, designer showrooms, rooftop jazz nightclub and slew of swank restaurants including one by Jean-Georges Vongeritchten, darling of the world culinary set.
Developers say the project costs $30 million, although locals say the total is closer to $100 million if you include the property price. No expense has been spared, from a dazzling multi-story interior atrium, to state-of-the art performance spaces, to bathrooms that make you feel like part of an exhibit.
Prices will be no less impressive. Diners can expect to part with up to $150 a head at Jean Georges. And, if you happen to be shopping for a two-story stainless steel rock, displayed in the main foyer, think six figures.
"Weíre not selling merely meals," says "Three" managing director Alan Hepburn. "Weíre selling a contemporary lifestyle experience, one that will allow people to embrace an entirely new set of experiences--of food, fashion, art, music and culture."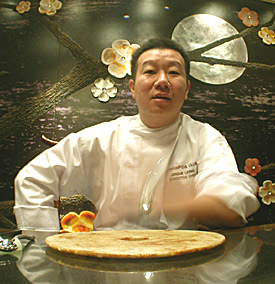 Up and down the riverside district are signs of a welling boom on the Bund. The old Standard and Chartered Bank headquarters is already shut for renovations that will add more boutiques and restaurants. Hong Kong and Shanghai Hotels, owner of the renowned Peninsula in Hong Kong, has long hankered to return to the roots of its name; it sold its Shanghai holdings in the 1940s. After a succession of near deals, the group has reportedly plucked a plum: the old British consulate, on the leafy grounds that recently housed the Shanghai Municipal Government.
These developments signal a major change in outlook. "The city is maturing, internationalizing," says local historian Patrick Cranley. "Shanghai has this distinctive architecture, a blend of Chinese and Western styles. In the past, this has been seen by some as a symbol of foreign occupation. But I think things are moving forward for the Bund at last."
Of course, some say that Shanghai doesnít need any more flashy architecture or sky-high buildings. Still, last weekendís splash of pink was becoming on the old Bund, which has been left a wallflower for far too long. As developers rush back after a half-century break, itís a safe bet that soon the Bund will be rolling in the red again. And people here will be partying just like itís 1939.

---
Ron Gluckman is an American reporter who divides his time between Beijing and Hong Kong, but roams around Asia for a number of publications, including the Wall Street Journal, which ran this story in February 2004.
---
To return to the opening page and index

push here
---