Hot and Spicy
There is hot food, then there is scorching. But when it comes to spicy cuisine, China's Sichuan Province is in a fiery class of its own. Likewise, the mind-numbing flavors of this fascinating part of the Middle Kingdom.
By Ron Gluckman/In Chengdu, Sichuan Province, and Chongqing, China
---
MY LIPS ARE SCORCHED. MY STOMACH SIZZLES. I'm soaked from brow to toes. And the meal has barely begun.
Tonight's sauna-style supper is the local specialty, hotpot, yet the name only hints at the searing cuisine of Sichuan, China's spiciest province.
Dinner starts innocently with the arrival of platters of fatty-red meat and mounds of fresh green vegetables. Seconds later, all swirl around a tabletop wok billowing steam like a witches' cauldron. Hell's kitchen couldn't concoct a more fiery brew.
Hotpot is a winter treat across northern China, and I've consumed countless during a dozen years of residence in China and Hong Kong. Yet my descriptions of northern hotpot prompts much indigestion in Sichuan Province.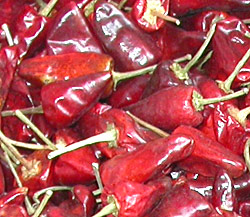 Locals like the dish two ways: blazing hot, or incendiary. To them, hotpot isn't the lackadaisical dip of hunks of meat or mutton in boiling water, as in Beijing or Mongolia.
Sichuanese, you see, favor an oily-red broth that sets the eyes stinging, bubbling not only with onion, garlic and chili, but also the mind-blowing seeds so identified with local cuisine they are called Sichuan Peppers.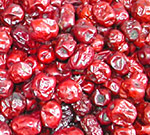 Such piquant platitudes are only proper, since hotpot originated here, in China's heartland, where folks have never been stingy about spice. Hotpot - literally "firepot" - is the mainstay, but by no means the sole tongue-torching treat.
Standards like Ma Po Do Fu (tofu topped with a bit of minced beef, floating in chili bean sauce) and Gong Bao Ji Ding (a spicy chicken dish known even overseas; think Kung Pao Chicken) come from the provincial capital of Chengdu, where chili is as common at mealtime as rice across the rest of China.

Chili seasons everything, from dumpling sauce to duck marinade. In Chongqing, I'm served a trendy creation called "bee-hive potato." Popular at a string of outdoor cafes along the city's new riverside promenade, I cannot decide whether it's a side dish like French fries, a starter, like potato nibbles, or desert; it's sprinkled with sugar.
Yet even a slightly sweet dish like this, in Sichuan, comes with a garnish of chili.
Still, if chilies - fresh, dried, fried, stewed, powdered and pickled - are the essential Sichuanese (sometimes called Szechwanese) seasoning, they are subtle compared to the equally-prevalent peppercorn, which packs a nuclear wallop.
Chinese cookery, with thousands of years of refinement, files food into a series of tidy taste classifications, like sweet or sour. Sichuan peppers claim a category all their own: mind-numbing.
Sichuanese cuisine can have that impact on visitors. But after one's palate cools, and the fire-alarm peppers are soothed by Sichuan tea, one begins to sense the subtlety and intricately-layered flavor of what many consider among the world's finest cuisine.
Even with the diverse cookery across China, Sichuanese restaurants have found a niche in every city. Nothing, though, compares with the taste and inventiveness at the source. China is the place for food, goes an old saying, but Sichuan is the place for flavor.
That proves to be the case in my romp through the region. I gorge myself on exotic dishes like bull frogs and chili-fried snails, as well as traditional fare like fish-fragrant pork slivers and the student favorite, "ants climbing a tree" (bean-thread noodles laced with chili bean paste and sprinkles of minced pork or beef).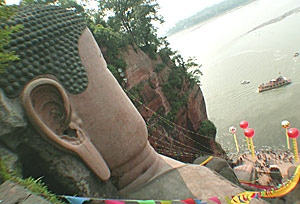 Everywhere I go, the same scrumptious standards are upheld by cooks who approach their craft with almost religious zeal. Price and location matter little.
From flashy restaurants in Chongqing and Chengdu, to riverside shacks under the gaze of the world's largest Buddha statue in Leshan and hilly rest-stops en-route to sacred Mount Emei, the food is consistently superb, satisfying all the senses.
In keeping with Sichuanese tradition, taste is but one consideration. Food is chopped, sculpted and stirred not only to stimulate taste buds, but produce the finest texture, aroma and presentation.
"Food is like a drug here in Sichuan," confides Susan Sun, over dinner at Sheraton Chengdu Lido Hotel's rooftop grill. Traveling often as the hotel's marketing manager, Sun invariably grows homesick, but not for friends and family.
"If I don't have Sichuan food, after a few days, I can't stop thinking about it. I just need something hot and spicy. We all crave this food."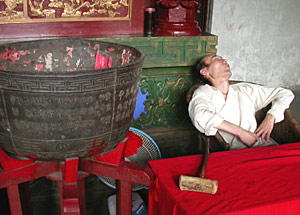 Surprisingly, all this spice hardly peppers the population. In fact, Sichuan is one of the most laid-back regions of China, where entire village populations lull about teahouses, playing mahjong and gossiping.
"Sichuan is like the Italy of China," chuckles Fuchsia Dunlop, author of "Sichuan Cookery," (released last year by Michael Joseph/Penguin in the UK; out in America in early 2003) perhaps the first western cookbook researched in the province.
Londoner Dunlop studied in Sichuan, becoming the first foreign graduate of Chengdu's culinary academy. "People enjoy food and life. They aren't buttoned up like the rest of China. They are famous for it, this style, which has a name. They are China's pleasure people."
Chengdu is a sprawling city that, like its food, can be deceptively flavorful. But most visitors pass through quickly, stopping for snapshots at nearby panda reserves, then on to Tibet or tours down the Yangtze River.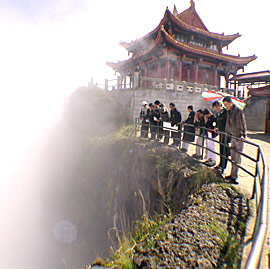 Or other nearby attractions: Leshan's Buddha, towering Mount Emei and the ancient cave sculptures of Dazu Xian.
Fittingly, it's the scenery that draws most tourists to Sichuan, China's largest and most populated province. About the size of France, but with over 120 million people (if you include Chongqing, now an independent municipality), Sichuan seems more a continent than state.
The terrain ranges from snow-capped mountain ranges rivaling the Himalayas to mist-shrouded river valleys ringed by rice terraces, exactly as pictured in all those traditional Chinese silk paintings.
Few can be faulted for giving Chengdu a miss. The name means "successful big city," and like others across China, Chengdu is in transition. Here as elsewhere, the pace can be breathtaking, a microcosm of a country rushing through Industrial Revolution and onto the Information Highway, all in one Great Leap Forward.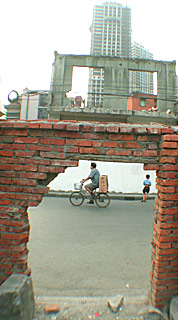 The process isn't always pretty. Dunlop mentions some lanes around Qingyang Gong, oldest Taoist Temple in the area, but weeks later, when I visit, the entire neighborhood has vanished.
Instead, I watch wrecking balls level centuries-old houses to make way for commercial towers.
That's modernization in the Middle Kingdom, but more often than not, Chengdu goes against the grain.
Even Chongqing, four hours away, has more highways, high-rises and high-end hotels, not to mention snazzy new central pedestrian mall and riverside promenade modeled on China's flashiest city, Shanghai.
In contrast, Chengdu seems in no hurry to catch up, quite content to rest on its 2,500-year history as a city of merit.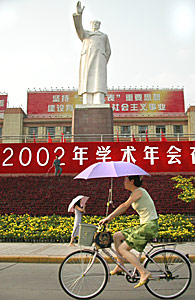 The central square still sports an enormous white statue of Chairman Mao, and there is a delightful dowdiness about Chengdu that recalls the magic of old China: mobs of bikes on streets, bamboo thickets in parks and, everywhere you wander, what is rarely seen much anymore in the rest of the country, the traditional teahouse.
This tea culture, more than pepper or chili, is the real seasoning that defines Sichuan. "In Beijing, if you have five hours, you'll spend it to find a job, to make more money," says local guide He Cheng An. "Here in Chengdu, you would use two hours to shop, cook and eat. The other three hours, you would spend in a teahouse."
Wenshu Monastery is typical. The largest Buddhist temple in Chengdu is famed for its charming garden courtyards and marvelous vegetarian food, including a wide array of pseudo-meat and seafood dishes you will swear cannot be made from tofu.
Most days, a few visitors burn joss sticks and listen to birds from benches facing the 17th century temple. But the real action (if hanging out qualifies) centers on tables spread throughout the scenic grounds. A sprinkling of leaves cost 25-60 cents, depending on quality.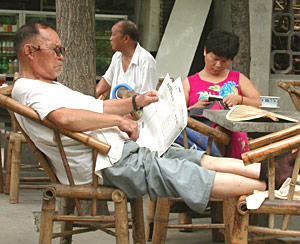 Attendants circulate with thermos, topping up the cups. That's it, a big day in Chengdu.
"Why sit here?" an old woman repeats my question, then pauses a while, seemingly stumped not so much for an answer as by my apparent stupidity. "My friends are here," she says succinctly, pointing around her table. "Every day, we sit, drink tea, talk."
Tea culture is admittedly sedate, but strangely addictive, like a holiday spent at home. There's mahjong and cards, sometimes chess. Families pack sacks of food for potluck picnics. Sometimes, there is opera, not the Peking brand, but Sichuan's own unique blend of song, mime and movement that originated right here, in local teahouses.
At People's Park, there is the clack of huge tongs, calling card of legions of ear cleaners. And roving hair cutters, shoulder rubbers and foot massagers. Artists at Da Ci Xi (Big Mercy Temple) offer calligraphy, paintings and busts cast on the spot. Purists scoff at the circus atmosphere in such places, particularly parks that have recently switched to plastic chairs.
"Real teahouses have bamboo," carps an old woman who overhears my conversation about the modernization of teahouses.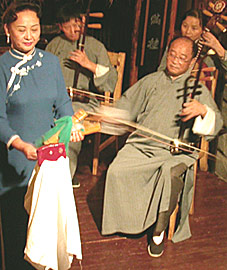 That's the biggest rise you're likely to get out of a local. Chengdu people don't seem bothered about much. So it has been for centuries; the hills are high, the Emperor is far away, goes a local saying.
While most of China seems hell-bent on installing malls and McDonald's, Chengdu keeps sipping tea and toasting the old traditions. You can still eat Ma Po Dou Fu (Pock-marked Mother Chen's beancurd) in the same cheap dining hall where Chen reportedly served it six decades ago.
Likewise Zhong Shui Zhao, delicious crescent-shaped dumplings in a tangy sauce of chili and sesame oil (25 cents for a bowl of eight). A sign above the original dumpling shop, boasts: "China's Time-Honored Brand."
Much of the best food in Chengdu, in fact, has humble origins and remains in circulation in scores of street stalls serving cheap treats like Dan Dan Noodles (first dished out by men carrying buckets of noodles and condiments dangling from bamboo shoulder-poles, or Dan).
Chengdu's Longchao Shou restaurant turns the table on tradition, serving a massive selection of street snacks in a scrumptious set meal ($4 and up, depending on the number of dishes).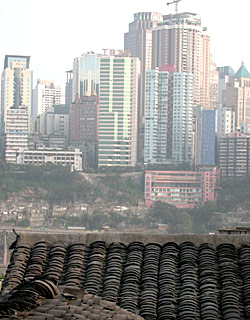 While Sichuan's glorious past thrives in present-day Chengdu, the future comes into clear view just a half-day cruise down the new Chengdu-Chongqing expressway.
Set on a peninsula wedged between the Jialing and Yangtze rivers, Chongqing is a vibrant city fast evolving from industrial port to pursue the modern Chinese dream of skyscrapers and shopping malls.
With terraces of high-rises and dense traffic, Chongqing recalls Hong Kong; its people have the same frantic energy. "People in Chengu are lazy," one Chongqing computer technician tells me over dinner.
"All they do is sit around all day drinking tea. They just waste time." Chengdu friends previously warned that Chongqingers have "pointed-elbows," meaning they are forward and aggressive.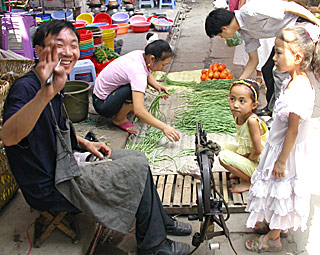 Still, I find them friendly and the brashness of Chongqing invigorating. Locals have a can-do spirit that sometimes seems overly-cocky but, again, reminds me fondly of Hong Kong.
Part of the confidence flows from Beijing, which has showered Chongqing with billions of dollars of funding in support of the Three Gorges Dam project downstream and its ambitious Go West campaign. Chongqing, sliced off from Sichuan and granted independent municipal rule five years ago, has been tapped to be the engine for this frontier development scheme.
Given such vastly different roles in the national tapestry, not to mention the enormous variations in topography, it's only natural to expect Chongqing and Chengdu to feel as different as they look.
Chengdu is flat, ringed by mountains. Riding a taxi in Chongqing means bouncing around hills and canyons like a cartoon car in a video game. The city makes the most of its hilltop location with several cable cars crossings over the rivers (20 cents) that offer dramatic views. Then, there is the odd sensation of China's only streets without bicycles; Chongqing is too steep.
Behind all the bright lights and brashness, Chongqing remains proudest of its claim to fame as inventor of the hotpot.
After midnight, when flashy clubs like Newcastle Arms close, patrons spill into the streets for late-night servings of the local obsession. Crafty cooks once seasoned pots with opium, a process long ago outlawed. Still, football-sized hotpot pitches in Chongqing attest to the fact that people are still happily hooked.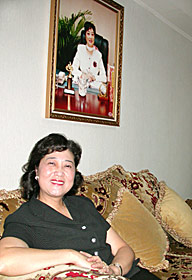 Chongqing's greatest success story surrounds the rags-to-riches tale of He Yongzhi, the Hot Pot Mama. She started with three tables but now runs 138 restaurants, including four around Seattle.
He Yongzhi plans to expand her empire in North America, Hong Kong and Asia. "This could be China's answer to McDonald's," she boasts from a sixth floor office of a hotel built with hotpot profits. Drive-through hotpot sounds dangerous, but if anyone can spice up bland Big Mac culture, my bet is on the Hot Pot Mama.
Fast-food packaging of the hotpot may be an extreme example, but is typical of talk in Chongqing, where everyone seems to have a dream or scheme. "Nobody has time to sit and drink tea," notes the Sheraton's Sun, who is from Chongqing.
Tea culture may never have taken root in this restless city, but even with an independent government, Chongqingers remain passionate food-lovers, like all Sichuanese.
All that energy, funneled through the kitchen, produces a kind of noveau cuisine that would seem, well, counter-revolutionary back in Chengdu. So many Sichuanese dishes originated here, locals have a saying: "Chengdu does the cooking, but we do the creating."
Zhou Peng, senior associate chef at the Hilton Chongqing, explains: "In Chongqing, food is like a fashion show. New tastes and dishes come and go so fast, we call it food fashion." One evening, Zhou and the hotel's Sichuan chef, Yan Si Jian, detail how they devise new dishes.
Word-of-mouth lures Yan to riverside restaurants, far-away hole-in-the walls. "One time, I went to a tiny restaurant. It had this one special dish, pig intestines in a hot spicy sauce," says Yan, eyes watering at the recollection. "It was fantastic. I got the recipe, revised it and it's now on the menu. That's how you do things, find new flavors and tastes."
In Sichuan, it's a timeless tradition. Take Zheng Hu Cai, a trendy style of cookery that takes flavors and seasonings from far and wide, mixing them in new ways. The name means River-Lake Dishes. Of course, there's an old legend, about an ancient chef who wandered around China, gathering cooking tips.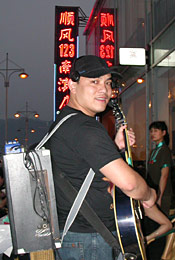 The modern equivalent has produced new sensations like Suan Cai Yu (pickled cabbage and fish in a super-spicy broth) and Pijo Ya (beer duck, exactly like it sounds, but steeped in chili, till the sauce is blood-red).
Yan says Chongqing cooks feel great pressure to dazzle finicky local customers. "They always want something new. Chongqing people love food, but they are fussy."
And always on the hunt for a new mind-numbing buzz. The latest rage is a string of pubs and restaurants along Bingjiang Lu, the new promenade skirting the mighty Yangtze.
A few months before, when I'd visited, this was flattened building sites and billboards. Now, dozens of restaurants and pubs offer outside seating and dazzling views of the lit-up downtown across a flotilla of river boats.
Alfresco eating ala Chongqing has a way to go before it will rival Venice - plastic palm trees and fluorescent lights underscore the ambience. Still, places like 123 already have an edge and are packed nightly.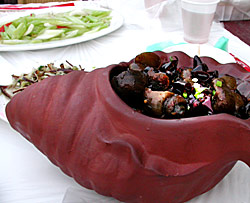 Dishes are adventurous: besides bee-hive potato, other favorites include Tian Luo (snails in mounds of big red chili), Nui Wa (cow frogs) and spicy starters like Mao Du (strips of tofu, chili, onion and pig stomach).
As floodlights sweep the riverfront, it's easy to feel enthused about this small corner of Sichuan, finally reaping some of the benefits of that Empire that has always seemed so far, far away.
A few nights in Chongqing hotwire my circuits. Back in my hotel, though, after the bright lights fade, a gnawing hunger nags me. Change is a kick, but there is something reassuring about the classics.
As I drift to sleep, I find myself thinking nostalgically of Chengdu, smiling at the comforting thought that the hills are still high.
---
Ron Gluckman is an American reporter who has been roaming around Asia since 1991, when he was based in Hong Kong. Since 2000, he has been based in Beijing, covering China for a wide variety of publications including Destinasian (www.destinasian.com) an excellent new travel magazine that ran this story in its October 2002 issue (along with a feature by Ron on cruising the Three Gorges.)
Oddly enough, over 20 years as a journalist, this is Ron Gluckman's first food feature. Odder still, it won top honors as the Asian Cuisine Story of the Year at the World Gourmet Summit in March 2003.
---
To return to the opening page and index

push here
---