Thailand'

s Mr Condom
Once one of the world's hotspots of AIDS, Thailand more than turned a corner, successfully bringing a safe-sex campaign into the bars and red-light districts of the sinful city. Along the way, bureaucrats and law enforcement jumped on the bandwagon, and tens of millions of condoms were freely distributed, including thousands in the hugely-popular Cabbages and Condoms restaurants. All thanks to Mechai Viravaidya.
By Ron Gluckman / Bangkok, Thailand
---
I

F THE WORLD HAD A CONDOM KING,

Thailand's Mechai Viravaidya would surely claim the crown.

Since forming his Population and Community Development Association (PDA), one of Asia's largest and most successful private, non-profit development organizations, in 1974, Mechai has given away tens of millions of condoms. He's discussed safe sex with everyone from Thai leaders to workers in Bangkok's notorious red-light district.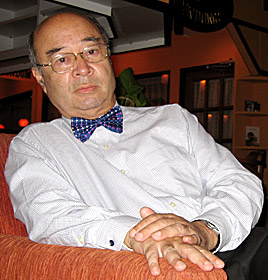 In the process, he made sex education as common in Thai classrooms as condoms in the bedroom. Local HIV infection rates plummeted, making Thailand one of the world's top prevention stories. A World Bank study last year estimated that without such effort, Thailand may have had another 7.7 million infected people.
At home, and around the globe, Mechai is seen as the man who tipped the balance. Recent honors include the Gates Award for Global Health 2007, bringing a $1 million prize, the world's largest international health award. Yet Mechai is perhaps proudest of the Nikkei Asia Prize, awarded this year for PDA's work in rural development.
The masses may know Mechai for his string of restaurants, Cabbages and Condoms, or flamboyant promotions, like when he convinced local police to pass out condoms – "Cops and Rubbers, we called it," he quips.
Or when he paraded around Nana Plaza in Superman costume, huge "C" on his chest. Yet Mechai enthuses about raising income levels, education and health awareness at the village level.
Both his parents were doctors, but Mechai's unusual approach to family planning and safe sex reflects his background as an economist and longtime government worker – he served as senator in the National Assembly, from 1987-1991, and 2000-2006. "When I started, Thai families had seven kids. I realized we could never keep up with such a rapidly-growing population. We couldn't supply jobs, or sufficient livelihood.
"It was just common sense," notes Mechai, 66. "When there are more mouths to feed than rice, there is nothing you can do."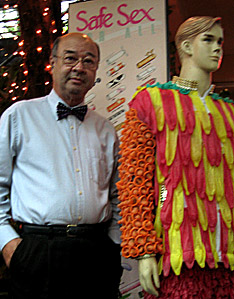 Mechai has made PDA a model non-profit agency. There are a dozen Cabbages and Condoms around Thailand, another in Kyoto and two more to open this year in Tokyo and Osaka. Theme restaurants with mannequins dressed in condom-shirts, or skirts of birth-control pills, walls sport family-planning posters and condom lamps. Instead of mints, the bill is delivered on a bed of condoms.
"The name reflects our view that condoms should be as common as cabbages in Thai kitchens," says Mechai, seated with trademark bow-tie in the original Cabbages and Condoms in Bangkok. The eateries and a few resorts generate up to 70 percent of PDA's annual budget of $7 million. This original restaurant rings in $1 million each year.
Mechai, a tireless crusader and merciless punster, grows serious when assessing success. The birth rate is manageable, but he worries that Thailand, thinking it won the battle against AIDs, will slide. Recently, sexual infection rates have risen, especially amongst the young. "We just need to keep vigilant and keep promoting safe sex," he says. "Coca Cola never stops advertising. We cannot let up."
The government concurs, recently bringing Mechai back yet again, this time as Czar of safe sex. His new strategy targets youth. "My job isn't to prevent them from having sex, but to keep them from dying of sex." Distancing himself from the politics that plagues family planning elsewhere, the Condom King adds: "Bush won't find any Weapons of Mass Destruction, but we've already found the Weapon of Mass Protection.
"Sex is just like water," he adds. "You need to drink, but you can also drown."
---
Ron Gluckman is an American reporter who has been living in and covering Asia since 1990 for a variety of publications, including Newsweek, which ran this story as part of a package on the world's leading community movers in 2007.
All pictures by Ron Gluckman
---
To return to the opening page and index

push here
---