Farewell to the Three Gorges
As the waters rise on China's Yangtze River, tourists are flooding into the country for last looks at the magnificent Three Gorges. But is this really the trip of your life, or simply China's most overhyped?
By Ron Gluckman/On the Yangtze River, China
---
SEEN THE THREE GORGES IN CHINA YET? That's the big question this tourist season, and if your answer is no, well too bad. Too late, too. Carved out over millennia, the magnificent Yangtze River canyons down river from this southern China city have captivated poets and painters for eons. Sadly, the gorges will soon be gone, dammed up, submerged.
At least, that's what travel agents would have you believe if you don't hastily shell out big bucks to board a boat for China's most hyped tourist site.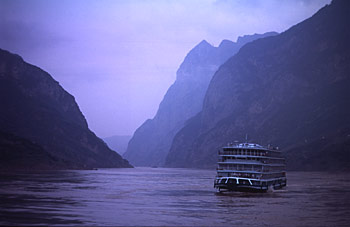 Tourist season on the mist-shrouded Yangtze usually runs April to May, then resumes September to October following summer rains and floods. But this year on the Yangtze is like no other, and not just due to soaring water levels. Rising just as fast is visitor hysteria.
Tours are sold out, even into November, proving people will queue up to see anything provided they think it will soon be gone.
Credit the publicity, and we've seen it before. In 1997, when a bypass channel began funneling boats around the Three Gorges Dam, a barrage of "Final Tour" hoopla sparked a tourist boom that swamped local handling capacity. New boats were launched in time for the predictable backlash; it took years for authorities and tourist agencies to lure back visitors, telling them, in effect, that it was all a big hoax, that the gorges hadn't gone anywhere. They're still here, in fact, big as ever. Just like the hype.
Most of it has centered on the enormous price tag (some say up to $30 billion), human and environmental consequences of the world's largest, most controversial dam. The enormous construction zone has itself emerged as an odd tourist attraction, yet it's the sense of finality for the Three Gorges that is filling all the boats. And the truth?
This Great Wall of concrete will create a 400-mile-long lake, swamping hundreds of towns and thousands of villages. One to two million people will be relocated. For tourists, the looming date comes in November when the 1997 diversion is closed and big boats won't fit the temporary lock. Traffic will resume after the dam becomes operational next summer, but it will still be decades before the lake fills in.
Beyond that, 3,000-foot mountains will still tower over the river, snaking through the same craggy terrain. "This whole trip is the biggest scam in China tourism," says Peter Neville-Hadley, China guidebook author and, perhaps, the world's biggest Three-Gorges basher.
"For the eighth straight year in a row it will be `the last chance to see' the Three Gorges as they are now," he says. "It's all nonsense."
Yet tourists are buying the hype, making the Yangtze River the hottest ticket in China, if not Asia. "Every day we get calls from politicians in Beijing, begging for tickets," says one Chongqing travel agent. "We have to tell them there's nothing left. It's all sold out."
Dockside, though, there are plenty of tickets, particularly on the rickety tugs that make the mighty Yangtze look more like a rush-hour highway than the mesmerizing waterway that author Pearl Buck called "the wildest, wickedest river on Earth."
For as little as $20, locals can book berths in cramped 16-bed dorms on a ride that Chinese consider one of life's great pilgrimages. "Traveling up the rapids of the Yangtze is more difficult than climbing to heaven," said Du Fu in the eighth century.
Maybe back then. Nowadays, tourists cruise in comfort aboard luxury liners like Regal China's Princess Jeannie that make the third-largest river after the Nile and Amazon seem sedate. Big buffet meals and nightly entertainment shows, as much as the scenery, have made these cruises a fixture on most China tours.
"There is a real frenzy," concedes Joanna Codrington, tour manager for Bales Worldwide, an upscale British travel company. "There is the general perception that this is it, the end, that you can't see the gorges after this."
Princess Jeannie passengers pretty much all agree. "We looked at lots of cruises," says Marie, a tall, American southern belle traveling with her mother, "but we decided on China because we definitely wanted to see the Three Gorges -- before they were gone."
And the cruise? The ride itself is relaxing, but hardly life-changing. Most overseas tourists opt for four-day runs downstream from Chongqing to Wuhan, which many say is three days too long.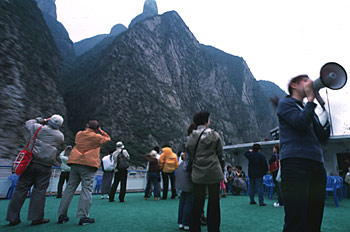 On my jaunt, we glided through all three gorges in half a day. The rest of the way we marveled at rock formations like "Rhinoceros Watching the Moon," swiveling our heads in every direction to try and make out something matching the names in the piles of rocks.
Other sights are truly breathtaking, like temples chiseled into sheer cliffs -- but they sit amidst smokestacks and factories on one of the world's most polluted waterways. Thankfully, the smog swept away before we reached Three Gorges, a series of truly grand canyons, with many equally beautiful gorges feeding into each.
In olden times, this passage was among the region's most perilous, and teams of hundreds of human trackers crawled along the rocky shore pulling boats by ropes. Modern tours include a side-trip in smaller "pea-boats" up one tributary, pulled and paddled by locals in the style of the trackers of yore.
Critics say such excursions only emphasize an obvious contradiction about the cruises, which mean to transport tourists deep into the heart of China on a traditional voyage. The reality is that the river is ever changing, and has been for long before the dam was first proposed nearly a half-century ago.
British engineers blasted passageways through the gorges so steamships could sail up from Shanghai. And, as Mr. Neville-Hadley notes: "Why do people take the trip up tributaries in shallow draft boats pulled by farmers pretending to be trackers? Because the real Yangtze experience no longer exists, and hasn't existed for a long time; so they take the ersatz version."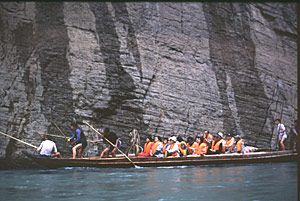 The dam will only heighten the distance from the romantic days of old. Cruise lines are already plotting new routes, and towns along the way are hastily constructing temples and tourist sites to cash in.
"There is so much misinformation," concedes Howard Chen, Regal's cruise director and a man who has spent his life along the river. He grew up in Wuhan, where most boats disembark. "The scenery will still be there. It will be different, of course, but there will be many new sights, marvelous things tourists don't experience now."
That, though, is in the future, a direction few on board care to face.
Riding the Yangtze nowadays may be easy -- if you can get that ticket -- but the real pleasure is timeless: just watching the scenery scroll before your eyes. You could actually hear collective sighs each time we sailed past a cliff temple or down another rocky passage.
For those on a frantic once-in-a-lifetime China tour, this is a break from the bustle. For a few merciful days, real China recedes: no spitting or shoving, practically no tourist stalls.
At last, tourists savor the China they imagined, misty and mysterious. For them, the Three Gorges trip isn't hype; it's perfect fantasy -- a chance to put their feet up and cruise back in time, on the mythical slow boat in China.
---
Ron Gluckman is an American reporter who has been roaming around Asia since 1991, when he was based in Hong Kong. Since 2000, he has been based in Beijing, covering China for a wide variety of publications including the Asian Wall Street Journal, which ran this in the Weekend Edition August 30-September 1, 2002.
For another take on the river cruising, join Ron on a scenic cruise down the Yangtze River.
For planning your own cruise, see further information on the Three Gorges.
---
To return to the opening page and index

push here
---