China's Woodstock
Eighty bands and four days of Peace, Love and Propaganda was the billing, but, in the end, it was just another could-have-been-stock. The inside story on how China almost had its Summer of Love
By Ron Gluckman/Beidaihe, China
---
WAVES LAP THE SHORES OF CHINA'S RIVIERA, and I'm humming rock tunes but feeling restless. Instead of unwinding, I cannot help but lament what might have been.
Into my mental CD player, I pop the Beatles's "Revolution." But as I flop down on the beach, it keeps segueing into Blue Oyster Cult's "This Ain't the Summer of Love."

Unlike other lotion-drenched holiday-makers at this seaside resort, I haven't come for clean air or serenity. My aim this August (2001) weekend is this: four days of Peace Love and Music. Righteous rock 'n roll. The Woodstock of China.
Unbelievable, but that's how it was billed. Almost as unbelievable as the setting. After all, Beidaihe has long been summer camp for Mao and his pals in the Communist Party, who come each year to escape the searing heat of the capital. In this Chinese-style Martha's Vineyard, they suck down snails and seafood, hike shorts chest-high and, in top-secret sessions, set China's agenda for the coming year.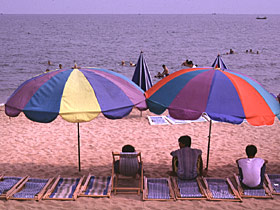 Only this summer, the geriatrics were in danger of being blindsided by a tidal wave of teenage angst. It's already welled to the surface in Beijing, where regular raves are held atop the Great Wall; another raged last weekend. But this was potentially much bigger. Eighty rock bands were bound for these sterile shores, armed with guitars and amps. Even in this salty air, you could practically smell the teen spirit.
What could have been China's most revolutionary event since, well, the revolution, turned out to be typically Chinese: a big bust. The only music in Beidaihe this summer was provided by street urchins with guitars and song sheets, serenading overeaters at outdoor seafood eateries. China's Woodstock was just another CouldStock.
Nobody was really that surprised. Not the nearly seven dozen bands that signed on for the show, willing to commit for little more than train fare to Beidaihe, about three hours from Beijing. Nor longtime observers of China's meek but growing rock scene.
"Pretty much everyone figured no chance this could happen," says Dave O'Dell, bass player in Beijing band Brain Failure, and a founder of Chinese music Net-work www.weiku.com. "It was just too big, too fast."
In other words, a no-brainer. Still Brain Failure signed, like practically every Beijing rock band. "If it would have happened," he concedes, "it would have been huge."
For months, the festival was the buzz in Beijing. Music magazine Jianwen run a cover story headlined "Beijing's Woodstock," noting "top acts like Ling Dian and Cui Jian (pronounced Schway Gee-en, and pictured below left) are sure to attend."
To such pronouncements, mainland music fans have learned to turn a tin ear. Grand schemes are dime-a-dozen. Still, this had the trappings of genuine rock dreams. Promoters Fifth Media Company had held a series of multi-day street festivals in Beijing, no easy feat, and had in hand permits for the coast concert.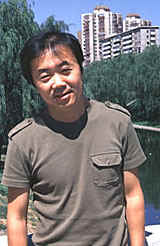 "We spent more than four months in preparation," says group leader Zhang Peng, 30, who got the idea for the summer festival after talking with Cui Jian, generally credited as the patriarch of China's rock scene. "We wanted to do a big music event," he says, "a Chinese festival, but one that would also have a big effect in international music circles."
Rather than politics, Zhang insists the plug was pulled due to a string of unfortunate coincidences. "At first, in early August, the concert was postponed because the (site) was drowned by tides."
A new date had to wait until after the founding grandfathers of the republic relinquished the retreat. By then, most bands had other commitments, he says.
Even the date of what would have been by far China's largest music festival was coincidental, he says, apparently unaware that the very same weekend in mid-August was the 32nd anniversary of America's own Woodstock (August 15-17, 1969).
That proved a seminal affair, with acts like The Who, Crosby, Stills, Nash & Young, Jefferson Airplane, Grateful Dead and Janis Joplin galvanizing an entire generation. Country Joe (and the Fish, not Phish) played their anti-Vietnam War chant and Jimi Hendrix mesmerized America with his blazing-rock version of the National Anthem, while setting his guitar aflame.
Of course, nobody expected zithers to smoke in Beidaihe. Drugs, nudity, protests - those are all western excesses. Still, amongst a growing gang of youths who pogo every weekend in Beijing clubs, there was optimism about a fledgling music scene filled with promise but constrained by government pressure. That's long been the case, especially in the capital, where Cui Jian hasn't been allowed to play a big show in a decade, despite being by far the mainland's most celebrated rock star around the globe.
Like so much in China, the suppression of rock is amazingly inconsistent. Shows are held, irregularly, but often in outlandish fashion. For the past several summers, the all-night raves atop China's most precious icon, the Great Wall, have grown in popularity. Another was held last weekend. Nobody talks about the dancing or drinking or drugs. These shows are never advertised, held sort of semi-officially, on the sly.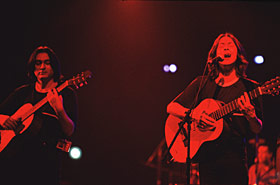 How could a Woodstock ever take root in such conditions? Easily, since that's how the real Woodstock raged. Blinded by the hoopla afterwards, we tend to idealize a festival that wasn't even held in Woodstock. Protests in that small New York town forced a last-minute move to a farm near Bethel. Media coverage lagged long after the encores; few figured the scraggly hippies would ever accomplish anything. As youth uprisings spread around the globe, and an American president was chased from office years later, Woodstock became recognized as the dawn of a new era.
Could the same happen in China? To many, Beidaihe was a litmus test. A festival so big, in such a site, would show that the screws were truly loosening. Zhang believes it will still happen. "Next year," he says, "we will do it again." Perhaps in Beidaihe, or in another city, like Qingdao or Yantai. "They heard what happened this year, they are contacting us now, and they want us to do it in their city next year."
So maybe China will have it's Summer of Love after all. Just not this summer.
---
Ron Gluckman is an American reporter and former rock critic who has been roaming around Asia since 1991, when he was based in Hong Kong. Since 2000, he has been based in Beijing, covering China for a wide variety of publications including the Wall Street Journal, which ran this in the summer of 2001.
Beijing band A Fun Ti (bottom) by Chris Stowers, a Taiwan-based photographer..
Woodstock logo courtesy of the web.
All other pictures by Ron Gluckman
---
To return to the opening page and index

push here
---