Shrapnel and Sand
Once a beachhead on the brink of World War III, a crater-carved stretch of serene Chinese coastline is coping with its new role in the frontlines of tourism
By Ron Gluckman /Xiamen, China
---
V

INCE PARR LEANS BACK in a beach chair, pulls a cold beer to his lips and peers across the strangest stretch of sand in Asia. Chinese fishermen drag nets along the shore, where several tourists are spreading beach towels beside rented bikes.

Using binoculars, Parr gazes across the turquoise sea to a nearby island, where he focuses upon a sight seen in no bird-watching guide: Taiwanese military looking back at him through spy glasses.

With the Taiwanese island of Jinmen a mere 3,700 meters away, the Chinese island of Xiamen -- on the southwestern coast of Fujian province -- has long been a potential beach paradise parked in a battle zone.

In the 1950s, artillery shells were fired with alarming regularity by both island adversaries, killing hundreds and threatening to kick off World War III. Bitter enemies for a half century, Taiwan and China still eye each other suspiciously across the strait, but in this palm-laden island outpost with a Mediterranean flavor, the Chinese combatants are learning the value of cooperation.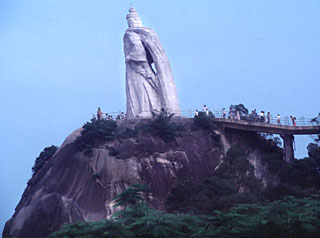 Taiwanese cash is pouring into the island port, where in the 17th century Chinese national hero general Cheng Ch'eng-kung launched battalions of boats that liberated Taiwan from the Dutch.
Now, Taiwan financing is having much the same emancipating impact on Xiamen, where workers enjoy some of the highest wages and living standards in all of China.
Taiwanese pop plays nightly in XO2, a disco that opened last year. The name is derived from Hong Kong's favorite cognac. Customers come from Hong Kong, Japan, Taiwan and the Philippines.
Paying top prices for drinks seldom seen elsewhere in China, tourists mingle with foreign language graduates of Xiamen University, who are learning the tricks of the trades at a slew of new hotels run by Singapore, Hong Kong and, now, Western companies.
Holiday Inn opened the second international hotel in Xiamen last June, ending a seven-year effort to bring five-star service to the serene coastal city of 1.2 million people. While its swimming pool, restaurants and in-house videos add new amenities to a top-notch tourist attraction that already boasts beautiful beaches, superb seafood and shops by the score, the Holiday Inn Crowne Plaza Harbourview Xiamen is more than anything a signal of sweeter things to come. Xiamen could be China's next boom city.
With its subtropical climate and relatively clean beaches, Xiamen offers a setting that rivals China's prime resort area of Hainan. Moreover, Xiamen's colonial mansions and winding streets that resemble old Latin quarters combine to provide an atmosphere found nowhere else in China. But do not be fooled by the balmy breezes and peaceful pace. Xiamen is no backwater.
Designated a Special Economic Zone (SEZ) in 1981, Xiamen has seen its assets soar ever since. Total export volume in 1985 was 125 times that of 1950. The city grew fivefold in the 1980s alone. Even greater growth is expected with the designation of Xiamen as China's first free-trade port.
Already the trade zones around the port are awash in Taiwanese investment. Although hampered by the lack of official ties, trade between China and Taiwan was estimated to be worth more than $6 billion in 1992. Xiamen claims a considerable slice of that cash. The Xiamen SEZ has approved more than 500 Taiwan-funded projects, not counting those involving Hong Kong and other Asian partners.
Local officials have been pushing a plan to make visas available upon arrival in Xiamen for Taiwan visitors, who currently must obtain them in Hong Kong. Approval already has been granted for expansion of the industrial zone into Haicang, east of Xiamen, and another investment zone in Jimei on the west that would specifically favor Taiwanese businesses. The plan calls for tax incentives to encourage export-oriented enterprises.
Today the port of Xiamen trades with 138 countries and has established 371 trade offices around the world. According to government statistics, Xiamen's trade volume multiplied more than sevenfold from 1980 to 1990. Export value surged nearly fivefold in the same period. Xiamen is in line for the next Chinese stock exchange, as well as a racing track.
And the city that was favored for centuries by the old colonial powers is in the midst of a new building boom. Xiamen and the scenic island of Gulangyu -- designated an international settlement in 1902 -- have more than 4,000 beds for foreign visitors. Chinese cuisine and fresh seafood are served in more than 200 restaurants.
Xiamen's style of Fujian cooking and language is instantly familiar to Taiwan tourists, who arrive in a steady flow from Beijing, Shanghai and Hong Kong. Direct flights also link Xiamen to the Philippines, and there is overnight ferry service from Hong Kong. An estimated 257,000 tourists visited Xiamen in 1992, according to government statistics. The majority of the tourists were overseas Chinese from Hong Kong, Taiwan and Southeast Asia. However, non-ethnic Chinese tourists are rising dramatically. In 1992 about 83,000 Western tourists visited Xiamen, twice as many as in 1990.
All the activity isn't so much related to the discovery of a new Asian hot spot, but rather as a renaissance of interest in Xiamen. During a 1985 visit, former U.S. President Richard Nixon said the coastal city was among the most beautiful he had seen in decades of governmental globetrotting. His praise echoed the affection that foreigners have felt for centuries.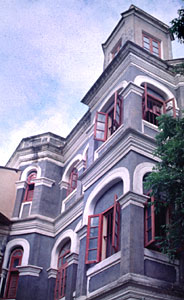 The Portuguese began arriving in the city they called Amoy in the 16th century, and the Dutch followed in the 17th century. One of the five original treaty ports opened after the Opium War, Xiamen has long been known to foreign traders, who reaped riches from the China trade. In the early part of this century, a dozen nations maintained embassies on Gulangyu, a charming island measuring less than two-square kilometers, about 500 meters from Xiamen across the calm waters of Gulangyu Inlet.
Impressive ivy-covered colonial structures survive on the island, with its magnificent maze of twisting cobblestone lanes that may be the only paths in all of China off-limits to bicycles. Motor transport is likewise banned from the island, connected to Xiamen by a five-minute ferry ride.
The old island architecture, mixing Chinese tile roofs with European columns, is showcased in hundreds of mansions that provide continual discoveries for tourists wandering the tree-lined lanes. Many of the old mansions survive as schools, particularly music institutions. Dubbed "Piano Island," Gulangyu is said to house more than 500 pianos and some of the country's finest musicians. The island wharf and music hall are both shaped like pianos.
The larger island of Xiamen, connected to the mainland by a causeway, likewise boasts beautiful European-influenced architecture, as well as spirited nightlife and several new shopping centers. Numerous parks on Xiamen and Gulangyu islands attract nature lovers, while history buffs favor 1,000-year-old Nanpu Tuo, a collection of temples and shrines perched on a picturesque Xiamen hillside.
"Tourism is quite important to Xiamen," notes Guo Zhemin, an economist at Xiamen University who estimates that tourists last year provided more than one-fourth of the city's revenues. Tourism, he says, will continue to grow. "The key is Taiwan."
Yixin Liao, another professor at the university, adds: "There are so many natural advantages to the tourists from Taiwan. They like the sights, the island life and the seafood. But most come mainly to look at their roots."
Indeed, not all entrepreneurs are looking across the strait for economic opportunities in Xiamen. Vince Parr, marketing director of the new 367-room Holiday Inn, says the region is ripe for resort activity, not only from Asia, but the U.S. and Europe.
Parr was instrumental in opening a beach area last summer, connected to the hotel by a 10- to 15-minute shuttle ride. The facilities include beach chairs, changing rooms, refreshments and snacks. And, of course, that peculiar view through binoculars of Taiwan-controlled Jinmen Island.
Peering at Jinmen, the closest point of contact between Taiwan and China, visitors can clearly see a sign that proclaims, "Unite China under the Three Principles."
On Jinmen, Taiwanese soldiers still perform military exercises daily. And as recently as a few years ago, the sand on Xiamen beaches was full of shrapnel.
"Taiwanese tourists really like this," says Parr, opening another beer. "They've never seen Taiwan from this side. Okay, it might seem a little weird, laying on the beach, drinking a margarita while listening to guns going off in an exercise on the island. I mean, it's wild, but that's part of the appeal."
---
Ron Gluckman is an American journalist who is based in Hong Kong, but travels widely in China for a variety of publications, including Asiaweek, Asia Magazine, the Wall Street Journal, South China Morning Post, USA Today and Asia, Inc., which ran this story in 1992.. For a sampling of his other reports from China, please click on McChina; the Americanization of China, Shanghai Jews, wine country, and China's Wild West.
---
To return to the opening page and index



push here
---