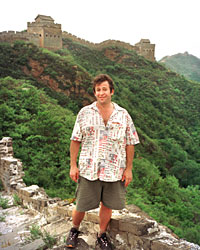 This site contains stories by Ron Gluckman, an American who has been living in Asia continuously since 1991. Ron was based in Hong Kong through the 1990s, then in Beijing from 2000-2004, and again from 2009 to early 2013. In between, during 2005-2009, he divided his time between Thailand and Cambodia. He returned to Bangkok in 2013.
Ron's Asia adventures began with an accidental pause during an around-the-world journey, by train from London, across Eastern Europe, the Soviet Union and China, then down the Koreas, by ferry to Japan and across the Pacific on a cargo ship to California. The trip was taken to research a book that Ron since shelved. Instead, he was sidetracked by Asia, fertile ground for a creative reporter with a fascination for change and controversy.
Since then, Ron has been working freelance; this site contains an assortment of pieces that appeared in Time, Asiaweek, Newsweek, Travel + Leisure, Foreign Policy, Town and Country Travel, MSNBC, CNN Traveler, Discovery, Seed, Mondo, Silk Road, Dwell, Popular Science, Fortune, Forbes, Geo, Destinasian, Good Weekend (Sydney Morning Herald), the Wall Street Journal, South China Morning Post, Toronto Globe and Mail, and Washington Post. Ron has also contributed to People, Mode, National Geographic Adventurer, Mother Jone's, Tolkion, Manager, Expressions, Business Traveler, Volvo, Lexus, Cadillac, Budget Travel, Far East Traveler, Tokyo Journal, Los Angeles Weekly, San Francisco Chronicle-Examiner, Detroit Free Press, Cleveland Plain Dealer, Alaska Magazine, Cream, Trouser Press, Pulse, Rock Magazine, Lifestyles International, Hotelier International, Video Quarterly, Asia, Inc., Asia Magazine, the Peak, Far Eastern Economic Review, Sawasdee, Scanorama, Winds, Morning Calm, Voyages, Gulf Air, Urban Land Institute, USA Today and many more. The viewpoints, style and length vary, but taken as a body of work, the writing provides a distinctive overview of Asia by a relentless investigator who generally has enjoyed nearly every minute of his experience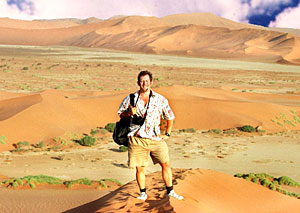 Born and reared in San Francisco, Ron Gluckman spent his early years in journalism as a rock critic and columnist, which may explain his brash, boom-beat writing style and penchant for pop-culture themes. Nonetheless, his was a pretty typical career with newspapers through the 1980s, when he worked in San Francisco, Sacramento, Alaska and rural Northern California at a succession of papers in a dying industry; most of them no longer exist (RIP: San Francisco Examiner, Anchorage Times, Sacramento Union.)
Uncertainty in the industry and a sense of stagnation propelled Ron to England, where he took a fellowship at Oxford University. This was 1989, a tumultuous year for much of the world. Youths raged in Europe and they mobbed Tiananmen Square. The Cold War was over. It ended one night in November when the Berlin Wall began crumbling and the fallout rolled through Eastern Europe and across Russia. It hasn't stopped yet.
Ron Gluckman headed to Berlin, then followed the ripples of change, first around Eastern Europe in 1989, then across the old Soviet Union, the following year. He was in Mongolia, home of one of the world's oldest and greatest empires, as it reemerged after seven decades of Soviet subjugation, and he subsequently toured China, Cambodia, Vietnam, Laos and Burma, other nations in the midst of revision, revolt and massive reform. These places are still changing by the day; most even have rock 'n' roll!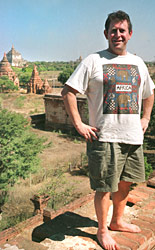 After six months of travel, he passed through Hong Kong, his base for most of the '90s. Asia became his backyard. Traveling non-stop for numerous publications, he has toured such off-the-map hotspots as North Korea and Tibet, detailed nuclear testing in Tahiti, and sailed with the little-known (and landlocked) Mongolian Navy. Ron has roamed war-ravaged Sri Lanka and Cambodia, been in house arrest in Burma (and denounced by both the junta and Aung San Suu Kyi) taken tea with the Dalai Lama, been blessed by Bhutanese monks, parlayed with presidents, and surfed cyberspace with futurist Arthur C. Clarke in Colombo. Along the way, he has always opted for the great adventures, whether blood-letting in Borneo, camel treks in Australia, dissing the Great Leader of North Korea, or crossing the Sulu Sea with sea pirates, kin to the kidnappers in rebel-prone southern Philippines, but far more interesting gun-totting tribes from Brunei to Mindanao that live their entire lives on water.
His stories are sometimes informative, sometimes entertaining, but rarely ordinary. They reflect the excitement of a bumbling traveler, equipped with no special language skills or cultural expertise, only a laptop and an insatiable sense of marvel at the wonders of this world.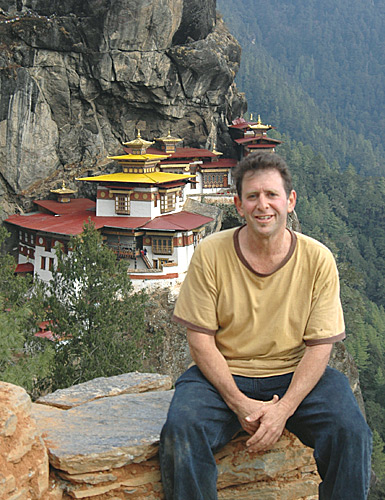 Ron took a lengthy hiatus from Asia from 1997-1998, traveling overland through much of Latin America and southern Africa. He returned to Asia in early 1999, and picked up where he left off, perched on the little island of Lamma (among Hong Kong's numerous islands) in the South China Sea, and roaming the region widely once more.
For much of 2000, he was bouncing back and forth between bases in Hong Kong and Beijing, finally relocating to the Chinese capital by the end of the year, where he was based until the end of 2004.
Ron moved his base to Bangkok in December, 2004, but added an office adored by geckos, with gorgeous views of mangos in the gardens in Phnom Penh, Cambodia in mid-2005. For the following fours, he divided his time between Thailand and Cambodia, when not on the road. He moved back in mid-2009 to Beijing, where he resided until early 2013. He is now based in Bangkok, but continues wandering widely around Asia-Pacific.

Check back to see his stories on Asia, and elsewhere, as they appear. Or subscribe for an email advisory whenever this site is updated (see below).
Also, look for Ron Gluckman's work and that of other offbeat travel writers in "In Search of Adventure: A Wild Travel Anthology," published in the spring of 1999. Ron Gluckman is also seen talking about travel at times on CNN International and online at MSNBC.com. And coming in 2015, his work for the first Louis Vuitton guidebook to Bangkok!

Send a message to Ron Gluckman

This site was originally created in a couple crazy weeks in late 1997 as I prepared to leave Hong Kong for an indefinite period on the road. It subsequently crashed and burned while I was in Brazil, but was restored months later via an email dispatch from the land of sand, Namibia (special thanks to computer guru Peter Danford!). Unfortunately, no updates were filed as planned from this amazing stretch of the road (the trusty laptop was pinched in South Africa; my own personal poverty alleviation effort).

Instead, the site was updated after my return to Hong Kong in November 1998. A new look was added in Spring 1999. Updates continue in the 21st century, including much copy filed from the Middle Kingdom during my stay in Beijing.

Unless otherwise credited, all pictures are by Ron Gluckman.

KUDOS:
Thanks to photographer David Paul Morris, a longtime partner, who did lots of scanning for this site (then gave me a scanner) and contributed tons of photos; check out David's own site: www.davidpaulmorris.com.

Thanks also to photographers Gerhard Joren, Stuart Isett, Edwin Tuyay, Ricky Wong, Ira Champlain, Chris Stowers, Palani Mohan and the G-man, Graham Uden, comrades in the field, who all let me post their fine work here with my words. And to Tony and Maureen Wheeler (of Lonely Planet guidebook fame) who blazed so many travel trails and provided the picture on this page of me at Bagan in Burma.

Great thanks also to Peter Danford (www.peterdanford.com), longtime Lamma computer guru, for his high-tech advice, encouragement and patience. After a long stretch sailing on a boat in Australia, designing websites in true wireless hobo style, Peter has based himself in Beijing, where he produces thebeijingguide.com.

And special thanks to all the editors who said "yes" over the years, especially those who were patient, paid well, remained enthusiastic and actually improved my copy. Thanks also to numerous colleagues who generously shared notes, contacts and gin-and-tonics. The grandest gracias goes to all the people who, over the years, opened their homes, their hearts and courageously spoke their minds, often in the most dangerous of circumstances. And, finally, to the readers who bought the publications and demanded better coverage.

But, the greatest thanks of all to my partner and soulmate, a go-getter who took me to dozens of places that I always dreamed of going.

This site was a Yahoo pick for the Best of Asia in 1999
Named one of 10 Best websites by Elizabeth Stout, Daily Mail (UK)

All words and images are copyright RON GLUCKMAN, protected by international law barring any reproduction or reprint without the permission of Ron Gluckman

[right.htm]
[right.htm]