View from Moon Hill
Popular with Chinese painters and poets for centuries, the stunning, sheer rock formations of the Li River also held Oliver Stone spellbound. No wonder. The series of odd mountains, shrouded in mist, lend a mystical quality to the rice fields and ancient villages in the most enchanting corner of China
By Ron Gluckman / Guilin, China
---
REACHING THE TOP OF MOON HILL REQUIRES NO LANDING CRAFT; simply a few spare hours and a little stamina. Yet, for centuries, the best and the brightest in China have been left breathless at the summit. It's not the ascent that sucks the air from one's soul; it's the stunning views from the top.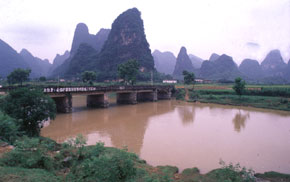 For miles in every direction, the eyes are entranced by intricate murals. A carpet of greenery rolls over hills into the horizon on one side. Turning around, you can peer at a daytime moon through the enormous Moon-shaped hole that gives the hill its name. Down below, charming Chinese villages hug canals amongst a mosaic of patchwork rice fields. Even in such an enthralling setting, the Li River still dominates every view as it snakes around scores of limestone hills, each uniquely shaped, like props for some science fiction movie. In fact, the imposing conical hills have featured in many films, most recently providing the surrealist backdrop for Oliver Stone's lush "Between Heaven and Earth."
Stone is only one of the latest visitors to be bedazzled by the hill-shrouded Li River. Whether in bright sunlight or stunning silhouette, the hills rival the Great Wall as the signature representation of China. No other vista has inspired as many poets and painters through the centuries. So we are in good company at the summit, where we admire the mesmerizing scene we've experienced often on canvas or paper. Still, nothing prepares one for the actual view from Moon Hill. We stare in blissful silence, awestruck at the supreme majesty of nature.
"Is this it?" chimes a pint-sized voice at my side. Obviously, our nine-year old is not as easily impressed as legions of Chinese writers and artists. "All this work, for a little view?" he chirps. Later on, the trauma of the ascent assuaged by a cold soda, he confides, "I like the hills, but for looking, not for climbing!"
This one minor disagreement aside, adults and child concurred on practically everything else during our outing along the Li River, in southern China's Guangxi Province. It was a dream holiday, with each day ushering in some new adventure. Whether by boat or bike riding into the countryside, dropping underground into the region's extensive array of caves, or merely strolling the unconventional eateries and trinket shops that give Yangshuo its remarkable Bohemian atmosphere, we found much to enjoy together.
That was the major concern at the outset, when my partner began planning for the arrival of her son, Stephane, from Amsterdam. Both of us are seasoned China travelers, but neither of us had previously planned a family expedition to the Middle Kingdom. We discussed the options and quickly concurred that two locations had the best chance of surmounting a child's attention span. Beijing quickly sprang to mind. China's old capital has many world-class attractions, but its density and the distance between all the temples and palaces made a family expedition seem imposing. And we knew that the exotic elements of more remote areas would pale upon a child.
Guilin seemed the easy way out, and it's been a time-honored choice. As long as anyone can remember, the Li River has been a place of pilgrimage, recreation and reverence. A peaceful city of 400,000 people, Guilin offers the usual stock of temples and pagodas, plus a wide array of underground caverns and municipal parks. But the city's best feature is as gateway to the remarkable Li River region.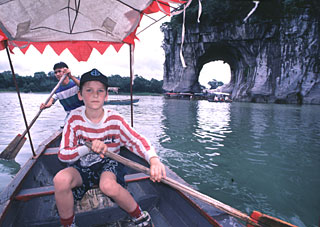 Nowadays, most group tours stop only for a day or two. Tourists bed down in Guilin's comfortable hotels, then take an all-day river tour, which combines a boat trip 80 kilometers south to Yangshuo with a bus back. Most visitors follow the same itinerary, which, unfortunately, overlooks the best scenery, further down river from Yangshuo. Instead, the tight schedule includes a dash through the shopping stalls along the riverbanks in Yangshuo. Only the adventurous roam beyond the tourist zone into a town that is quite unique in China.
Yangshuo's eclectic collection of cafes, batik shops and independent touring companies are often dismissed by purists as a crass example of excessive foreign influence in China. Truly, few visitors travel to China for the banana pancakes, video movies in the cafes, or the ubiquitous phony Hard Rock Café. Still, to anyone with a child in tow, such attractions are like gifts from the Gods.
Yangshuo boasts a greater selection of international cuisine than anywhere else in China, outside the five-star hotels. In a week, Stephane ploughed through bowls of yogurt, piles of chips, milkshakes, spaghetti, fruit tarts and apple pies, not to mention a fair sampling of Chinese food. There were few complaints on the food front, or any other. We planned dinner more according to the video viewing than any other appetite. Two screenings were offered nightly by a wide array of eateries with names like Minnie Mao's Café, Merry Planet Café, Global Village Café and Planet Yangshuo.
This vibrant café scene, rare in China, explains why hordes of budget travelers flock to Yangshuo and stay for weeks at a time. It has been thus for at least a decade. Chris Taylor, co-author of Lonely Planet's China guidebook for many years, recalls passing through Yangshuo in the mid-1980s, when the sleepy town was just starting to perk up to the possibilities of tourism. "The funny thing is that it hasn't changed all that much since," says the Taiwan-based author.
Indeed, only minute amounts of erosion have altered the hills, which were formed about 300 million years ago, when this river valley was covered by ocean. Small shelled creatures in the sea died, and their deposits turned to limestone. Earth movements thrust up huge chunks of rock, which were gradually carved into the conical shapes by erosion and rain.
The karst hills may look much the same as they did millions of years ago, but tourism has brought change to Yangshuo and much of it seems for the better. Lodging is greatly improved, as are the transportation options. Repeat visitors to Yangshuo will recall struggling with rusted rental bikes. Those one-speed, standard-issue communist clunkers have all been replaced by fleets of spiffy 15-speed mountain cycles.
Several bike tours are recommended, but itineraries are hardly in order in this relaxing retreat from the rest of China. At the bargain rental rate of under US$1 per day, cyclists can afford to pedal leisurely around town and into the countryside. Moon Hill is less than an hour away by bicycle, as are Duxou Hill, Xilang Hill and the evocatively-named Green Frog Watching and Enjoying the Moon. The Chinese have a passion for naming rocks and outcroppings according to the shapes they swear they see in them. Amongst the endless hills of the Li River, imaginations have really run wild, which explains such sites as Forest of Odd-Shaped Peaks, Happy Marriage at Biya Hill, Nine Oxen Ridge, Eight Supernaturals Crossing the River and Five Tigers Catch A Goat Hill.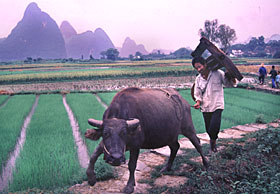 Bikes are also a nice vehicle for roaming further afield, including trips to nearby villages like Fuli and Pinglo. Both have their charms, but the journey itself is the true attraction. Along the route, the fields and towns by the roadside reveal the full cornucopia of rural China. In these lush lands, it's always planting or harvest season, so one spies several generations of families scurrying through fields, planting or harvesting paddies, cutting stalks, and spreading rice to dry.
Many of the villages have interesting features, such as tucked-away temples, and old buildings with delicately curved roofs. Surprises can be found around every corner. Stopping for water at a rural store near Fuli, we peaked inside a stone barn and watched a neighborhood barber shave an elderly gent, starting on his chin, then continuing to scrape away all the hair from his head and eyebrows.
Another afternoon, we rented a motorcycle and sidecar, paying US$5 for a half day tour. We were a happy group. The adults were keen to explore an old village that reportedly was tucked away in the hills. Stephane was duly excited, but his interest wasn't so much exploration or architecture, but the chance to roar around the countryside in an authentic motorcycle sidecar.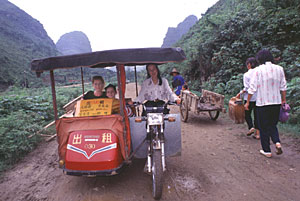 Our impromptu tour took in several remote villages, including Longtan, an old enclave that might have stood in the medieval period. Actually, the village is just a century old, but it does have magnificent stone homes with huge courtyards and cobblestone paths that wind into castle-like interiors.
Inevitably, though, all roads lead back to the Li River, which is without a doubt the dominating attraction of the region. One day, we ride bicycles to Xingping, then toss them on a boat to glide along the river back to Yangshuo. The ride is slow and peaceful, leaving the mind with plenty of time to wander. The hills cast their hypnotic spell. As the sun darts in and out of the clouds, the light dances across the procession of hills, which change in subtle ways at varying vantage points.
This spectacular scenery has put Li River on tourist maps, but there are other qualities that make Yangshuo appealing. The laid-back town of only 30,000 people nonetheless has an engaging nightlife, centered around the cafes, where visitors often provide impromptu musical entertainment. And tours continue after dark, when visitors can take rides on bamboo rafts with fishermen whose trained Cormorant birds dive for fish lured to the surface by lantern light.
If this sounds too tame, one can retreat to Guilin, which has a more thriving nightlife, as befits a city of 400,000 people. There is an enormous night market aimed at tourists, with a fine representation of crafts from around China.
Some guidebooks joke that Guilin's best scenery is underground, and the crack may be true. Guilin's caves are tacky at first glance, with all the neon lights. Still, as Stephane dragged us deeper, we couldn't resist the child-like appeal of Reed Flute Cave, which could have served as the setting for a sci-fi film like Journey to the Center of the Earth. One grotto, Crystal Palace of the Dragon King can hold 1,000 people (more during the war, when it was an air-raid shelter). In recent years, the cavern has played host to full orchestra performances.
Guilin and Yangshuo might seem rivals for tourist attention along the Li River, but they have become bookends for the same holiday destination. "Yangshuo adds to the personality and diversity of the area," says Roger Wright, general manager of the Sheraton Guilin. "I really hope it doesn't change. The entrepreneurial spirit of the people there is phenomenal. Yangshuo makes a great compliment to the attractions of Guilin."
Indeed, Guilin is the unquestioned gateway, receiving 400,000 foreign visitors last year, and about 9 million domestic tourists. Yangshuo receives perhaps an eighth as many visitors, mainly daytrippers. Guilin's tourist count will likely soar when the international airport that opened a year ago begins servicing planes from around the region. "With more flights, Guilin would really take off," adds Wright. "The infrastructure is ready, the airport and roads are there, and the hotels are waiting."
Guilin has invested heavily in its tourism potential, with scores of parks dotting the river, providing ample picnic opportunities to the families who flock here. Most offer boat rental and excursions to some nearby island, as well as the usual menage of park offerings, such as kiddie rides and monkeys in costume. Guilin also has nightly cultural shows that present the native dances and music of the region.
But the limestone hills remain Guilin's best feature, particularly at sunset, when the entire city is cast in a golden glow. Stephane gave Guilin high marks in this regard, noting that the views from our hotel windows were just as good as Moon Hill, but they could be savored without climbing a step.
---
Ron Gluckman is an American journalist based in Hong Kong, who travels widely around the Asian region for a variety of publications, including Asia Magazine, which ran this story in 1997. For more stories on China by Ron Gluckman, click upon McChina - the Americanization of China, Jews of Shanghai, Chinese wineries, Dream Park, High on Hemp, Stuck inside a Shanghai Harmonica Factory and Old China Hands.
Click here to go to Stephane's picture page
---
To return to the opening page and index



push here
---
[right.htm]