South Pacific Paradise
Gauguin, Michener, Marlon Brando and Keith Moon all had it right. Centuries after sailors on the Bounty were seduced and committed mutiny, Tahiti remains a timeless paradise for tourists seeking sand, serenity and clear blue seas
By Ron Gluckman / Tahiti
---
F

OUND PARADISE. COME QUICK." That was the postcard sent by Hugh Kelley to a pair of old buddies back in the States. Soon enough, his pals arrived in French Polynesia and built a hotel on a deserted stretch of sand. They dubbed it the Bali Hai, after the mythical island in Jame's Michener's "Tales of the South Pacific."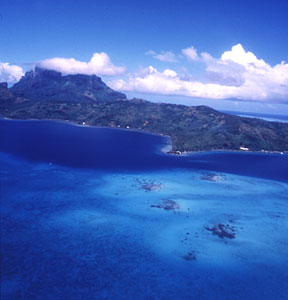 At least, that's how the legend goes. Now there are several Bali Hai hotels and the beaches aren't quite as empty. But romance still rides the gentle breezes sweeping the pristine coral reefs of Tahiti and French Polynesia. The waters are clear, life is easy and the great dreams become a gay, daily reality.
Such is the timeless appeal of French Polynesia, sun-swept islands sprinkled across 1.5 million square miles of the South Pacific Sea. From Bouganville to Wallace, early European explorers who raved about these equatorial islands, to Captain Bligh, whose crew savored the pleasures of the South Pacific paradise then mutinied aboard the Bounty, the palm-shrouded beaches and amorous women of Polynesia have seduced untold seafarers and rogues over the centuries.
In this part of the South Pacific, paradise has neither been lost nor forgotten for one second. Indeed, in song and dance, and throughout wonderful tropical feasts, the spirit is relished daily in French Polynesia, and long into the luxuriant, tranquil nights.
"Bora Bora is a magnetic, magical spot," says Richard Posma, at the wheel of his enormous yacht. Tufts of wind tickle the sails, as Posma points out exotic wildlife in hidden inlets. While the boat glides across glassy waters, the setting sun sends crimson streaks screaming across the sky. The stereo plays Pink Floyd and New Age. Later, the first stars appear, and Posma pronounces: "We're floating with the universe."
The joy in Posma's piercing blue eyes is pretty common in these parts. So is his story, although he's been more successful than most of the vagabonds who visit these islands, fall in love, and never leave. The California native sailed through in 1972 on a 28-foot boat. Now he pilots what he calls "the world's first gaming sailboat," a majestic craft that cost nearly US$1 million.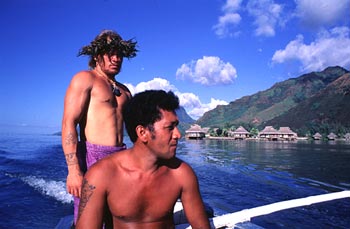 "Having a boat is having freedom," Posma boasts. Yet he admits his roaming is largely in the vicinity of Polynesia these days. "There's really no reason to go anywhere else," he explains. "I mean, just look around you. This is paradise."
And, there's plenty of it. Although most people refer to this French territory as Tahiti, it's only one of 118 islands in the territory. About 75 percent of French Polynesia's 190,000 people live upon Tahiti, which is part of the most prominent of the five island groups in French Polynesia. Tahiti centers the Society Islands, which include popular tourist destinations like Hauhine, Moorea, Raiatea and Bora Bora.
The other archipelagos encompass the Austral, Marquesas, Tuamotu and Gambier islands. Together, they total half the land mass of Corsica, but the sprawl of these tiny spits of coral is staggering. Spread a map of Europe on a table. If Papeete, the capital of French Polynesia, is over Paris, then the Gambier Islands would be in Romania and the Marquesas would reach Sweden.
The islands are geologically diverse as well. While beaches abound, they range from the black volcanic sand of Tahiti to the pearl-white beaches of neighboring Moorea. Some isles are dominated by dramatic peaks that cast jagged outlines over lagoons, while others are low-lying coral atolls. Rangiroa is one of the world's largest coral atolls, while Tetiaroa appears, from the air, as a few strips of green carpet encasing an enormous marine-blue lagoon.
With so much territory to choose from, divers, sailors and recluses have spent lifetimes wandering this scenic turf. Marlon Brandon was among the first visitors after Tahiti's international airport opened in the early 1960s. Brando now owns a private island here.
Many other world wanderers have found salvation among these serene islands. French painter Paul Gauguin developed a tropical style and hedonistic lifestyle that influenced hundreds of his countrymen to follow his footsteps. Polynesia's breathtaking beauty inspired scores of writers like Somerset Maughan and Robert Lewis Stevenson. Herman Meville shipped in and spent time in prison in Tahiti. James Michener, among countless US servicemen captivated by French Polynesia during World War II, proclaimed Bora Bora to be the most beautiful island in the world. You won't find any argument from honeymooners, who constitute a major component of tourism in Tahiti, the Island of Love.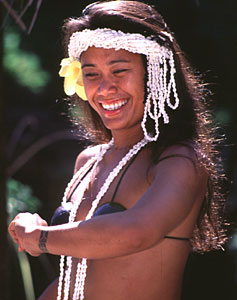 Nor will you hear disagreement from the scores of sea dogs, poets, con men and other rogues who have swept into Polynesia over the years and simply forgotten to ship out again. You find them everywhere around these islands, middle-aged men with the smiles and spirit of those half their age. "Tahiti keeps you young," confides Aad van der Heyde, owner of Galerie van der Heyde on Moorea.
The Dutch painter first visited while enroute to Australia 40 years ago, then returned a few years later, as he headed home. Or that was the plan; he never left. "My father told me three things when I was younger," he says. "Make a comfortable life, surround yourself with beautiful women, and never stick your finger in a dike."
Neighbor Oliver Brac adds, "Life here is simple, peaceful, sane." The French choreographer came to Tahiti decades ago with a dance troupe, found paradise and stayed. He continues to involve himself in stage shows, but is better known as the force behind Tiki-Theatre Village. Nearly two dozen Tahitians live and work at this native village, where they demonstrate traditional dance, music and crafts, including the art of tattoo. Visitors can be married in native ceremonies, spending their wedding night in a marvelous over-water bungalow.
Indeed, Polynesia remains a most romantic place despite the passing of time. "Now we have a supermarket, but before things were fine with our small shops," says Brac. "You didn't say, 'Today I'd like some chicken.' You'd walk in and say, 'What do you have?' Everything was like that, no problem."
Some old-timers recall an even slower pace. Henri Rittmeister was a Jewish teenager who fled the Nazi horror in France, landing in Tahiti nearly 60 years ago. He says big changes swept the islands in the 1960s, when the airport opened "and the 20th century came to Tahiti. Before that, we had no fences and we never locked our doors. Few even had doors. If you did, it was only to keep the chickens out."
Rittmeister remembers when few foreigners lived in the islands, other than the French administrators, and bare-breasted women still bathed upon the beaches. That changed when the opening of the airport brought the first wave of tourists. By most standards tourism is still a trickle; fewer than 200,000 come each year - about the number that Hawaii hosts on a weekend. Yet the number of tourists coming each year equals the entire population of French Polynesia.
Those visitors have transformed the sleepy capital somewhat. Papeete boasts three casinos, and a bustling group of nightclubs. Transvestites in dresses and stockings beckon outside Le Bar, and the dancing goes all night in a slew of neon-draped clubs. But the overall mood throughout the islands is mellow.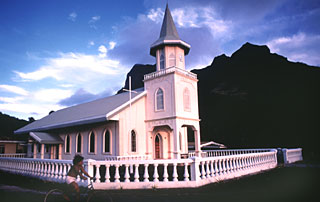 Minutes outside capital, the countryside takes over. Cows graze by the roadside as cars move through forests of palms on the two-lane highway. Coconuts and fresh fish are offered from handmade wooden stands. Old churches abound.
There is even a sizable Chinese community, one of the more curious stories of French Polynesia. About 15,000 ethnic Chinese live in Tahiti, running many of the businesses. Across from the town hall are shops with these marquees: Chong Lee, Wong Tac, Ah Kiau - Pastisseries Chinoises and the Yee Yuc General Store.
The Chinese came as farm workers a century ago, when the American Civil War sent cotton production grinding to a halt. Scotsman William Stewart petitioned the government to start plantations in Polynesia, using workers from China. The tile-roofed temple in Papeete and a Chinese cemetery in the suburbs are part of their intriguing legacy.
Later immigrants came from Europe, and, more recently, America. Many were influenced by Michener, who portrayed Polynesia as the world's last paradise. "It's hard to imagine a more beautiful place on Earth," says Monty Brown, manager of the Hotel Bora Bora. The sumptuous beach resort has been dubbed the finest resort on the planet by various travel publications. The collection of plush bungalows, some with private swimming pools, are planted on what is likely the most perfect beach on the world's most beautiful island, Bora Bora.
Brown certainly thinks so, and he's no novice at assessing paradise. Born in Hawaii, he attended university in California and Colorado. A chance stop at the Hotel Bora Bora for breakfast in the early 1970s decided the course of the rest of his life. "I sat right here and looked over this blue lagoon and fell in love," he says. "This was like the Hawaii of my childhood. It was Polynesia at its finest: grass shacks, white beaches, coconut trees. It was paradise."
A series of expansions has taken the hotel to 83 cabins, which were given a luxurious overhaul by Amanresorts, owner of the property. Yet the changes haven't altered the feel of the perfect Polynesian hotel. "I sat with James Michener right here," Brown says at the restaurant. "He looked over this lagoon and said it was still the most beautiful one in the world. I got chills as he said it."
Bora Bora's beauty has bowled over even the most jaded jetsetters. Among the stars that have bunked down at his hotel, Brown cites Keith Moon, drummer with the rock group, the Who, as among the most memorable. "He was quite a sight. He arrived in leather coat and alligator boots, all full of himself. He would stomp through the hall, making scenes so everyone would notice him.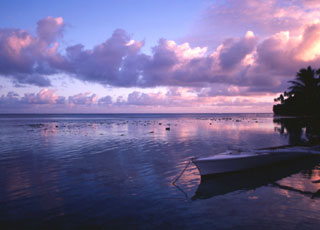 "But after a few days, he began to relax and get into the mood." Bora Bora's magic took hold and softened the rock star. Soon, he was playing piano, old time songs. "He said he hadn't been as happy in years," Brown says. "He left with tears in his eyes. Two weeks later, he was dead."
Roam around Bora Bora, and similar stories are told at every stop. Posma conducted the wedding for Rolling Stones' guitarist Ronnie Wood upon his boat. At Bloody Mary's, the island's infamous watering hole, a series of boards are carved with the names of the famous clientele. It's a motley group: Dudley Moore, Nelson Rockefeller, Jimmy Buffet, John Denver, Meg Ryan, Michael Hesseltine, Rod Stewart, Slash and porn star Marilyn Chambers.
But the real treasures of Bora Bora and the rest of French Polynesia are its people, and pleasures. For those who don't relish wrestling sharks, there are swimming sessions with dolphins or a few secluded nights in a bungalow, far from the phones and faxes and stressful concerns of the outside world.
"I've been coming to Bora Bora for years," says Jane Cormier of Bakersfield, California. "The first time I came with my kids, then I came with a friend." This time, she brought only a thick book and left no forward number with the office. "It's gorgeous," she says. "This is truly paradise."
---
Ron Gluckman is an American journalist based in Hong Kong, who fancies shorts, flip flops, and loud floral shirts. He has written about Tahiti for numerous publications, including USA Today, Asiaweek, the Wall Street Journal and Los Angeles Weekly. This story appeared in Asia Magazine.
For reports by Ron Gluckman on the nuclear testing in French Polynesia, turn to Trouble in Paradise and No Boom Boom here please.
---
To return to the opening page and index



push here
---